Hello and welcome to the Décor Outline photo gallery of walk-in pantry ideas. Below you will find a summary of the benefits, main options, and some design ideas we handpicked for you along with beautiful photos. Enjoy!

What are the benefits of having a walk-in pantry?
Extra storage space – floor-to-ceiling shelves on multiple walls can hold more than just food items
Organized kitchen – lets you organize according to food type or expiration date and keep all food and kitchen items tucked away from plain sight
Allows for creativity – storage options are flexible as you can easily rearrange the shelves, add partitions, and bring in stylish boxes as needed

What are the main options for walk-in pantries?
Door Style: French door (double, with sidelight), cabinet-style, sliding barn door, with transom window
Door Panels: glass (textured, frosted, antiqued, with muntins), flat, recessed, raised, shutters
Storage Type: shelves (open, floating, with brackets, box), drawers (wood, frosted plastic, wicker), cabinets, slide-out wire baskets, shelving unit
Walls: beadboard, painted, subway tiles, wood planks
Features/Accents: rolling library ladder, antique footstool, step stool, woven baskets, vintage posters, slide-out wire baskets, area rug
Lighting: recessed, cove, industrial cage pendant, natural light from window

What follows are beautiful photos of walk-in pantries along with design ideas we thought may be of interest to you. Enjoy and happy home decorating!
1. All White
Points of Interest ● white French door with slim sidelight to walk-in pantry ● white open shelves with beadboard rear wall ● white rolling library ladder ● nickel cup pull label holders on drawers ● woven storage baskets on shelves
2. Cabinet-Style Door
Points of Interest ● stone blue cabinet-style walk-in pantry door with glazed steel handles ● floor-to-ceiling white box shelves with white rear wall ● recessed paneled drawers with oil-rubbed bronze handles ● antique red country footstool
3. Transformed Back Room
Points of Interest ● off-white slim in-swing doors to walk-in pantry ● off-white transom cabinets above pantry door ● long slim stainless steel handles on pantry door ● aged wood stool ● dark brown and white floral printed cement tile flooring
4. Shelf Organizers
Points of Interest ● spacious walk-in pantry with sliding barn doors ● L-shaped corner shelves with planked rear wall ● sliding wicker storage basket ● two-tiered sliding heavy-gauge wire baskets on bottom shelf ● colonial white granite floor
5. Subway Tiles
Points of Interest ● half glass faced walk-in pantry door with muntins ● white subway tile walls ● marble open shelves with wrought iron brackets ● glass pedestal fruit plates on bottom shelf ● unfinished wood stool
6. Antique Pantry Door
Points of Interest ● antique distressed walk-in pantry door with carved flowers on 2 raised panels ● natural wood open shelves ● antique brass knob on pantry door
7. Textured Glass Insert
Points of Interest ● textured glass walk-in pantry door with oil-rubbed bronze handle ● eggshell white drawers with raised panels and crystal glass knobs ● eggshell white shelves with striped rear wall ● rolling wooden library ladder
8. Natural Hickory
Points of Interest ● natural hickory planked and beadboard walls ● white framed cabinet and drawers with natural hickory planked panels ● sliding ladder with casters ● carved wide crown molding ● white decorative ceiling
9. Mixed Storage Styles
Points of Interest ● turquoise walk-in pantry walls ● 4-tiered lazy susan shelf organizer ● 3 off-white drawers with rose gold knobs ● five frosted white plastic drawers ● three white porcelain lidded apothecary jars on box shelf
10. Bookcases
Points of Interest ● slim French double doors to walk-in pantry ● transom window with diamond accent ● U-shaped brown countertop with open shelves above and underneath ● bookcases framing the French doors
11. Yellow Door
Points of Interest ● yellow pocket door to walk-in pantry with recessed panels ● striped yellow area rug complementing the pantry door ● white crown molding above doorway ● white pantry countertop with flat panel drawers
12. Double Walk-In Pantries
Points of Interest ● brown cabinet-style double walk-in pantry doors ● slide-out wire and wicker storage baskets ● L-shaped open shelves in first pantry with sloped ceiling ● interior lights in two walk-in pantries
13. Tray Ceiling
Points of Interest ● glass paneled white walk-in pantry doors ● open box shelves with dandelion yellow rear wall ● 3-tiered wire storage baskets ● 4 white deep drawers ● tray ceiling with cove lighting
14. Square Drawers
Points of Interest ● dark brown satin finish pantry doors ● glass faced square drawers ● natural wooden shelves with crown molding ● round woven basket
15. Antique Look Glass Panels
Points of Interest ● semi-private mercury glass-inspired window film on glass door panels ● slim shelves on sage green pantry door ● floor-to-ceiling sage green open shelves ● matching wood planked pantry flooring and kitchen tiled floor wood inlay
16. Commercial Refrigerator
Points of Interest ● sage green corner shelves with beadboard rear wall ● natural wood topped small L-shaped shelves with wicker baskets ● large commercial refrigerator
17. Gray & White
Points of Interest ● gray open shelves with white sliding wire mesh drawers underneath ● tiered pedestal serving plates ● white bottom shelves with black wire baskets ● 3 storage boxes on top shelf ● gray porcelain tile floor
18. Wire Shelves
Points of Interest ● white powder coated cabinet door organizers on walk-in pantry door ● white powder coated shelves on mustard yellow wall ● partitioned bottom shelf ● butcher block topped kitchen cart with 2 wire shelves underneath
19. Shutter Door Panels
Points of Interest ● shutter panels on walk-in pantry pocket door ● deep round rattan storage basket ● white wooden pantry countertop with matching open shelves ● single-hung window with pull-down shades ● wallpapered ceiling
20. Curved Corner Shelves
Points of Interest ● curved corner shelves ● 3 stainless steel sliding wire baskets ● 12 small box shelves with pull-out wood storage bins ● ecru shelves and drawers ● cookbook with wooden stand
21. Stacked Cabinets
Points of Interest ● glass faced lower cabinets ● white shaker upper cabinets ● out-swing window on blue lapis walls ● white crown molding between upper and lower cabinets ● lacquered natural oak hardwood floor
22. DIY Lighting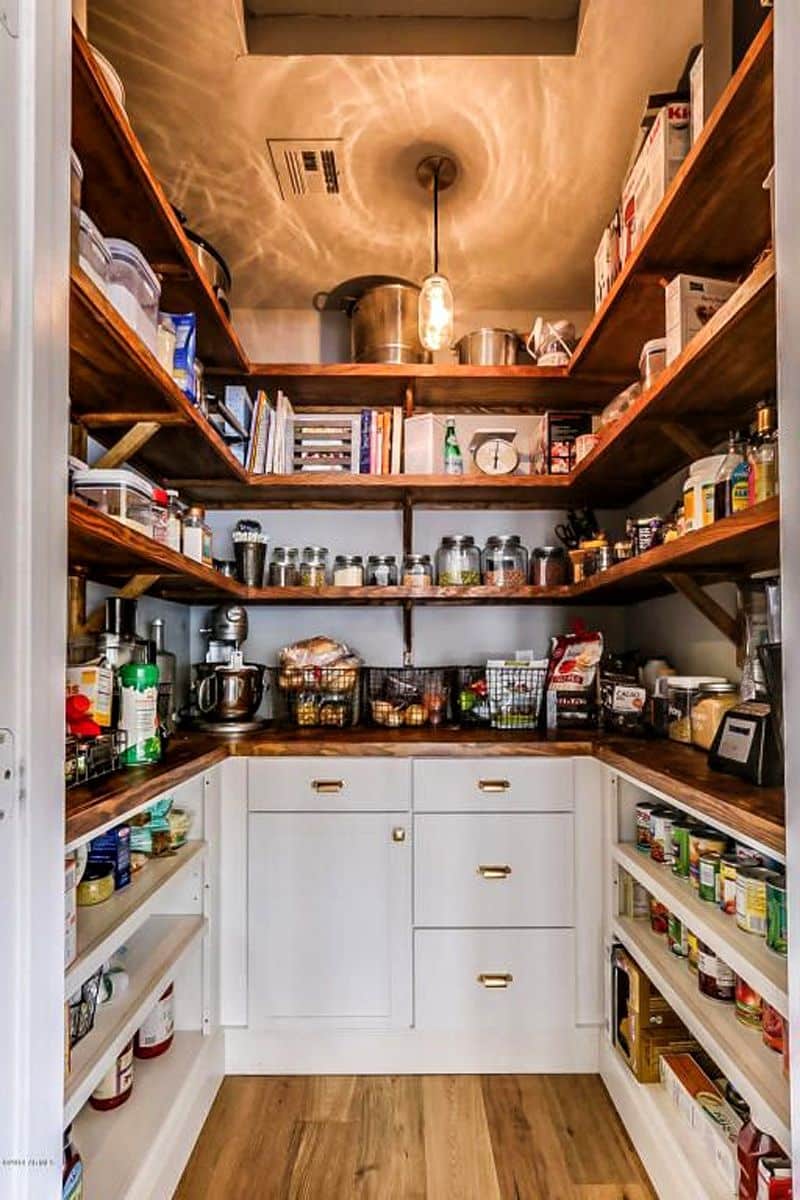 Points of Interest ● U-shaped walk-in pantry with dark-stained hickory shelves ● white lower cabinet and drawers with awning cup pulls in gold finish ● DIY glass bottle pendant light ● multi-sized mason jars
23. Compact Pantry
Points of Interest ● black granite countertop with curved inside corner and built-in kitchen appliances ● floating satin finish wood shelves ● ceiling-mounted white open shelves ● cutting board storage under granite countertop
24. Irregular-Shaped Countertop
Points of Interest ● irregular-shaped soapstone countertop with open shelves underneath ● glass door with sheer white privacy film ● off-white partition shelves ● folding anti-slip step stool
25. Subway Tiles
Points of Interest ● white subway tile walls with white open shelving ● slim brass brackets supporting the open shelves ● black industrial cage pendant light ● white single-hung window ● black granite tile flooring
26. Vintage Signs
Points of Interest ● white raised paneled door with vintage poster ● L-shaped corner shelves ● wine storage in center shelves ● cookie sheet storage ● slide-out wicker baskets ● yellow vintage signage on box shelf
27. Floating Shelf Unit
Points of Interest ● white walk-in pantry door with recessed panels ● wall-mounted white floating shelf unit ● light gray pantry wall calling back the kitchen walls ● bleached oak engineered floors