Hello and welcome to our carefully curated selection of top marble side tables in the market. You often ask us "where can I get this?", "how do I get that look?", so here it is! We spent hours reviewing what people who actually bought a marble side table had to say about their purchase and after reviewing hundreds of them, we are only listing marble side tables that have "wowed" these clients and have the highest rating. After our careful research, the following marble side tables raised to the top of the list. Hope you find inspiration in these photos and find this information useful, enjoy!

What are the different types of marble side tables?
Style: mid-century, retro, classic with contemporary flair, glamour and Luxe, traditional, transitional, contemporary
Design Features: natural gray veins on marble top, walnut finish legs, X-shaped stretchers, brown and white marbling, round green marble top, gold finish iron legs, oval white marble top, curved stretchers with ball finial accent, caramel colored faux marble, deep espresso finish frame, glossy white aluminum base, Italian Carrera marble top, chocolate brown corn husk baskets
Price Range: $39.04 to $369.99

How to use a marble side table to your home decor:
Where: bedroom, living room, office, den, study, basement
Things to consider: type of marble, height, style, maintenance, size, storage space, how it blends with other furniture, functionality
Favorite Features: very sturdy, expensive look of marble, easy to assemble, easy to clean, great size, unique, sleek, solid, faux marble looks real, very functional, great quality, lovely marble surface, perfect height, goes well with other living room furniture, low maintenance top, plenty of storage, pretty accent piece

Hope you enjoy the showroom visit!
1. James Round Mid Century Modern Marble Side Table by Belham Living
Points of Interest:
● Clients Rating: 4.9 Stars
● Style Inspiration: mid-century / retro
● Material: marble, solid poplar, rubberwood, birch veneers
● Color Options: white and walnut
● Design Features: tapered legs, natural gray veins on marble top, walnut finish
tapered and flared legs, X-shaped stretchers
● What Clients Love about this marble side table: expensive look of marble top, great quality, very sturdy, well made, easy to assemble, great small side table
2. Galassia Faux Marble Chair Side Table by Finley Home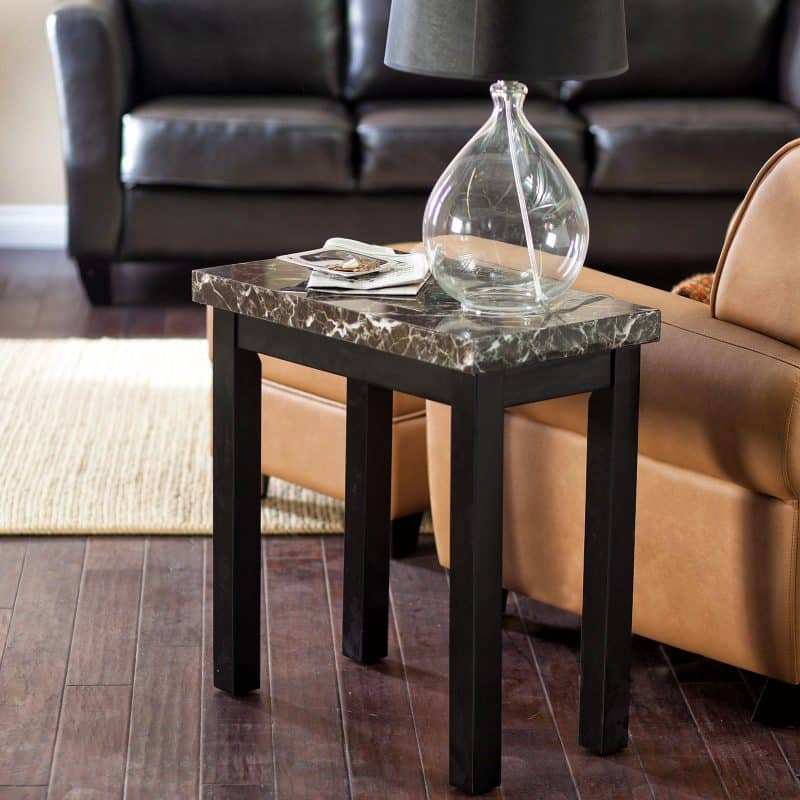 Points of Interest:
● Clients Rating: 4.7 Stars
● Style Inspiration: classic with contemporary flair
● Material: wood, faux marble
● Color Options: brown and white top, black frame
● Design Features: brown and white marbling, faux marble top, versatile narrow rectangular shape, matching coffee table available
● What Clients Love about this marble side table: looks lovely, perfect for living room, nice lacquer coating, elegant, great size, sturdy, great purchase, simple, easy to assemble, economical, easy to clean, super solid
3. Kaori End Table by Willa Arlo Interiors
Points of Interest:
● Clients Rating: 4.8 Stars
● Style Inspiration: upscale glamour and luxe
● Material: marble, iron
● Color Options: green and gold
● Design Features: round green marble top, gold finish thin iron legs with triangular patterns
● What Clients Love about this marble side table: green stone top looks magnificent, fit for a narrow space, nice flat gold color, stunning green marble top, looks great, unique, sturdy, lovely, open and airy feel, petite, great quality, super elegant, very cute
4. Lediyana Faux Marble Top Side Table in Espresso Finish by Roundhill Furniture
Points of Interest:
● Clients Rating: 4.9 Stars
● Style Inspiration: contemporary
● Material: top: MDF with marble print paper veneer, base: manufactured wood
● Color Options: brown
● Design Features: espresso finish wood legs and base shelf, faux marble top, bottom shelf for extra storage
● What Clients Love about this marble side table: faux marble looks real, looks great, sleek, very functional, great quality, easy to assemble, very solid, very sturdy, good price
5. Bordeaux End table by Madison Park Signature
Points of Interest:
● Clients Rating: 4.8 Stars
● Style Inspiration: sophisticated-traditional
● Material: marble/granite, metal
● Color Options: white and gold
● Design Features: oval white marble top, gold finish metal legs, curved stretchers with ball finial accent
● What Clients Love about this marble side table: lovely marble surface, perfect design, easy assembly, elegant, solid, looks great, perfect size, very sturdy
6. Carmine Faux Marble End Table by Finley Home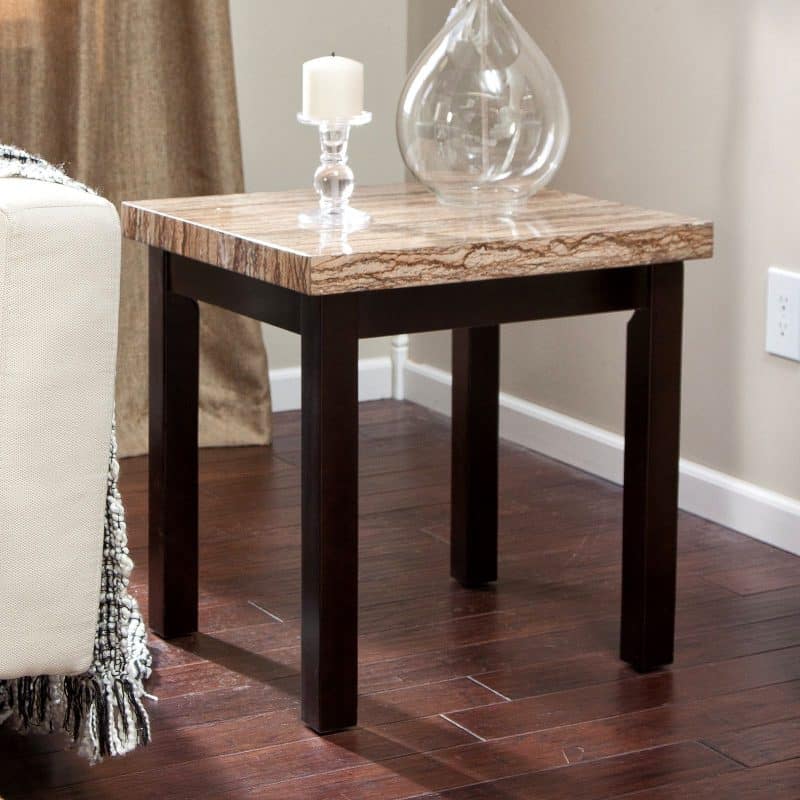 Points of Interest:
● Clients Rating: 4.7 Stars
● Style Inspiration: transitional / sleek contemporary
● Material: wood, faux marble
● Color Options: caramel and deep espresso
● Design Features: square shape, caramel colored faux marble top, deep espresso finish frame
● What Clients Love about this marble side table: perfect height, goes well with other living room furniture, attractive design, looks great, excellent quality, easy to assemble, sturdy, fabulous price, very solid, easy to clean
7. Bodgers End Table by Wade Logan
Points of Interest:
● Clients Rating: 4.7 Stars
● Style Inspiration: mid-century modern
● Material: marble/granite, metal
● Color Options: white
● Design Features: glossy white powder coated aluminum base, Italian Carrera marble top
● What Clients Love about this marble side table: great mid-century look, gorgeous marble top, sleek, very nice quality marble, modern, very fashionable, well made, sturdy base, awesome quality, looks high end, elegant, easy to assemble
8. Zoey Side Table by Winsome
Points of Interest:
● Clients Rating: 4.7 Stars
● Style Inspiration: transitional
● Material: corn husk, faux marble, solid and composite wood
● Color Options: chocolate brown
● Design Features: brown faux marble top, 2 shelves, 2 chocolate brown corn husk baskets, espresso finish wood frame
● What Clients Love about this marble side table: perfect bedside table, low maintenance top, plenty of storage, great looking, very good quality, lovely, easy to assemble, sturdy, solid, bonus pull out drawers
9. Anya End Table by Orren Ellis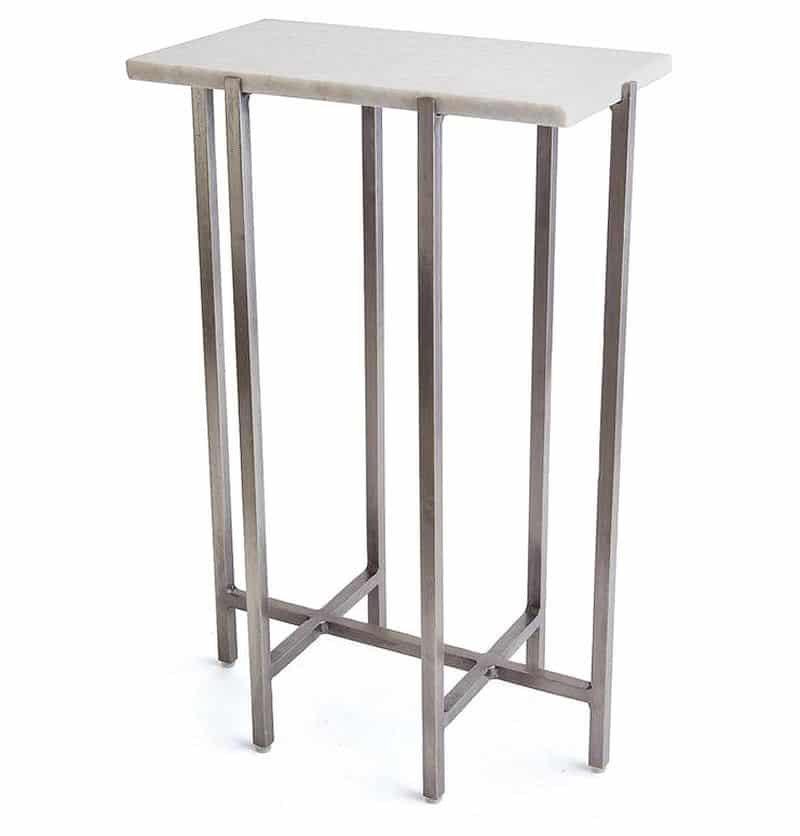 Points of Interest:
● Clients Rating: 4.8 Stars
● Style Inspiration: contemporary
● Material: marble/granite, iron
● Color Options: white and gray
● Design Features: white marble top, gray brushed iron base
● What Clients Love about this marble side table: pretty accent piece, nice workmanship, stylish, well made, pretty heavy, compact, sturdy