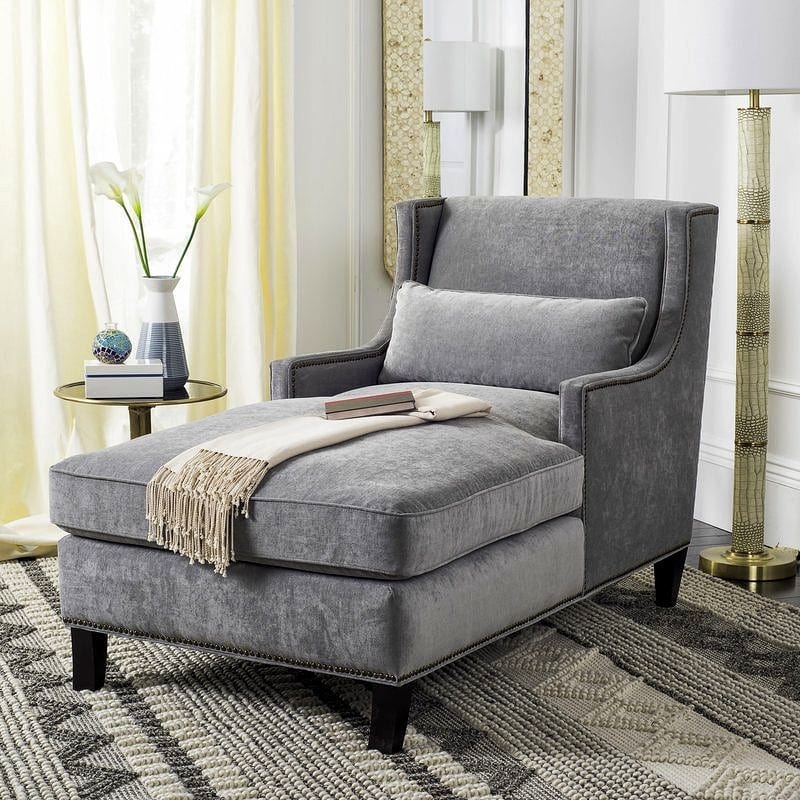 Hello and welcome to our carefully curated selection of top chaise lounge sofas in the market. You often ask us "where can I get this?", "how do I get that look?", so here it is! We spent hours reviewing what people who actually bought a chaise lounge sofa had to say about their purchase and after reviewing hundreds of them, we are only listing chaise lounges sofas that have "wowed" these clients and have the highest rating. After our careful research, the following chaise lounge sofas raised to the top of the list. Hope you find inspiration in these photos and find this information useful, enjoy!

What is a Chaise Lounge Sofa?
Definition: a chaise lounge sofa is an upholstered chair long enough to support your legs and allows you to recline and relax. It is derived from the French term chaise longue which literally means long chair. It is believed to have originated from Egypt where at the time they were simply made from palm sticks, wicker and rawhide.
Style: casual chic, contemporary, traditional, French Récamier, vintage glamour, hollywood glam design, contemporary mid century design, traditional, récamier chaise lounge, classic, modern
Design Features: slipcovered, tufted body, brass nailhead trim, stylish scrolled arms, soft, grey velvet fabric, rolled headrest, arched back, stain-resistant, right or left hand facing orientation, built-in Bluetooth speaker, side pouch, reclining
Price Range: $191.99 to $1,379.99

How to use a Chaise Lounge Sofa to your home decor:
Where: master suite, by the fireplace, bedroom, piano room, music room, dressing room, zen room, condo, reading room, den, great room, study, guest room, loft, kitchen, sunroom, flex room, beach cottage, living room, office
Things to consider: color, firmness, comfort, size, purpose, quality, upholstery, style (whether it matches the other furniture or standout as an accent piece)
Favorite Features: comfortable, big enough for two, easy to assemble, star of the room, sturdy, very soft fabric, lumbar support pillow, very sleek, durable, built-in speaker, removable cushions, vibrant colors, many fabric choices

Hope you enjoy the showroom visit!
1. Dores Chaise Lounge by Red Barrel Studio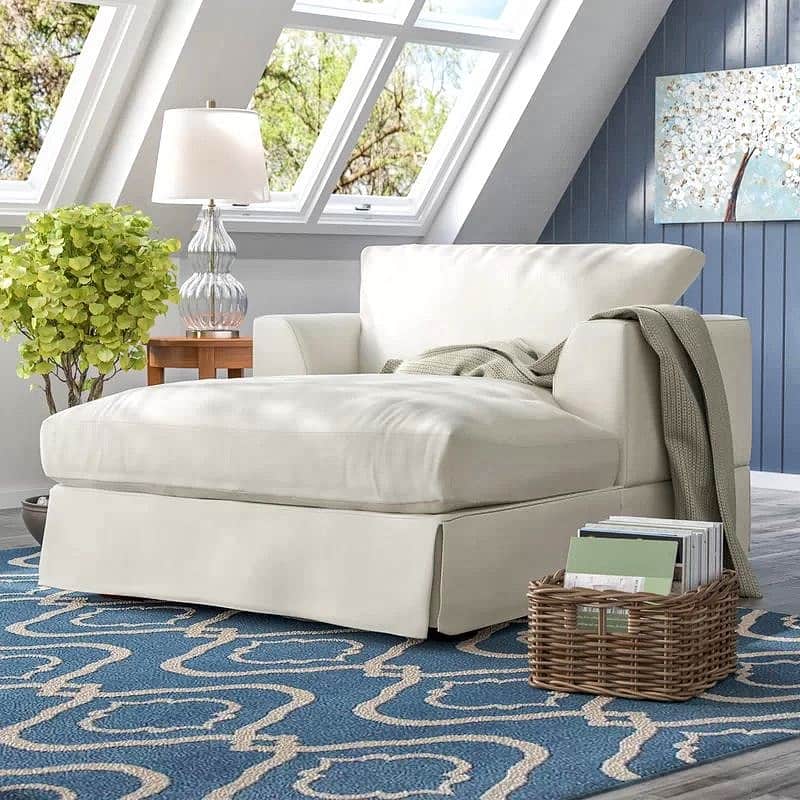 Points of Interest:
● Clients Rating: 4.8 Stars
● Style Inspiration: casual chic
● Material: frame – birch , upholstery – choice of 100% cotton or polyester blend
● Color Options: more than 50 colors/designs (with varying fabrics)
● Design Features: bordered T-seat cushions, curved raised track arms, slipcovered
● What Clients Love about this chaise lounge sofa: amazingly comfortable, big enough for two, perfect size, perfect texture and color, perfect place to cozy up
2. Abrahamic Chaise Lounge by Darby Home Co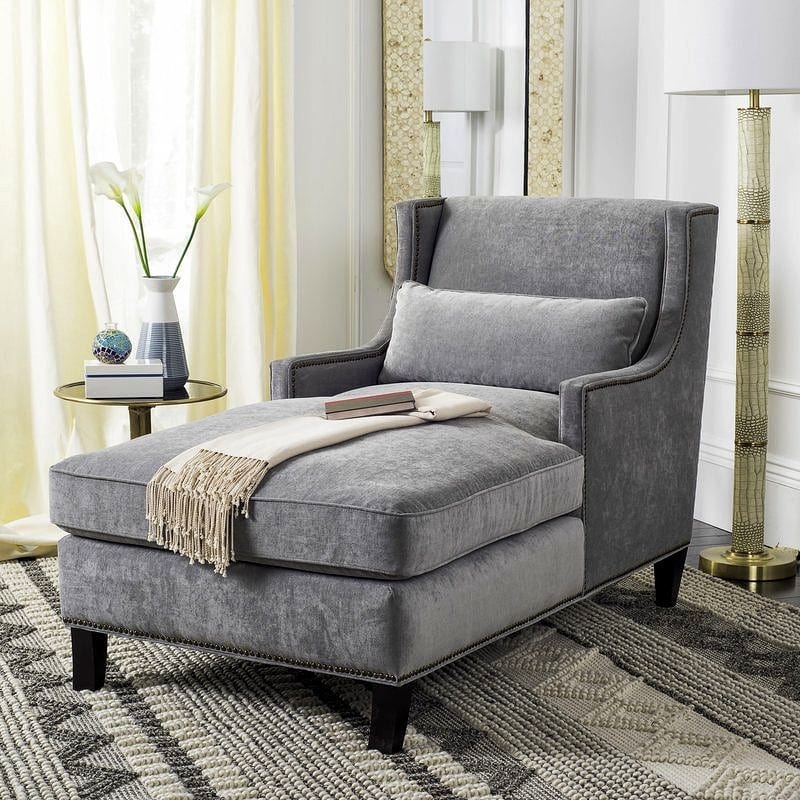 Points of Interest:
● Clients Rating: 4.9 Stars
● Style Inspiration: contemporary twist on a Victorian fainting couch
● Material: kiln-dried hardwood frame, velvet
● Color Options: ash gray
● Design Features: sloping arms, brass nailhead trim, and java finish birch wood legs
● What Clients Love about this chaise lounge sofa: well built, extremely comfortable, high-end piece of furniture, perfect firmness, exceptional quality, looks gorgeous in master bedroom, star of the room, elegant, sturdy, works great in piano room, minimum assembly
3. Grasby Tufted Garnet Velvet Chaise Lounge by Great Deal Furniture
Points of Interest:
● Clients Rating: 4.7 Stars
● Style Inspiration: contemporary
● Material: new velvet, birch wood
● Color Options: garnet
● Design Features: elegant tufted body, curved to fit body contour
● What Clients Love about this chaise lounge sofa: beauty and comfort, nice quality, adds classy look to room, well packaged and easy to put together, modern & glam
4. Cynthia Chaise Lounge by Lark Manor
Points of Interest:
● Clients Rating: 4.7 Stars
● Style Inspiration: hollywood glam design
● Material: pine wood, polyester blend
● Color Options: natural, slate gray
● Design Features: diamond-stitched button tufting, nailhead trim , tapered legs, stylish scrolled arms and backs, vintage French handwriting on decorative pillow
● What Clients Love about this chaise lounge sofa: very comfortable, functional, sturdy, very sleek, beautiful, easy to set-up, looks great with room decor, top grade quality
5. Anondale Chaise Lounge by A&J Homes Studio
Points of Interest:
● Clients Rating: 4.7 Stars
● Style Inspiration: traditional
● Material: wood, faux leather
● Color Options: espresso
● Design Features: rolled headrest, button tufted cushion, hand-carved wood feet, 3 toss pillows included
● What Clients Love about this chaise lounge sofa: beautiful, comfortable, unbeatable price, can fit two people, super comfy, impressive
6. Signature Design Chaise by Ashley Tibbee
Points of Interest:
● Clients Rating: 4.7 Stars
● Style Inspiration: modern, simple tailored look
● Material: wood, polyester
● Color Options: gray
● Design Features: tufted details, flared arms, split back style, durable wood corner-blocked frame
● What Clients Love about this chaise lounge sofa: great reading chair, roomy and comfortable, excellent quality, affordable
7. Antonya Tufted Chaise Lounge by Christopher Knight Home
Points of Interest:
● Clients Rating: 4.8 Stars
● Style Inspiration: French Récamier chaise lounge
● Material: linen, wood
● Color Options: blue gray, beige, brown, dark charcoal
● Design Features: button tufting all throughout, rolled single armrest, hardwood frame
● What Clients Love about this chaise lounge sofa: true to color, big enough for two people, no tool assembly, nice cushion, decent size
8. Johnston Chaise Lounge by Langley Street
Points of Interest:
● Clients Rating: 4.7 Stars
● Style Inspiration: mid-century design
● Material: rubberwood, polyester blend
● Color Options: beige, expectation gray, azure, teal, wheatgrass, sunny, gray
● Design Features: orientation can be right hand facing or left hand facing, 2 tufted buttons, cherry stained rubberwood legs, plastic foot glides
● What Clients Love about this chaise lounge sofa: elegant, very comfortable, easy to put together, very sturdy, funky, durable, good quality
9. Khronos Leather Chaise Lounge by Latitude Run
Points of Interest:
● Clients Rating: 4.7 Stars
● Style Inspiration: contemporary design
● Material: faux leather
● Color Options: Black
● Design Features: built-in Bluetooth speaker, curved silhouette, tufted details, sewn-in neck pillow, removable lumbar pillow, side pouch
● What Clients Love about this chaise lounge sofa: easy to assemble, very comfortable, stylish, great back support with Lumbar pillow, speaker is a very nice added feature, good craftsmanship, great value for money
10. Kahle Chaise Lounge by Darby Home Co
Points of Interest:
● Clients Rating: 4.7 Stars
● Style Inspiration: Récamier chaise lounge
● Material: birch wood, polyester blend, velvet
● Color Options: Ivory
● Design Features: left-arm chaise, curved design, turned legs, tufted upholstery
● What Clients Love about this chaise lounge sofa: beautiful shape, well made, good value, beautiful, elegant, wonderful accent, great quality, comfortable, easy to assemble, very sturdy
11. Mock Chaise Lounge by Wade Logan
Points of Interest:
● Clients Rating: 4.7 Stars
● Style Inspiration: Classic with mid-century twist
● Material: wood, polyester blend
● Color Options: Charcoal
● Design Features: wedge back, right-arm chaise, 4 tapered dowel legs, piped edges, button-tufting, matching toss pillow and bolster pillow
● What Clients Love about this chaise lounge sofa: elegant, comfortable, affordable, can be used as couch or extra bed, great quality for the price, very easy to assemble, stylish, nice textured quality fabric
12. Versailles Chaise Lounge by Lark Manor
Points of Interest:
● Clients Rating: 4.7 Stars
● Style Inspiration: French Country
● Material: wood, polyester blend
● Color Options: Off White
● Design Features: button-tufted, subtly curved back, nailhead trim, turned wood feet, toss pillow with French script
● What Clients Love about this chaise lounge sofa: super comfortable, really easy to match, good quality, very well made, sturdy, beautiful fabric, very cushiony, great color, classy looking, great value, easy to put together
13. Corvi Double End Chaise Lounge by Brayden Studio
Points of Interest:
● Clients Rating: 4.7 Stars
● Style Inspiration: modern
● Material: wood, polyester blend
● Color Options: keira portman, keira courtyard, keira truffle
● Design Features: double end chaise, square arms, removable seat cushions, espresso finish feet, with 4 toss pillows
● What Clients Love about this chaise lounge sofa: absolutely gorgeous, beautiful fabric, durable, very good quality, wonderful design, elegant, very comfortable, timeless design, unique, sleek, modern
14. Yarmouth Chaise Lounge by House of Hampton
Points of Interest:
● Clients Rating: 4.8 Stars
● Style Inspiration: vintage glamour
● Material: maple wood, 100% linen
● Color Options: beige, grey, charcoal, brown, green, burgundy, navy, pink, violet
● Design Features: curvaceous chaise, button tufting, espresso turned wooden feet, nailhead trim, matching bolster pillow
● What Clients Love about this chaise lounge sofa: very well made, perfect size, very simple assembly, stylish, comfortable, sturdy, lovely addition to the music room, very soft fabric, lumbar support pillow, high quality, beautiful addition to dressing room, elegant, very classy
15. Floral Chaise Lounge Upholstery by Serta
Points of Interest:
● Clients Rating: 5.0 Stars
● Style Inspiration: classic
● Material: polyester/polyester blend, wood
● Color Options: San Marino chocolate, silas raisin
● Design Features: carved wood frame and legs, rolled arm, curved back
● What Clients Love about this chaise lounge sofa: truly beautiful, comfortable lounge, lovely material, well-made
16. Hambleton Chaise Lounge by Wade Logan
Points of Interest:
● Clients Rating: 4.8 Stars
● Style Inspiration: mid-century style – classic Danish design
● Material: pine wood, polyester blend
● Color Options: anthracite, dark green, navy
● Design Features: clean lines, tapered and splayed wood legs, hand-stitched details, grid-tufting, walnut finish legs
● What Clients Love about this chaise lounge sofa: nice shade of blue, easy to assemble, looks stylish, very sturdy and durable, chic, really pretty, great quality