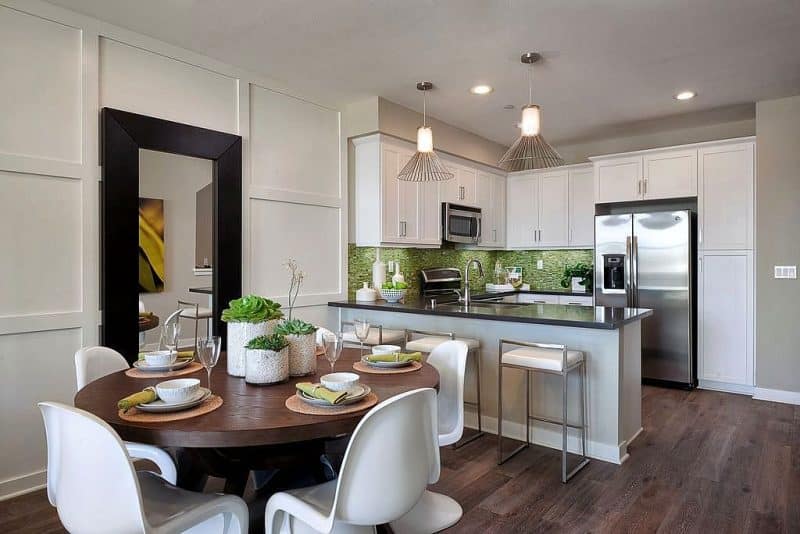 Hello and welcome to the Décor Outline photo gallery of small kitchen-dining room combo ideas. Below you will find a summary of the benefits, main options, and some design ideas we handpicked for you along with beautiful photos. Enjoy!

What are the benefits of having a combined small kitchen and dining room ?
Opens up the space – with no walls to separate the rooms, you get one big multi-function room and are not limited to a small kitchen or a small dining room
Makes entertaining easier – a kitchen and dining room combo allows the cook to still be a host to guests, and for guests to help in preparing food, a great way to connect
Can be designed several ways – you can separate the kitchen from the dining room by using different decorating schemes, or take the seamless approach by decorating them the same way

What are the main options for small kitchen-dining room combos?
Kitchen Layout: U-shaped, L-shaped, one-wall, galley
Dining Table: wood (solid, planked, butcher block), wall-mounted, granite topped, glass topped (clear, back painted, bronze), drop-leaf
Storage: kitchen cabinets (glass, frosted glass, wood), drawers, open shelves, wine racks, cupboard, sideboard, display cabinet, storage chest
Features: eat-in island, peninsula, breakfast bar, LED strip lights, barn door, skylight
Tie-Ins: fabric patterns, accents, decors, countertops, colors, wall, flooring

What follows are beautiful photos of combined small kitchens and dining rooms, along with design ideas we thought may be of interest to you. Enjoy and happy indoor decorating!
1. Corner Sink
Points of Interest ● brown quartz topped square kitchen island with 2 dark espresso leather bar stools ● round wood topped dining table with 4 woven seagrass backrest and terracotta hued cushions ● straight set pattern olive green glass tile backsplash ● sanded floating wooden cabinets with slim frosted glass panels featuring both above and underneath lighting ● corner sink with decorative metal tray ● engineered natural hickory floor
2. Greens & Blues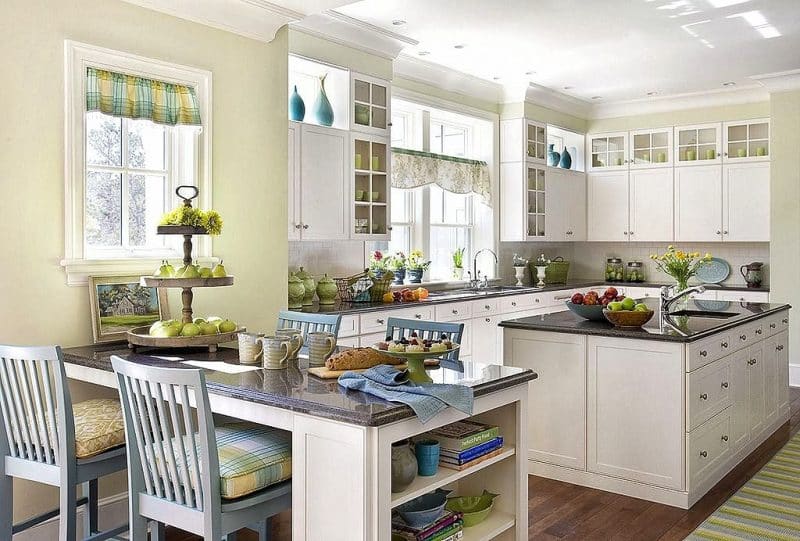 Points of Interest ● L-shaped countertop with white base cabinets and drawers matching the island base ● wall-mounted steel gray granite topped peninsula table with ogee edge and built-in open shelves ● 3-tier round wooden fruit stand with green pears ● 2 transom windows accentuating the blue ceramic pottery above upper cabinets ● fringed window valance calling back green hued accents of the room
3. Breakfast Bar
Points of Interest ● peninsula breakfast bar with quasar quartz countertop ● 3 wood saddle seat bar stools ● brown stained square solid wood pub dining table in satin finish with matching dining chairs ● pink woodland sage in tinted glass vase ● ceiling with exposed beams and 2 bar spotlights over kitchen and peninsula ● natural hickory engineered wood flooring
4. Cushioned Benches
Points of Interest ● 2 wooden benches with tufted cushions and 2 rattan Parsons chairs around wood dining table ● dark stained shaker cabinets matching the kitchen island base ● 2 matte black painted wooden bar stools calling back dining tabletop ● decorative curly willow branches in tall hurricane vase ● sisal area rug with brown suede border ● amber yellow drum pendant light
5. Bronze Glass Table
Points of Interest ● Warren Platner-designed round bronze glass topped dining table with polished nickel vertical steel rod base ● 3 industrial style bar stools with polished chrome seats and slim brushed steel legs ● 6 frosted glass lift-up paneled upper cabinets with stainless steel frame ● slatted wood drum pendant light calling back the dining chairs and jack sculpture doubling as bowl holder ● whitewashed sloped ceiling with white wood planks as ceiling beams
6. Butcher Block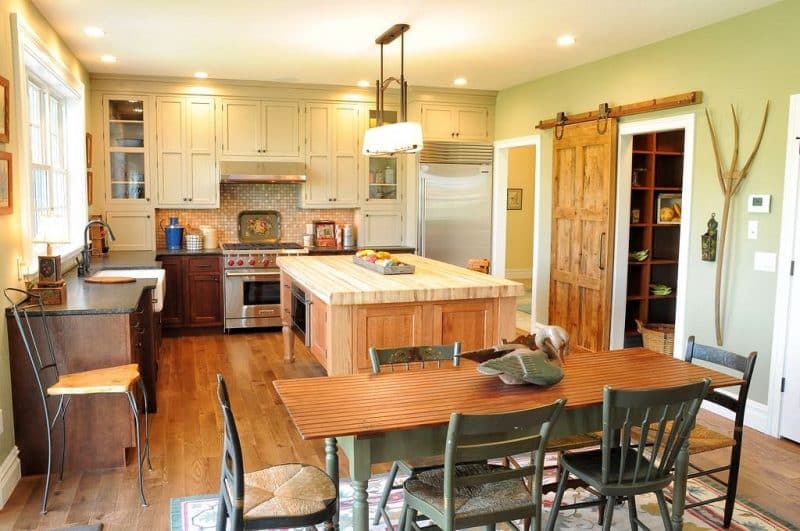 Points of Interest ● large kitchen island with butcher block countertop and built-in microwave ● distressed sage green dining chairs and dining table base ● wall-mounted wooden rake ● mosaic tile stove backsplash ● hand painted wooden swan sculpture on dining table with slatted top ● sliding wooden barn door to pantry
7. Compact Kitchen
Points of Interest ● limestone countertop with sidesplash ● zigzag patterned upholstery on Parsons dining chairs ● aloe vera in mini terracotta pot with flower-shaped saucer ● wood framed white matted still life painting on eggshell white wall ● 3-light glass lantern pendant light
8. Hand Painted Cabinet
Points of Interest ● floating upper cabinets with arched raised panel doors ● 2 wrought iron swivel bar stools with wooden top backrest ● small hand painted wooden cabinet ● blue and yellow decorative wood carved keys on dark beige wall ● wooden dining furniture and small cabinet tying in with kitchen cabinets and partial wood flooring ● porcelain tiled dining room and kitchen floor
9. Corner Cabinet
Points of Interest ● satin finish solid wood dining table with 4 gray and white floral upholstered chairs ● 2 round olive green bar stools with black wooden legs ● matching light gray granite countertops and window sill ● 2 framed leaf wall art complementing the sepia woods landscape photo on wall ● glass sliding door to deck with transom window
10. Above Cabinet Decors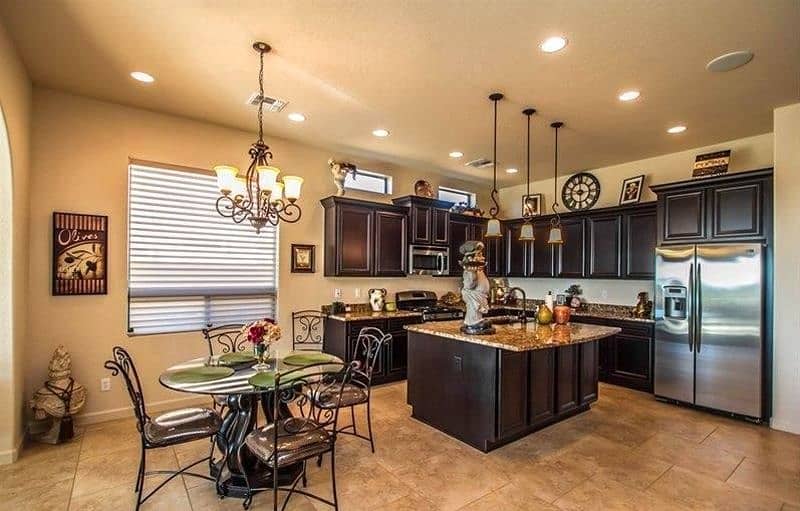 Points of Interest ● wrought iron dining chairs calling back wrought iron chandelier and 3 pendant lights ● coffee brown granite island countertop with curved overhang ● skeleton Roman numeral clock above upper cabinet ● Italian chef resin statue on kitchen island ● cast stone urn with decorative tassel by the archway ● 2 clerestory windows above cabinets
11. Abstract Art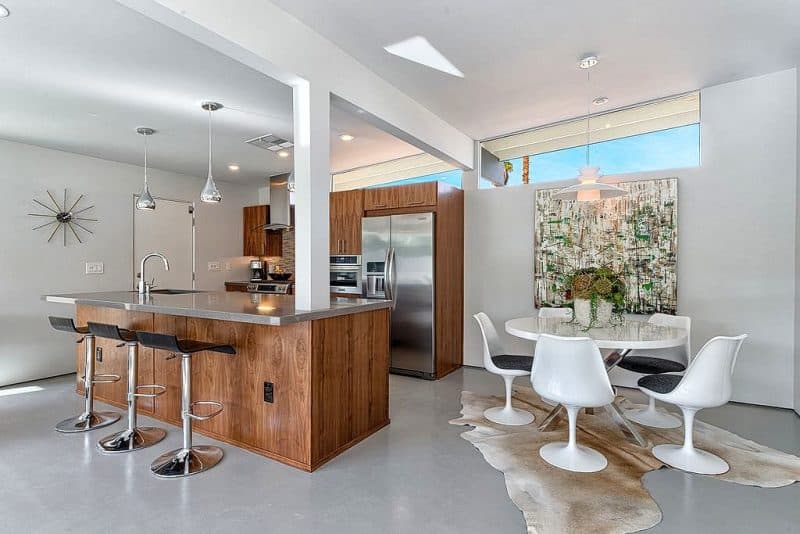 Points of Interest ● matching wood grain laminate island base and kitchen cabinets ● 3 low back swivel bar stools ● white acrylic dining chairs with pedestal base and gray cushions ● potted spilling plant on round acrylic dining table with chrome tripod base ● sunburst clock on white wall ● full wall-mounted abstract art on canvas ● faux cowhide rug on gray epoxy flooring
12. Cut-Out Backrest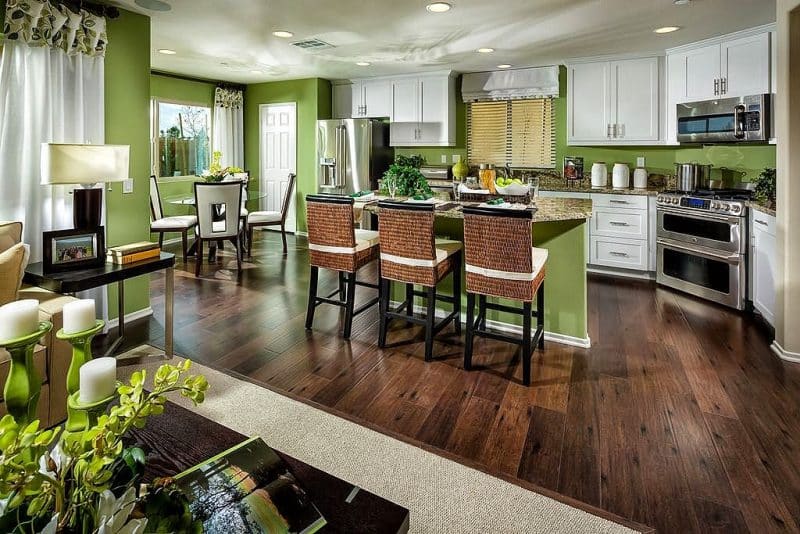 Points of Interest ● 4 white upholstered dining chairs with cut-out backrest ● 3 wicker counter chairs with white tie-back cushions ● Crystal Gold granite countertops ● white curtain with attached valance in dining area window matching the fabric Roman shades above kitchen sink ● walls and island base in Benjamin Moore's 'Napa Vineyard' green ● handscraped engineered hardwood floor
13. Double-Sided Cabinets
Points of Interest ● wall cut-out with breakfast bar and double-sided overhead cabinets with corner shelves ● farmhouse dining table with drawers and ladder back dining chairs ● vintage wooden and bamboo storage chest with wicker trims ● 2 wall-mounted stainless steel wine racks ● glass mosaic tile backsplash
14. Slim Bar Stools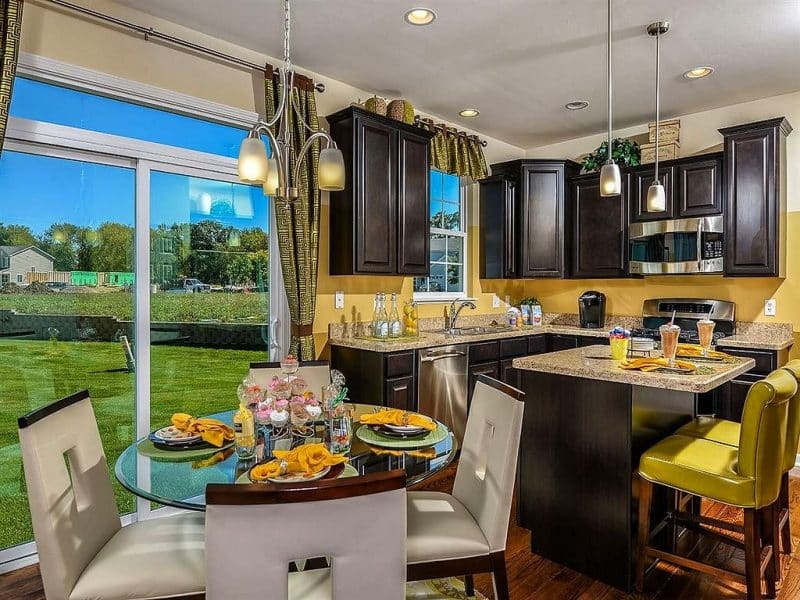 Points of Interest ● dark wooden cabinets with built-in stainless steel kitchen appliances ● small kitchen island with 2 slim lime green leather slipcovered counter chairs ● vintage storage boxes above upper cabinet ● dining table topped with round beveled glass and surrounded by chairs with cut-out backrest ● glass sliding doors to patio with full view transom
15. White & Wood
Points of Interest ● brown wooden cabinets with integrated refrigerator ● glass upper cabinets with white ceramic dinnerware ● white acrylic contemporary bar stools with stainless steel legs ● white quartz countertop with full wall matching backsplash ● illuminated single-hung window with frosted privacy film with fabric Roman shade by the purple orchid ● satin finish solid wood slab dining table
16. Floating Shelf
Points of Interest ● pale sage dining chairs ● satin finish wood topped island with white drawers, cabinets, and built-in open shelves ● soapstone countertop with sidesplash ● 3 slim olive green bottle-shaped vases with Butter Daisies on slim floating shelf ● 3 amber glass goblets with clear glass base calling back glass bottles and jars on island shelf
17. Diagonal Island
Points of Interest ● diagonal kitchen island with seating and chopping block inset on top ● quartz island countertop with clipped corners ● ladder back dining chairs matching the shorter ladder back counter chairs ● dark bar cabinet with wine storage ● cast iron cookware set and pig sculpture above upper cabinets ● round floral patterned traditional area rug following the dining table shape
18. Black & White
Points of Interest ● U-shaped kitchen with white Corian countertop and corner sink with shelf ● black and white low back swivel bar stools with chrome pedestal base ● back-painted glass topped dining table with black and white tufted leather dining chairs with L-shaped legs ● wall-mounted mirror with hand painted geometric design on wood frame ● Brazilian cherry hardwood flooring
19. Strip Lighting
Points of Interest ● butcher block countertop with white beadboard panels on base cabinets ● mirrored stainless steel backsplash complementing the built-in dishwasher and partial stainless steel wall cladding ● butcher block island countertop ● 2 black woven leather bar stools ● white open shelves with corbels and LED strip lights
20. Eat-In Kitchen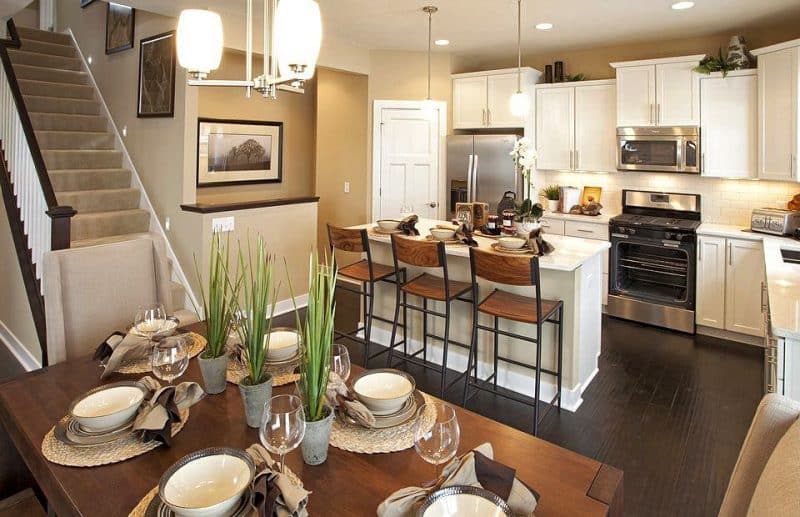 Points of Interest ● teak dining table with 2 slim wingback chairs ● wooden bar stools with black powder coated metal legs ● white quartz L-shaped countertop with white subway tile backsplash ● white pantry door matching the kitchen cabinets ● hand scraped dark hardwood floor
21. Linear Mosaic Tiles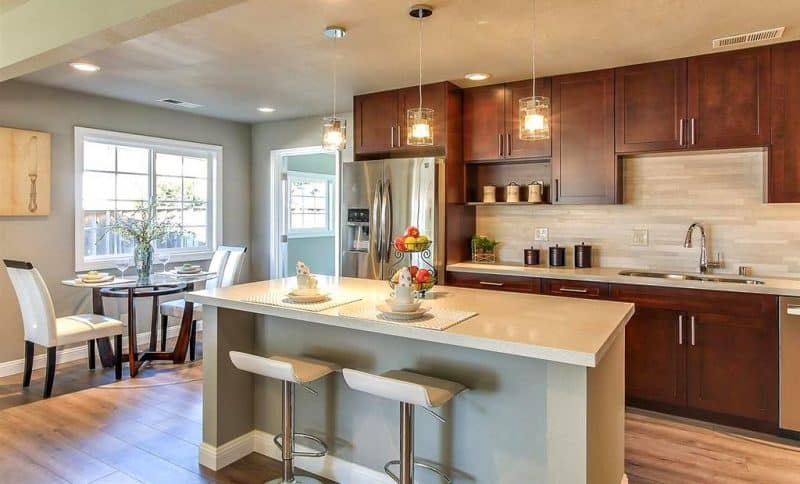 Points of Interest ● white quartz countertop with porcelain linear mosaic tile backsplash ● "Bloomfield" dining table with crossing wooden base and beveled glass top ● 3-piece oil-rubbed bronze canister set on countertop ● 3 glass pendant lights over kitchen island with light gray base ● wall-mounted butter knife art on canvas
22. Metal Tile Backsplash
Points of Interest ● one-wall kitchen with soapstone countertop and built-in beverage cooler ● tin tile backsplash complementing the stainless steel coffee maker and on the go mug collection ● stainless steel wall-mounted wine rack with wine glass holder ● mahogany finish dining table and chairs ● bright blue lapis walls with wrought iron wine bottle shaped wall decors and electric neon bar sign
23. Resin Wall Decors
Points of Interest ● chocolate glazed raised panel cream cabinets with rope molding ● butcher block countertops with wicker storage baskets ● woven bamboo vase with silver dollar bouquet on round wood dining table ● open shelves with arch valance over farmhouse sink ● resin mermaid on clam shell throne wall decor above white stove ● 2 resin ammonite fossil seashells on olive green wall
24. Drop-Leaf Table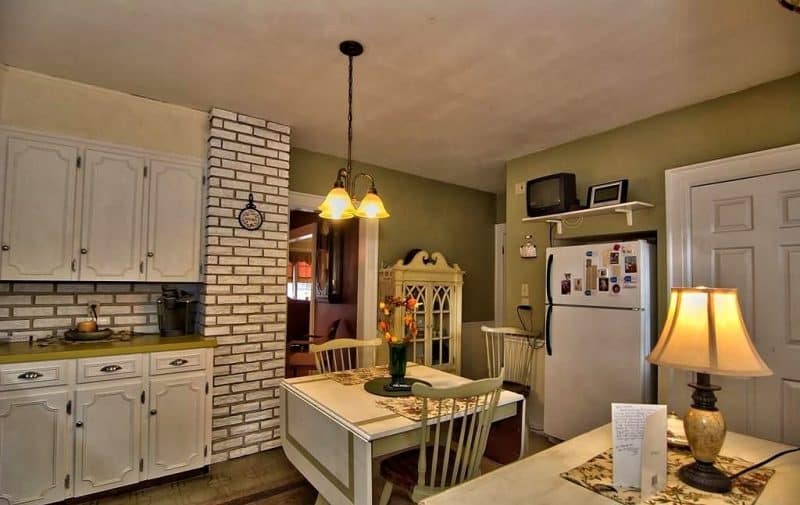 Points of Interest ● glazed faux brick wall and backsplash with contrasting dark grout ● olive green walls with white doors calling back drop-leaf dining table ● olive green laminate countertop with exposed hinged white cabinets ● white TV shelf above refrigerator alcove ● small cream display cabinet with scrolled pediment and 11-lite Gothic mullion cabinet doors
25. Garden Window
Points of Interest ● built-in induction cooktop on the budget friendly laminated countertop "Strata Olympico" Formica laminate ● Amish caboose dining chairs calling back luxury vinyl plank floor ● ceiling-mounted center cabinet with glass door panels and 2 interior shelves ● wood laminate island countertop with open shelving underneath ● garden window with potted flowers on built-in shelf
26. Skylight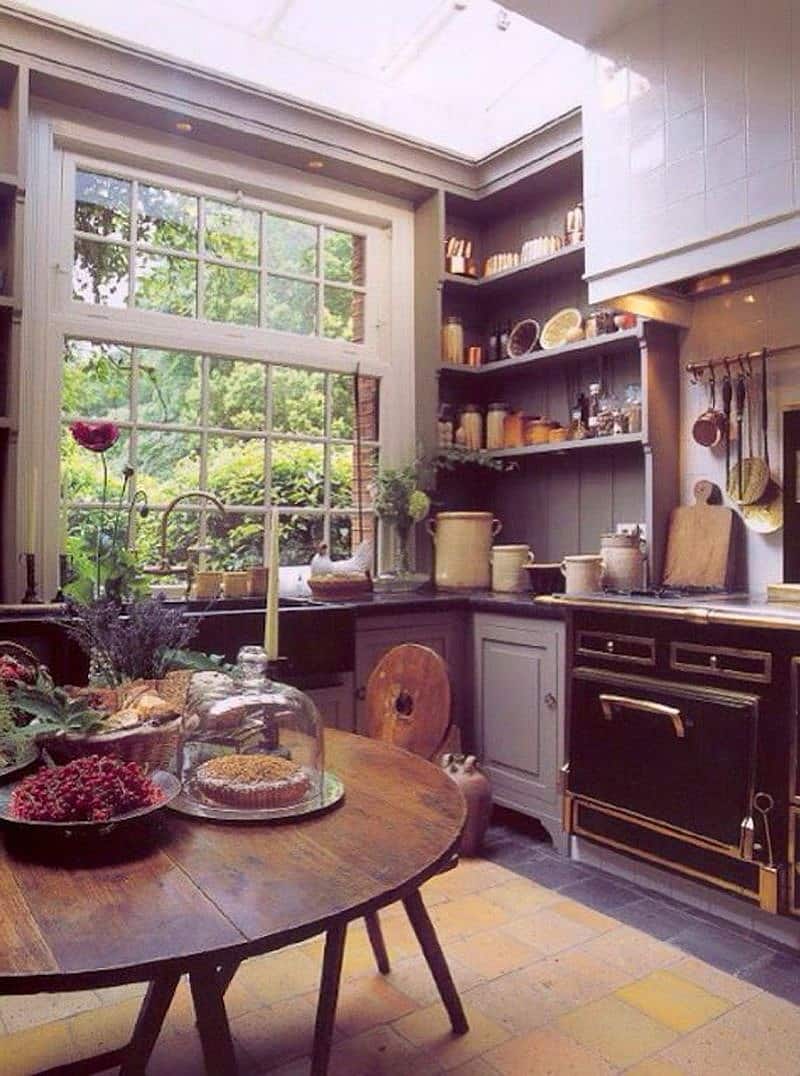 Points of Interest ● antique round back dining chair with small circular cut-out ● metal cake tray with glass cloche on round antique wooden dining table ● assorted glazed ceramic jars on soapstone countertop and wooden open shelves ● white porcelain tiled range hood ● large skylight providing natural light to kitchen ● square brick patterned travertine floor with soapstone tile border
27. Matte Black
Points of Interest ● multicolored dining chairs with matte black wood dining table ● matching matte black cabinets and island base ● red Venetian blinds calling back red dining chair ● U-shaped kitchen with small eat-in island ● wooden rooster decors above upper cabinets ● antique copper wrought iron chandelier