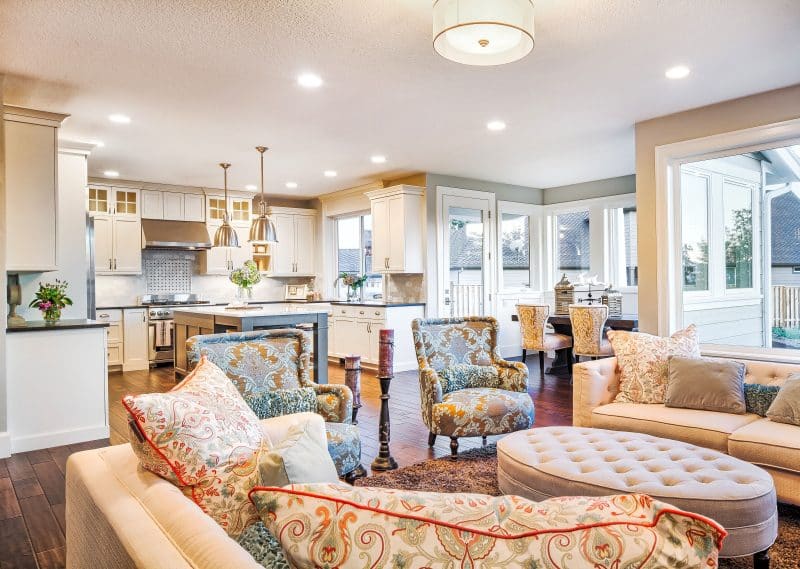 Hello and welcome to the Décor Outline photo gallery of Open-Concept Living Room Designs. Below you will find a summary of the benefits, main options and some design ideas we handpicked for you along with beautiful photos. Enjoy!

What are the benefits of open-concept living room designs?
More space – no walls so your living room looks and feels larger
Easy entertaining – you can chat with the guests in the living room while you prepare hors d'oeuvres in the kitchen
Brighter rooms – provides more natural light coming from living room windows and those of other rooms

What are the main options for open-concept living room designs?
Floor Plan: open to kitchen and/or dining room (great room style), step down, multi-level, sunken
Layout: open two-story, arch between rooms, seating furniture placement (diagonal, floating, L-shaped, square, parallel)
Focal Point: fireplace, chandelier, accent chair, coffee table, accent wall, glass window wall, ceiling (coffered, vaulted, cathedral, with trusses)
Tie-Ins: one type of flooring, repeating patterns, consistent color scheme, matching pieces (lighting fixture, art, furniture, rug)
Lighting: pendant lights, recessed lights, chandelier, natural light (French doors, window wall, fanlight, skylight, transoms)
Flooring: hardwood, travertine, porcelain, marble, limestone, slate, terracotta, concrete

What follows are beautiful photos of open-concept living room along with design ideas we thought may be of interest to you. Enjoy and happy home decorating!
1. White Lines
Points of Interest ● two-tone coffered ceiling ● dining nook with round table ● medium tone hardwood flooring ● matching window trim, baseboard and ceiling molding
2. Green is In!
Points of Interest ● step down living room ● glass window wall ● exposed wooden beams and pillar ● rattan accent chair with ottoman ● cushioned wicker stationary chair and ottoman
3. Foyer
Points of Interest ● 2-toned wood double front door ● gray tuxedo-style sofa set ● vaulted ceiling with exposed wooden beams ● striped foyer rug ● built-in aquarium with the wall cabinet
4. Infinity
Points of Interest ● brick and stone arched wall ● window wall with wooden frame ● infinity pool ● travertine flooring ● lawson style sofa with 2 wingback chairs
5. Grayscale
Points of Interest ● dark gray accent wall matching window frame ● rectangular natural wood cocktail table ● loveseat dividing the living room and kitchen area ● black round tray table
6. Round 'd Clock
Points of Interest ● signature gray color accents unifying different areas ● open center iron wall clock ● damask pattern wingback accent chairs ● tufted ottoman coffee table ● wood wicker basket entry foyer cabinet
7. Touch of Colors
Points of Interest ● exposed reclaimed wood beams ● denim blue camelback sofa ● mini wet bar in vibrant apple green ● gold crystal chandelier
8. Pink Peonies
Points of Interest ● square column defines the dining and living area ● striped wallpaper design ● antique wooden framed daybed with velvet cushions ● 3-light candle style sconce
9. Vaulted Ceiling
Points of Interest ● vaulted ceiling with exposed reclaimed wood beams, trusses and columns ● 16-light iron wide chandelier ● french door with printed curtain shutter ● wooden center and side tables with barley twist legs
10. Open View
Points of Interest ● floating sofa set with area rug ● 2-tier round iron chandelier ● covered patio with dining area ● dark blue kitchen island ● gray accent loveseat
11. Earthy Feel
Points of Interest ● single wrought iron front door ● earth tone color palette with faux painted walls ● slate tile flooring ● english rolled arm sofa set ● wood drum cabinet with storage
12. Ceiling Treatment
Points of Interest ● accent ceiling with diagonal wood beam ● tray ceilings sectioning each area ● wooden high chair with barley twist legs ● rustic trunk cocktail table
13. Arched Wall
Points of Interest ● arched wall divisions ● coffered ceiling with wood panel inserts ● matching column wood design and kitchen cabinets ● bell dome glass pendant lights with chrome details
14. Red, Black, and Modern Lines
Points of Interest ● white, black, and red color palette ● black cube accent chairs ● upholstered dining chairs with chrome legs ● red dining area rug ● ceiling to floor curtains
15. Open Loft
Points of Interest ● open two-story layout ● window walls ● glass staircase railing ● white tuxedo sofas ● acrylic console table
16. Diagonal
Points of Interest ● diagonal living room layout ● floor to ceiling stone fireplace ● dropped kitchen ceiling ● pendant lights over kitchen island ● curved window wall
17. Red Island
Points of Interest ● brown leather sectional sofa ● gray color accents tying in with stainless steel elements ● high gloss marble tile flooring ● lighted cabinet shelves with frosted cabinet doors
18. Archway
Points of Interest ● brick archway ● glass topped hexagonal cocktail table ● brick faced kitchen island bar ● medium tone pine hardwood flooring ● marble fireplace surround
19. Beadboard
Points of Interest ● L-shaped sofa dividing the kitchen area and living room ● white beadboard ceiling panels ● upholstered ottoman with cabriole legs ● marble top coffee table
20. Matching Off-Whites
Points of Interest ● off-white corduroy sofa set with matching area rug ● dark hardwood flooring ● matching kitchen cabinets, moldings and trims ● inset shelves ● recessed lighting
21. Black Shades
Points of Interest ● off-white sofa set with contrasting black coffee table ● matching black shade pendant lights and table lamps ●marble tile flooring ● white wool shag area rug
22. Floating
Points of Interest ● floating living room layout ● double glass entry door with hardwood frame ● black bornova accent table ● dark blue kitchen island ● exposed reclaimed wood beams
23. Arches and Steps
Points of Interest ● multilevel floor plan with step down to living room and kitchen ● different colored archway columns ● stone wall fireplace ● french doors with transom windows
24. Curved Sofa
Points of Interest ● varnished dark wood beadboard ceiling panels ● exposed laminated beams ● slate stone tile flooring ● brown curved sofa with orange accent chair
25. Grand Piano
Points of Interest ● grand piano as living room major piece ● arched mantle mirror ● twin built in shelves and cabinets ● maple hardwood flooring ● glass topped antique coffee table with cabriole legs
26. Wood and White
Points of Interest ● textured white painted textured white painted wall ● wood floor lamps with ecru shades ● mid-century wood armchair ● round wood coffee table ● upholstered ottoman with wood frame
27. Mirror Wall
Points of Interest ● built-in decorative arch between living room and kitchen/dining area ● mirrored fireplace wall ● casement windows with semi circle transom ● brown leather English roll arm sofa set