Hello and welcome to the Décor Outline photo gallery of master bathroom designs. Below you will find a summary of the benefits, main options, and some design ideas we handpicked for you along with beautiful photos. Enjoy!

What are the benefits of having a master bathroom?
Gives you your own in-house retreat spot; just for you, and whenever you need it
Can be customized to your space availability and budget
Saves prep time as master bathroom is only short walking distance from your bed or closet
Home buyers love a master bathroom – will add resale value to your home

What are the main options for a master bathroom?
Floor Plan: bathtub with walk-in shower, walk-in shower only, built-in or one of a kind vanity, wet room, sectioned off toilet
Flooring: hardwood, porcelain, marble, granite, slate, travertine, ceramic tiles, flagstone, concrete
Countertop/Vanity: double sink, single sink, marble, granite, Corian, travertine, ceramic tiles
Shower: doorless, half wall, enclosure (pre-fabricated), glass-enclosed walk-in
Water Fixture: ceiling or wall mounted shower head, floor mounted tub filler, single or two-handle faucet, bidet
Bathtub: pedestal, raised, slipper (single/double), cast iron clawfoot, freestanding, drop-in, walk-in, alcove, jetted

What follows are beautiful photos of master bathrooms along with design ideas we thought may be of interest to you. Enjoy and happy home decorating!

1. Pallet Walls
Points of Interest ● freestanding resin corner bathtub ● tray ceiling with cove strip lighting ● antique dresser with matching wall-mPoints of Interest ● towel warmer in polished chrome finish ● white bathtub with tray ● porcelain tiles in running bond pattern for shower area walls ● oriental area rug on polished hardwood floors ● black lantern pendant light

2. French Doors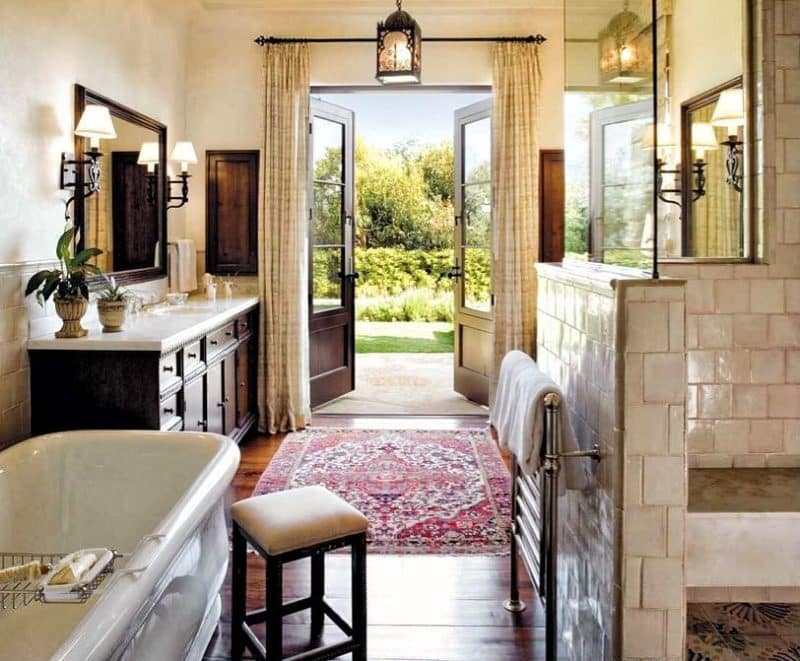 Points of Interest ● towel warmer in polished chrome finish ● white bathtub with tray ● porcelain tiles in running bond pattern for shower area walls ● oriental area rug on polished hardwood floors ● black lantern pendant light

3. Antique Faucet
Points of Interest ● walnut tumbled stone walls in shower area ● antique bathtub faucet ● white beadboard wainscoting ● single-hung window with ecru venetian blinds ● two-toned slate flooring

4. Outdoor Feel
Points of Interest ● ridge skylight ● large glass walk-in shower ● pink bougainvillea in clay planter ● natural wood slab vanity countertop with above counter sink ● medium-toned hardwood wide plank flooring

5. Console Sinks
Points of Interest ● two tall white built-in mirrored cabinets ● cheetah faux fur upholstery on walnut wooden chair ● eight-bulb black lamp shade chandelier ● two bathroom console sinks ● dark oak flooring

6. BasketWeave Tiles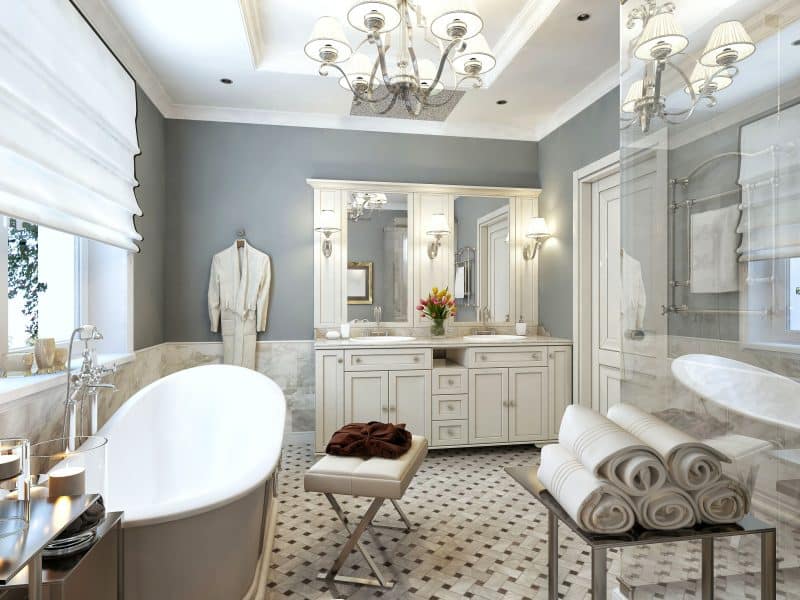 Points of Interest ● white tufted square stool with cross legs in polished nickel finish ● ecru shaker cabinetry with three wall sconce shades ● white Roman shades on stationary window ● basketweave tile flooring ● marble wainscoting

7. Entomology Art
Points of Interest ● antique dresser with two built-in sinks and swivel mirrors ● floor-mounted tub faucet with hand shower ● slim French door opening to private patio ● large entomology art facing bathtub
8. Gold Fixtures
Points of Interest ● coordinating marble tile floor and bathtub alcove ● segmental arch windows with daffodil yellow Roman shades ● uniform brushed gold finish hardware and water fixtures ● bathroom pocket door

9. Twin Vanities
Points of Interest ● white granite tile flooring with trellis stencil accent and gray tile border inlay ● twin vanities with carrara marble countertop on opposite walls ● matching wall sconce shades on gray wall panels

10. Shutter Fabric Inserts
Points of Interest ● wooden shutters with fabric inserts ● vanity niche ● bathtub wooden base with raised panels ● matching granite floor and shower enclosure walls ● brown multi-toned porcelain tiles resembling a rug

11. Moroccan Contemporary
Points of Interest ● Moorish doorways ● custom bathtub for two with built-in champagne bucket ● faux fur barrel chair with cabriole legs ● Moroccan-style window with trellis pattern screen ● tall vanity mirror reflecting aligned doorways
12. Copper Tub
Points of Interest ● floor to ceiling walnut cabinetry with downlights ● copper pedestal bathtub ● hand painted deer suede ottoman with full fringe ● stone wall cladding ● irregular flagstone flooring

13. Cathedral Ceiling
Points of Interest ● cathedral ceiling with dark wood grain ● travertine floors with custom inlay ● segmental arch doorway to shower room ● raised bathtub by muntin-style windows ● round pedestal center table

14. Mosaic Wall
Points of Interest ● mosaic tiled wall with floral accents ● casement windows with sheer fabric Roman shades ● large oval raised tub ● glass toilet and shower divider ● oversized ottoman with wine tray

15. Marble Floors
Points of Interest ● polished diamond pattern marble floor ● ceiling-mounted round shower head ● crystal glass chandelier ● two-legged small vanity ● wall-mounted chrome towel warmer
16. Tray Ceiling
Points of Interest ● basketweave tile flooring ● matching fabric shade chandelier and wall sconces ● tray ceiling with cove lighting ● open shelves flanking window ● transom cabinets above large mirror

17. Double Slipper Bath
Points of Interest ● stone veneer walls ● brown leather ottoman with round base ● copper double slipper bathtub ● beaded chandelier ● large flagstone slab flooring

18. Royalty Theme
Points of Interest ● ornate mirror design with brushed gold frame ● coordinated brown marble tile floor and walls ● wooden armchair with crown design on backrest ● crown cabinet pulls ● flowering shrub inside shower area

19. Window Shutters
Points of Interest ● cathedral ceiling with decorative beams ● metal orb chandelier ● gray cabinets with crystal glass knobs ● white window shutters ● oversized tufted beige stool with black metal legs
20. Brass Hues
Points of Interest ● metallic wallpaper design ● corner bathtub with antique brass and oil rubbed bronze fixtures ● olive green shaker cabinets ● glass bubble chandelier ● glass apothecary jar

21. Powder Blue Walls
Points of Interest ● powder blue walls with single-hung windows ● double basin vanity with marble top ● white shaker base cabinets with custom toe kick ● white porcelain tile flooring with marble inlay ● high ceiling with square transom window

22. Window Valance
Points of Interest ● bath alcove with large window and draping valance ● tufted skirted bench ● wooden cabinetry with decorative pillars ● shade sconces on vanity mirrors ● two carved wooden flamingo decors

23. Flagstone Flooring
Points of Interest ● natural flagstone flooring ● mosaic tiled walls and countertop ● stained concrete deep tub with ceiling mounted round water fixture ● solid wood bathroom armoire ● vintage lattice lantern pendant light
24. Dark Cabinetry
Points of Interest ● acrylic clawfoot bathtub with floor-mounted tub filler ● large oval tufted ottoman with nailhead trim ● dark walnut wooden cabinet with reeded glass insert ● mosaic edge countertop with two overmount sinks

25. Bathtub Surround
Points of Interest ● bathroom fireplace with stainless steel grate ● lounge chair with white cushions and contrasting dark walnut frame ● black and white framed photograph above fireplace mantel ● round porcelain side table ● recessed panel bathtub surround

26. Doorless Bath
Points of Interest ● raised black pedestal bathtub ● satin beige drapes with golden hues calling back artwork above double-sided fireplace ● doorless archway to bathroom ● black ceramic tile baseboard

27. Double Door
Points of Interest ● walk-in shower glass door flanked by half wall glass blocks ● mosaic stone backsplash ● rustic hickory base cabinets ● wall to wall vanity mirror reflecting hickory double door