Hello and welcome to the Décor Outline photo gallery of marble master bathroom designs. Below you will find a summary of the benefits, main options and some design ideas we handpicked for you along with beautiful photos. Enjoy!

What are the benefits of having a marble master bathroom?
Versatile timeless beauty – can be used for either a classic or modern bathroom design due to its wide variety of types and colors
Luxurious feel – marble's inherent look and texture creates a sense of luxury that you can enjoy every time you use the master bathroom
Easy to clean – sealed marble is water and moisture-resistant, makes for a good material choice in the bathroom

What are the main options for marble master bathrooms?
Application: wall (accent, niche), countertop, sink, corner bench, bathtub (rim, platform, pedestal, surround), wainscoting, chair rail, ceiling, floor
Colors: white, beige, brown, gray, black, green, exotic
Layout Pattern: running bond, mosaic, chevron, basketweave, diamond

What follows are beautiful photos of master bathrooms along with marble design ideas we thought may be of interest to you. Enjoy and happy home decorating!

1. Accent Wall
Points of Interest ● Onyx Verde Pakistano marble wall ● walk-in shower with glass door and wall ● floor-mounted stainless steel shower ● floating bench with underneath lighting ● illuminated wall niche ● floor-to-ceiling marble tiles

2. Frosted Glass Doors
Points of Interest ● Calacatta marble countertop matching the bathtub rim and chair rails ● frosted glass closet doors ● ivory chair with hole in backrest ● small framed blackboard ● beige porcelain tiled floor in grid pattern

3. French Doors
Points of Interest ● beige marble bathtub and wainscoting ● separate toilet area with shutter upper door panel ● leaded crystal glass chandelier ● round window in walk-in shower ● white double French door to terrace

4. Marble Bathtub Pedestal
Points of Interest ● oval bathtub with marble rim and pedestal ● marble tiled accent wall with ribbon fireplace ● wall-mounted metal strip abstract art ● white marble countertops and sidesplash ● dark wooden base cabinets

5. Stainless Bathtub Exterior
Points of Interest ● white marble countertop and walls ● freestanding double slipper bathtub with stainless steel exterior ● oversized full-length mirror facing the bathtub ● frosted glass door to separate toilet area ● marble mosaic floor

6. Corner Shelves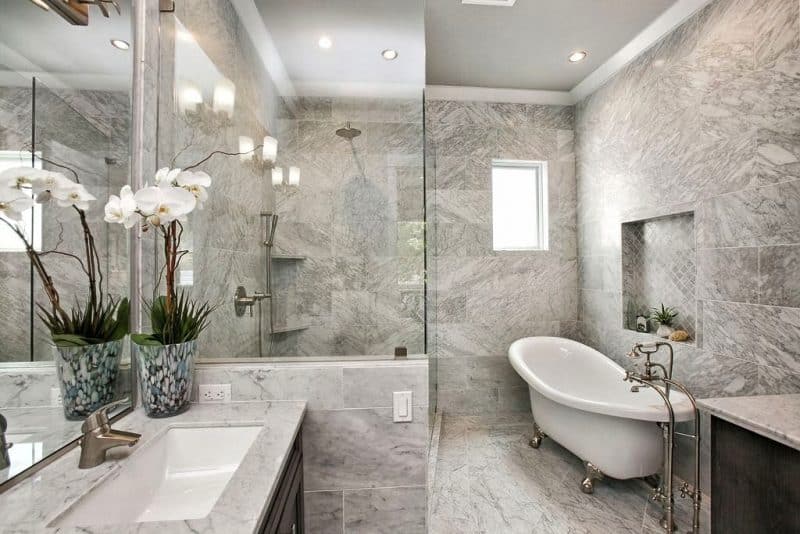 Points of Interest ● gray marble walls with diamond tile patterned niche ● clawfoot slipper bathtub ● 2 marble corner shelves in walk-in shower ● Carrara marble countertop with undermount sink ● light gray ceiling with recessed lights

7. Soaking Tub
Points of Interest ● large round marble soaking tub ● matching beige marble tiled walls and floor ● black base drawers with open shelf towel storage in between ● custom satin finish tree stump vanity bench ● 2 square marble vessel sinks

8. Floating Shelves
Points of Interest ● Calacatta marble countertop, walls, bathtub base, and floor ● solid wood floating shelves ● flat panel vanity mirror doors complementing the chrome high arched faucets ● doorless master bathroom

9. Basketweave Marble Floor
Points of Interest ● raised bathtub with marble topped platform ● Carrara marble countertop with cutouts ● slim glass shelves in between mirrors ● arched wall following arched window shape ● marble basketweave center flooring

10. Marble Mosaic Wall Accent
Points of Interest ● beige marble tiled wainscoting ● varnished wooden double vanity with open shelf underneath ● 2 reclaimed wood framed mirrors ● marble mosaic walk-in shower wall accent matching the floor

11. Chevron Marble Tiles
Points of Interest ● gray and white marble walk-in shower wall in diamond pattern ● gray marble countertop with sidesplash ● white pedestal bathtub ● glass shade pendant light● chevron marble floor

12. Vanity Alcove
Points of Interest ● brown marble tiled floor ● raised bathtub with cream glazed platform ● walk-in shower with travertine tiled walls ● corner vanity with dentil molding ● 2 slim upper cabinet doors with glass and fabric inserts

13. Glazed Drawers
Points of Interest ● two-step raised bathtub ● glazed ivory drawers with crystal glass knobs ● porcelain tile mosaic accent wall ● 2 segmental doorways to walk-in shower room ● curved corner shelves in shower ● wall-to-wall vanity mirror

14. Pillars on Marble Platform
Points of Interest ● curved beige marble countertop with arched mirrors ● beige walls and ceiling ● 2 pillars framing the raised bathtub ● beige marble floor with black diamond inlay

15. Curved Walk-In Shower
Points of Interest ● curved brown marble walk-in shower wall ● dark stained cabinetry with flat crystal glass knobs ● white quartz countertops ● drop-in bathtub with beige marble platform ● patterned tiled walk-in shower upper wall

16. X Mullion Cabinets
Points of Interest ● Carrara marble countertops with undermount sinks ● X mullion mirrored cabinet doors ● white freestanding bathtub ● gray walls complementing the marble slabs ● white marble tiled floor in diamond pattern

17. Marble Wainscoting
Points of Interest ● white marble wainscoting matching the floor ● under-cabinet open shelf for towel storage ● silver taper candle holder ● distressed wood framed art ● 2 flush mount crystal beaded chandeliers

18. Porcelain Inlay
Points of Interest ● white marble countertop with dark espresso base cabinet ● gray marble walk-in shower walls with black porcelain inlay ● 2 marble candle holders with antique brass base ● dark gray porcelain tile sidesplash

19. Marble Mosaic
Points of Interest ● marble walk-in shower wall ● gray marble mosaic tiled floor and wall accent in walk-in shower ● gray marble countertop complementing the gray walls ● white beadboard wainscoting ● chrome faux candle chandelier

20. Round Soaking Tub
Points of Interest ● beige marble tiled walls and floor ● honed marble soaking tub with high arched floor-mounted tub filler ● large walk-in shower with glass wall and 2 showers ● 2 slim glass doors to separate toilet area and sauna

21. Plantation Shutter
Points of Interest ● gray marble walk-in shower walls ● glass door with center frosted glass ● light gray suede bench upholstery with chrome X legs ● white plantation shutter on window ● 2 framed art on wall

22. Three-Sided Aquarium
Points of Interest ● beige marble tiled wall and floor ● cream marble bathtub ● tall built-in 3-sided aquarium ● large sheer roller blinds on stationary window ● square crystal rain chandelier

23. Marble Chair Rail
Points of Interest ● square marble tile chair rail with small marble diamond accent ● marble mosaic walk-in shower flooring ● granite countertop with shallow round vessel sink ● matching wooden base cabinet and mirror frame

24. Exotic Marble
Points of Interest ● exotic green marble walk-in shower wall and floor matching the wainscoting ● ball and claw feet bathtub ● olive green balloon topper valance ● curved back olive green dotted chair with pleated skirt ● ocean view windows

25. Marble Wall Niches
Points of Interest ● Calacatta marble walk-in shower walls with built-in bench and double niches ● white base cabinet with tapered legs and long white drawers ● 2 apothecary glass jars on lattice stainless steel tray ● sliding transom window

26. Stationary Windows
Points of Interest ● marble walls with large stationary windows ● two-sided glass walk-in shower walls and door ● freestanding 3-arm towel rack ● freestanding double slipper bathtub ● diamond pattern marble tiled flooring

27. Black Marble Ceiling
Points of Interest ● ocean green marble walk-in shower ceiling, floor, and walls ● black marble countertop with ogee edge ● golden olive embroidered ottoman with tassels ● raised paneled drawers with flat faceted crystal knobs and handles