Hello and welcome to the Décor Outline photo gallery of living rooms with French doors. Below you will find a summary of the benefits, main options and some design ideas we handpicked for you along with beautiful photos. Enjoy!

What are the benefits of having French doors in the living room?
Brightens up living space – allows the natural light to come in throughout the day, a great way to lift up everyone's mood
Creates seamless transition – gives a sense of space and continuity even if used as a room partition
Brings the outdoors inside – easy access to the outdoor, and scenic views in the comfort of your living room

What are the main options for living room French doors?
Types: double, single, arch top, round top, with solid panels, full view
Door Swing: in-swing, out-swing, bi-fold
Design Features: sidelights, transoms, fanlights, moldings, shutters
Glass: clear, frosted, with muntins
Hardware and Finish: levers, pull handles, bolts, hinges, brass, bronze, oiled
Door Frames and Finish: wood, iron, painted, stained

What follows are beautiful photos of French doors along with design ideas we thought may be of interest to you. Enjoy and happy home decorating!
1. Serene in Green
Points of Interest ● four-lite double French door with solid panel bottom in chinois green ● three-drawer 19th century coffee table in teal and gold ● two brown leather wingback chairs with nailhead trim ● nature-inspired branchy Durango chandelier in white ● rustic wooden cross-back dining chairs
2. Dramatic Entrance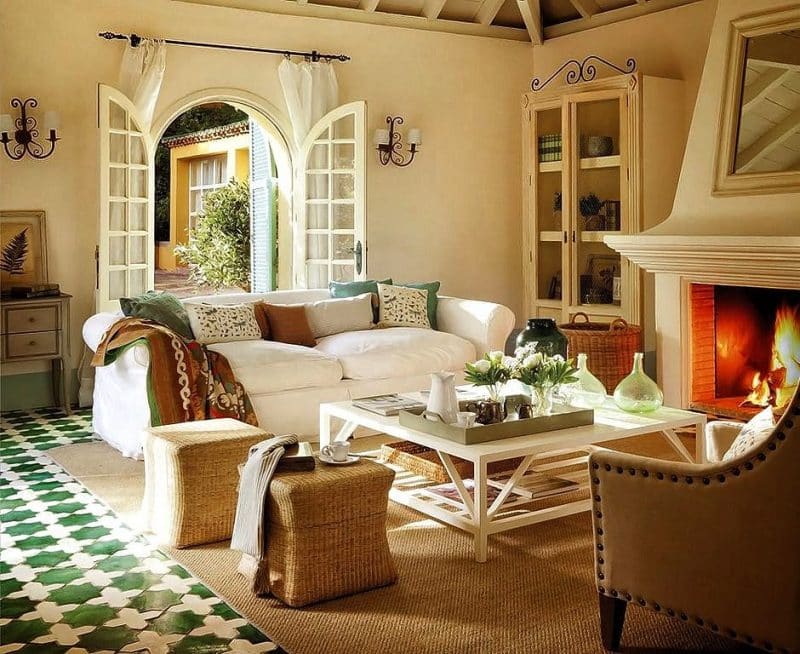 Points of Interest● arch top French door with seafoam green wooden shutters ● nailhead-trimmed cornsilk colored armchair ● a pair of earthy jute poufs ● star and cross patterned tiles in white and green ● wood-burning fireplace with projecting hood and crown molding
3. Cute d'Azur
Points of Interest ● full view French doors with rectangular transom windows ● Ming dynasty inspired Kang table ● two glass jug lamps with burlap shades ● two wooden round-top end tables with criss-cross legs ● round iron chandelier over dining area
4. Sunny Solarium
Points of Interest ● 10-lite in-swing French doors with matching sidelights ● two vintage giltwood sunburst mirrors ● tiled fireplace surround with white mantel ● decorative crown molding on built-in shelves with bottom cabinets ● William and Mary inspired vintage stool
5. Laidback Black
Points of Interest ● black steel French doors with garden view ● leather cushioned ottoman with wicker storage ● glass paned buffet in cool gray ● Shaker style cheese basket leaning on the wall of buffet ● faux leather wingback chair with butterfly print pillow
6. Chinese Coral
Points of Interest ● multiple wide French doors and an overhead fanlight window ● glass topped coffee table with checkerboard weaved frame ● red Chinese pagoda garden stool ● oriental inspired cushioned square stools ● pair of coral red gourd-shaped table lamps
7. Roomy yet Cozy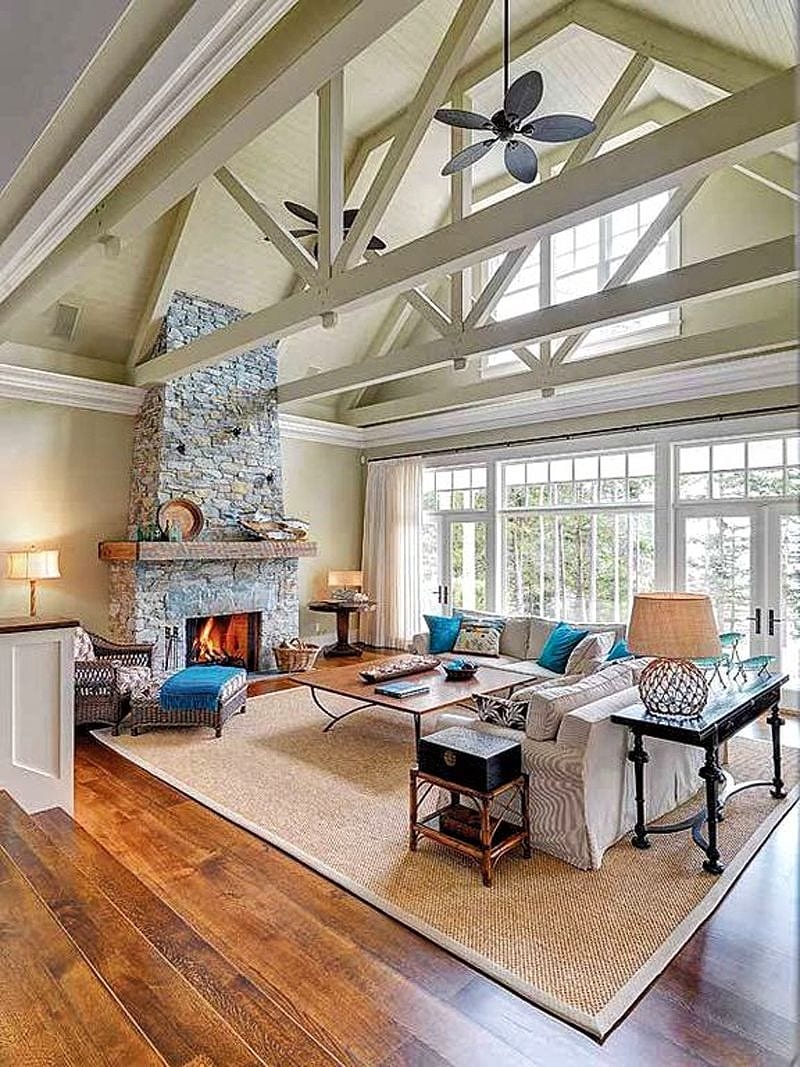 Points of Interest ● transom windows with muntins, in half frosted and half clear glass panes, over French doors ● stone veneer fireplace with wrap-around timber shelf mantel ● vaulted ceiling with painted beams and double hung windows ● a pair of tropical inspired ceiling fans ● wicker armchair with matching ottoman
8. Creamy Toast
Points of Interest ● French doors and matching windows lining both sides of this open living room-dining room combo ● red-brick double-sided fireplace that sections off the dining area ● high-gloss blonde hardwood floors ● decorative rafter tails supporting posts ● antique Regency armchair in black coffee
9. Fair Lady
Points of Interest ● French doors with contrasting brass finished hardware ● high ceiling trimmed with crown and dentil molding with center medallion ● ornate traditional crystal chandelier ● coffee table with side gadrooning and lion's paw footing ● giltwood corbels and framed artworks on wall
10. Lavender Blue Sky
Points of Interest ● French door opening to enclosed courtyard ● ceiling with recessed lighting that opens to a roof lantern ● brick fireplace in herringbone pattern with white mantel ● octagon mirror framed in reclaimed wood ● heavy Baroque capital coffee table
11. Tuscan Sun
Points of Interest ● sheer drapes over arch top French doors ● hand-painted French commode in a white crackle finish ● limestone fireplace with brick hearth ● stoneware pot lamp with coolie shade ● warm apricot faux finished walls
12. The Safari Room
Points of Interest ● two arch top French doors with a fireplace in between ● animal print area rug ● Saint Bernard artwork with picture light ● built-in open shelves with Hawaiian Ocean blue background ● tortoiseshell on a stand
13. Terracotta Living
Points of Interest ● iron framed French doors with detailed molding on casing ● Versailles patterned flooring in rustic terracotta hues ● fireplace with marble mantle and iron grate ● wooden framed mirror with carved pediment ● wooden rocking horse
14. Gentle Gentry
Points of Interest ● French doors and matching colonial type windows ● 2-tone staircase with wrought iron hand railing ● Bohemian distressed area rug in earth tones ● nature inspired painting of herons ● Louis XVI style settee in pale powder blue
15. Cheery Country
Points of Interest ● French doors framed by ring top draperies ● painted Colonial armoire ● table lamp with asian cloud motif ● red cachepot planters with painted medallions ● red oriental rug
16. Warm and Brown
Points of Interest ● French door leading to balcony ● brown Asian panel screen wall decor ● decorative brass andirons on fireplace hearth ● urn table lamp on end table ● Apollo Belvedere bust in marble
17. The Drawing Room
Points of Interest ● French doors with sidelights and surface bolt ● pink limestone fireplace and mantel surround ● decorative plates with British inspired blue Willow pattern as wall decor ● vintage writing table with ball-turned legs ● antique teapot with decorative details on coffee table
18. Shipshape
Points of Interest ● white framed French doors and double hung-windows with matching craftsman trims ● outdoor hanging lantern with oversized yoke ● mercury glass decors on coffee table ● wooden framed arched window mirror ● shiplap paneled walls in white
19. Wood Like This
Points of Interest ● dark framed French doors matching hardwood floor finish ● pair of accent cabinets with textured panels ● wood panel covered wall with modern sconces ● mezzanine with chocolate brown railing ● hanging drop crystal chandelier
20. Vaulted Sala
Points of Interest ● round top French door with oil-rubbed surface bolts and door handles ● groin vault with hanging lantern ● porcelain elephant garden stool ● rubber plants in wicker baskets ● pair of candelabra on mantel shelf
21. Pretty as a Picture
Points of Interest ● triple-set French doors with transom windows ● stone veneer fireplace with screen ● dormer windows over living area ● small square picture windows with crown moldings over white cabinets ● decorative birdhouse collection
22. Papy's Stylish Cabin
Points of Interest ● maple stained French doors ● fireplace with decorative limestone mantel and overmantel with crown ● framed botanical fruit prints ● French tall case clock ● French style ladder back chair with rush seat
23. Rocky Mountain Hearth
Points of Interest ● French doors with muntins and sidelights ● stacked stone fireplace and raised hearth ● artwork display on wall ● beamed ceiling with recessed lighting ● concrete and glass coffee table
24. The Grand Hall
Points of Interest ● wide French doors with specialty round top windows ● vaulted ceiling with decorative brackets and crown molding with corbels ● white open high shelves with crown moldings ● a pair of two tier pendant uplight chandelier ● antique brass cartel clock
25. Pops of Poppy Red
Points of Interest ● a pair of in-swing French doors with aged bronze door lever and hinges ● wood burning limestone fireplace surround ● round wall mirror ● tufted leather ottoman coffee table ● footed silver plate tray
26. Take My Blues Away
Points of Interest ● French door with bright brass lever and single cylinder deadbolt ● white brick fireplace in running bond pattern ● blue fabric tufted ottoman ● woven navy throw with tassels ● striped area rug in various shades of blue
27. Which Window
Points of Interest ● French door with walnut trim in clear satin finish ● bow windows with transoms following the slight curve of the wall ● parlor palms in large glazed ceramic flower pots ● geometric floral area rug ● branch floor lamp