Hello and welcome to the Décor Outline photo gallery of laundry room designs. Below you will find a summary of the benefits, main options and some design ideas we handpicked for you along with beautiful photos. Enjoy!

What are the benefits of having a laundry room?
Convenient and organized – can make washing clothes easier, you can put up storage for organizing laundry items and even a folding table
Adds value to your home – home buyers love a separate laundry room that can free up other areas of your house
Versatile – can double as a studio or office and be designed to suit your personal style

What are the main options for laundry rooms?
Washer Placement: freestanding, under counter, alcove, nook, enclosure
Countertops: granite, quartz, marble, soapstone, Corian
Walls/Backsplash: painted, tiles (porcelain, travertine, metallic), marble slab, wallpapered, barnwood, with decals
Storage: open shelves (stainless steel, wood), storage baskets (wire, wicker), cabinets, drawers, wall hooks, clothing rack
Features: sink (farmhouse, trough, freestanding), folding table (solid wood, on casters), art desk, coffee nook, alcove door (barn door, bi-fold)
Lighting: recessed lights, chandelier, pendant light (artichoke, frosted glass shade), library lights, paper lantern, spotlight bars
Flooring: travertine, engineered hardwood, porcelain, slate, granite

What follows are beautiful photos of laundry rooms along with design ideas we thought may be of interest to you. Enjoy and happy home decorating!
1. Laundry Alcove
Points of Interest ● white subway tile backsplash with 3 stainless steel open shelves ● 2 front loading washers under gray granite countertop ● stenciled and framed textual art on white walls ● small round wicker storage basket
2. Chicken Wire Inserts
Points of Interest ● cream upper cabinets with chicken wire inserts ● travertine tile backsplash with decorative tile inlay ● 2 slide out shelves with wicker storage baskets ● brown waterproofed wood countertops with farmhouse sink
3. Chalkboard Art
Points of Interest ● double panel white cabinet doors ● old west-inspired laundry signage on red wall ● red framed chalkboard with convenient built-in clock ● reeded porcelain pedestal planter on black front loading washer
4. Daffodil Yellows
Points of Interest ● white quartz countertop with off-white trough sink ● white beadboard paneled base cabinets ● white shelf on daffodil yellow wallpapered wall ● matching yellow checkered valance, iron board cover, and basket cover
5. Square Sink
Points of Interest ● gray quartz countertop with square apron-front sink ● white beadboard wainscoting and backsplash ● 2 slim under-sink cabinets with toe kick valance ● round zinc tray with wooden handles ● sisal rug with black border
6. Rustic Laundry Room
Points of Interest ● rustic double bowl galvanized trough sink ● zinc watering cans on wooden open shelves ● 5-tiered wall hooks on cream wall ● wire basket on front loading washer ● stacked wood barrel planters
7. Wallpapered Cabinet Panels
Points of Interest ● 2 modern front load washers ● light gray upper cabinets with wallpapered panels ● gray lower cabinets with polished copper cup pull ● white open shelf with built-in retractable clothes drying rack and wall hooks
8. Scandinavian Style
Points of Interest ● ecru subway tile backsplash ● off-white shaker cabinets with satin nickel cup pulls ● acrylic transparent armchair ● 2 wire baskets on open shelves ● tall chalkboard on cabinet side exterior wall ● artichoke pendant light
9. Solid Wood Island
Points of Interest ● under-counter washer and dryer ● solid wood island with satin finish wood countertop ● white modern shaker cabinetry with small nickel knobs ● large stainless steel candle lantern ● 2 dark stained woven baskets
10. Slim Sideboard
Points of Interest ● light mint walls with casement windows ● slim white sideboard ● white quartz countertop with light cream cabinets ● wall-mounted clothes rack ● slim wicker umbrella stand ● multicolored striped rug
11. Stacked Washers
Points of Interest ● stacked red front load washer and dryer in nook with brown curtain ● ● arched 4-paneled double door ● turquoise glass vase ● matching white planked walls and ceiling ● cream window valance
12. Sink Curtain
Points of Interest ● white front load washer and dryer with pedestals ● cream subway tile wainscoting matching the beadboard paneled cabinets ● blue vertical striped sink curtain ● stainless steel open shelves above washers
13. Rustic Laundry Room
Points of Interest ● rustic wooden cabinets with white flat faceted porcelain knob and antique bronze backplate ● white porcelain farmhouse sink with 2 cross handle antique copper faucet ● barnwood walls
14. Lattice Panels
Points of Interest ● olive green lattice paneled upper cabinets ● illuminated open shelves with cream beadboard rear wall ● crystal yellow granite topped island with 2 olive green open shelves ● grandfather wall clock ● woven laundry basket
15. Art Supplies Organizer
Points of Interest ● 2 wall-mounted office and art supplies glass organizers ● 3 wine red storage boxes ● 2 blue green rush seats ● white framed chalkboard with slim ledge ● tan and khaki porcelain tiled floor in diamond pattern
16. Basement Laundry Room
Points of Interest ● 5 wicker laundry baskets on glossy wood island countertop ● 2 long spotlight bars ● 2 deep sinks ● painted exposed piping matching the walls ● high gloss orange and gray luxury vinyl checkerboard floor
17. Out-Swing Windows
Points of Interest ● olive green drawers with oil-rubbed bronze cup pulls ● red striped laundry sign on cream wall ● 2-tiered shelves with built-in wall hooks ● red watering can on soapstone countertop ● multicolored slate tiled flooring
18. Folding Table
Points of Interest ● black quartz countertop with gray square drawers ● stainless steel freestanding industrial sink ● green tiered laundry folding table ● white art desk with yellow legs ● black and white marble tiled floor in diamond pattern
19. Wall Decals
Points of Interest ● olive green wall with painting on canvas and butterfly decals ● wrought iron cabinet handles with ornate backplate ● built-in open shelf above washers ● brown cushioned bench ● iron ring door knocker on white door
20. Coffee Nook
Points of Interest ● stainless steel modern front loading washer and dryer in white washer enclosure ● mixed fabric rolls under gray quartz topped peninsula ● wall-mounted thread spool rack ● coffee nook by the brick wall ● spotlight bar
21. Checkerboard Floor
Points of Interest ● wall-to-wall floating cabinets above washers ● mint green walls ● laundry folding table on casters ● white small freestanding sink ● white powder coated wire laundry basket ● black and white checkerboard floor
22. Arched Shelves
Points of Interest ● pale mint green beadboard paneled cabinets ● slate mosaic tile backsplash ● L-shaped beige quartz countertop with double ogee edge ● segmental arched open shelves with 2 small wicker baskets ● travertine tiled floor
23. Glass Tiles
Points of Interest ● chamomile walls with white framed art ● blue glass tile backsplash ● beige Corian countertop ● 3 oil-rubbed bronze library lights ● slim white 3-legged stool ● matte black porcelain tiled floor in diamond pattern
24. Wicker Wingback Chair
Points of Interest ● washer and dryer under folding table ● powder blue walls with decorative oversized safety pins ● pointed powder blue Roman shades on single-hung windows ● wall-mounted desk with 2 supporting legs
25. Metallic Tiles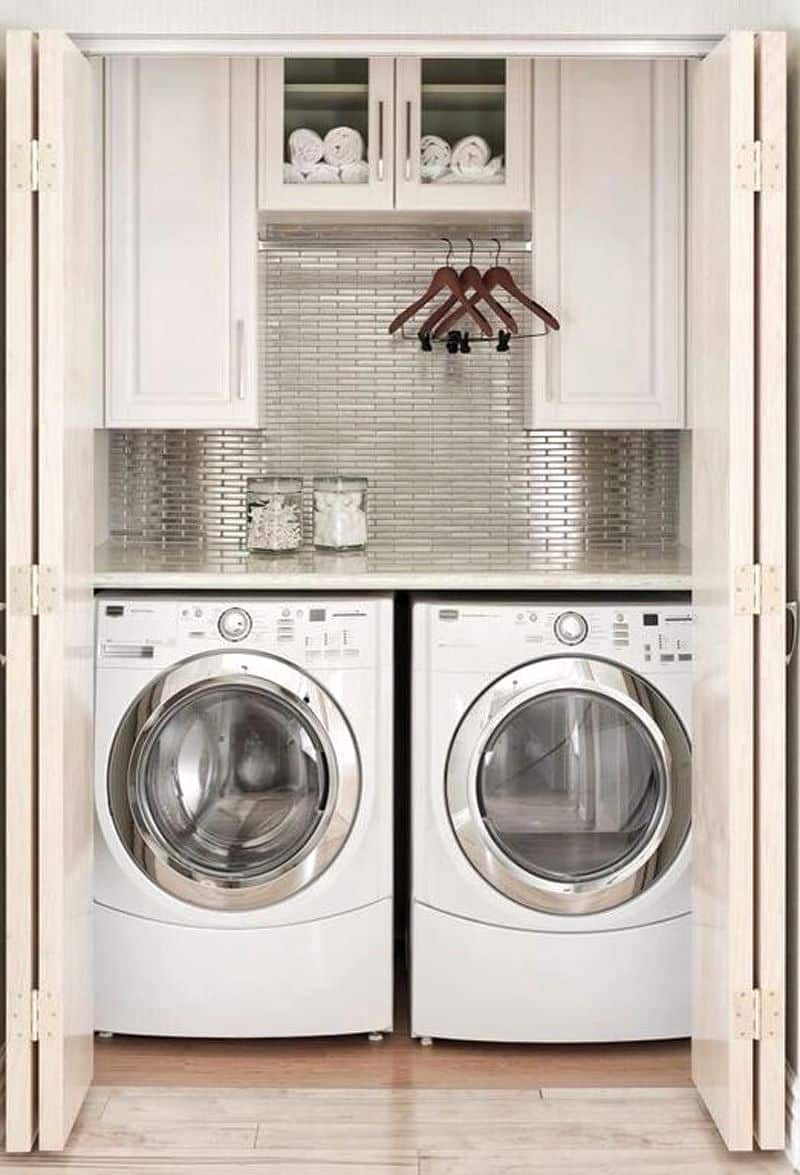 Points of Interest ● front loading washer and dryer under white marble countertop ● metallic tile backsplash ● light vieux rose bi-fold doors to laundry alcove ● glass faced center cabinet above hanging clothes rack
26. Barn Doors
Points of Interest ● salamander orange sliding barn doors to bright laundry alcove ● DIY laundry countertop doubling as folding table ● rattan laundry basket on countertop ● white porcelain tile flooring
27. Ceiling-Mounted Cabinets
Points of Interest ● washer and dryer under faux soapstone countertop with drawer ● wooden mail organizer with shelves on wall ● art and photographs on wall-mounted magnetic bar ● 2 wall-mounted cross handle washer taps