Hello and welcome to the Décor Outline photo gallery of kitchens with light wood floors. Below you will find a summary of the benefits, main options and some design ideas we handpicked for you along with beautiful photos. Enjoy!

What are the benefits of having light wood floors in the kitchen?
Light flooring can visually expand the space – creates the illusion of a bigger kitchen
Versatile – can blend with many room designs because of its subtle color
Hides floor imperfections – light wood floors can mask scratches and other wear and tears better than dark wood

What are the main options for light wood floors?
Wood Types: oak, maple, pine, ash, hickory
Floor Finishes: whitewashed, polyurethane (oil-modified, moisture-cured, water-based), varnish, wax
Partners well with: light or dark cabinets, accent wall, exposed beam and trusses, bare wood beadboard ceiling

What follows are beautiful photos of kitchens with light wood floors, along with design ideas we thought may be of interest to you. Enjoy and happy home decorating!

1. Medallion
Points of Interest ● light hickory hardwood floor ● swivel bar stools under marble overhang ● skylight over glass lantern pendant lights with iron rod ● white marble square island countertop ● glass-faced cabinet with drawer underneath

2. Country Cottage
Points of Interest ● polished reclaimed hardwood floors ● butcher block countertops ● antique wooden island with carved diamond detail ● distressed white wooden base cabinets ● stamped zinc diamond pattern backsplash

3. Warm Color Palette
Points of Interest ● light maple flooring ● multi-toned brown beige granite countertops ● stone veneer backsplash ● hand-painted dinnerware in illuminated glass cabinets ● aged copper metal wall decor ● two-tiered peninsula

4. Rush Seats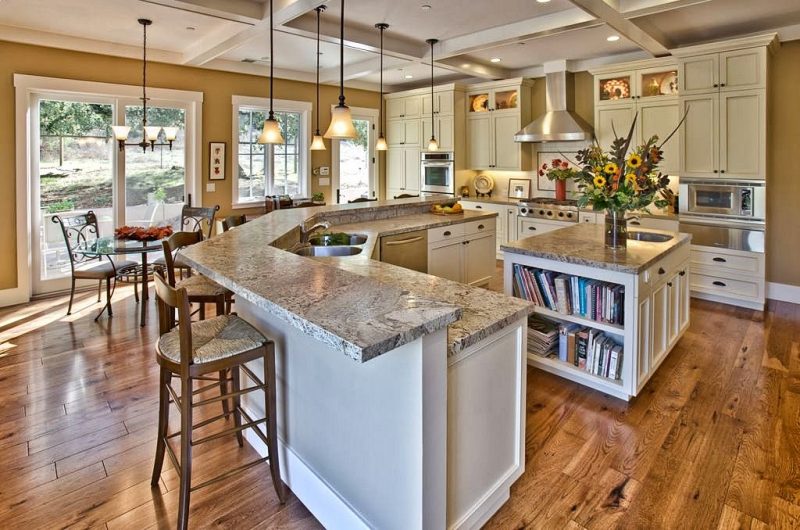 Points of Interest ● ash hardwood floors ● white coffered ceiling with recessed lights ● V-shaped two-tiered island granite countertop ● built-in bookshelves in square kitchen island ● six brown counter rush seats

5. Bar Alcove
Points of Interest ● natural maple floors ● small bar alcove ● beige granite countertops with eased edge ● dark espresso porcelain tile medallion backsplash ● stick bundle on countertop

6. Stone Blue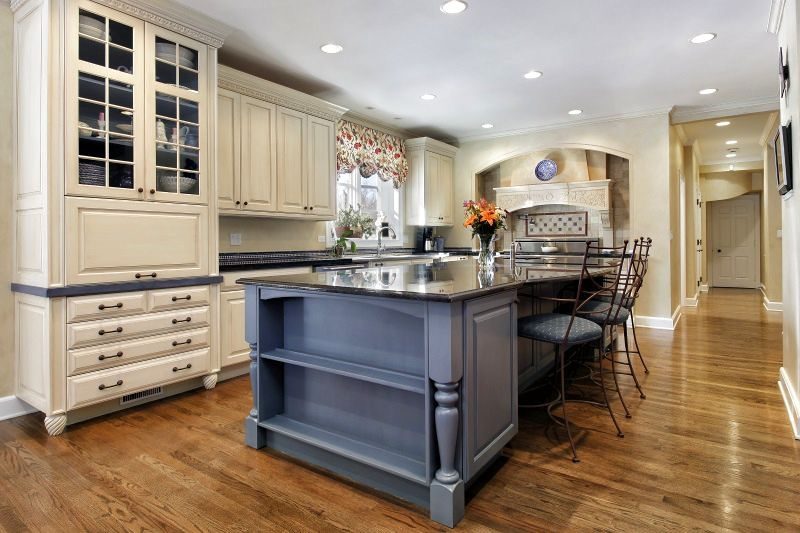 Points of Interest ● red oak flooring ● stone blue island cabinet base with open shelving ● segmental arched stove alcove ● stone blue shelves inside glass front cabinet calling back the kitchen island ● floral wave window valance

7. Stone Archway
Points of Interest ● hickory hardwood floor ● distressed blue island base with chiseled edge granite top ● medallion stove backsplash on whitewashed stone wall ● freestanding farmhouse sink ● stacked stone archway to living room

8. Ogee Edge
Points of Interest ● pine flooring ● gray granite countertops with ogee edge ● ecru mosaic tile backsplash ● beadboard white cabinets with brushed nickel cabinet pulls ● low-growing indoor plant on granite window sill

9. Skylights
Points of Interest ● light maple hardwood floors ● L-shaped window seat with three-toned red plaid cushions ● skeletal Roman numeral clock above archway to living room ● two small square skylights ● marble top island with overhang

10. Tiered Ceiling
Points of Interest ● red oak flooring ● tiered marsh green ceiling contrasting with accent wall ● beige swoop counter chairs ● framed black and white photography on wall-mounted shelf ● white marble backsplash

11. Reclaimed Wood
Points of Interest ● antique red oak floors ● antique apothecary sideboard with drawer knobs ● beadboard panels on door, cabinets, and range hood ● reclaimed wooden beams on ceiling ● wooden stools tucked under kitchen island

12. Rustic-Industrial
Points of Interest ● red oak plank flooring ● sliding windows with potted plants on sill ● two dome pendant lights over wooden island countertop ● white shaker cabinets with bronze knobs ● antique gold towel bar on kitchen island base

13. Exposed Brick
Points of Interest ● ash hardwood floors ● two single-hung windows on exposed brick wall ● light gray milk painted cabinets ● wooden island countertop with glass lantern fruit holder ● stained glass transom window

14. Pebble Backsplash
Points of Interest ● slim red oak flooring ● pebble mosaic backsplash ● bare wooden shaker cabinets ● two X-back counter chairs ● wicker baskets above top cabinets ● gray granite island countertop with curved shelving

15. Whitewashed Beams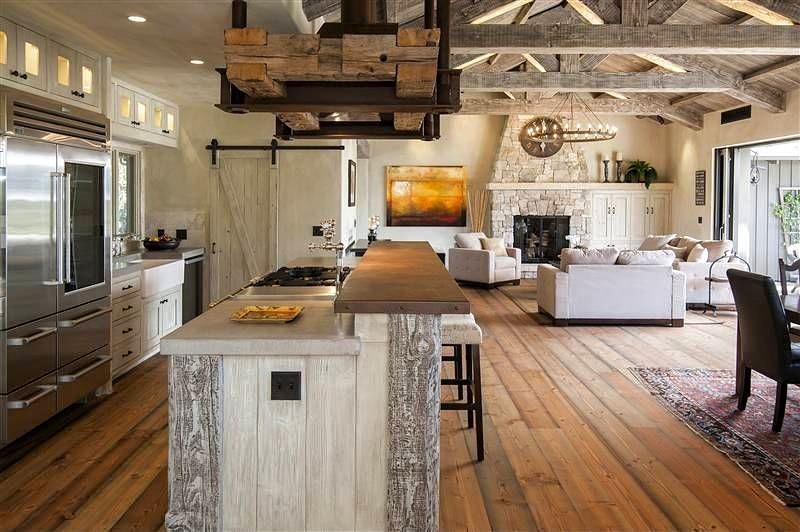 Points of Interest ● French oak flooring ● whitewashed wooden beams and trusses ● custom reclaimed wood partial range hood surround ● whitewashed wood trims on kitchen island base calling back the beams ● sliding barn door

16. Custom Overhead
Points of Interest ● light maple flooring ● overhead lighting with wood slat design ● U-shaped kitchen with two-tiered dark gray granite countertop ● slate tile backsplash ● pine wooden cabinets

17. L-Shaped Island
Points of Interest ● narrow plank oak floors ● L-shaped island with gray granite countertop ● medallion stove backsplash ● muntin-style transom cabinets with glass inserts ● three wire mesh chairs with black cushions

18. Absolute Black
Points of Interest ● oak hardwood floors ● decorative carved wood on range hood ● granite backsplash ● absolute black granite island countertop with white wooden cabinet base ● two cast iron counter chairs with floral seat upholstery

19. Eat-In Kitchen
Points of Interest ● reclaimed hardwood floors ● light blue eat-in kitchen island with marble countertop and integrated butcher block ● whitewashed stacked stone stove alcove surround ● large antique armoire with TV niche

20. Monochromatic
Points of Interest ● red oak hardwood floors ● pine beadboard walls and ceiling ● maple dining table with drawers ● three arched windows ● sage green cabinets calling back the Victorian-style floral dining area rug

21. Farmhouse Kitchen
Points of Interest ● reclaimed teak flooring ● exposed reclaimed wooden trusses ● antique store sign above French doors ● white subway tile stove backsplash ● La Cornue stove paired with white cabinets and light beige quartz countertop

22. Yellow Pine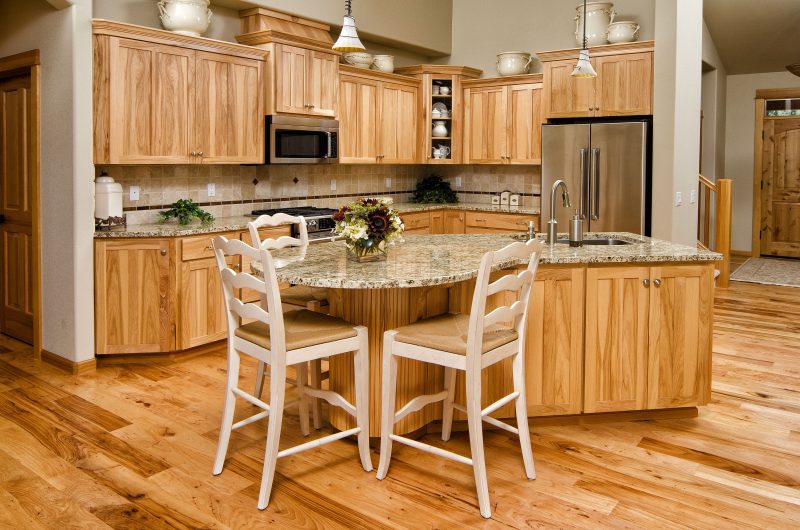 Points of Interest ● yellow pine floors ● custom beige granite island countertop with integrated round table-style seating ● natural hickory cabinets with open corner shelves ● travertine tile backsplash with inlay and diamond inserts

23. Turquoise
Points of Interest ● whitewashed teak flooring ● turquoise mosaic backsplash ● light gray beadboard island base cabinets ● three counter chairs with plaid upholstery ● white coffered ceiling with pendant lights over kitchen island

24. Mahogany Cabinets
Points of Interest ● white oak flooring ● matching cabinets and breakfast nook banquette ● round frosted glass table with stainless steel base ● two frosted glass cabinet doors calling back the table ● sloped cabinet above buddha head

25. Rustic Floors
Points of Interest ● rustic hickory kitchen flooring ● apothecary glass fruit jar on granite island countertop ● straight laid light gray tile backsplash ● decorative ladder shelf ● cookbook on wrought iron stand

26. Rustic Kitchen
Points of Interest ● barnwood flooring ● reclaimed barnwood beams ● terracotta flower tile backsplash ● rustic wood base cabinets with chicken wire ● tiled niche with built-in reclaimed wooden shelves

27. Cafe Curtains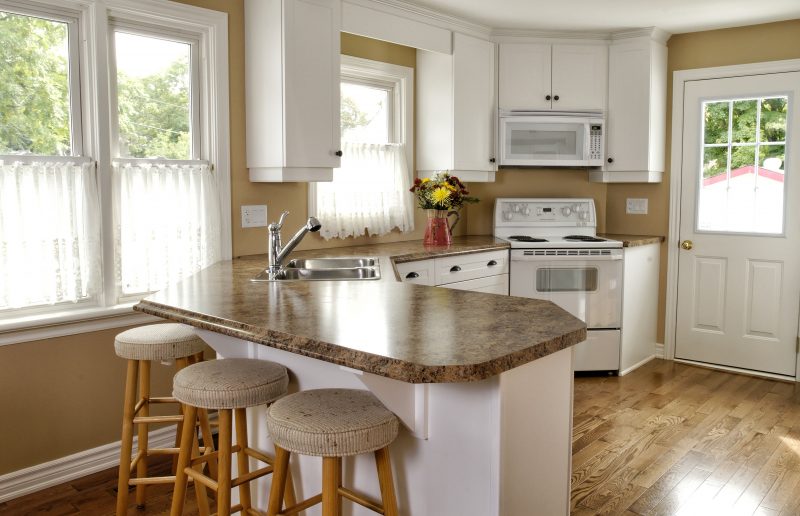 Points of Interest ● natural ash hardwood floors ● multi-toned brown V-shaped laminate countertop ● light beige corduroy cushioned stools ● sheer cafe tier curtains ● black metal cup pulls on white base cabinets