Hello and welcome to the Décor Outline photo gallery of kitchens with French doors. Below you will find a summary of the benefits, main options, and some design ideas we handpicked for you along with beautiful photos. Enjoy!

What are the benefits of having French doors in the kitchen?
Makes the kitchen brighter – lets more natural light in and can visually increase the kitchen space
Smooth transition between interior and exterior – even when closed, French doors can provide a relaxing or scenic view from the inside
Aesthetically pleasing and versatile – the glass panels add a design element to your kitchen, can also be used as a room divider

What are the main options for French doors in the kitchen?
Style: in-swing (single, double), out-swing, sliding, bi-fold
Divided Lites: full view, equal lites, prairie, 10-lite
Design: glass (clear, frosted), with mutins, combination mutins and panels
Material: vinyl, fiberglass, clad wood, steel
Frame Color: white, black (matte, high gloss), natural (wood)

What follows are beautiful photos of kitchens with French doors, along with design ideas we thought may be of interest to you. Enjoy and happy home decorating!
1. Marble Stove Backsplash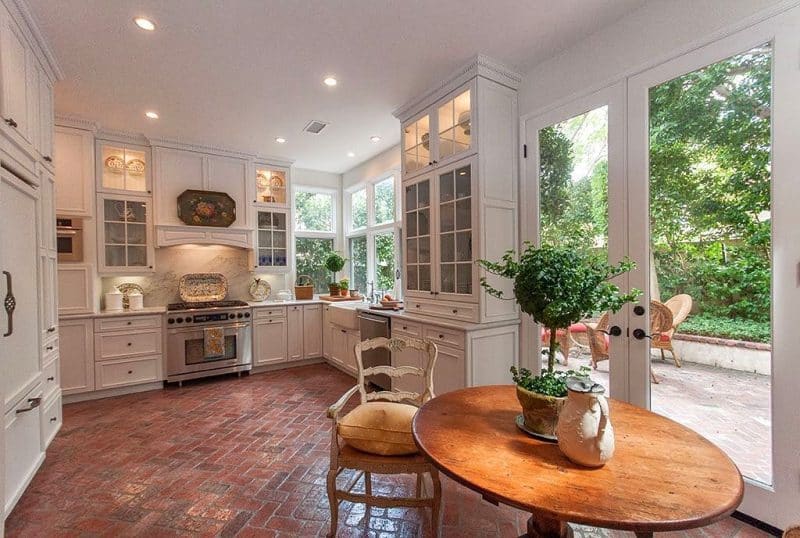 Points of Interest ● white framed full view French doors ● illuminated 4-panel glass transom cabinets ● built-in refrigerator with nickel birdcage handle ● dentil crown molding on top cabinets ● herringbone terracotta floor
2. Rug Runners
Points of Interest ● black steel French doors ● 3 rattan counter stools ● white planked ceiling with 2 brushed steel pendant lights ● 2 sisal rug runners with espresso borders
3. Custom French Doors
Points of Interest ● white French doors in matching windows above countertop ● mirrored cabinetry with above-cabinet lighting ● black quartz countertops with modern shaker base cabinets ● reclaimed timber beam with square holes
4. Butcher Block Island
Points of Interest ● out-swing full view French doors with large ivory Roman shades ● butcher block topped island with small secondary sink ● stone mosaic backsplash ● 2 black square tapered planters with snake plants
5. Turquoise Accents
Points of Interest ● sliding white French doors with transom ● G-shaped kitchen with gray granite countertops ● turquoise quatrefoil Roman shades ● curved turquoise leather bar stool seats ● multi-toned turquoise subway tile backsplash
6. Panoramic Scenic View
Points of Interest ● scenic view bi-fold French doors in a matte black finish ● large pre-cast stone range hood ● zinc corner farmhouse sink ● three antique bronze 4-candle pendant lights over kitchen island
7. X Mullion Cabinets
Points of Interest ● 10-lite over 1 raised wood paneled French doors ● X mullion glass upper cabinets ● metallic mosaic stove backsplash ● palladian blue walls ● whitewashed staggered hardwood floor
8. Sidelights
Points of Interest ● white French doors with sidelights ● bamboo Roman shades on windows and French doors ● white subway tile backsplash ● slim bookshelves with drawers underneath ● Carrara marble topped island with gray base
9. Hexagonal Lantern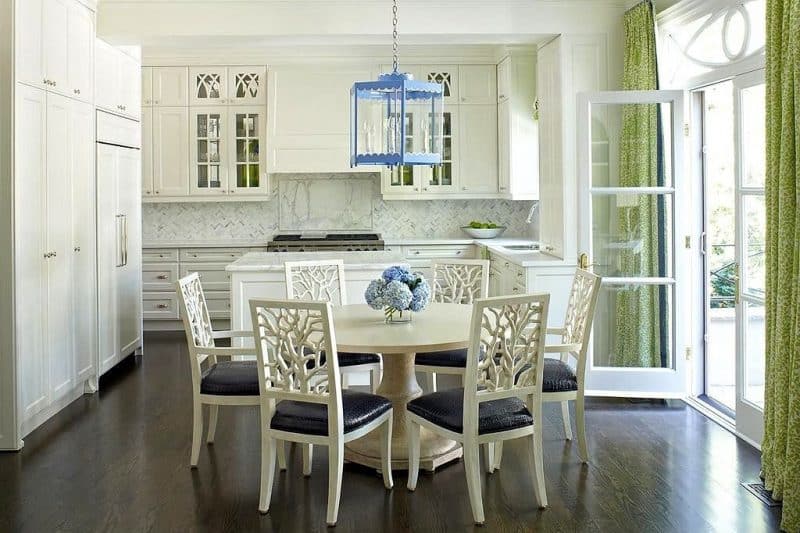 Points of Interest ● 3-panel in-swing French doors ● L-shaped white quartz countertop with herringbone marble mosaic tile backsplash ● large baby blue hexagonal lantern pendant light ● white tree branch style dining chair backrest
10. Soapstone Countertops
Points of Interest ● French door with decorative trims ● soapstone island countertop with white recessed paneled base cabinets ● black tufted leather bar stools ● 3 satin nickel industrial pendant lights ● wet bar with built-in wine cooler
11. Herringbone
Points of Interest ● black wooden French doors to patio ● white porcelain tiled wall in herringbone pattern ● ogee edge white quartz countertops ● black modern shaker base cabinets with polished steel cup pulls ● herringbone tiled flooring
12. Brick Wall
Points of Interest ● black steel French door with 2 contrasting transom windows ● exposed brick accent wall ● antique sideboard with beveled mirror ● white marble topped island with curved ends ● slate mosaic flush hearth with wood inlay
13. Travertine Tiles
Points of Interest ● white French doors with matching sidelights ● glazed cream seeded glass cabinets with black muntins ● arched stove alcove with travertine mosaic stove backsplash and interior walls ● salmon balloon valance
14. Whites & Browns
Points of Interest ● white in-swing French doors matching window wall ● 3 brown curved seat bar stools ● dark stained butcher block island countertop calling back the dark wood floor ● square glass transom cabinet with glass shelf
15. Cluster Pendant Lights
Points of Interest ● large daylight opening French door with medium-toned wood frame matching the large square window ● slim built-in wine rack on base cabinets ● 2 glass jar cascade pendant lights ● 3 charcoal faux leather bar stools
16. Square Skylights
Points of Interest ● large white French doors complementing the double-hung breakfast nook windows ● white subway tile backsplash with chrome pot filler ● built-in breakfast nook bench with beige striped pillows ● 2 square skylights
17. Penthouse Living
Points of Interest ● black steel French doors with large glass panels ● slim marble tile backsplash with black inlay ● Calacatta marble topped island with mirrored base ● dark wood flooring in chevron pattern
18. Frosted Glass Globe Lights
Points of Interest ● white French doors with slim transom window ● arched brick fireplace ● illuminated transom cabinets ● contrasting black subway tile backsplash and white cabinets ● clear acrylic bar stools with polished chrome legs
19. Curved Seat Bar Stools
Points of Interest ● framed French door with 4 rectangular equal lites ● stainless steel stove backsplash with matching floating shelf ● bamboo shades on casement windows ● butcher block island countertop partnering with hardwood floor
20. Sea View Kitchen
Points of Interest ● large sliding French door to sea view deck ● multi-toned gray marble backsplash ● arched range hood with small square muntin transom cabinets ● built-in wine chiller on island base cabinets ● coffered ceiling
21. Two-Panel Windows
Points of Interest ● sliding French doors with horizontal equal lite ● large double-hung windows with 2 glass panels ● white beadboard paneled base cabinets ● black marble countertop with white apron-front sink ● classic burgundy accent wall
22. Sunburst Clock
Points of Interest ● white French doors with matching trim and top molding ● L-shaped gray quartz countertop with white farmhouse sink ● multicolored sunburst-style wall clock ● dark espresso leather square bar stools
23. Cabin Getaway
Points of Interest ● natural wood framed French doors with wide stiles ● recessed paneled pine cabinets with antique copper pulls ● transom window following peak roof line ● knotty pine planked flooring in diagonal and straight patterns
24. Flat Panel Cabinets
Points of Interest ● black out-swing French doors flanked by 2 tall casement windows ● 2 retro bar stools in a zinc finish ● flat panel handleless off-white cabinets ● Carrara marble countertop with matching backsplash
25. Curved End Island
Points of Interest ● sliding French doors with narrow stiles ● shaker ivory cabinets ● curved end wood topped island with white beadboard base ● small transom cabinets with interior lights ● white leather bar stools with nailhead trim
26. Engineered Wood Flooring
Points of Interest ● French doors with framed full view lite ● pearl white granite countertop with built-in cooktop ● black cabinets and drawers with recessed panels ● engineered hardwood floor
27. Medallion Backsplash
Points of Interest ● white French doors with transom decorated by floral balloon valance ● armoire re-repurposed as kitchen pantry dentil molding on white upper cabinets ● antique copper 3-light pendant light over kitchen island