Hello and welcome to the Décor Outline photo gallery of kitchen-living room combo ideas. Below you will find a summary of the benefits, main options, and some design ideas we handpicked for you along with beautiful photos. Enjoy!

What are the benefits of combining the kitchen and living room?
Larger space – your home can look bigger without any wall blocking natural light and dividing the kitchen and living room spaces
More family time – you can interact with family members in the living room while you prepare meals in the nearby kitchen
Many designs to choose from – a wide array of styles is available when combining designs for the kitchen and living room

What are the main options for kitchen and living room combo?
Floor Plan/Layout: open to dining room, pass-through window, bar style, one-wall kitchen, step-down kitchen and living room, center kitchen, large doorway between kitchen and living room
Focal Point: fireplace, glass window walls with view, lighting (large pendant lights, accent chandelier), unique coffee table, accent wall
Tie-Ins: repeating patterns, consistent color scheme, single type ceiling and/or flooring, one wall paint color, similar furniture type/design

What follows are beautiful photos of kitchen-living room combos, along with design ideas we thought may be of interest to you. Enjoy and happy home decorating!
1. Pool View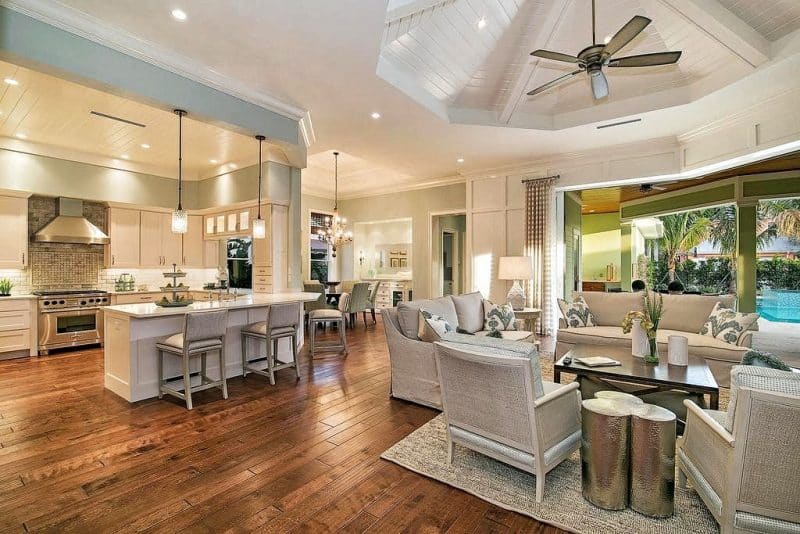 Points of Interest ● matching light gray counter chairs and sofas ● beadboard paneled kitchen ceiling and living room octagonal ceiling ● gray marble tile backsplash and medallion ● metallic spray painted clover leaf-inspired side table
2. Pass-Through
Points of Interest ● kitchen pass-through window with muntin-style upper cabinets ● coffered beadboard kitchen ceiling tying in with living room ceiling ● gray marble faced fireplace with herringbone tile interior walls
3. Dark Floors and Ceiling
Points of Interest ● one-wall kitchen with eat-in island ● contrasting white ceiling and dark brown trusses ● white cabinetry with above and under-cabinet lights ● gray porcelain tile backsplash and island base calling back the modular sofa
4. Sculptured Ceiling
Points of Interest ● sculptural kitchen and living room ceiling ● large oil-rubbed bronze orb chandeliers ● floor-to-ceiling French doors to deck ● cream granite slab backsplash ● two large round wicker ottomans ● faux cowhide rug
5. Statement Rug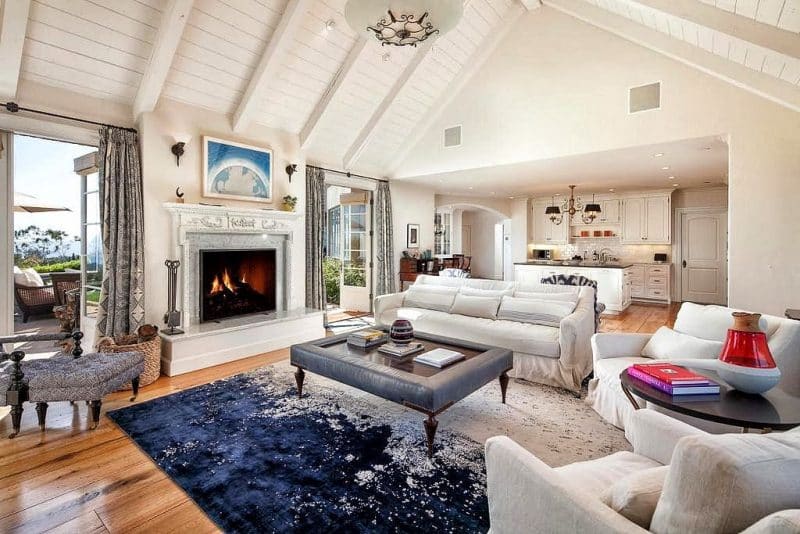 Points of Interest ● one-wall kitchen facing the living room ● large marble faced fireplace with carved mantel ● navy blue and white area rug calling back the 2 armchairs facing kitchen ● wide planked satin finish hardwood floors
6. Contemporary Design
Points of Interest ● peninsula base cabinet panels complementing the living room wall cladding ● 2 white sofas with black and white throw pillows ● recessed floating shelves ● live edge wood coffee table ● two black drum pendant lights
7. Shades of Green
Points of Interest ● beamed kitchen and living room ceiling ● basil green octagonal coffee table with drawers ● mint green kitchen cabinets with recessed panels ● 4 wicker armchairs ● jute area rug
8. Bright Colors on Walls and Floor
Points of Interest ● bar-style kitchen with sky blue walls matching one wall from living room ● rustic upper cabinets complementing the ceiling ● bare concrete wall ● modular red orange sofa ● multicolored area rug
9. Center Kitchen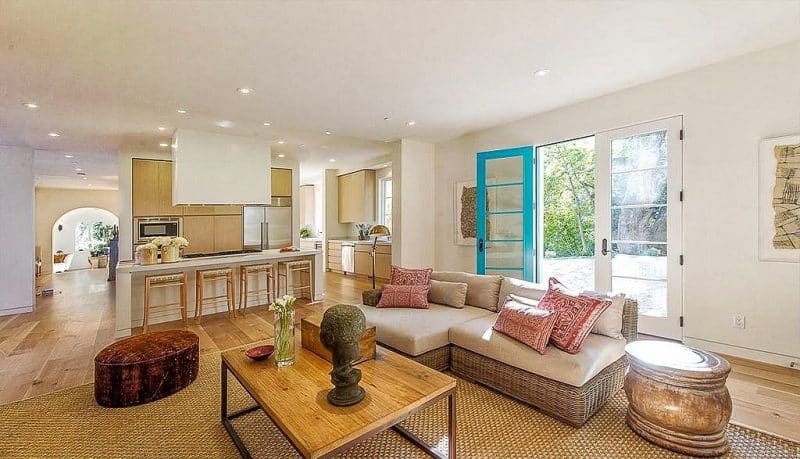 Points of Interest ● open center kitchen with eat-in island ● handleless flat panel kitchen cabinetry ● modular wicker sofa with red and white pillows ● brown oval suede pouf ● turquoise outer door frame
10. Cane Furniture
Points of Interest ● matching white modern shaker cabinets in kitchen and beside fireplace ● steel gray granite slab backsplash ● cane wicker glass topped coffee table on casters ● oversized black framed mirror above clearview fireplace
11. High Ceiling Living Room
Points of Interest ● dark brown L-shaped tufted leather sofa ● wood countertop calling back the earth tones in living room ● reclaimed wooden coffee table with pattern ● lattice wrought iron candle holder
12. Lower Level Kitchen and Living Room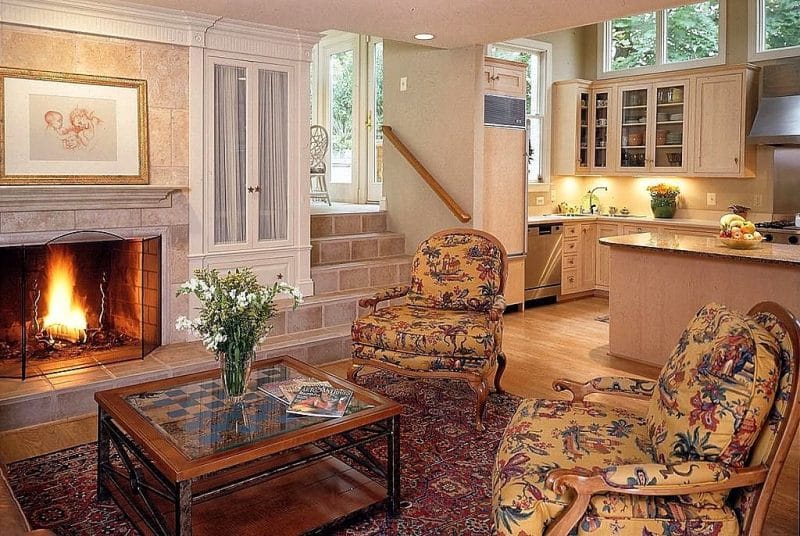 Points of Interest ● cream cabinetry matching the travertine fireplace ● mustard yellow floral armchairs ● checkered glass coffee tabletop with planked open shelf underneath ● white cabinet by the stairs with fabric inserts and glass panels
13. Going Large with the Pieces
Points of Interest ● charcoal black island bar calling back the throw pillows ● step-down living room with large fireplace ● large round medallion on fireplace mantel ● twig candle chandelier ● long metal coffee table with nailhead trim
14. Damask Upholstery
Points of Interest ● coffered kitchen and living room ceiling ● polished maple floors ● dark espresso Windsor counter chairs ● brick stove backsplash ● damask printed sofa and armchairs ● glass cabinets with under-cabinet lighting
15. Traditional Kitchen Design
Points of Interest ● dark brown ceiling with exposed beams and antique lantern pendant lights ● bevel edge glass coffee tabletop ● two Chesterfield sofas with geometric printed throw pillows ● curved two-tiered beige granite topped island
16. X Accents
Points of Interest ● large doorway to kitchen ● two X mullion upper cabinets with interior lights ● floating shelves between cabinets and refrigerator enclosure ● lantern pendant light design calling back the cabinet doors and island base
17. Rustic Touches
Points of Interest ● reclaimed wood framed large doorway to open kitchen ● 2 white tufted Barcelona chairs ● wood nesting coffee table ● stone veneer fireplace surround ● black steel French doors and sidelights ● black library lights over sink
18. Coastal Style
Points of Interest ● step-down living room with light blue sofas ● sky blue kitchen island base with 4 white swoop counter chairs ● hexagonal glass topped coffee table ● ceiling-mounted white upper cabinets ● blue-tinted double-hung windows
19. Subtle Hues
Points of Interest ● two white floating cabinets on ecru wall ● white quartz island countertop with ecru X legs ● L-shaped ecru sofa with turquoise throw pillows ● two-tiered gray coffee table ● beige and ecru area rug calling back the bar stools
20. Beauty of Unfinished Wood
Points of Interest ● slim whitewashed farmhouse table behind white tuxedo sofa ● reclaimed wood planked coffee table with square metal base ● reclaimed beams over doorways ● 2 glass hurricane pendant lights over island
21. Touches of Red
Points of Interest ● two gray chairs with red throw pillows ● beveled glass topped coffee table with curved stretchers ● black bistro bar stools ● red textual art on window sill ● beige shag rug matching the walls ● square transom windows
22. Pops of Color
Points of Interest ● whitewashed brick wall with fireplace and wooden TV niche ● whitewashed stove alcove with persian brown granite slab backsplash ● 2 brown leather sofas ● camel back caramel leather bar stools
23. Light Floors and Ceiling
Points of Interest ● vaulted white beadboard ceiling with exposed beams ● round wood topped cage coffee table ● glass faced cabinets with interior lights ● tri-fold French doors to brick patio ● sliding barn door ● wide planked gray oak floors
24. Raised Library
Points of Interest ● orange tufted seat sofa with chrome legs ● white quartz island countertop with light beige base ● two light beige upholstered modern shell chairs ● 3 white adjustable piston bar stools ● off-white shag rug
25. Coveted Sea View
Points of Interest ● open kitchen with rustic unfinished island base cabinets ● hand painted coffee tabletop ● glass window walls with sea view ● large glass lantern chandelier over island ● cathedral ceiling with cove lighting
26. A Fan of Pine
Points of Interest ● gold pine wood kitchen and living room walls ● tiled wall with matchstick vertical tile inlay above open fireplace ● framed textual art on reclaimed rustic wood fireplace mantel ● floating sage green kitchen cabinets
27. Love Affair with Patterns
Points of Interest ● open kitchen with 2 ceiling-mounted upper cabinets with glass transoms ● two damask patterned accent chairs ● dual-purpose oval tufted ottoman ● large half window walls