Hello and welcome to the Décor Outline photo gallery of kitchen island design ideas. Below you will find a summary of the benefits, main options, and some design ideas we handpicked for you along with beautiful photos. Enjoy!

What are the benefits of having a kitchen island?
Breakfast gathering – family can gather by the island and sit on bar stools for a quick breakfast and a hearty chat
Extra space – provides additional preparation and storage space, or a space for the stove or a secondary sink
Adds resale value – home buyers love kitchen islands for their functionality, convenience, and aesthetics

What are the main options for kitchen islands?
Countertop: granite, marble, quartz, concrete, wood (solid, butcher block, planked), soapstone
Storage: cabinets, drawers, open shelves, wine cubbies
Amenities: cooktop, dishwasher drawer, sink, wine/beverage cooler, slide-out pastry board
Accents: decorative metals, beadboarding, wood carvings

What follows are beautiful photos of kitchen islands along with design ideas we thought may be of interest to you. Enjoy and happy home decorating!
1. Crates & Casters
Points of Interest ● wooden island table on casters with crate drawers ● bronze cup pulls ● large wicker tray on plank island open shelf ● tan fabric Roman shades on window with criss cross muntins ● wall-mounted box shelving
2. Slide-Out Pastry Board
Points of Interest ● white marble topped island with drawers ● lemon yellow island base with space-saving slide-out pastry board ● white lath back counter chairs ● long patterned fabric Roman shades ● two glass dome pendant lights
3. Two-Tiered Round Island
Points of Interest ● solid wood topped island with purple hydrangea in round vase ● chalk-painted blue two-tiered round island ● copper lattice drum pendant light over island ● illuminated corner cabinets with glass inserts ● arched fanlight
4. Built-In Banquette
Points of Interest ● two-tiered L-shaped marble topped island with built-in breakfast banquette ● fluted turquoise glass fruit bowl ● subway tile stove backsplash with medallion and inlay ● slim lattice top cabinet doors
5. Laminate
Points of Interest ● black marble topped island with weathered topical coating ● three russet leather bar stools ● mosaic tile stove backsplash with stone range hood ● two amber bowl pendant lights over island ● herringbone travertine floor
6. Custom Eat-In Island
Points of Interest ● custom round tiered hanging pot rack over island ● custom eat-in island with open shelves ● blue cushioned banquette with wine storage ● denim blue cabinets ● porcelain floor tiles in round pattern
7. Bare Narrow Wood
Points of Interest ● narrow wooden island with nickel hardware on cabinets and drawers ● X-back wood bar stool ● oval brushed steel hanging pot rack over island ● white subway tile backsplash ● marble countertop with sidesplash
8. Red Quartz
Points of Interest ● red quartz topped eat-in island ● ivory cabinets with oil-rubbed bronze handles ● hand painted pendant lights ● rooster art on kitchen pass-through molding ● three green fiddle back counter chairs
9. Waterfall Edge
Points of Interest ● two-tiered quartz topped island countertop with waterfall edge ● wine cubbies on island base ● drawers on island bar facing leather bar stools ● tumbled stone stove backsplash ● ivory beadboard range hood
10. Marble Overhang
Points of Interest ● baby blue island base with white marble countertop ● swivel bar stools under marble overhang ● marble mosaic medallion backsplash in herringbone pattern ● multi-purpose lipped cheese board ● chalkboard art
11. Farmhouse Table + Butcher Block
Points of Interest ● solid wood farmhouse table and butcher block table as island ● whitewashed arched brick stove alcove ● stainless steel stove backsplash ● U-shaped breakfast nook ● natural flagstone flooring
12. Wooden Bar Counter
Points of Interest ● gray granite island countertop with wooden bar counter ● hazelwood base cabinets with distressed beadboard panels ● lipped cheese board with handle on white Carrara marble countertop
13. Concrete Countertop
Points of Interest ● curved concrete island countertop with decorative rivets studs ● zinc range hood ● two counter stools with slipcovered seats tucked under island ● clear glass shade pendant lights over island ● arched stone wall cladding
14. Butcher Block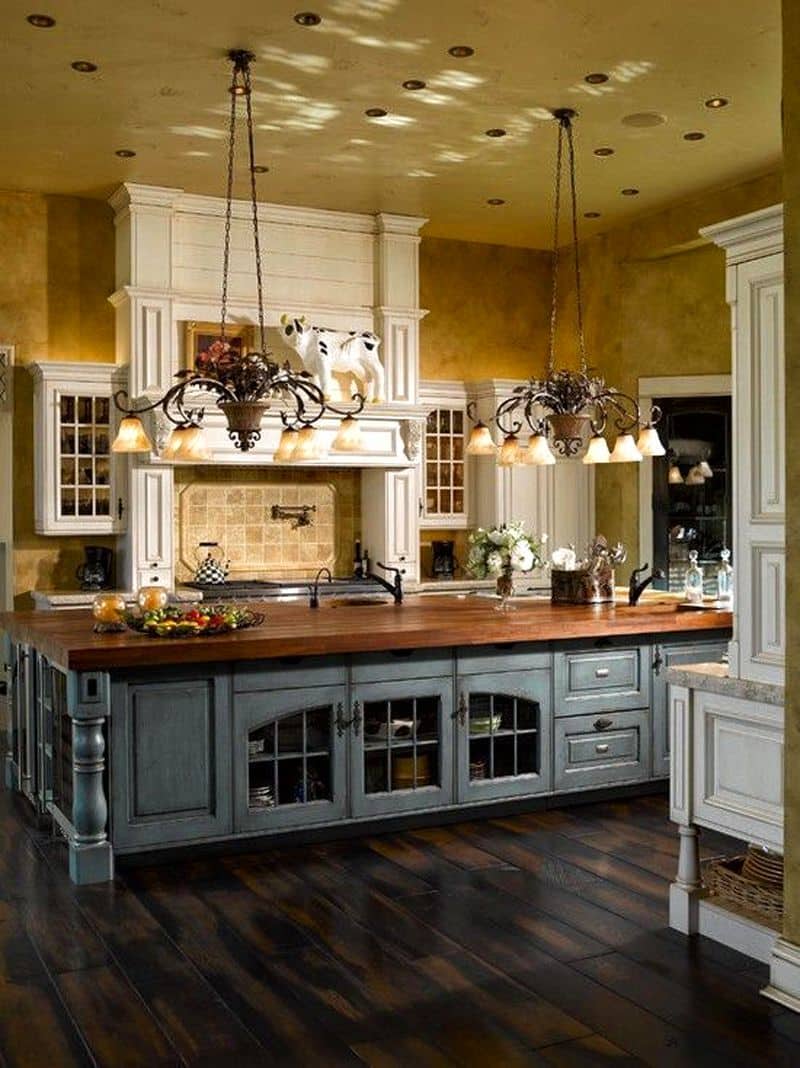 Points of Interest ● solid blue island base cabinets with glass inserts ● butcher block island countertop with two undermount sinks ● cow sculpture on range hood mantel ● travertine tile stove backsplash ● dark hardwood floors
15. Double Ogee
Points of Interest ● curved wood island countertop with double ogee edge ● glazed pale mint island base cabinets with drawers and support legs for countertop ● beamed white beadboard ceiling
16. Cast Iron Legs
Points of Interest ● two-tiered wooden island with cast iron legs ● rustic porcelain tile backsplash ● sterling silver reeded fruit bowl ● white modern shaker base cabinets with oil-rubbed bronze cup pulls
17. L-Shaped Island
Points of Interest ● L-shaped beige granite topped island with rounded angle ● upholstered curved back bar stools ● glazed wooden island base with drawers ● beamed ceiling with crown molding and corbels ● bamboo floors
18. End-Grain
Points of Interest ● two-tiered island with drawers and beadboard shelf underneath ● iron strapped end-grain butcher block countertop ● ivory upper cabinet with seeded glass front and side panels ● sloped skylights
19. Pine Wood
Points of Interest ● pine wood farmhouse island table with drawers and underneath shelf ● curved wood island countertop with decorative wrought iron accents on corners ● frosted glass shade lighting ● vintage clock on ecru wall
20. Château Kitchen
Points of Interest ● Officine Gullo butcher block topped island with built-in overhead burnished brass shelf ● large glass tile backsplash ● porcelain tile flooring with diamond accents ● framed art on stone blue walls
21. Small Island
Points of Interest ● small two-tiered wooden island table ● hand painted porcelain pedestal fruit bowl ● off-white subway tile backsplash ● open shelves with beadboard rear wall ● farmhouse double sink ● slim oval breakfast table
22. Slim Island Table
Points of Interest ● slim solid wood island table with border inlay and carved legs ● frosted glass lantern pendant lights ● slim upper cabinets and transoms matching the windows and transom windows ● solid wood pantry doors
23. Light Teal
Points of Interest ● soapstone topped island with light teal base cabinets ● sculptural bell jar pendant lights ● light beige two-tiered upper cabinets with dentil molding ● center knob on door with dentil molding
24. Wine Barrel Hood
Points of Interest ● U-shaped stained wooden island with range cooker ● wine barrel style range hood surround ● miniature antler decor on large timber columns ● reclaimed barnwood cabinets ● frameless painting on countertop
25. Weathered Farmhouse Table
Points of Interest ● weathered turquoise farmhouse island table ● textual art above shelf ● black quartz V-shaped countertop with sidesplash and white shaker base cabinets ● French double doors with storm doors ● 3-tiered bamboo shelf
26. Carved Wood
Points of Interest ● carved wooden island base with butcher block countertop ● vertical marble mosaic tile backsplash ● stainless steel kitchen sink unit ● tension wire lighting with pendant lights over island
27. Open Shelves
Points of Interest ● granite topped island with curved open shelving ● X-back wooden counter chairs with tie back seat cushions ● pebble backsplash ● wicker storage baskets above upper cabinets ● lipped round wicker tray on column