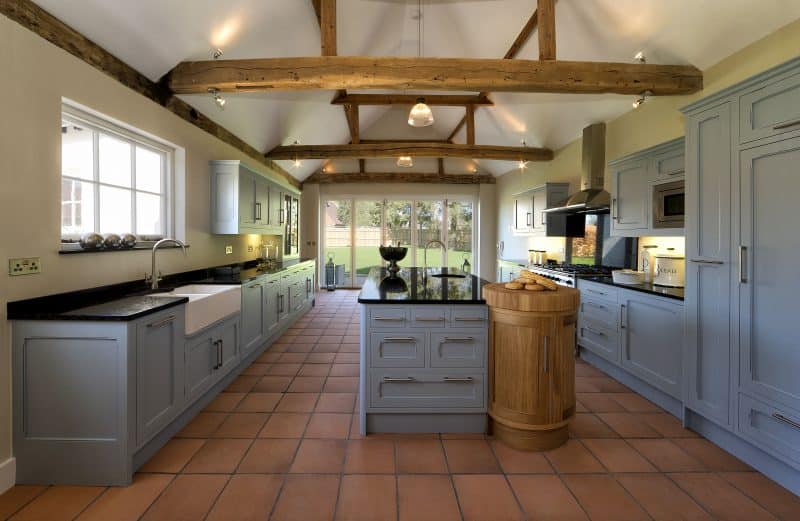 Hello and welcome to the Décor Outline photo gallery of kitchen color ideas. Below you will find a summary of the benefits, main options and some design ideas we handpicked for you along with beautiful photos. Enjoy!

What are the benefits of adding colors to your kitchen?
Helps you set the feel and mood that cheers you up when you're in the kitchen
Can make a small kitchen look larger, or a large kitchen feel more intimate
Contributes to complementing your favorite style
Colors can be changed over time so you can feel free to explore

What are the main options for adding color to your kitchen
Where: walls (accent), painted cabinets, flooring, backsplash, countertops, appliances, hardware, shelves, unique furniture piece, or decorative accents
Method: solid color, faux finish, glazing, rubbed hand painted, milk paint.
Palette: neutral, warm tones, cool, contrasting, complementary, dual shades, bold, two-toned

What follows are beautiful photos of kitchen color ideas along with design ideas we thought may be of interest to you. Enjoy and happy home decorating!
1. Country View
Points of Interest ● dark olive green square kitchen island ● pickled white pine cathedral ceiling ● cherry hardwood flooring with matching stools ● tin backsplash
2. Railroad Ties
Points of Interest ● blue kitchen island with textured glass faced base ● antique white cabinetry ● custom range hood matching island ● starfish decoration on windows
3. Mosaic
Points of Interest ● tiled backsplash in various earth tone hues ● creamy white recessed-panel cabinetry ● oil rubbed bronze handles ● terra cotta walls above cabinet crown molding
4. Splash of Sage
Points of Interest ● sage shaker-style kitchen cabinets ● built-in wall shelves ● marble topped white kitchen island with shelves underneath ● 2 dome shade chrome pendant lights
5. Yellow Sunflowers
Points of Interest ● vanilla yellow walls ● dark green laminate countertop ● molded trivet on countertop ● stained glass window● DIY pot rack
6. Blue Marble
Points of Interest ● blue marble countertops and backsplash ● carved stone range hood with corbels ● off-white custom cabinets ● semi-arched casement window with transom
7. Petite Country in Teal
Points of Interest ● dark teal cabinets with matching kitchen door ● slate gray quartz countertop ● backsplash with chalky white veins ● wooden tripod bar stools
8. Red Carpet
Points of Interest ● distressed red finish cabinets ● custom ceramic medaillon ● skylight ● undermount farmhouse porcelain sink ● Persian rugs
9. Kitchen to the Left
Points of Interest ● light gray shaker-type floor-to-ceiling cabinets ● white Corian countertop with waterfall edge ● vintage faucet fixtures ● decorative tile medallion
10. Fruit Colors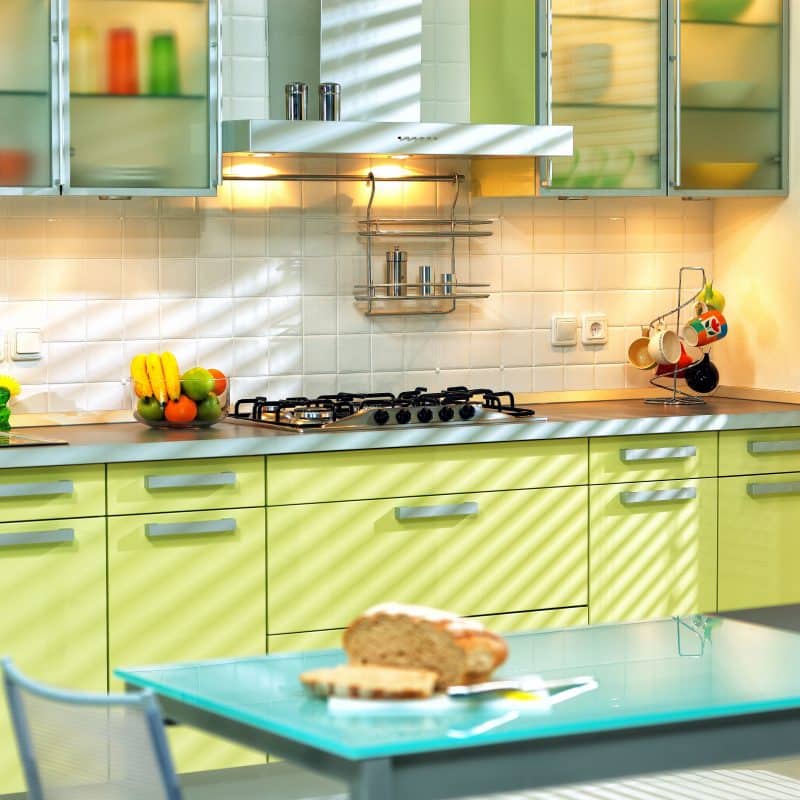 Points of Interest ● lower cabinets in yellow lime tones ● brushed stainless steel cabinet handles ● frosted glazed center panel upper cabinet ● lighting inside cabinets ● range hood with flat top for additional storage
11. Provencal in White
Points of Interest ● light yellow accent wall ● decorative talavera tile backsplash ● hanging copper cookware set ● antique dining table with reclaimed wood top ● white dining chairs with rush seat
12. Colorful Rooster
Points of Interest ● yellow gold granite countertops ● tumbled travertine stone backsplash with mural ● picture window with semi-circle transom ● stainless steel double farmhouse sink matching appliances
13. Modern Barn
Points of Interest ● custom T- shaped blue kitchen island ● lighter blue subway tile backsplash ● glass panel sliding barn door ● larmes linear suspension ● light wood countertop
14. Spring Bouquet
Points of Interest ● sky blue wall ● white with gray veining marble ● part butcher block kitchen island top calling back hardwood floor ● wall mounted pot filler faucet ● white subway tiles backsplash
15. Accent Wall
Points of Interest ● gray accent wall calling back stainless steel appliance and built-ins ● honed marble wall backsplash ● oriental persian rug ● rectangular awning window ● separation wall in a vibrant golden granny smith color
16. Sun Corner
Points of Interest ● white subway tiles calling back moldings and range ● grouted vinyl tiles ● freestanding wooden kitchen island with drawers ● stainless steel stove backsplash ● magnetic knife holder
17. Schoolhouse Lighting
Points of Interest ● banana yellow wall compliments the olive kitchen cabinets ● contrasting black countertop with white porcelain farmhouse sink ● glass door with white painted wooden frame
18. Woodgrain
Points of Interest ● moss green kitchen cabinet with wood grain finish ● neutral ceramic tile backsplash ● matching laminate countertop and cabinet undermount ● brushed nickel cabinet pulls
19. Inside Job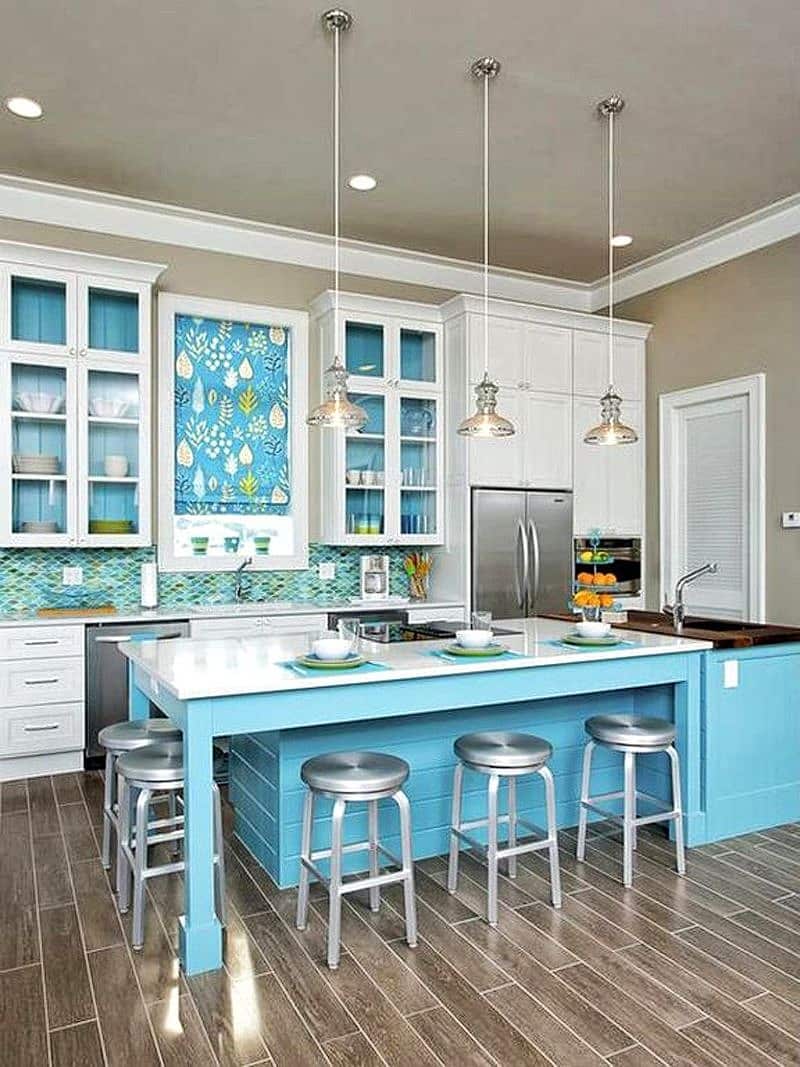 Points of Interest ● matching baby blue kitchen island and cabinet interior ● sea green glass tile mosaic backsplash ● 3 glass dome pendant lights with polished nickel rims ● brushed finish stainless steel swivel stools ● gray oak laminate wood flooring
20. Wood-Fire Cooking
Points of Interest ● vintage oven gas stove in brick alcove ● french door with transom ● light tone reclaimed wood flooring ● custom kitchen cabinets with wine rack
21. Little Mermaid
Points of Interest ● L-shape kitchen layout ● kitchen peninsula as area divider ● maple hardwood flooring ● slate tile backsplash
22. In a Cocoon
Points of Interest ● 3-color earth toned walls with faux finish in orange stripes ● 2-tone concrete stain flooring ● high gloss modular kitchen cabinet ● white egg-shaped barstool
23. See Thru
Points of Interest ● custom kitchen cabinets in glossy teal ● raised center ceiling with skylight ● built-in bookshelves underneath kitchen island ● stainless steel backsplash behind stove
24. Basket Storage
Points of Interest ● butcher block countertop ● shaker cabinet with wooden knobs ● farmhouse sink with antique brass bridge faucet ● built-in wooden plate rack
25. Galley Kitchen
Points of Interest ● U-shaped kitchen layout ● slab style kitchen cabinet ● grayish blue bottom cabinets ● white window trims matches white top cabinets ● off-white granite countertop ● medium tone hardwood flooring
26. Shades of Green
Points of Interest ● two-toned wall ● multicolored glass window ● open kitchen shelving ● hexagonal floor tiles ● wooden desk repurposed as kitchen island
27. Color Options
Points of Interest ● painted kitchen backsplash ● custom range hood with corbels and molding ● linear brass pot rack with hooks ● curved farmhouse style sink