Hello and welcome to the Décor Outline photo gallery of kitchen cabinet design ideas. Below you will find a summary of the benefits, main options, and some design ideas we handpicked for you along with beautiful photos. Enjoy!

What are the benefits of having kitchen cabinets?
Adds style – beautiful and functional cabinets can make your kitchen shine and allow you to bring in your own personal style
Provides storage – dinnerware, portable kitchen appliances, and other kitchen items can be stored neatly and be accessed with ease
Fits your needs – big array of options available or can be custom-made to your kitchen's dimensions and your everyday kitchen use

What are the main options for kitchen cabinets?
Material: wood (solid, reclaimed), stainless steel
Panel: beadboard, flat, recessed, raised (rectangular, half cathedral arch), fabric, glass (clear, frosted, back painted),
Color/Finish: painted (white, off-white, cream, tan, gray, olive green, pine green), varnished, satin, unfinished
Style: floating, combo solid and glass, lower cabinets only, cabinet doors (swing-out, pull-up, sliding)
Features: built-in open shelves, transom cabinets, bookcase, built-in wine cubbies, fridge options (built-in, below upper cabinets, enclosure)
Accents: crown molding, trims, interior lights

What follows are beautiful photos of kitchens with cabinets, along with design ideas we thought may be of interest to you. Enjoy and happy home decorating!
1. Blue, White, & Red
Points of Interest ● ceiling-mounted white upper cabinets ● open shelves with beadboard rear wall matching the island base ● glossy subway tile backsplash ● ruby red bar stools with side handles ● stone blue beadboard cupboard
2. Glass Partition
Points of Interest ● sliding glass cabinets with light tan frame ● low back black and white checkered bench ● 3 thin reeded drawers in base cabinet ● polished chrome pendant light and adjustable library light ● partial glass wall partition
3. Two Stoves
Points of Interest ● large kitchen with cream lower cabinets only ● La Cornue artisan stove range ● large concrete range hood with oversized corbels ● round dining table with curved back cushioned chairs ● two slim vertical glass windows
4. Waterfall Countertops
Points of Interest ● flat paneled varnished wood cabinets ● Calacatta marble waterfall countertops ● ribbon fireplace below TV niche ● adjustable swivel bar stools with curved faux leather seat and backrest
5. Pine Green
Points of Interest ● pine green island base cabinets with soapstone countertop ● glass faced cabinets with drawers underneath and transom shaker cabinets ● two sculptural bell jar pendant lights ● dentil molding on slim wooden door
6. Swoop Pulls
Points of Interest ● natural wood cabinets with stainless steel pulls ● soapstone L-shaped countertop with inside curved corner ● high arc pull-down sprayer faucet ● curved clerestory windows ● beamed ceiling with curved steel support
7. Gantry Faucet
Points of Interest ● gray cabinetry with glass transom cabinets ● black L-shaped marble countertop with gantry faucet ● burgundy Viking stove ● glass globe pendant light over white marble topped island
8. Black & White
Points of Interest ● white base cabinets with oil-rubbed bronze handles and built-in open shelves ● contrasting black quartz countertop and white glossy subway tile backsplash ● black and white checkered floor with gold border
9. Frosted Glass
Points of Interest ● frosted glass upper cabinets with stainless steel door frame ● white granite countertop with brown patterned tile backsplash ● two-tiered island countertop connected to kitchen peninsula
10. Brick Wall
Points of Interest ● glass upper cabinets with interior lights and brick rear wall ● galvanized bucket on range hood ● exposed ducting on range hood ● glass bell jar pendant lights ● transom windows above upper cabinets ● sliding barn door
11. White Kitchen
Points of Interest ● ceiling-mounted white combo solid and glass cabinetry ● marble mosaic tile backsplash ● triple window above sink ● sliding French doors to patio ● three Krystal Ice pendant lights
12. Wine Storage
Points of Interest ● wood cabinets in satin finish with built-in arched diamond wine cubbies and wine cooler ● ornate brass knobs on base cabinets ● diamond pattern porcelain tile backsplash with colorful tile inlay
13. Back Painted Cabinets
Points of Interest ● back-painted glass cabinets with stainless steel frame ● white quartz countertop with stainless steel backsplash ● stainless steel floating shelves on baby blue wall ● wire counter chairs with orange cushions ● tall bulletin board
14. Square Transom Cabinets
Points of Interest ● illuminated square center transom cabinets with bookcase underneath ● two white floating shelves with under shelf lighting ● stainless steel stove backsplash ● two milk painted counter chairs ● black steel sliding ladder
15. Reclaimed Wood
Points of Interest ● natural wood flat panel cabinetry ● two pull-up cabinets above refrigerator enclosures ● ivory brown granite island countertop with cooktop ● curved open shelves beside window ● large glass transom windows
16. Half Cathedral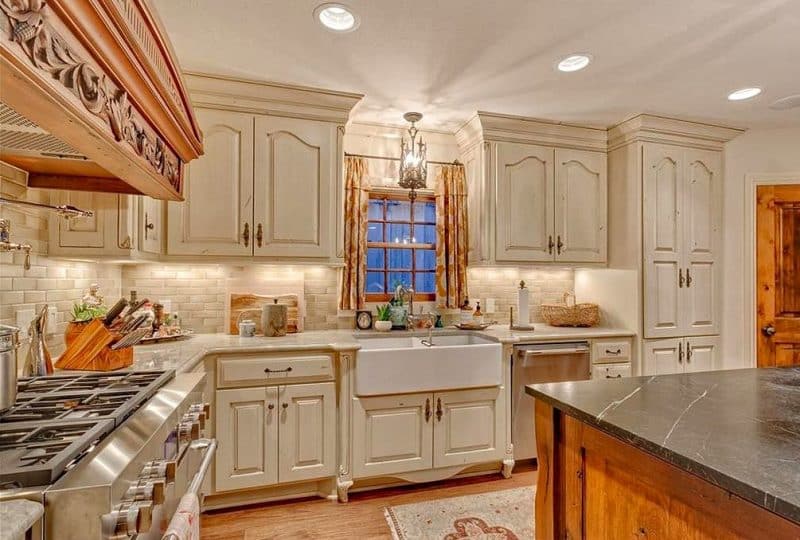 Points of Interest ● cream upper cabinets with half cathedral arch raised panels ● carved wooden range hood ● gothic pendant light over double bowl farmhouse sink ● porcelain running bond tile backsplash with chrome pot filler
17. Stainless Steel
Points of Interest ● stainless steel cabinetry with matching handles ● wood shelves in upper glass cabinets ● brown granite backsplash ● large out-swing windows ● recessed ceiling lights
18. Planked Panels
Points of Interest ● cream cabinets with plank panels and built-in plate rack ● glass faced corner cabinet with muntins ● rose granite countertop with farmhouse sink ● matching vintage range and refrigerator with nickel trims
19. Two-Sided Glass Cabinet
Points of Interest ● illuminated two-sided glass cabinet with glass shelves ● beige range hood matching the cabinetry ● long glass 5-bulb pendant light ● marble island countertop with waterfall edge ● large clam shell bowl with gold leaf lining
20. Frosted Glass Doors
Points of Interest ● long slim upper cabinets with frosted glass doors ● white marble countertop with stainless steel handleless drawers and two undermount sinks ● frosted glass pantry door ● low back bar stainless steel bar stools
21. Open Galley
Points of Interest ● brown wooden cabinets with brushed steel T bar handles ● open galley kitchen with gray granite countertops ● floating wine glass rack above framed painting ● stamped stainless steel backsplash
22. Box Shelving
Points of Interest ● frosted glass cabinet doors with muntins and interior lighting ● 4 box shelves above sliding muntin windows ● glossy tan subway tile backsplash with pot filler ● Provence Blue La Cornue CornuFé range
23. Corner Open Shelves
Points of Interest ● off-white island base cabinets with polished nickel cup pulls ● white marble island countertop with two parallel apron-front sinks and towel bar ● corner open shelves between two upper cabinets
24. Fabric Inserts
Points of Interest ● olive green upper cabinets with fabric inserts ● butcher block topped island ● antique farmhouse table with open shelf underneath ● patterned tile stove backsplash ● hexagonal terracotta tiled floors
25. Moravian Star
Points of Interest ● solid wood cabinets with under-cabinet lighting ● large picture window with mountain view ● Moravian star pendant light over breakfast nook ● black wooden beams calling back the window frames
26. Industrial Style
Points of Interest ● industrial stainless steel cabinetry ● stainless steel countertop and backsplash ● stainless steel framed vertical chalkboard ● exposed galvanized metal sheet ducting ● sliding barn door with frosted glass inserts
27. Matchstick Tile Backsplash
Points of Interest ● beadboard paneled cabinets and drawers matching the peninsula base ● low back mango wood bar stools ● black granite countertop with integrated farmhouse sink and matchstick tile backsplash