Hello and welcome to the Décor Outline photo gallery of ideas for kitchen backsplashes. Below you will find a summary of the benefits, main options, and some design ideas we handpicked for you along with beautiful photos. Enjoy!

What are the benefits of having a kitchen backsplash?
Acts as accent wall – enhances the kitchen's aesthetic appeal
Protects wall – prevents oil or water splatter, heat, stains, and mold
Wide selection – many beautiful materials and designs to choose from to fit your budget

What are the main options for kitchen backsplashes?
Material: porcelain, ceramic, marble, brick, terracotta, soapstone, pebble, glass (tile, back painted), concrete (bare, painted), reclaimed barnwood
Tile Pattern: subway/running bond, stack bond, herringbone, hopscotch
Accents: medallion, inlay, border

What follows are beautiful photos of kitchen backsplashes along with design ideas we thought may be of interest to you. Enjoy and happy home decorating!
1. Hopscotch Pattern
Points of Interest ● terracotta mosaic and slate tile backsplash in hopscotch pattern ● stained base cabinets with engraved canopy cup pulls ● two under-cabinet three-bulb spotlights ● two still life pop art with text on tan wall
2. Travertine Subway Tiles
Points of Interest ● travertine subway tile backsplash ● books, dinnerware, and framed art on range hood with corbels ● wood plank countertops in high gloss finish ● white fireclay farmhouse sink with drainboard ● planked butcher block
3. Reclaimed Barnwood
Points of Interest ● reclaimed barnwood backsplash following the ceiling shape ● wood-burning stove fireplace on black tiled hearth ● white-painted wide plank walls and vaulted ceiling ● white drawers with cutout cabinet pulls
4. Calacatta Marble Slab
Points of Interest ● white Calacatta marble backsplash ● white Calacatta marble topped kitchen island with built-in cushioned breakfast banquette ● torched cabinet door frame ● two distressed ivory chairs ● ivory coffered ceiling with trim
5. Offset Soapstone Tiles
Points of Interest ● soapstone tile backsplash in varying sizes ● beadboard paneled white cabinets ● in-swing white PVC French doors to balcony ● butcher block countertop ● magnetic knife holder on side wall
6. Stacked Pebble
Points of Interest ● stacked pebble tile backsplash ● black quartz countertop with sidesplash and undermount sink ● fluted olive green ceramic vase ● glass sugar bowl with lid ● under-cabinet lighting over sink
7. Zigzags
Points of Interest ● zigzag patterned tile backsplash ● U-shaped wood topped island ● two-toned gray cabinetry ● copper drum pendant light over kitchen island ● yellow window frame calling back zigzag tile detail
8. Four-Piece Tile Pattern
Points of Interest ● 4-piece patterned tile stove backsplash ● L-shaped brown quartz countertop with sidesplash ● reclaimed wood wall cladding with floating shelves ● white modern shaker cabinets with square pulls ● sunny breakfast nook
9. Terracotta Tiles
Points of Interest ● terracotta tile backsplash with black tile inlay ● terracotta tiled range hood with diamond medallion ● natural wood beadboard cabinets ● oversized half round rustic wood beam ● terracotta archway to butler pantry
10. Herringbone Wood
Points of Interest ● faux wood tile backsplash in herringbone pattern ● slim wood shaker cabinets ● gray granite island countertop with oil-rubbed bronze faucet ● powder-coated steel fruit bowl with banana hanger
11. Art Nouveau
Points of Interest ● glossy art nouveau ceramic tile backsplash ● natural wood cabinet with black granite countertop ● sage green upper cabinets with practical open shelf underneath ● lime green Le Creuset Dutch oven
12. Exposed Brick
Points of Interest ● exposed brick backsplash ● corner glass shelves ● DIY granite-topped window sill ● illuminated white upper cabinets with frosted glass inserts ● white-painted plank wall and flooring
13. Carved Wood
Points of Interest ● arched carved wood kitchen sink backsplash ● corner slim beaded fringe lamp shade ● wine glasses on wall-mounted wooden shelf ● DIY island with salvaged wood planked countertop and two wine barrel base
14. Mixed Tiles
Points of Interest ● mixed patterned encaustic tile backsplash ● stone wall with archway ● wall-mounted DIY reclaimed wood hat rack ● dark wood beamed ceiling ● antique solid wood double purpose table ● travertine versailles floors
15. Gray Marble
Points of Interest ● matching gray marble backsplash and countertops ● eat-in island with X-back off-white dining chairs ● oak beams on ceiling and stove alcove ● two large square glass lantern pendant lights ● white beadboard walls
16. Back Painted Glass
Points of Interest ● turquoise back painted glass backsplash ● matching white laminate countertops and cabinets ● galley kitchen with built-in round bar ● oversized clock on white wall ● polished hardwood floors
17. Stack Bond Tiles
Points of Interest ● brown ceramic tile backsplash in stack bond pattern ● frosted glass pull-up upper cabinets ● four DIY drinking glass pendant lights over white quartz topped island ● round dark-stained bar stools with ivory cushions
18. Bricks
Points of Interest ● exposed brick backsplash ● espresso kitchen cabinets and range hood surround ● vintage hanging rope clock ● beige quartz island countertop with stainless steel farmhouse sink ● gray refrigerator enclosure
19. Plaid Tiles
Points of Interest ● plaid patterned tile backsplash matching the luxury vinyl kitchen floor ● stainless steel topped island with fire orange base ● illuminated transom cabinets ● hand painted pendant lights over island
20. Chalkboard
Points of Interest ● soapstone backsplash with patterned tile border ● bare concrete walls ● soapstone countertop with beige fireclay farmhouse sink ● wooden shelf above backsplash ● two distressed bronze shade pendant lights
21. Glossy Subway Tiles
Points of Interest ● glossy gray porcelain subway tile backsplash ● white marble countertops with maple base cabinets ● frosted glass doors on upper cabinets ● dark espresso leather bar stools ● island against wall with framed painting
22. Glass Tiles
Points of Interest ● light gray slim glass subway tile backsplash ● stainless steel stove backsplash ● white quartz countertop ● L-shaped concrete peninsula with T-back wood counter chairs ● two stainless steel pendant lights over shelves
23. Mosaic Tile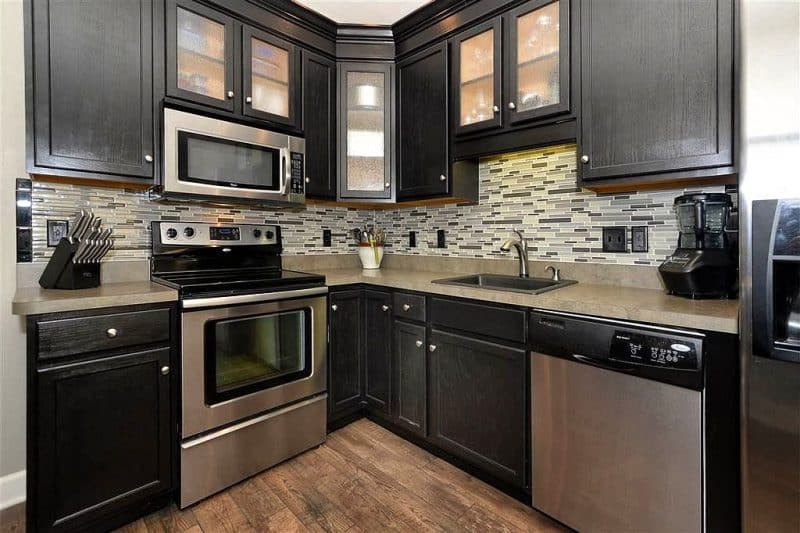 Points of Interest ● multi-toned gray mosaic tile backsplash ● black corner cabinet with textured glass insert matching the illuminated upper cabinets ● reclaimed hardwood flooring
24. Blue Porcelain
Points of Interest ● white marble countertop with blue porcelain tile backsplash ● beadboard paneled cabinets ● solid wood topped island with drawers ● French cafe chairs ● blue striped fabric Roman shades
25. White Subway Tiles
Points of Interest ● white subway tile backsplash ● white Carrara marble countertops ● open shelves with upper cabinet above range hood ● framed art on window sill ● sisal rug with gray linen border
26. Running Bond Terracotta
Points of Interest ● slate tile backsplash in running bond pattern ● distressed baby blue base cabinets with patinated handles ● soapstone countertop with apron-front sink ● small wooden cabinet on countertop
27. Medallion
Points of Interest ● multi-toned porcelain tile backsplash with diamond mosaic medallion ● two illuminated slim ivory cabinets with drawer underneath ● white marble island countertop with double ogee edge ● baby blue island base