Hello and welcome to our carefully curated selection of wingback accent chairs. Adding a wingback accent chair to your home can be a quick and easy way to add style to your interior. There are so many choices out there, so we handpicked for you a variety of beautiful, high-quality wingback accent chairs that can fit many styles, color schemes, and budgets. To derive this list, we carefully reviewed customer reviews and are only bringing up to your attention wingback accent chairs that clients love and would recommend. Hope you find inspiration in these photos and find this information useful, enjoy!

What are the types of wingback accent chairs voted "the best"?
Definition: A wingback chair also called a wing chair, is an upholstered chair with wing-like projections attached to the back that usually extends down to the armrest. It came out during the 1600s in England but became popular in the 1720s. Historically, the chairs were used near the fireplace and were designed to protect the user from drafts. The "wings" have two common styles, flat wings, and the scroll wings. Nowadays, this classic comes in a variety of designs and fits as an accent chair with many home decorations styles.
Style: classic, modern farmhouse, French country, cottage, rustic, mid-century modern, glam, luxe, traditional, modern, contemporary, transitional, eclectic
Design Features: wing types (flat, scroll, bat, butterfly, demi wing chair), arms (square, rolled, flared, recessed, rounded, curved), legs (tapered, flared, curved, stacked-sphere, turned), back (solid, high/tall, channel shaped, rounded, rolled, concave, curved), fabric pattern (none/solid, floral, ikat, watercolor motif), suspension (web suspension, sinuous springs), accents (nailhead trim, button tufting, piped edges)
Price Range: $112.00 to $469.99

How are clients using their wingback accent chairs in their home décor:
Where: living room, sitting room, family room, dining room, foyer, entryway, bedroom, home office, reading nook
Things to consider: style and design, comfort and fit, size, craftsmanship, quality, material, color, function and versatility, ease of assembly, price
Favorite Features: lovely timeless style, spacious and very comfy, lightweight yet sturdy, soft luxurious fabric, vibrant colors, great quality and craftsmanship, lovely details, easy to assemble, compact size great for a small space, soft leather-like material, easy to match neutral color, versatile chair for different rooms around the house, high end look at an affordable price, , beautifully complements other furniture, comfy seat with good support

Hope you enjoy the showroom visit!

1. Rolled Arm Accent Chair by Better Homes & Gardens
Points of Interest:
● Clients Rating: 4.6 Stars
● Style Inspiration: traditional
● Material: twill fabric, solid wood, French country, cottage
● Color Options: beige, gray
● Design Features: button tufted, bat wings, channel shaped back, rolled arms, nailhead trim, rustic finish legs
● What Clients Love about this Wingback Accent Chair: lovely fabric, adds cozy look to room, gorgeous color, great size for a bedroom chair, looks very elegant, well made

2. Bouck Wingback Chair by Willa Arlo Interiors
Points of Interest:
● Clients Rating: 4.6 Stars
● Style Inspiration: contemporary, glam
● Material: polyester velvet, synthetic fiber, oak wood, MDF
● Color Options: gray, coffee, dark teal, ivory, light blue, light gray, light lavender, navy blue, purple
● Design Features: solid color, butterfly wings, button tufted back, flared arms, black finished tapered legs, sinuous springs suspension, removable seat cushion
● What Clients Love about this Wingback Accent Chair: soft luxurious fabric, vibrant colors, unique shape, adds pop of color, comfy accent chair, great for reading, eye-catching, fun addition to any room

3. Caitlyn Roll Back Accent Chair by Madison Park
Points of Interest:
● Clients Rating: 4.7 Stars
● Style Inspiration: contemporary, transitional
● Material: polyester, birch wood, manufactured wood
● Color Options: cream, gray, blue multi
● Design Features: silver nailhead trim, demi wing chair, rolled back, black noir finish legs
● What Clients Love about this Wingback Accent Chair: works well as a desk chair, simple yet attractive design, comfy little accent chair, great quality and craftsmanship

4. Contreras Wingback Chair by Willa Arlo Interiors
Points of Interest:
● Clients Rating: 4.5 Stars
● Style Inspiration: traditional, cottage
● Material: polyester blend
● Color Options: dark blue, dark charcoal, light beige, teal blue, silver
● Design Features: diamond-tufted seat and back, flat wings, stacked-sphere front legs, tapered back legs, flared arms, sinuous spring suspension
● What Clients Love about this Wingback Accent Chair: lovely details, great texture, perfect for formal living room, gets lots of compliments, good quality fabric, easy to assemble, great value

5. Clarinda Accent Chair by Signature Design by Ashley
Points of Interest:
● Clients Rating: 4.6 Stars
● Style Inspiration: transitional, traditional
● Material: polyester, manufactured wood, foam
● Color Options: brown, upholstery – gray, orange, cream
● Design Features: solid color, demi wing chair, wide cushioned seat, tufted back and seat cushions, faux wood finished tapered legs
● What Clients Love about this Wingback Accent Chair: lovely timeless style, spacious and very comfy, excellent craftsmanship, lightweight yet sturdy, great quality at a great price

6. Gordon Wingback Chair by Alcott Hill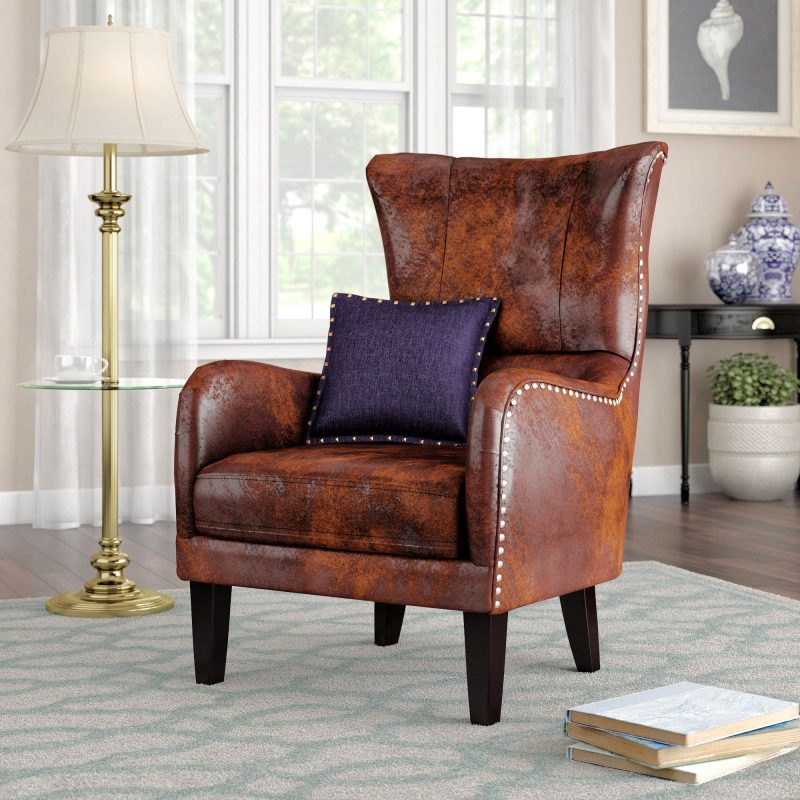 Points of Interest:
● Clients Rating: 4.6 Stars
● Style Inspiration: traditional, rustic
● Material: microfiber/microsuede, solid wood
● Color Options: espresso
● Design Features: distressed microsuede upholstery, nailhead trim, recessed arms, web suspension, removable seat cushion
● What Clients Love about this Wingback Accent Chair: charming rustic appeal, compact size great for a small space, soft leather-like material, great craftsmanship, easy to assemble

7. Jonesport Tufted Wingback Arm Accent Chair by Threshold
Points of Interest:
● Clients Rating: 5.0 Stars
● Style Inspiration: traditional, classic
● Material: rubberwood, polyester, foam
● Color Options: gray
● Design Features: solid color, button tufted, padded seat and back, recessed arms
● What Clients Love about this Wingback Accent Chair: beautifully complements other furniture, comfy seat with good support, easy to match neutral color, stylish and chic

8. Sirmans Wingback Chair by Loon Peak
Points of Interest:
● Clients Rating: 4.5 Stars
● Style Inspiration: traditional, rustic
● Material: microfiber/microsuede, wood, foam
● Color Options: beige, brown
● Design Features: sanded microfiber upholstery, tight back, nailhead trim, curved and tapered legs, recessed arms
● What Clients Love about this Wingback Accent Chair: style blends well with different decor themes, soft fabric, lovely nailhead details, spacious and comfy seat

9. Millett Wingback Chair by Three Posts
Points of Interest:
● Clients Rating: 4.6 Stars
● Style Inspiration: traditional, mid-century modern
● Material: linen, maple wood, foam
● Color Options: beige, brown, navy, gray, charcoal, pink, burgundy, green, violet
● Design Features: button-tufted, butterfly wings, concave back, recessed arms, sinuous springs and web suspension, kiln-dried hardwood frame, removable seat cushion
● What Clients Love about this Wingback Accent Chair: gorgeous colors to choose from, stylish and comfy, high end look at an affordable price, high quality fabric

10. Vasari Tufted Wingback Chair by Rosevera
Points of Interest:
● Clients Rating: 5.0 Stars
● Style Inspiration: traditional, classic
● Material: fabric, hardwood
● Color Options: warm beige, charcoal, gray
● Design Features: solid color, button-tufted back, recessed arms, nailhed trim, espresso finished legs, removable seat cushions with velcro fasteners
● What Clients Love about this Wingback Accent Chair: delightfully soft fabric, beautifully accents room, great craftsmanship, as beautiful as the photos show, convenient velcros keep cushion in place

11. Cavender Wingback Chair by Birch Lane Heritage
Points of Interest:
● Clients Rating: 4.6 Stars
● Style Inspiration: contemporary
● Material: polyester blend, foam, solid and manufactured wood
● Color Options: teal, natural, chocolate, charcoal, blue, berry red
● Design Features: solid color, linen-look upholstery, high back, nailhead trim in silver finish, square arms, espresso finished legs, removable seat cushion, web suspension, includes lumbar pillow
● What Clients Love about this Wingback Accent Chair: works well on huge spaces, adds fun and pop of color to room, great for tall people, well made and durable

12. Granville Wingback Chair by Laurel Foundry Modern Farmhouse
Points of Interest:
● Clients Rating: 4.8 Stars
● Style Inspiration: classic, modern farmhouse
● Material: polyester, birch wood, manufactured wood, foam
● Color Options: gray
● Design Features: solid color, butterfly wings, reclaimed gray finish wooden legs, rounded arms, web suspension, removable seat cushion
● What Clients Love about this Wingback Accent Chair: easy to match neutral color, lovely texture, complements farmhouse decor, looks much more expensive than its price

13. Aria Wing Back by GDF Studio
Points of Interest:
● Clients Rating: 4.6 Stars
● Style Inspiration: classic, mid-century, contemporary
● Material: polyester, birch wood
● Color Options: dark teal, gray, light lavender, orange
● Design Features: solid color, nailhead trim, button-tufted back and seat, corded edges, deep seated, dark brown finished legs
● What Clients Love about this Wingback Accent Chair: versatile chair for different rooms around the house, lovely color, chic and comfy, high end look at an affordable price

14. Allis Wingback Chair by Three Posts
Points of Interest:
● Clients Rating: 4.5 Stars
● Style Inspiration: traditional, cottage
● Material: polyester-linen blend, birch wood, manufactured wood, foam
● Color Options: linen, blue, charcoal, red
● Design Features: solid color, flat wings, button-tufted back, square arms, black noir legs, removable and reversible seat cushion, web suspension
● What Clients Love about this Wingback Accent Chair: adds an elegant touch to the room, complements decor, well-cushioned seat with soft fabric, great quality

15. Steelton Button Tufted Wingback Chair by Birch Lane Heritage
Points of Interest:
● Clients Rating: 4.7 Stars
● Style Inspiration: traditional, French country
● Material: polyester blend, wood, foam
● Color Options: ivory, brown, gray, green
● Design Features: button-tufted, bat wings, square arms, welt trim, sinuous spring suspension
● What Clients Love about this Wingback Accent Chair: lovely fabric details, tall height for good back support, stylish and elegant, great craftsmanship

16. Canterburry Upholstered High Back Wing Chair by Christopher Knight Home
Points of Interest:
● Clients Rating: 4.8 Stars
● Style Inspiration: transitional, modern, contemporary, classic
● Material: birch wood, bonded leather/polyester, foam
● Color Options: black, teal blue, teal
● Design Features: solid color, butterfly wings, high back, matte black finish legs, recessed arms, curved legs, nailhead trim, piped edges
● What Clients Love about this Wingback Accent Chair: attractive and unique style, great reading chair, sturdy and durable, great for small spaces

17. Glen Wingback Chair by Latitude Run
Points of Interest:
● Clients Rating: 4.8 Stars
● Style Inspiration: eclectic
● Material: polyester blend, foam, birch wood
● Color Options: multi-colored
● Design Features: watercolor-inspired motif,butterfly wings, armless, button tufted back, espresso finished curved legs, web suspension
● What Clients Love about this Wingback Accent Chair: wide and comfy seats, unique and eye-catching, gorgeous colors, brightens up room, sturdy and stable

18. Andover Wingback Chair by Three Posts
Points of Interest:
● Clients Rating: 4.7 Stars
● Style Inspiration: mid-century, traditional
● Material: polyester, birch wood, manufactured wood, foam
● Color Options: beige, charcoal, gray, navy
● Design Features: solid color, tapered legs, web suspension, removable seat cushion, nailhead trim
● What Clients Love about this Wingback Accent Chair: works well as a desk chair or as dining table chairs, gorgeous color, stylish and elegant, great value

19. George Dining Chair Wingback Design by Great Deal Furniture
Points of Interest:
● Clients Rating: 4.8 Stars
● Style Inspiration: traditional, rustic
● Material: bonded leather, hardwood
● Color Options: brown
● Design Features: curved back, nailhead trim, accent stitching, padded seat and back
● What Clients Love about this Wingback Accent Chair: beautiful nailhead details, real leather look and feel, excellent craftsmanship, high end look at an affordable price

20. Porter Wingback Chair by Three Posts
Points of Interest:
● Clients Rating: 4.5 Stars
● Style Inspiration: traditional, classic
● Material: linen, birch wood, rubberwood
● Color Options: ivory, gray, oatmeal
● Design Features: button-tufted back, scroll wings, silver nailhead trim, rolled arms and wings, espresso finish tapered legs, removable back and seat cushions, includes 1 toss pillow
● What Clients Love about this Wingback Accent Chair: beautifully matches other furniture, gets many compliments, elegant and luxurious, impressive big size

21. Farley Wingback Chair by Alcott Hill
Points of Interest:
● Clients Rating: 4.7 Stars
● Style Inspiration: traditional, classic
● Material: polyester, birch wood, foam
● Color Options: blue, yellow, gray
● Design Features: solid color (also available with ikat pattern), tall back, curved arms, nailhead trim, black noir legs, web suspension
● What Clients Love about this Wingback Accent Chair: complements decor, very soft fabric, beautiful colors, gorgeous nail head details, great value

22. Carafa Tufted Wingback Armchair by Rosevera
Points of Interest:
● Clients Rating: 5.0 Stars
● Style Inspiration: classic, traditional, modern farmhouse, cottage
● Material: fabric, solid wood
● Color Options: smoky gray, warm beige, navy blue
● Design Features: solid color, button tufted back, nailhead trim, turned front legs
● What Clients Love about this Wingback Accent Chair: classy and stylish, lovely fabric, firm yet comfy, stable and durable, gets many compliments

23. Grangeville Wingback Chair by Laurel Foundry Modern Farmhouse
Points of Interest:
● Clients Rating: 4.7 Stars
● Style Inspiration: French country, modern farmhouse
● Material: polyester blend, birch wood, foam
● Color Options: cream/gray
● Design Features: floral pattern upholstery, butterfly wings, curved arms, back with single horizontal tufting, tapered front legs, curved back legs, removable seat cushion, web suspension, welt trim
● What Clients Love about this Wingback Accent Chair: huge and comfy, beautifully accents the room, decorative and functional, great quality at a great price

24. Jacinto Wingback Chair by Willa Arlo Interiors
Points of Interest:
● Clients Rating: 4.8 Stars
● Style Inspiration: glam, luxe, classic
● Material: velvet, birch wood, foam
● Color Options: silver croc, navy
● Design Features: solid color or alligator-inspired fabric upholstery, high back, silver nailhead trim, recessed square arms, tapered legs, removable seat cushion, includes accent pillow
● What Clients Love about this Wingback Accent Chair: bold and beautiful piece, eye-catching style, adds a touch of glam to the room, a definite conversation piece

25. Sussex Linen Club Chair by Baxton Studio
Points of Interest:
● Clients Rating: 4.8 Stars
● Style Inspiration: transitional, classic
● Material: linen, birch wood, foam
● Color Options: beige
● Design Features: scroll wings, button tufting, nailhead trim, black-finished legs with stretcher, rolled arms and wings, removable and reversible seat cushion
● What Clients Love about this Wingback Accent Chair: easy to match neutral color, lovely feel-great fabric, stylish and study, easy assembly

26. Anamaria Wingback Chair by Mercer41
Points of Interest:
● Clients Rating: 4.8 Stars
● Style Inspiration: classic, transitional
● Material: polyester velvet, birch wood, manufactured wood
● Color Options: gray, cobalt, teal
● Design Features: tufted back, recessed rolled arms, nailhead trim, removable seat cushion, dark brown tapered legs
● What Clients Love about this Wingback Accent Chair: velvet fabric looks and feels luxurious, chic and comfy, roomy seat, high end look at an affordable price

27. Matherville Wingback Chair by Birch Lane Heritage
Points of Interest:
● Clients Rating: 4.6 Stars
● Style Inspiration: traditional, classic
● Material: polyester, birch wood, manufactured wood, foam
● Color Options: blue, cream, mushroom
● Design Features: solid back, square arms, espresso finished legs, piped edges, sinuous springs suspension
● What Clients Love about this Wingback Accent Chair: soft fabric with lovely textured pattern, sturdy and comfy seat, has a sophisticated look, complements decor