Hello and welcome to our carefully curated selection of TV stands. You often ask us "where can I get this?", "how do I get that look?, so here it is! We handpicked for you a variety of beautiful high quality TV stands that can fit many styles, color schemes, and budgets. To derive this list, we carefully reviewed customer reviews and are only bringing up to your attention TV stands that clients highly recommend. Hope you find inspiration in these photos and find this information useful, enjoy!

What are the types of highly rated TV stand clients love?
Style: rustic, modern, contemporary, coastal, beach, traditional, modern farmhouse, transitional, country, cottage
Design Features: barn-style doors, rivet details, electric fireplace on center, tempered glass shelves, adjustable shelves, molded trim, sideboard style, shaker style details, distressed finish, planked design cabinet doors, turned feet, X-shaped details, mullion glass doors, corner design, angled cabinets, geometric lattice work on glass paneled cabinets, louvered cabinets, arch top shelves
Price Range: $17.99 to $765.55

How are clients using their TV Stands in their home décor:
Where: living room, den, TV room, bedroom, entertainment room, game room, kids room, family room, master suite, guest room, dining room, kitchen
Things to consider: style, quality, storage space, size, ease of assembly, function, fireplace feature, cable management
Favorite Features: spacious storage, lovely minimalist design, stylish, sturdy, beautifully complements decor, great for a small space, comforting fireplace, impressive sleek design, conveniently conceals cords, great quality, easy assembly, well made, impressive realistic fireplace glow, multi-functional piece of furniture, both decorative and functional, comes fully assembled, wonderfully warms up the room, works great as TV stand and bookcase, great TV stand for a large flat screen TV

Hope you enjoy the showroom visit!

1. Adalberto TV Stand for TVs up to 65″ by Trent Austin Design
Points of Interest:
● Clients Rating: 4.6 Stars
● Style Inspiration: rustic
● Material: manufactured wood (MDF and laminate)
● Color Options: gray wash, stone gray, white oak, barnwood, rustic oak
● Design Features: barn-style doors, rivet details, 2 cabinets, 2 open shelves
● What Clients Love about this TV Stand: looks great on living room, spacious storage, efficiently hides wires and cables, complements modern farmhouse decor, very sturdy, well-made, heavy duty, perfect height, worth every penny
2. Designs2Go 3-Tier Wide TV Stand by Convenience Concepts
Points of Interest:
● Clients Rating: 4.5 Stars
● Style Inspiration: modern
● Material: espresso wood, stainless steel
● Color Options: black, cherry, espresso, gray, light oak, white
● Design Features: espresso wood grain finish, 3 shelves, wide design, stainless steel posts
● What Clients Love about this TV Stand: lovely minimalist design, stylish, sturdy, very functional, strong enough to hold lots of stuff, looks very sleek, great price, easy to assemble, great value
3. Sunbury TV Stand for TVs up to 60″ by Beachcrest Home
Points of Interest:
● Clients Rating: 4.6 Stars
● Style Inspiration: coastal
● Material: manufactured wood (MDF and laminate)
● Color Options: barnwood, black, charcoal, driftwood, espresso, white wash, traditional brown, dark walnut, gray wash, rustic oak, weathered natural, white oak
● Design Features: 4 open shelves, fits up to 60" flat-screen
● What Clients Love about this TV Stand: looks lovely, sleek, convenient adjustable shelves, beautifully complements decor, great for a small space, very functional, solid, sturdy, easy to assemble, good quality, great price, enough space for media accessories, can hold lots of items
4. Sunbury TV Stand for TVs up to 60″ with Fireplace by Beachcrest Home
Points of Interest:
● Clients Rating: 4.6 Stars
● Style Inspiration: coastal/beach
● Material: manufactured wood (MDF and laminate)
● Color Options: barnwood, black, charcoal, driftwood, espresso, white wash
● Design Features: electric fireplace on center, 4 open shelves, comes with bulb for built-in lighting
● What Clients Love about this TV Stand: comforting fireplace, warm addition to room, creates a lovely ambiance, gorgeous fireplace glow, very functional, great value, great price, easy to assemble
5. Xavier 3-in-1 TV Stand for TVs up to 70″ by Whalen Furniture
Points of Interest:
● Clients Rating: 4.5 Stars
● Style Inspiration: modern, contemporary
● Material: glass, metal
● Color Options: black
● Design Features: black with silver accents, tempered glass shelves, display options: swivel-mounted, wall-mounted or table-top
● What Clients Love about this TV Stand: impressive sleek design, conveniently hides cords out of sight, looks elegant, beautiful modern look, great addition to living room, sturdy, very durable, great quality, easy assembly, well made, secure mount makes it kid-friendly
6. 50 in. Flat Screen TV Stand with Hutch by Better Homes & Gardens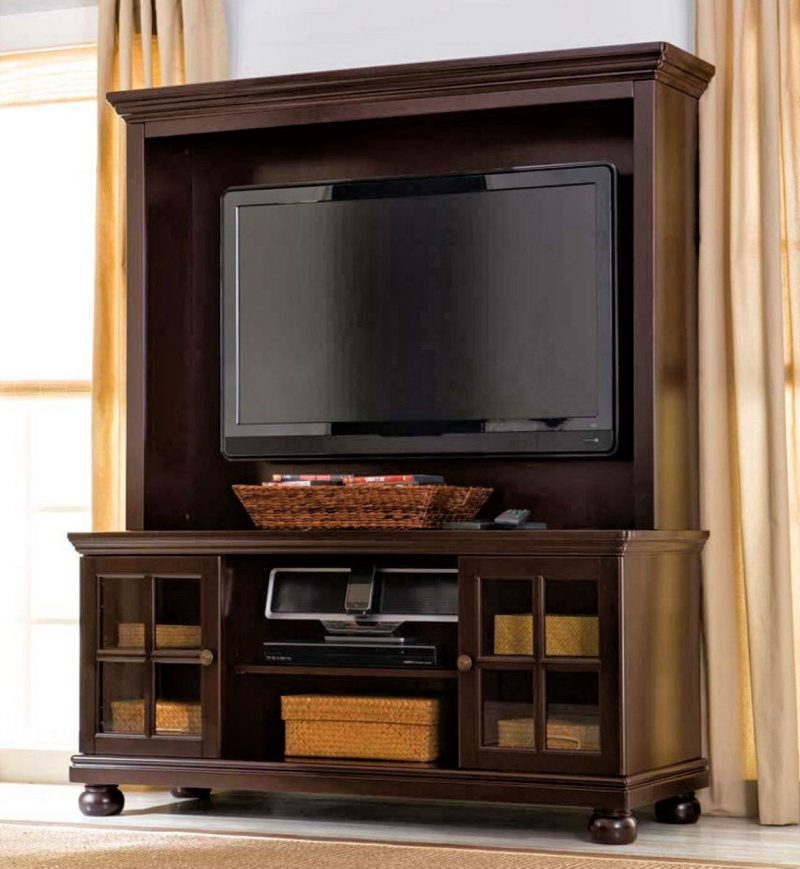 Points of Interest:
● Clients Rating: 4.5 Stars
● Style Inspiration: elegant cottage
● Material: engineered wood, glass
● Color Options: espresso
● Design Features: rich espresso finish, bun feet, windowpane glass doors, 3 shelves
● What Clients Love about this TV Stand: lovely espresso finish, gorgeous piece of furniture, great stand for a large flat screen TV, looks high end, beautiful and functional, very sturdy, well made, easy to assemble
7. WALI TV Stand Table Top by WALI
Points of Interest:
● Clients Rating: 4.5 Stars
● Style Inspiration: modern, contemporary
● Material: metal
● Color Options: black
● Design Features: 2 level height adjustable, non-slip pad
● What Clients Love about this TV Stand: convenient adjustable height, perfect TV stand for a narrow table, helpful adjustment options, impressive design, great on workstation with TV used as computer monitor, sturdy, stable, durable
8. Sunbury TV Stand for TVs up to 60″ with optional Fireplace by Beachcrest Home
Points of Interest:
● Clients Rating: 4.6 Stars
● Style Inspiration: coastal/beach
● Material: manufactured wood (MDF and laminate)
● Color Options: barnwood, black, charcoal, driftwood, espresso, white wash, traditional brown, dark walnut, gray wash, rustic oak, white oak
● Design Features: 6 adjustable shelves, with optional electric fireplace
● What Clients Love about this TV Stand: looks great, lovely finish, attractive fireplace, warms up well, impressive realistic fireplace glow, convenient adjustable shelves, perfect size, holds lots of stuff, very sturdy, easy to assemble
9. Daisi TV Stand for TVs up to 60″ by Mistana
Points of Interest:
● Clients Rating: 4.7 Stars
● Style Inspiration: traditional
● Material: solid acacia wood, manufactured wood, glass
● Color Options: antique blue, antique black, cream, earl gray
● Design Features: 3 cabinets, 3 drawers, glass paned doors, molded trim, fretwork, adjustable shelves, have cable management
● What Clients Love about this TV Stand: gorgeous color, great design, impressive finish, multi-functional piece of furniture, spacious storage, works well as dining room buffet table, great quality, came fully assembled, child-friendly thanks to the protective woodwork on glass doors
10. Greggs TV Stand by Beachcrest Home
Points of Interest:
● Clients Rating: 4.6 Stars
● Style Inspiration: coastal/beach
● Material: manufactured wood – MDF, glass
● Color Options: antique gray, antique white, walnut, bright white, black, espresso, red, rustic brown
● Design Features: sideboard style, shaker style details, open lower shelf, 2 glass door cabinets, tapered feet, adjustable shelves
● What Clients Love about this TV Stand: both beautiful and functional, gorgeous addition to living room, looks classy, lovely farmhouse feel, versatile piece of furniture, great quality, sufficient storage space, great height, well made
11. Bodhi TV Stand for TVs up to 60″ by Beachcrest Home
Points of Interest:
● Clients Rating: 4.5 Stars
● Style Inspiration: coastal, beach
● Material: manufactured wood
● Color Options: antiqued brown, antiqued white, salt oak, curado cherry
● Design Features: louvered cabinets, arch top adjustable open shelves, 4 turned feet, with eyelet holes for cables
● What Clients Love about this TV Stand: beautiful and functional, impressive design, wonderfully complements living room, gorgeous finish, looks lovely, beautiful color, great quality, very sturdy, well made, holds up very well
12. Emelia TV Stand for TVs up to 55″ with optional Fireplace by Breakwater Bay
Points of Interest:
● Clients Rating: 4.5 Stars
● Style Inspiration: coastal/beach
● Material: manufactured wood, poplar, solid wood, engineered wood, glass
● Color Options: black, pine, Spanish gray, white
● Design Features: 2 open adjustable shelves, 2 cabinets, glass paned doors with X-details, optional fireplace, 2 open adjustable shelves, pass through holes for cables and wires, detachable back panel
● What Clients Love about this TV Stand: lovely design, beautiful addition to living room, gorgeous details, fireplace adds lovely ambience, convenient holes for cords, excellent quality, very sturdy, very elegant, great price
13. Bailys TV Stand for TVs up to 65″ with optional Fireplace by Loon Peak
Points of Interest:
● Clients Rating: 4.8 Stars
● Style Inspiration: rustic
● Material: manufactured wood, metal
● Color Options: wood, grant oak
● Design Features: 6 shelves, metal legs, X-shaped back support, pass through holes for cables and wires, with ventilation features, optional fireplace
● What Clients Love about this TV Stand: gorgeous rustic finish, works well with modern farmhouse decor, solid industrial design, beautiful unique design, lovely sleek look, sufficient storage, both decorative and functional, perfect height, great quality, sturdy, fits in with industrial decor
14. Kohn TV Stand for TVs up to 60″ with Fireplace by Zipcode Design
Points of Interest:
● Clients Rating: 4.6 Stars
● Style Inspiration: contemporary, rustic
● Material: manufactured wood (MDF and laminate), glass
● Color Options: black, driftwood, espresso, barnwood, rustic oak, traditional brown, white oak
● Design Features: 2 open adjustable shelves, 2 cabinets with tempered glass doors, fitted with electric fireplace
● What Clients Love about this TV Stand: perfect color, gorgeous fireplace, wonderfully heats up living room, cozy addition to room, nice sleek design, solid piece, very sturdy, easy to assemble, great quality, great storage space
15. Brown TV Stand for TVs up to 65″ by Walker Edison
Points of Interest:
● Clients Rating: 4.5 Stars
● Style Inspiration: traditional
● Material: wood (MDF and laminate)
● Color Options: brown, espresso
● Design Features: 3 center shelves (adjustable), 2 side cabinets, can support up to 250 pounds, with cable management
● What Clients Love about this TV Stand: beautiful addition to family room, great storage space, looks elegant, very sturdy, great finish, compact enough for a small space, easy to assemble, well made, high quality, durable, great value
16. Pineland TV Stand by Greyleigh
Points of Interest:
● Clients Rating: 4.7 Stars
● Style Inspiration: modern farmhouse, shabby chic
● Material: solid wood, manufactured wood, pine veneers
● Color Options: distressed black, distressed pine, distressed white, distressed gray
● Design Features: weathered, distressed finish, open shelves, recessed paneled cabinets, with cable management, with ventilation feature
● What Clients Love about this TV Stand: lovely distressed look, decorative and functional, gorgeous rustic style, works well with farmhouse decor, beautifully complements coastal home, comes fully assembled, very sturdy, great quality, great storage space
17. Inglenook TV Stand for TVs up to 60″ with Fireplace by Andover Mills
Points of Interest:
● Clients Rating: 4.5 Stars
● Style Inspiration: rustic
● Material: manufactured wood, glass
● Color Options: white oak, barnwood, black, gray wash, traditional brown, ash gray, espresso
● Design Features: tapered feet, glass panel cabinet doors on each side, electric fireplace on center
● What Clients Love about this TV Stand: feels like you are next to a real fireplace, cozy addition to room, wonderfully warms up the room, adds homey feel, looks luxurious, sturdy, very solid, awesome piece of furniture, great quality
18. Serein TV Stand for TVs up to 55″ with Fireplace by Laurel Foundry Modern Farmhouse
Points of Interest:
● Clients Rating: 4.6 Stars
● Style Inspiration: country
● Material: solid and manufactured wood
● Color Options: ashland pine, ivory/pine, sargent oak, saw cut espresso
● Design Features: planked design cabinet doors, X-shaped details, open center shelf, electric fireplace included, detachable back panel, with cable management
● What Clients Love about this TV Stand: charming piece of furniture, heats up the room very well, cozy addition to living room, looks gorgeous in family room, perfect for small spaces, quaint farmhouse feel, sturdy, great quality, great price
19. Lamantia TV Stand for TVs up to 55″ by Three Posts
Points of Interest:
● Clients Rating: 4.5 Stars
● Style Inspiration: traditional
● Material: manufactured wood, glass
● Color Options: auburn cherry, estate black, chalked chestnut
● Design Features: 2 open shelves, 1 bottom drawer on center, glass faced cabinets on each side
● What Clients Love about this TV Stand: wonderful living room centerpiece, looks elegant, gorgeous addition to living room, great storage space, beautiful and functional, well made, looks pricey and custom-made
20. Ira TV Stand for TVs up to 70″ by Mistana
Points of Interest:
● Clients Rating: 4.8 Stars
● Style Inspiration: traditional, rustic, coastal
● Material: solid and manufactured wood, glass
● Color Options: ivory, metallic gray, bayberry blue, enson textured red, edwardsville textured black, joplin gray
● Design Features: distressed finish, crown molding, turned feet, mullion glass doors
● What Clients Love about this TV Stand: gorgeous color and finish, decorative and functional, beautiful addition to living room, lovely lattice pattern on doors, looks lovely, eye-catching, versatile, great piece to showcase items, well made, sturdy
21. Rickard TV Stand for TVs up to 65″ with Fireplace by Zipcode Design
Points of Interest:
● Clients Rating: 4.5 Stars
● Style Inspiration: contemporary
● Material: manufactured wood: hollow core, paper, laminated particle board
● Color Options: black, espresso, white, dove gray
● Design Features: 4 open shelves, electric fireplace on center
● What Clients Love about this TV Stand: neat piece of furniture with clean lines, comfortably warms up room, beautifully complements decor, awesome design, beautiful and functional, works great for a small space, easy to assemble, great price
22. Tieton TV Stand for TVs up to 50″ with Fireplace by Mistana
Points of Interest:
● Clients Rating: 4.5 Stars
● Style Inspiration: coastal
● Material: manufactured wood (MDF and laminate), glass
● Color Options: barnwood, black, espresso, traditional brown, white oak, gray wash, rustic oak
● Design Features: corner design, glass faced angled cabinets on each side, open shelf above electric fireplace in the center
● What Clients Love about this TV Stand: stylish, perfectly fits living room corner, adds cozy feel to room, heats up room pretty well, ample storage space, perfect size for a small space, great height, very sturdy, great quality
23. Sydney 52 in. 3-in-1 Flat Panel TV Stand with Fixed Arms by Whalen
Points of Interest:
● Clients Rating: 4.7 Stars
● Style Inspiration: modern
● Material: solid wood, steel, glass
● Color Options: dark brown
● Design Features: powder coat finish black steel frame, brown cherry finish wood columns, black tempered glass shelves
● What Clients Love about this TV Stand: looks great, solid piece of furniture, convenient swivel function, sturdy, well designed, great quality, looks high end, versatile, easy to assemble, sufficient storage space, great value
24. Bristol Woods TV Stand for TVs up to 50″ by Three Posts
Points of Interest:
● Clients Rating: 4.5 Stars
● Style Inspiration: traditional
● Material: manufactured wood, glass
● Color Options: estate black, euro oak, craftsman oak
● Design Features: 3 open shelves on center, glass faced cabinets on both sides
● What Clients Love about this TV Stand: impressive quality, lovely color, stylish and functional, perfectly fits small home, works great as tv stand and bookcase, beautiful addition to den, sturdy, easy to assemble, great value
25. Rorie TV Stand for TVs up to 49″ by Mercury Row
Points of Interest:
● Clients Rating: 4.5 Stars
● Style Inspiration: contemporary, rustic
● Material: manufactured wood
● Color Options: brown, dark gray
● Design Features: wood grain details, 2 drawers, open shelf
● What Clients Love about this TV Stand: beautiful color, perfect for a small space, gorgeous weathered finish, looks high end, durable, nice sleek look, great quality, great value, perfect size, easy to assemble
26. Jennings TV Stand for TVs up to 60″ with Optional Fireplace by Three Posts
Points of Interest:
● Clients Rating: 4.6 Stars
● Style Inspiration: transitional
● Material: manufactured wood and solid poplar wood
● Color Options: black, cool gray, white
● Design Features: recessed panels, 4 tapered legs, geometric lattice work on glass paneled cabinets
● What Clients Love about this TV Stand: gorgeous piece of furniture, awesome fireplace, lovely addition to living room, brings warm ambience to room, heats up great, adds cozy feel, very sturdy, well made, great quality
27. Dawson 58 in. Fireplace TV Stand by Belham Living
Points of Interest:
● Clients Rating: 4.6 Stars
● Style Inspiration: traditional
● Material: MDF, solid wood / veneer, laminate
● Color Options: barnwood, white wash, espresso, driftwood
● Design Features: 4 open shelves (adjustable), electric fireplace
● What Clients Love about this TV Stand: beautiful and functional, gorgeous finish, lovely electric fireplace, beautifully complements living room decor, comfortably heats up room, adds cozy look to room, sturdy, great price, easy to assemble