Hello and welcome to our carefully curated selection of sofas. You often ask us "where can I get this?", "how do I get that look?, so here it is! We handpicked for you a variety of beautiful high quality sofas that can fit many styles, color schemes, and budgets. To derive this list, we carefully reviewed customer reviews and are only bringing up to your attention sofas that clients recommend after purchasing for their own living rooms. Hope you find inspiration in these photos and find this information useful, enjoy!

What are the types of sofas that made the "Best Of" list?
Style: traditional, transitional, luxe, glam, classic, vintage, mid-century, modern, contemporary, boho-chic, French country, rustic, cottage
Design Features: arms (square, rolled, track, flared, straight, padded, recessed, pillow top), feet/legs (tapered, Victorian style, spun bun, square, thin legs, block feet, carved, skirted), cushion (multiple cushion seat, single cushion seat, removable, reversible, long and rectangular, box cushions), back (curvy backrest, scalloped back, split-back, can be reclined), sleeper sofa, loveseat, Chesterfield sofa inspired, accents (button-tufting, piping, nailhead trim, with toss pillows, slipcover), colors (patterned, solid)
Price Range: $325.99 to $1,362.00

How are clients using their sofas in their home décor:
Where: den, living room, family room, library, sunroom, parlor, guest room, master suite, sitting room
Things to consider: material and quality, style and design, versatility (converts into a bed, reclines), size and capacity, space of the room, comfort, firmness and support, ease of assembly, price
Favorite Features: very soft and luxurious fabric, impressive tailored look, looks lovely and feels extravagant, practical and versatile piece, very sturdy and has excellent quality, very soft and comfy to seat or lounge on, beautiful color and very attractive upholstery, convenient reversible seat cushions, sleek size perfect for small spaces, inviting and cozy addition to room, a very snug sofa with good support, transforms into a bed, great couch for lounging and snuggling, impressive size comfortably sits 4, easy to clean, convenient washable covers

Hope you enjoy the showroom visit!

1. Nia Pin Tufted Convertible Sofa by Willa Arlo Interiors
Points of Interest:
● Clients Rating: 4.5 Stars
● Style Inspiration: transitional, luxe, glam
● Material: manufactured wood, velvet or polyester blend upholstery, foam filling
● Color Options: pink, tan velvet, dark royal blue velvet, gray velvet, green velvet
● Design Features: converts to a bed, button-tufted, multiple cushion seat, tapered feet, square arms
● What Clients Love about this Sofa: very soft and luxurious fabric, looks lovely and feels extravagant, gorgeous vibrant color, practical piece for a studio apartment, looks very high end, very sturdy and has excellent quality
2. Bladen Sofa by Signature Design by Ashley
Points of Interest:
● Clients Rating: 4.5 Stars
● Style Inspiration: traditional
● Material: hardwood and wood composite, polyester
● Color Options: brown, gray
● Design Features: textured and multi-tonal upholstery, removable cushion, plush design, 3-inch legs
● What Clients Love about this Sofa: looks and feels like real leather, very soft and comfy to seat or lounge on, beautiful color and very attractive upholstery, very sturdy and holds up very well
3. Vegard Chesterfield Sofa by Willa Arlo Interiors
Points of Interest:
● Clients Rating: 4.5 Stars
● Style Inspiration: classic, vintage, luxe, glam
● Material: rubberwood, linen or faux leather upholstery, foam filling
● Color Options: heathered beige, heathered dark gray, pewter gray, brown, purple, red
● Design Features: Chesterfield design, button tufted, removable and reversible cushion, rolled arms, bun feet
● What Clients Love about this Sofa: great fabric with lovely texture, awesome tufting, stunning accent piece, charming addition to room, impressive and classy design, excellent craftsmanship
4. Suffield Serta Upholstery Sofa by Three Posts
Points of Interest:
● Clients Rating: 4.5 Stars
● Style Inspiration: traditional
● Material: manufactured wood, fabric upholstery, foam filling
● Color Options: ivory
● Design Features: spun bun feet, nailhead trim, rolled arms, removable/reversible cushions, with toss pillows, cushion back
● What Clients Love about this Sofa: classy style with a casual feel, lovely neutral color goes well with everything, convenient reversible seat cushions, soft fabric with a nice texture, impressive quality and excellent craftsmanship
5. Vintage Tufted Velvet Split Back Futon by Novogratz
Points of Interest:
● Clients Rating: 4.5 Stars
● Style Inspiration: vintage, mid-century
● Material: wooden frame, velvet upholstery
● Color Options: gray, beige, blue, green, pink
● Design Features: wide track arms, Victorian style turned legs, diamond tufted, split-back can be reclined, convertible
● What Clients Love about this Sofa: a gorgeous and practical addition to living room, very soft and lovely velvet fabric, cute accent piece, stylish design and elegant tufting, pretty color, great value for the price
6. Serta Upholstery Westbrook Sofa by Alcott Hill
Points of Interest:
● Clients Rating: 4.6 Stars
● Style Inspiration: traditional
● Material: polyester upholstery, hardwood frame
● Color Options: stoked ashes, brown legs
● Design Features: flared arms, tapered square feet, multiple cushion seat, with toss pillows, cushion back
● What Clients Love about this Sofa: works well with modern decor, comfortably firm cushions with great back support, lovely color and heathered pattern, both beautiful and functional, well made
7. Sloane Mid-Century Tufted Modern Sofa by Rivet
Points of Interest:
● Clients Rating: 4.5 Stars
● Style Inspiration: mid-century modern
● Material: hardwood frame, beech wood legs, polyester upholstery
● Color Options: pebble, denim, shell
● Design Features: U-shaped, button-tufted, tapered legs, removable back and cushions
● What Clients Love about this Sofa: lovely mid-century appeal, very soft fabric with a velvety feel, convenient removable back for easy mobility, comfy to sit on with just the right firmness, looks great and gets lots of compliments
8. Serta Upholstery Winchendon Sofa by Trent Austin Design
Points of Interest:
● Clients Rating: 4.5 Stars
● Style Inspiration: industrial, contemporary
● Material: solid and manufactured wood frame, faux leather upholstery
● Color Options: San Marino chocolate
● Design Features: low profile, track arms, button-tufted, multiple cushion seat, cushion back
● What Clients Love about this Sofa: beautifully complements modern and minimalist decor, sleek size perfect for small spaces, firm yet comfy cushions that provide good support, lightweight makes it easy to move, solid and sturdy
9. Dalila Chesterfield Sofa by Willa Arlo Interiors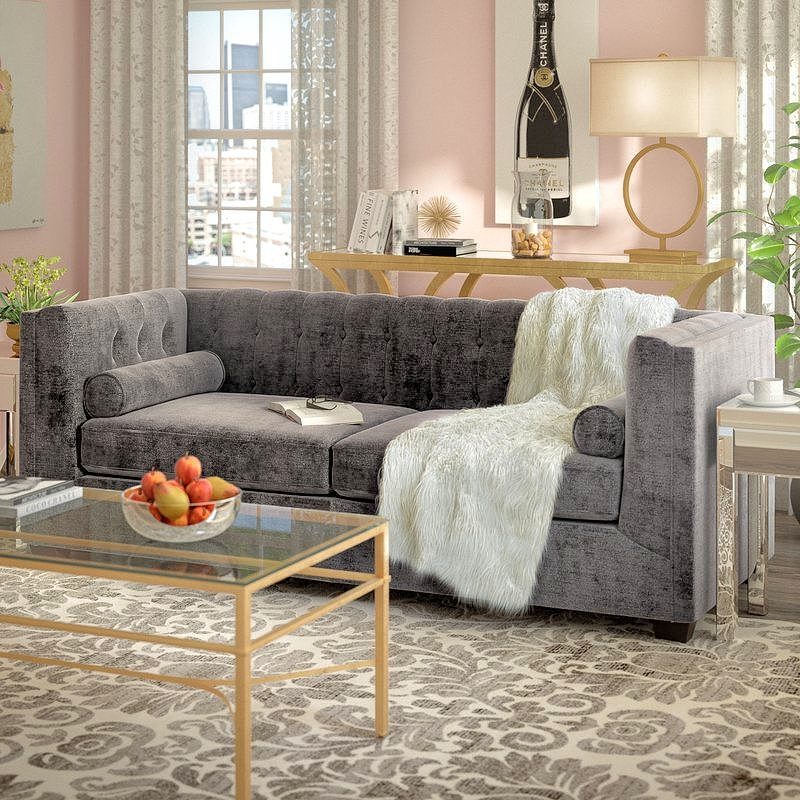 Points of Interest:
● Clients Rating: 4.7 Stars
● Style Inspiration: vintage, luxe, glam
● Material: wood frame, polyester upholstery
● Color Options: charcoal, almond
● Design Features: Chesterfield design, straight arms, solid low back, espresso legs, button-tufted, with bolster pillows, removable/reversible cushions
● What Clients Love about this Sofa: stunning addition to room, awesome timeless appeal, looks high end and very luxurious, reversible cushions that are very comfortable, great value at an amazing price
10. Derry Sofa by Mistana
Points of Interest:
● Clients Rating: 4.7 Stars
● Style Inspiration: boho-chic, glam
● Material: solid wood, polyester velvet upholstery
● Color Options: emerald, blush, copen blue, dark sapphire, olive green, platinum
● Design Features: thin tapered legs, track arms, button-tufted, with bolster pillows, removable cushions, single cushion seat, cushion back
● What Clients Love about this Sofa: a very stylish sofa that is great for napping, charming mid-century appeal, very lush and soft fabric, adds pop of color to room, comfy with great support, great quality at a great price
11. Porter Sleeper Sofa by Better Homes & Gardens
Points of Interest:
● Clients Rating: 4.8 Stars
● Style Inspiration: modern, contemporary
● Material: wood frame, linen upholstery
● Color Options: blue, gray
● Design Features: tufted back, track arms, dark finish tapered wood legs, twin size sleeper sofa, Lawson style
● What Clients Love about this Sofa: conveniently transforms into a bed perfect for guests, sturdy and comfy enough for a sleeper sofa, lovely color, sleek size great for small spaces, easy to assemble
12. Deerpark Sofa by Andover Mills
Points of Interest:
● Clients Rating: 4.5 Stars
● Style Inspiration: traditional, contemporary
● Material: solid and manufactured wood frame, polyester-nylon blend upholstery, plastic legs
● Color Options: charcoal, quartz
● Design Features: tight square arms, tapered block feet, multiple cushion seat, with toss pillows, removable piped cushion and cushion cover
● What Clients Love about this Sofa: velcros keep cushions in place, lovely fabric texture, inviting and cozy addition to room, perfectly fits small spaces, gorgeous color, firm but very comfortable
13. Versailles Chesterfield Sofa by Lark Manor
Points of Interest:
● Clients Rating: 4.6 Stars
● Style Inspiration: vintage, French country, gla,
● Material: hardwood frame, solid oak feet, polyester blend upholstery
● Color Options: off-white
● Design Features: Chesterfield design, curvy backrest, rolled arms, light honey stained turned bun feet, button-tufting, chrome nailhead trim, with toss pillows
● What Clients Love about this Sofa: relaxing and very cozy sofa, decorative and functional, spacious enough for 3 to sit comfortably, gorgeous nailhead trim and tufting details, looks very elegant and classy, great value
14. Roberta Chesterfield Sofa by Willa Arlo Interiors
Points of Interest:
● Clients Rating: 4.7 Stars
● Style Inspiration: vintage, luxe, glam
● Material: cotton blend velvet upholstery, wood
● Color Options: gray, beige, black,navy, light blue, green, pink
● Design Features: Chesterfield design, button tufting, piped edges, tapered feet, with toss pillows, removable cushions
● What Clients Love about this Sofa: bold and luxurious addition to room, awesome retro vibe, comfortably firm cushions and soft fabric, eye-catching style and very rich color, stunning look and great quality at a great price
15. Dengler Standard Sofa by Ebern Designs
Points of Interest:
● Clients Rating: 4.5 Stars
● Style Inspiration: mid-century, contemporary
● Material: hardwood frame, polyester upholstery
● Color Options: Elizabeth silver/Mali denim
● Design Features: track arms, button tufting, piped edges, tapered block feet, reversible cushions, with toss pillows, multiple cushion back and seat
● What Clients Love about this Sofa: soft high-quality fabric with velvet-feel texture, thick and firm cushion yet very comfortable, perfect size for a small space, easy to clean, gorgeous couch with great quality
16. Carly Standard Sofa by Wayfair Custom Upholstery
Points of Interest:
● Clients Rating: 4.7 Stars
● Style Inspiration: cottage, country, traditional
● Material: solid wood – laminate frame, fabric upholstery, down filling
● Color Options: more than a hundred colors to choose from
● Design Features: square arms, piped details, long rectangular cushions, dressmaker-style skirt, with toss pillows, removable cushions and covers
● What Clients Love about this Sofa: great lounging/napping sofa, lovely slipcover adds to the cozy feel, convenient washable covers, large size comfortably sits 3, very impressive quality at a good price
17. Lore Sofa by Willa Arlo Interiors
Points of Interest:
● Clients Rating: 4.5 Stars
● Style Inspiration: glam, luxe
● Material: linen upholstery, wooden frame
● Color Options: gray, beige
● Design Features: round arms, double nailhead trim, turned legs, removable cushions, with toss pillows, multiple cushion seat and back
● What Clients Love about this Sofa: classy and stylish great for a formal living room, lovely color and unique eye-catching style, looks high end and very sophisticated, sturdy and well made for the price, impressive details and design
18. Fairchild Slipcovered Sofa by Birch Lane Heritage
Points of Interest:
● Clients Rating: 4.6 Stars
● Style Inspiration: French country, traditional, transitional
● Material: wood and laminate frame, fabric
● Color Options: more than a hundred colors to choose from
● Design Features: slightly curved back, square arms, skirted slipcover, removable back cushions, single seat cushion, with toss pillows
● What Clients Love about this Sofa: a very snug sofa with good support, high quality fabric with impressive stitch details, looks and feels luxurious and is extremely comfy, well made and holds up really well
19. Zeb Sofa Sleeper by Signature Design by Ashley
Points of Interest:
● Clients Rating: 4.6 Stars
● Style Inspiration: modern, contemporary
● Material: metal and wood frame, polyester and nylon upholstery
● Color Options: light beige, espresso brown
● Design Features: tapered block feet, piped edges, linear track arms, box cushions, converts into a bed
● What Clients Love about this Sofa: a very functional and versatile piece of furniture, easy to transform into a bed, very comfy memory foam mattress, perfect sofa sleeper for guests, an attractive looking huge cushy couch
20. Serta Upholstery Belmond Sofa by Astoria Grand
Points of Interest:
● Clients Rating: 4.6 Stars
● Style Inspiration: traditional
● Material: hardwood and plywood frame, cotton and polyester upholstery
● Color Options: momentum magenta/safari/sateena
● Design Features: floral pattern upholstery, carved feet, padded flared arms, removable seat cushions, pillow back, hardwood frame with carved details, with toss pillows
● What Clients Love about this Sofa: a very grand and unique sofa, lovely pillows with different patterns on each side for different looks, an elegant and stunning furniture that gets lots of compliments, great quality and excellent value
21. Calila Sofa by Birch Lane Heritage
Points of Interest:
● Clients Rating: 4.6 Stars
● Style Inspiration: traditional
● Material: solid and manufactured wood frame, polyester blend upholstery
● Color Options: sandstone
● Design Features: recessed arms, nailhead trim, tapered block feet, multiple cushion seat, with toss pillows
● What Clients Love about this Sofa: beautifully complements modern farmhouse decor, very comfy deep seating with fluffy cushions, big size perfect for one to comfortably lounge on
22. Johnston Upholstered Sofa by Langley Street
Points of Interest:
● Clients Rating: 4.5 Stars
● Style Inspiration: contemporary, mid-century modern, Scandinavian
● Material: rubberwood frame, polyester upholstery
● Color Options: various colors to choose from
● Design Features: 4 slanted legs, button tufted back, foam-filled cushions, cherry colored flared and round tapered legs
● What Clients Love about this Sofa: a very cool statement piece, comfortably sits 4, luxurious fabric with great texture, great variety of awesome colors to choose from, appealing mid-century style, great quality
23. Axelle Sofa by Lark Manor
Points of Interest:
● Clients Rating: 4.5 Stars
● Style Inspiration: cottage, vintage, French country
● Material: linen upholstery, solid and manufactured wood
● Color Options: oatmeal
● Design Features: scalloped back, nailhead trim, rolled arms, pocket coil seating, removable/reversible cushions, with 4 toss pillows
● What Clients Love about this Sofa: gorgeous color with great linen texture, impressive tailored look, perfect piece for a formal living room, firm cushions that provide great support, elegant addition to room, excellent craftsmanship
24. Maurice Convert-A-Couch Futon Sofa Sleeper by Handy Living
Points of Interest:
● Clients Rating: 4.5 Stars
● Style Inspiration: modern
● Material: polyester upholstery, wood, iron frame
● Color Options: crimson, charcoal heather, black, dark cappuccino, mocha black, soft sage
● Design Features: pillow-top arm, quilted, converts into a bed, with toss pillows
● What Clients Love about this Sofa: attractive unique design, a versatile piece of furniture perfect for small spaces, very cozy and comfy as a couch and as a bed, easy to convert into a bed and vice-versa, very sturdy at a good price
25. Rosalie Sofa by Laurel Foundry Modern Farmhouse
Points of Interest:
● Clients Rating: 4.7 Stars
● Style Inspiration: modern farmhouse
● Material: polyester and rayon upholstery, solid and manufactured wood
● Color Options: quartz
● Design Features: boxy brown-finished feet, multiple cushion seat, removable and reversible cushions and covers, curved recessed arms
● What Clients Love about this Sofa: impressively big size and delightfully comfortable, great couch for lounging and snuggling, adds a cozy and inviting look to the room, pet-friendly and easy to clean, lovely color and fabric
26. Alenya Loveseat by Signature Design by Ashley
Points of Interest:
● Clients Rating: 4.9 Stars
● Style Inspiration: classic, contemporary
● Material: hardwood frame, polyester upholstery
● Color Options: charcoal
● Design Features: square arms, pillow style back, with toss pillows, loveseat style, split back
● What Clients Love about this Sofa: beautifully ties the room together, very comfy cushions, comes with stylish pillows, impressive material, great value for a great price
27. Claremore Sofa by Loon Peak
Points of Interest:
● Clients Rating: 4.6 Stars
● Style Inspiration: rustic
● Material: polyester blend upholstery, solid and manufactured wood frame
● Color Options: saddle
● Design Features: rolled arms, nailhead trim, reversible and removable cushions, multiple cushion seat, cushion back, turned bun feet
● What Clients Love about this Sofa: a very plush sofa big enough to lounge on and get totally cozy, a deep seating couch perfect for cuddling, looks and feels like real leather, gorgeous and rich brown color, handsome piece of furniture with great quality