Hello and welcome to our carefully curated selection of sofa beds. Adding a sofa bed to your home can be a quick and easy way to spice up your interior and have a practical space-saving piece of furniture, too. There are so many choices out there, and we handpicked for you a variety of beautiful, high-quality sofa beds that can fit many styles, color schemes, and budgets. To derive this list, we carefully reviewed customer reviews and are only bringing up to your attention sofa beds that have clients love and would recommend. Hope you find inspiration in these photos and find this information useful, enjoy!

What are the types of sofa beds that made the "Best Of" list?
Style: classic, traditional, vintage, chesterfield, mid-century, modern, contemporary, futon
Design Features: sofa and bed combination (2 or 3-seater sofa which converts into a full/twin/queen sleeper), bed conversion (fold down, pull out), back (split, with removable/reversible cushions), seat (single or multiple seat cushions, with coil/sinuous spring, with removable/reversible cushions), arms (track, sloping, rolled, pillow top, armless, with exposed frame), leg (tapered, block, turned, bun), accent (piping, quilted stitching, tufting, nailhead trim, channel tufting, button tufting), additional features (reclining option, additional support foot, foot rest, folding trays on arms, hidden storage compartment under the seat, removable covers, optional base drawers), material (fabric, metal, wood, plastic), upholstery (slipcovered, solid color, multicolored/patterned)
Price Range: $299.00 to $1,340.00

How are clients using their sofa beds in their home décor:
Where: living room, guest room, bedroom, den, basement, family room, play room, TV room
Things to consider: room size and available space, function (occasional or main bed), comfort, seating capacity and bed size, conversion mechanism (fold back or pull out), upholstered or slipcovered, material and style, extra features (recliner, trays, storage), quality (durable material, well made), budget
Favorite Features: comfortable as a sofa and as a bed, split back separately adjustable in 3 settings (sofa, recliner and bed) at the same time, color blends well with existing furniture, kid-friendly mechanism, turns into a bed and back to a sofa in no time, practical reversible cushions and zippered covers for cleaning, manageable weight so it's easy to move, fairly easy to assemble even by one person, unbeatable price for such a gorgeous sofa bed, strong and solid frame

Hope you enjoy the showroom visit!

1. Benitez Convertible Sofa by Mercury Row
Points of Interest:
● Clients Rating: 4.5 Stars
● Style Inspiration: mid-century, modern, contemporary
● Material: faux leather, manufactured and poplar wood, metal, foam
● Color Options: black, white
● Design Features: 3-seater sofa with double/full size fold back bed, square and button-tufted seat and backrest cushions, seat with coil spring, track arms, splitback, 5 round tapered legs, 3 settings – straight/45-degree angle/flat, includes detachable mattress
● What Clients Love about this Sofa Bed: split back is separately adjustable in 3 settings (sofa, recliner and bed), simple and modern design, compact size is ideal for small rooms, backs are easy to raise up and fold down, space-saver

2. Zeb Sofa Sleeper by Signature Design by Ashley
Points of Interest:
● Clients Rating: 4.6 Stars
● Style Inspiration: modern, contemporary
● Material: polyester, metal, wood
● Color Options: light beige, espresso brown
● Design Features: 3-seater sofa with pull out queen bed (also available in full size), track arms, piping details, tapered block feet
● What Clients Love about this Sofa Bed: comfortable sofa bed, ideal sleeping option for guests, soft and good quality material, easy to pull out and return the bed, not bulky like most sofa beds

3.Vintage Tufted Velvet Split Back Futon by Novogratz
Points of Interest:
● Clients Rating: 4.5 Stars
● Style Inspiration: mid-century, classic, traditional, vintage
● Material: velvet, wood
● Color Options: beige, blue, gray, green, pink
● Design Features: 3-seater sofa with folding back into a full size bed, tufted seat and split back, sloping arms with diamond stitching patterns on the side, turned bun feet with back leg support, multiple recliner angles
● What Clients Love about this Sofa Bed: split back makes it possible to be a reclining sofa or a bed at the same time, tufting makes the sofa look more high-end, soft fabric texture, sturdy and well-built, easy to put together

4. Excelsior Sofa Bed by Jerry Sales
Points of Interest:
● Clients Rating: 4.5 Stars
● Style Inspiration: futon
● Material: microfiber suede, wood
● Color Options: red matt (also available in other colors)
● Design Features: 3-seater sofa with fold back queen size bed, espresso finish exposed wood frame, button tufted seat and backrest, 8" high mattress/cushion, 2 base drawers (optional)
● What Clients Love about this Sofa Bed: super comfortable mattress for sleeping, cushions are cozy and comfy, easy to assemble

5. Alenya Queen Sofa Sleeper by Signature Design by Ashley
Points of Interest:
● Clients Rating: 4.5 Stars
● Style Inspiration: classic, traditional, modern
● Material: polyester, wood, metal
● Color Options: khaki, coal
● Design Features: 3-seater with pull-out queen size bed, solid color, piped trim, square arms, split pillow back, tapered block legs
● What Clients Love about this Sofa Bed: looks great whether in the living room or spare bedroom, cozy bed for visiting family and friends, easy to operate pull out mechanism

6. Arrighetto Sofa Bed Sleeper by Birch Lane Heritage
Points of Interest:
● Clients Rating: 4.5 Stars
● Style Inspiration: classic, traditional, cottage
● Material: fabric, laminated engineered wood, foam
● Color Options: wide selection of color choices
● Design Features: 3-seater sofa with queen size pull out bed, cushion back, solid color (also available with pattern), rolled arms, piping details, seat with sinuous springs, tapered block legs, removable cushions and covers, includes 2 toss pillows
● What Clients Love about this Sofa Bed: kid-friendly mechanism, neutral color makes it easy match with decor, surprisingly comfortable mattress for a sofa bed, excellent quality and super soft fabric, well-made

7. Maurice Sofa Sleeper by Convert-a-Couch
Points of Interest:
● Clients Rating: 4.6 Stars
● Style Inspiration: traditional
● Material: 100% polyester, iron, 100% polyester fiber fill
● Color Options: charcoal heather, black, crimson, dark cappuccino, mocha black, soft sage
● Design Features: 3-seater sofa with folding back, converts into a full size bed, solid color upholstery, quilt stitching on seat and back, pillow top arms, includes 2 throw pillows
● What Clients Love about this Sofa Bed: manageable weight so it's easy to move, lovely sofa design doesn't look like it hides a bed, reasonable price, sturdy and easy to put together

8. Brittany Sleeper Sofa Bed by Novogratz
Points of Interest:
● Clients Rating: 4.6 Stars
● Style Inspiration: modern, contemporary
● Material: polyester blend, linen, wood, plastic, foam
● Color Options: blue, gray, green, mustard
● Design Features: loveseat sofa with twin size pull out bed, memory foam mattress, solid color, removable cushions, channel-tufted back cushion, seat with coil spring, tapered legs
● What Clients Love about this Sofa Bed: compact convenient sleeper sofa, comfortable and a good fit, looks elegant, smoothly turns from sofa to bed and vice versa, quality is beyond expectation

9. Madilynn Sofa Bed by Winston Porter
Points of Interest:
● Clients Rating: 4.6 Stars
● Style Inspiration: classic, traditional, contemporary
● Material: microfiber/microsuede, metal, solid wood, plastic, foam
● Color Options: charcoal, espresso, quartz
● Design Features: 3-seater sofa with queen size pull out bed, solid pattern, track arms, memory foam mattress, piping trim, removable seat cushion, cushion back, tapered block legs
● What Clients Love about this Sofa Bed: awesome back support, firm but comfortable back cushions, unbeatable price for such a gorgeous sofa bed, super comfortable memory foam, very easy to fold and unfold

10. Cabell Sofa Bed by Mercury Row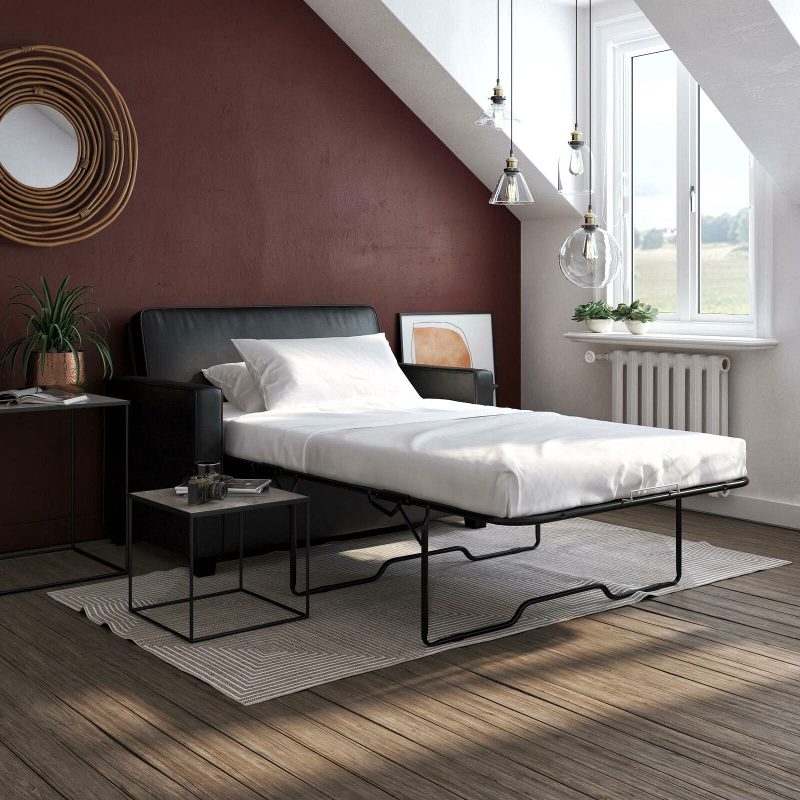 Points of Interest:
● Clients Rating: 4.5 Stars
● Style Inspiration: classic, traditional, contemporary
● Material: fabric, metal, foam
● Color Options: black faux leather, gray velvet, blue velvet
● Design Features: loveseat with pull out twin bed, solid color, piping trim,
removable/reversible single cushion seat, block legs, coil spring seat, pillow back
● What Clients Love about this Sofa Bed: space-saving size, double-purpose piece of furniture, lovely color and design, would look good anywhere in the house

11. Evan Convertible Sleeper by Zipcode Design
Points of Interest:
● Clients Rating: 4.8 Stars
● Style Inspiration: chesterfield, classic, contemporary
● Material: microfiber/microsuede, eucalyptus wood, foam
● Color Options: gray, java
● Design Features: 2-seater sofa with full size pull-out bed, 3 settings – sofa/lounger/bed, square button-tufted cushions, track arms, white piping trim, includes 2 throw pillows
● What Clients Love about this Sofa Bed: convenient lounger option, footrest can be used even in sofa position, bed stays comfortable for daily use, firm but comfortable seating, kid-friendly operation

12. Neston Sleeper Sofa by Fleur De Lis Living
Points of Interest:
● Clients Rating: 4.6 Stars
● Style Inspiration: classic, traditional, rustic, vintage
● Material: faux leather, wood, foam
● Color Options: earth
● Design Features: 3-seater sofa with pull out queen size bed, weathered leather upholstery with decorative stitching, rolled arms, removable mattress, turned bun feet, nailhead trim, multiple cushion seat, includes 2 throw pillows
● What Clients Love about this Sofa Bed: faux leather feels soft to the touch, easy to clean upholstery, looks high end, substantial weight and feels sturdy, easy to convert from sofa to bed

13. Porter Sleeper Sofa by Better Homes and Gardens
Points of Interest:
● Clients Rating: 4.7 Stars
● Style Inspiration: modern, contemporary
● Material: linen, metal, foam
● Color Options: gray linen, blue linen
● Design Features: loveseat with pull out twin bed, tufted back seat, memory foam mattress, single seat cushion with coil spring, track arms, tapered block legs
● What Clients Love about this Sofa Bed: compact sleeping option, practical furniture, bed is easy to pull out and push back in, quick assembly

14. Felicity Sleeper Sofa by Wayfair Custom Upholstery
Points of Interest:
● Clients Rating: 4.6 Stars
● Style Inspiration: classic, traditional, country cottage, farmhouse
● Material: plastic, polyester fiber, down filling
● Color Options: wide selection of color choices
● Design Features: 2-seater sofa with double/full size pull out bed, solid color slipcover (also available with pattern), rolled arms, reversible cushions with removable covers, seat with sinuous spring, includes 2 throw pillows, with piped edges
● What Clients Love about this Sofa Bed: practical reversible cushions and zippered covers for cleaning, soft and high quality fabric, firm but comfortable cushions, high quality at an excellent price

15. Brick Champion Convertible Sofa by Ebern Designs
Points of Interest:
● Clients Rating: 4.5 Stars
● Style Inspiration: contemporary
● Material: polyester blend, wood, foam
● Color Options: brown, chocolate, blue, gray, tan
● Design Features: 2-seater sofa with fold down back to make a double/full size bed, solid color, tapered block legs, single cushion seat, hidden storage compartment under the seat, cushions with tufting, includes 3 throw pillows
● What Clients Love about this Sofa Bed: convenient large concealed storage, very handy sofa bed for guests, lovely fabric color

16. Hampshire Sleeper by Serta Futons
Points of Interest:
● Clients Rating: 4.7 Stars
● Style Inspiration: modern, contemporary
● Material: microfiber/microsuede, wood, foam
● Color Options: gray
● Design Features: 3-seater sofa that folds out into a queen size bed, brown tapered legs (pull out bed with casters), with decorative piping and tufting, solid color, seat with pocket spring, rolled arms (also available in track arm), with fabric pull handles
● What Clients Love about this Sofa Bed: looks small and compact as a sofa but surprisingly hides a queen size bed, so comfortable both for sitting or sleeping, sturdy and easy to operate convertible mechanism, strong and solid frame

17. Phoenix Espresso Sofa Bed by Kodaik
Points of Interest:
● Clients Rating: 4.6 Stars
● Style Inspiration: futon
● Material: microfiber suede, hardwood
● Color Options: wide selection of color choices
● Design Features: sofa with fold out queen size bed, 7" mattress with tufting (also available in full size option), espresso frame, folding trays on arms, optional base drawers
● What Clients Love about this Sofa Bed: gorgeous solid hardwood frame, side trays are handy extra features, beautiful wood finish, super comfortable mattress

18. Huebert Sleeper Sofa by Andover Mills
Points of Interest:
● Clients Rating: 4.6 Stars
● Style Inspiration: contemporary, classic
● Material: polyester blend, metal, wood, foam
● Color Options: gray
● Design Features: 3-seater sofa with queen size pull out bed, memory foam mattress, solid color, piping trim, tapered legs, track arms, removable seat cushions, tufted back cushions, seat with coil spring, includes 2 toss pillows
● What Clients Love about this Sofa Bed: looks as gorgeous as pictured, firm but comfortable cushions, high quality, bed is easy to pull out, well-constructed

19. Colorado Futon Sofa Bed by Raw Futons
Points of Interest:
● Clients Rating: 4.9 Stars
● Style Inspiration: futon
● Material: suede, wood, foam
● Color Options: wide selection of color choices
● Design Features: 3-seater sofa with fold out full size bed, exposed wood frame, armless, 7" innerspring mattress, seat with coil spring, button tufted seat and back
● What Clients Love about this Sofa Bed: great furniture that doubles as a sleeper, looks very pleasing, lovely wood frame, excellent price and quality, easy to put together

20. Christina Sofa Bed Sleeper by Birch Lane Heritage
Points of Interest:
● Clients Rating: 4.6 Stars
● Style Inspiration: classic, traditional
● Material: cotton blend, kiln dried engineered wood panels, foam and down filling
● Color Options: wide selection of color choices
● Design Features: 3-seater sofa with queen size pull out bed, solid color slipcover (also available with pattern), reversible cushions with removable covers, wedge arms, seat with sinuous springs
● What Clients Love about this Sofa Bed: long sofa and large size bed, seats have just the right firmness, stylish and looks expensive, the bed is easy to pull out

21. Luna 50 Sleeper by Overnight Sofa
Points of Interest:
● Clients Rating: 4.5 Stars
● Style Inspiration: classic, traditional
● Material: polyester blend, foam and synthetic fiber fill, plastic
● Color Options: sugarshack salt, sugarshack pepper
● Design Features: 3-seater sofa with queen size pull out bed (also available in twin and full size), solid color, short block legs, mattress options (innerspring, memory foam), reversible cushions with removable covers, includes toss pillows, track arms
● What Clients Love about this Sofa Bed: lovely fabric texture and color, looks more stunning in person, soft and comfortable memory foam bed

22. Montero Microfiber Futon Sofa Bed by Handy Living
Points of Interest:
● Clients Rating: 4.6 Stars
● Style Inspiration: modern, contemporary, classic
● Material: polyester, wood, steel
● Color Options: black, brown, gray, tan
● Design Features: 3-seater sofa with pull out double/full size bed, espresso finish block legs, seat with coil spring, 3 settings – sofa/recline/full bed, solid color, pillow top arms
● What Clients Love about this Sofa Bed: chic and classy look, great choice for an extra seating and sleeping option, excellent quality and price, easy to put together even without tools

23. Andora Coil Convertible Futon Couch by DHP
Points of Interest:
● Clients Rating: 4.5 Stars
● Style Inspiration: mid-century, modern
● Material: fabric, wood
● Color Options: black, gray, white
● Design Features: 2-seater sofa with pull out twin size bed, tufted seat and back cushions, splitback, square arms, wood legs, central leg support, 3 setting – sofa/ lounger/bed, seat with coil spring
● What Clients Love about this Sofa Bed: chic style adds interest to the room, great option for a small family, looks more expensive than actual price, firm seat

24. Stoutland Sofa Bed by Fleur De Lis Living
Points of Interest:
● Clients Rating: 4.5 Stars
● Style Inspiration: classic, traditional, vintage
● Material: 100% polyester, wood, metal, foam
● Color Options: barley
● Design Features: 3-seater sofa with queen size pull out bed, solid color, rolled arms with exposed carved frame, espresso finish carved legs, cushioned back, removable/reversible seat cushions, includes 2 throw pillows
● What Clients Love about this Sofa Bed: color blends well with existing furniture, firm seat cushions are comfortable enough to sleep on, sofa color makes the room seem larger, thick and very comfortable mattress

25. Raphael Sofa Bed by Red Barrel Studio
Points of Interest:
● Clients Rating: 4.7 Stars
● Style Inspiration: classic, traditional
● Material: 100% polyester, wood, down and blown fiber fill
● Color Options: jitterbug denim, jitterbug gray
● Design Features: 2-seater sofa with queen size pull out bed, solid color, removable/reversible seat cushions, espresso finish tapered legs, seat with sinuous springs, cushioned back, rolled arms, piping trim, includes 2 throw pillows
● What Clients Love about this Sofa Bed: pretty denim color fabric, topnotch upholstery work, sturdy and well-constructed frame, pleasant sitting and sleeping experience, firm cushions, simple style

26. Phillips Convertible Sleeper by Edgecombe Furniture
Points of Interest:
● Clients Rating: 4.6 Stars
● Style Inspiration: classic, traditional
● Material: intersect hemp, wood, foam, synthetic fiber fill
● Color Options: wide selection of upholstery color and leg finish options
● Design Features: 3-seater sofa with pull out queen size bed, slope arms, with pipings, tapered block legs, tight back removable/reversible seat cushions, solid color (also in patterned option)
● What Clients Love about this Sofa Bed: neutral color ties the room together, smoothly turns into a bed or sofa in a blink, small size is perfect for a small space, good quality durable fabric

27. Coaster Company Velvet Sofa Bed by Generic
Points of Interest:
● Clients Rating: 4.6 Stars
● Style Inspiration: classic, transitional, chesterfield
● Material: velvet, hardwood, foam
● Color Options: black, blue, purple, red
● Design Features: fold down double/full size sofa bed, armless, diamond tufted seat and back, apron with chrome nailhead trim, 4 tapered legs, seat with sinuous springs, solid color
● What Clients Love about this Sofa Bed: beautiful sofa and guest bed in one, brilliant colors, luxurious looking fabric, soft to the touch, easy to assemble