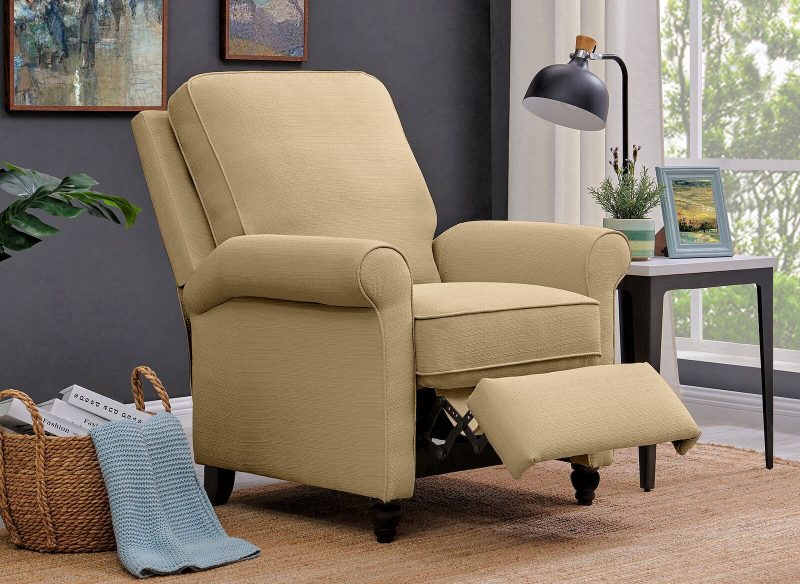 Hello and welcome to our carefully curated selection of small recliners. We handpicked for you a variety of beautiful high quality small recliners that can fit many styles, color schemes, and budgets. To derive this list, we carefully reviewed customer reviews and are only bringing up to your attention small recliners that clients have bought for their own homes and that have been super satisfied with. Hope you find inspiration in these photos and find this information useful, enjoy!

What are the types of small recliners voted "the best"?
Style: classic, traditional, transitional, mid-century, cottage, French country, vintage, rustic, modern, contemporary
Recliner Types – manual (pushback, handle/lever), power (remote control recliner), other features (swivels, glides, with lift-assist, wall-hugger)
Recline Angles: 45 degrees, 90 degrees, 130 degrees, 140 degrees, 160 degrees, 180 degrees,
Design Features: arms (rolled, track, square, padded, pillow top) feet/legs (tapered, turned, bun, Queen Anne, flared, cylindrical), upholstery (solid, textured, patterned), common upholstery patterns (floral/botanical, paisley, geometric, scrollwork), accent (nailhead trim, piped edges, button-tufting, stitched accent), foot rest (matching ottoman, pop-up foot rest), storage (side pocket, lift up arm storage)
Price Range: $98.00 to $1,589.00

How are clients using their small recliners in their home décor:
Where: living room, family room, den, game room, master suite, guest room, children's room, nursery, study, library
Things to consider: size and capacity, style and look, price, comfort (fit, back support, smooth movement, adjustable headrest), quality (material, color, craftsmanship), ease of operating, extra features (glides, swivels, lift assist), purpose, quality
Favorite Features: charming and fancy look, comfy and functional room accent, small size great for small spaces, affordable price, comfy to sit or lounge on, gorgeous pattern and colors, firm yet cozy, soft and feel good material, provides great support, smooth reclining mechanism, convenient power lift feature, great for those with mobility issue, just the right height for easy access, just right firmness, great as nursing/reading/napping chair, comfy and spacious seat, great height, well made and sturdy

Hope you enjoy the showroom visit!

1. Lincolnton Manual Recliner by Winston Porter
Points of Interest:
● Clients Rating: 4.6 Stars
● Style Inspiration: cottage, contemporary, transitional
● Material: polyester blend, plywood – manufactured wood, birch wood, foam/synthetic fiber
● Color Options: sky paisley, coral paisley, mango paisley
● Design Features: paisley pattern fabric upholstery, espresso turned front legs, curved back legs, manual pushback recline, recline angle – 130 degrees, coil spring suspension, pop-up leg rest, 17" back clearance
● What Clients Love about this Small Recliner: charming and fancy look, attractive and eye-catching pattern, comfy and functional room accent, small size great for small spaces, affordable price

2. Tufted Push Back Recliner by Better Homes & Garden
Points of Interest:
● Clients Rating: 4.6 Stars
● Style Inspiration: classic, French country, country chic
● Material: polyester, solid wood
● Color Options: beige, gray
● Design Features: solid color, button-tufted back, nailhead trim, espresso brown tapered legs, pushback recliner, rolled arms, rolled back, pop-up leg rest
● What Clients Love about this Small Recliner: very stylish and elegant piece of furniture, comfy and roomy, great reading chair, easy and smooth reclining function

3. Gilland Manual Recliner by Three Posts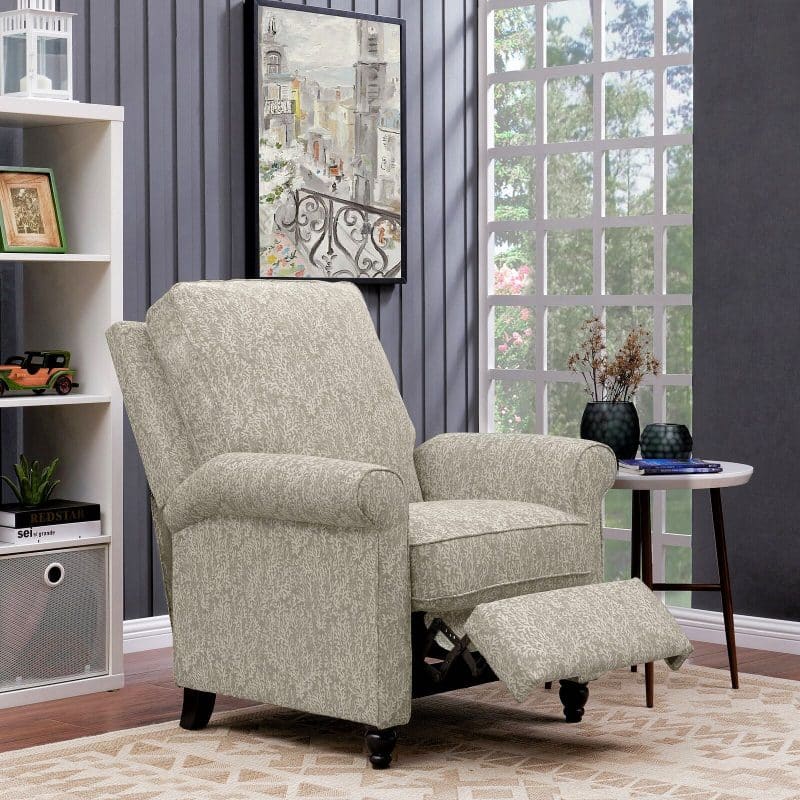 Points of Interest:
● Clients Rating: 4.5 Stars
● Style Inspiration: traditional, French country, cottage
● Material: polyester or rayon/viscose, pine wood and poplar wood
● Color Options: blue floral, blue coral, taupe floral, taupe coral, charcoal gray and cream floral, caribbean blue and cream floral, chocolate brown
● Design Features: floral or coral pattern fabric, turned bun front feet, curved back legs, rolled arms, manual pushback recline, recline angle -130 degrees, coil spring suspension, pop-up leg rest, 3-position type, 17" back clearance
● What Clients Love about this Small Recliner: soft fabric, lovely pattern, very comfortable and attractive, size perfect for room corners and small spaces, well made and very sturdy

4. Bolton Pushback Recliner by Threshold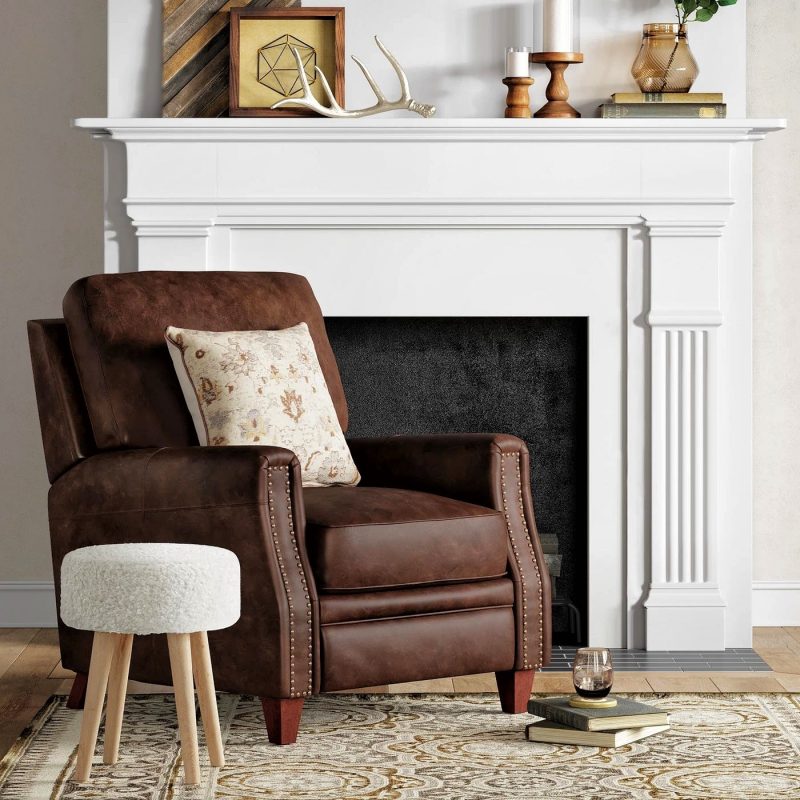 Points of Interest:
● Clients Rating: 4.8 Stars
● Style Inspiration: traditional, rustic, vintage
● Material: faux leather, solid wood
● Color Options: brown, camel brown
● Design Features: solid color, padded armrest, nailhead trim, thickly padded seat cushion, tapered front feet, flared back feet, manual pushback recline, pop-up leg rest
● What Clients Love about this Small Recliner: soft and feel good material, beautiful stud details, firm yet comfy, provides great support, smooth reclining mechanism

5. Sonntag Manual Recliner by Andover Mills
Points of Interest:
● Clients Rating: 4.5 Stars
● Style Inspiration: transitional, country, contemporary
● Material: polyester, birch wood, foam
● Color Options: taupe/blue
● Design Features: scrolling floral pattern fabric upholstery, slightly rounded track arms, tapered legs, piped edges, manual push-back recline, 2 position type, sinuous spring suspension, pop-up leg rest, 18" back clearance
● What Clients Love about this Small Recliner: narrow enough for small spaces, comfy to sit or lounge on, gorgeous pattern and colors, easy to recline, very sturdy, firm yet cozy

6. Small Recliner Sofa Chair by LCH
Points of Interest:
● Clients Rating: 4.7 Stars
● Style Inspiration: modern, contemporary
● Material: PU leather, solid hardwood, metal
● Color Options: sky blue
● Design Features: manual push back recline, solid color, kiddy size, flip-up storage arms, pop-up footrest, cylindrical feet, padded back and arms
● What Clients Love about this Small Recliner: children love this recliner, sturdy and kid-friendly, convenient arm storage, easy to clean, well made and has great quality

7. Village Manual Recliner by Turn on the Brights
Points of Interest:
● Clients Rating: 4.5 Stars
● Style Inspiration: classic, mid-century, modern
● Material: polyester, wood, foam
● Color Options: various colors to choose from
● Design Features: solid color, button-tufted back, piped edges, track arms, espresso finished tapered legs, coil spring suspension, manual pushback recline, recline angle – 45 degrees, 36" back clearance
● What Clients Love about this Small Recliner: appealing sleek look, beautifully complements decor, adorable little recliner, lovely color brightens up room

8. LLC Sharpsville Fabric Recliner by Best Selling Home
Points of Interest:
● Clients Rating: 4.6 Stars
● Style Inspiration: classic, cottage chic, French country
● Material: birch wood, fabric
● Color Options: light sky, light gray, dark blue
● Design Features: solid color, nailhead trim, wingback, button tufted back, with piped details, rolled arms, turned front legs, flared back legs, manual pushback recline, 36" back clearance
● What Clients Love about this Small Recliner: comfortable and relaxing, lovely fabric, attractive nailhead trim and tufting details, elegant and doesn't look like the typical recliner

9. Enedina Power Wall Hugger & Lift Assist Recliner by Red Barrel Studio
Points of Interest:
● Clients Rating: 4.5 Stars
● Style Inspiration: traditional, modern
● Material: faux leather, metal, wood, foam/synthetic fiber
● Color Options: black, brown, cream
● Design Features: fully padded arms and back, horizontal tufting, wall hugger, remote controlled, with lift assist, infinite positions, recline angle – 130 degrees, side pocket storage, sinuous spring and web suspension, 4" back clearance
● What Clients Love about this Small Recliner: convenient power lift feature, great for those with mobility issue, just the right height for easy access, looks and feels like real leather, attractive and functional

10. Garrison Pillow Top Push Back Recliner by Project 62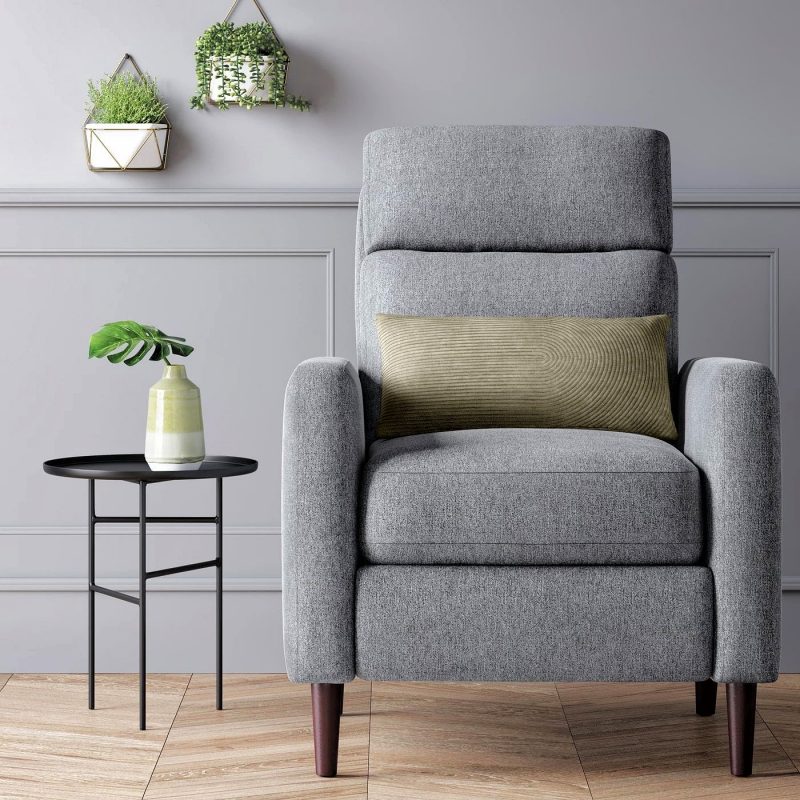 Points of Interest:
● Clients Rating: 4.6 Stars
● Style Inspiration: classic, modern, contemporary
● Material: polyester, hardwood
● Color Options: dark gray, light gray
● Design Features: textured fabric upholstery, pillowtop with horizontal tufting, round tapered legs, square arms, manual pushback recline, pop-up leg rest
● What Clients Love about this Small Recliner: lovely modern look, versatile neutral color, comfortable to sit and lounge on, smooth reclining function, holds up well

11. Groover Manual Recliner by Darby Home Co
Points of Interest:
● Clients Rating: 4.6 Stars
● Style Inspiration: French country, cottager chic, traditional
● Material: polyester, solid hardwood, foam
● Color Options: blue, gray/brown/ivory, beige/green/pink
● Design Features: 3 fabric patterns (geometric diamond, birds with script, floral/botanical), club chair design, rolled arms, cherry stained turned legs, manual pushback recline, 3 positions, recline angle – 90 degrees, sinuous spring and coil spring suspension, footrest at reclining position, removable back cushion, 16" back clearance
● What Clients Love about this Small Recliner: unique and elegant fabric, lovely upholstery details, size perfect for small spaces, comfy and provides great support, classy addition to room

12. Lavender Recliner by Latitude Run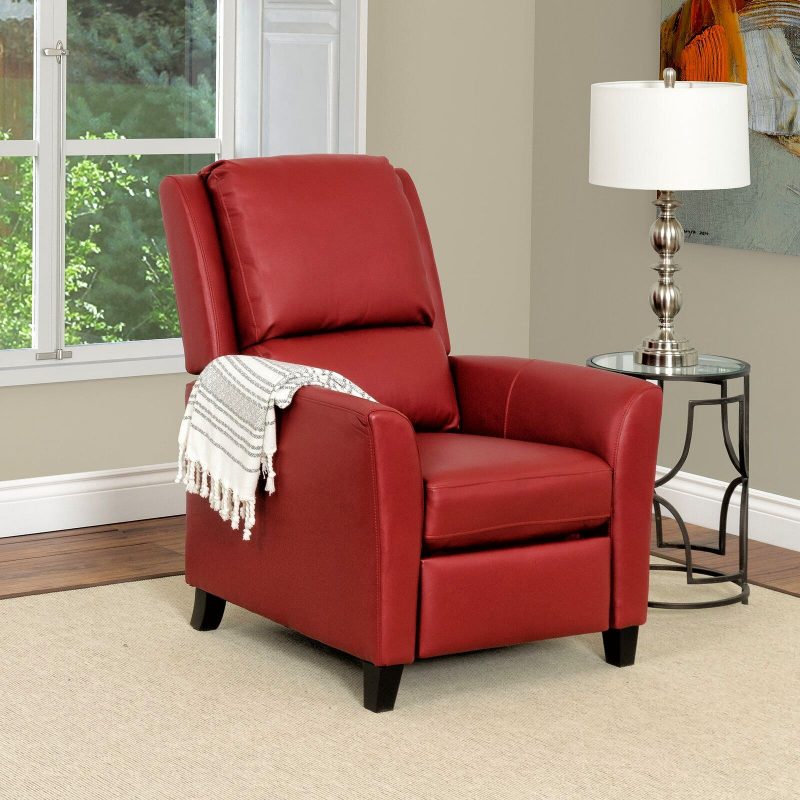 Points of Interest:
● Clients Rating: 4.5 Stars
● Style Inspiration: modern, contemporary, classic
● Material: faux leather, manufactured wood, foam
● Color Options: red, black, brown, white
● Design Features: solid color, flared arms, tapered legs, manual pushback recline, 2-position type, club style, coil spring suspension, 10" back clearance
● What Clients Love about this Small Recliner: stylish and works well with decor, small yet comfortable, provides good support, perfect for relaxing, great value

13. Pushback Recliner by Better Homes & Gardens
Points of Interest:
● Clients Rating: 4.5 Stars
● Style Inspiration: contemporary
● Material: fabric, solid wood
● Color Options: taupe
● Design Features: solid color, bronze nailhead trim, thickly padded seat and back, espresso brown tapered front feet and flared back feet, manual pushback recline
● What Clients Love about this Small Recliner: firm yet comfy enough to lounge on, looks very stylish with pretty nail head details, very versatile chair, provides great support, well made and durable material

14. Newburg Power Motion Recliner by Three Posts
Points of Interest:
● Clients Rating: 4.5 Stars
● Style Inspiration: traditional, modern
● Material: faux leather, solid wood, foam, synthetic fiber
● Color Options: black
● Design Features: solid color, pillow back design with horizontal tufting, plush arms, 2 position power recliner, push button control, recline angle – 140 degrees, 20" back clearance
● What Clients Love about this Small Recliner: easy to operate power recliner, ideal for those with mobility issues, plush and comfy, well made and holds up well, reasonable price

15. Fin City Manual Swivel Recliner with Ottoman by Red Barrel Studio
Points of Interest:
● Clients Rating: 4.5 Stars
● Style Inspiration: modern, contemporary
● Material: faux leather, birch wood, foam
● Color Options: off-white vanilla
● Design Features: ergonomic design, pillow top arms, cushioned back, manual pushback recline, 360-degree swivel, recline angle – 45 degrees, 2 position type, includes ottoman, lever control for adjustable recline, U-shaped seat base, 18" back clearance
● What Clients Love about this Small Recliner: sleek and stylish, very comfy ergonomic design, wood adds warm appeal, great back support, excellent craftsmanship

16. Menet Swivel Glide Recliner by JC Home
Points of Interest:
● Clients Rating: 4.8 Stars
● Style Inspiration: transitional, country chic, French country
● Material: rayon and polyester blend, steel
● Color Options: gray/white
● Design Features: scrollwork pattern fabric, padded rolled arms, high back, pocket coil spring suspension, manual push back recline, 360-degree swivel, with gliding feature, steel base, piped edges
● What Clients Love about this Small Recliner: firm yet very comfy and provides great support, fabric pattern complements living room decor, clever swiveling and gliding feature, great recliner for the nursery

17. Manual Recliner by August Grove
Points of Interest:
● Clients Rating: 4.6 Stars
● Style Inspiration: classic, traditional
● Material: cotton blend, metal, solid and manufactured wood, foam, synthetic fiber
● Color Options: various colors and patterns to choose from
● Design Features: wingback, rolled arms, Queen Anne front legs, piped edges, manual pushback recline, 2 position type, sinuous spring suspension, 9" back clearance
● What Clients Love about this Small Recliner: gorgeous rich color, firm yet comfortable, well made, great as a reading chair, perfect for a small space

18. Platt Manual Recliner by Zipcode Design
Points of Interest:
● Clients Rating: 4.7 Stars
● Style Inspiration: mid-century, modern, contemporary
● Material: polyester, solid and manufactured wood, foam
● Color Options: muted green, muted purple, muted yellow, red, slate microfiber
● Design Features: distressed look, high back, track arms, button-tufted back, piped edges, tapered legs, manual pushback recline, recline angle – 180 degrees, 19" back clearance
● What Clients Love about this Small Recliner: adds pop of color to room, nice sleek size, lovely and durable fabric, chic and stylish, great texture

19. Calverton Push Back Recliner by Threshold
Points of Interest:
● Clients Rating: 4.7 Stars
● Style Inspiration: classic, traditional, country chic, French country
● Material: wood, polyester
● Color Options: cream, light gray
● Design Features: rolled arm, diamond pattern button tufted back, piped edges, tapered feet, manual pushback recline
● What Clients Love about this Small Recliner: great as nursing chair, just right firmness, comfy and spacious seat, great height, well made and sturdy

20. Cohoba Manual Glider Swivel Recliner by Loon Peak
Points of Interest:
● Clients Rating: 4.5 Stars
● Style Inspiration: traditional, rustic
● Material: faux leather, metal, foam
● Color Options: flint, linen, truffle
● Design Features: padded back and arms, accent stitching, 360-degree swivel, with gliding feature, adjustable 23" headrest, manual – handle/lever recline, recline angle – 25 Degrees, 3-position type, coil spring suspension, 16.5" back clearance, water resistant
● What Clients Love about this Small Recliner: very soft and feels great, gets lots of compliments, provides good support, convenient swiveling feature, minimal assembly

21. Push Back Recliner Chair by Domesis
Points of Interest:
● Clients Rating: 4.9 Stars
● Style Inspiration: traditional, classic, vintage
● Material: polyester, hardwood
● Color Options: paisley (burgundy/multicolored), barley tan linen, blue, brown linen, dove gray linen, gray, latte, red
● Design Features: paisley pattern upholstery (also comes in solid pattern), round arms, antique bronze nailhead trim, dark brown turned legs, angled back legs, manual pushback recline, wrapped pocket coils, sinuous spring suspension
● What Clients Love about this Small Recliner: warm addition to room, lovely and durable fabric, easy to recline, great napping chair

22. Gillies Manual Recliner by Williston Forge
Points of Interest:
● Clients Rating: 4.5 Stars
● Style Inspiration: classic, traditional, contemporary
● Material: polyester blend, manufactured wood, foam
● Color Options: black, brown, charcoal, red
● Design Features: contoured arms, nailhead trim, black tapered legs, pillow back, manual pushback recline, 2-position type, 14" back clearance
● What Clients Love about this Small Recliner: comfortable both on upright position and when reclined, stylish and functional, classy rich-looking chairs, soft leather-like material

23. Nissa Recliner by GDF Studio
Points of Interest:
● Clients Rating: 4.7 Stars
● Style Inspiration: classic, mid-century, contemporary
● Material: polyester, wood
● Color Options: deep red
● Design Features: button-tufted back, piped edges, tapered legs, pop-up footrest, manual pushback recline, 24" back clearance
● What Clients Love about this Small Recliner: lovely compact chair, firm yet comfy seat, has great support, size ideal for small spaces, great quality

24. Winslow Leather Manual Recliner by Hooker Furniture
Points of Interest:
● Clients Rating: 4.5 Stars
● Style Inspiration: traditional, vintage, classic chic
● Material: genuine leather, foam, wood
● Color Options: old saddle cocoa, old saddle black
● Design Features: nailhead trim, rolled arms, removable seat cushion, button-tufted foot rest, accent stitching, manual pushback recline, recline angle – 160 degrees, club chair design, 18" back clearance
● What Clients Love about this Small Recliner: luxurious leather feel, lovely distressed look, slim style yet very comfortable, high quality materials, worth every penny

25. Faux Leather Power Lift Recliner by ACME Furniture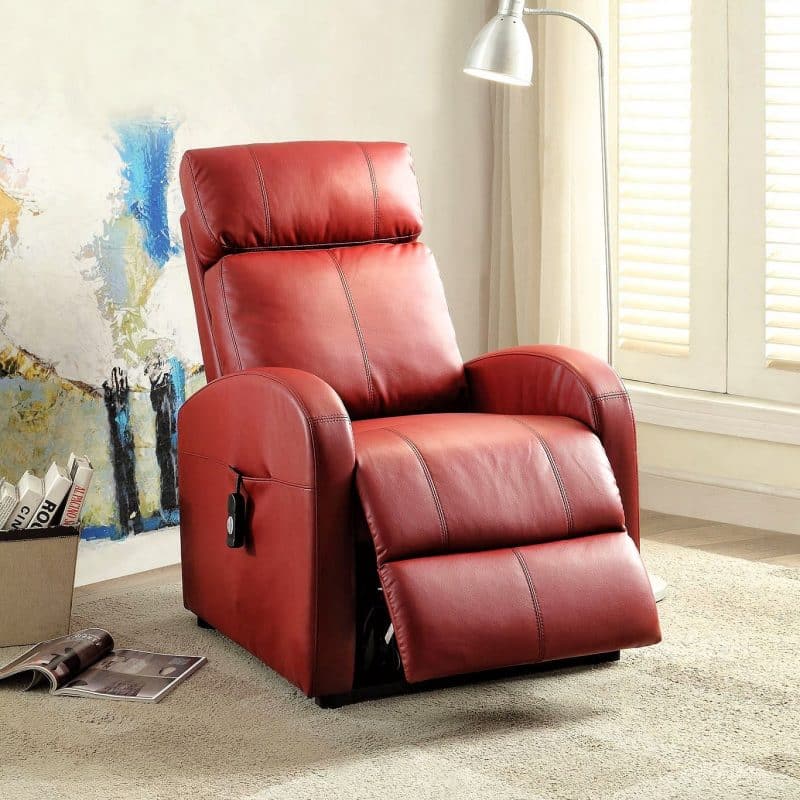 Points of Interest:
● Clients Rating: 4.8 Stars
● Style Inspiration: modern, contemporary
● Material: polyurethane, wood, metal, foam
● Color Options: red, dark gray
● Design Features: leather look upholstery with accent stitching, curved arms, well-padded back, full chaise, power lift and recline controller, side pocket
● What Clients Love about this Small Recliner: lovely red color, ideal for those with mobility issue, great as a gift, easy to assemble, looks classy, great quality

26. Mihreteab Bent Arm Recliner by Red Barrel Studio
Points of Interest:
● Clients Rating: 4.6 Stars
● Style Inspiration: retro, contemporary
● Material: polyester blend, hardwood, plywood, rubberwood, foam
● Color Options: multi-colored
● Design Features: dots pattern upholstery, manual pushback recline, 2-position type, recline angle – 65 degrees, club style recliner, removable back and seat cushions, bentwood arms, 5"-7" back clearance
● What Clients Love about this Small Recliner: versatile and durable, holds up really well, firm yet comfy and has good support, smooth reclining function, great size

27. Prescott Traditional Fabric Recliner by Best Selling Home
Points of Interest:
● Clients Rating: 4.6 Stars
● Style Inspiration: classic, traditional
● Material: polyester, birch wood
● Color Options: wheat, white/blue
● Design Features: solid color or floral pattern, wingback, ergonomic design, nailhead trim, tapered feet, manual pushback recline
● What Clients Love about this Small Recliner: slim design perfect for small spaces, beautifully complements decor, cute accent chair, great reading chair