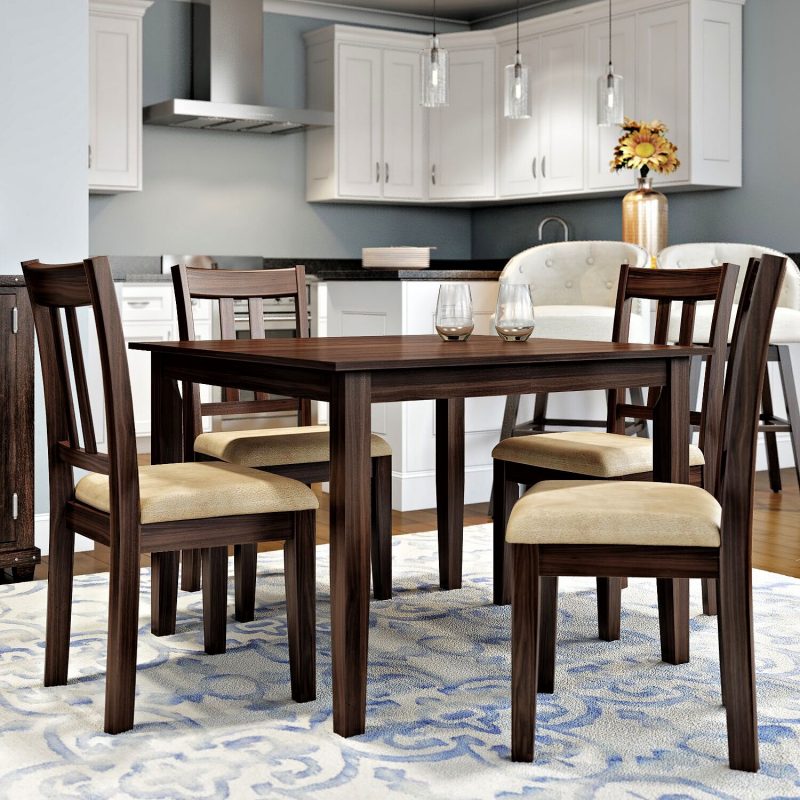 Hello and welcome to our carefully curated selection of small dining sets. There are some great options out there if you have a dining room on the smaller side or want to bring your dining experience in the kitchen with eat-in kitchen. We handpicked for you a variety of beautiful, high-quality small dining sets that can fit many styles, color schemes, and budgets. To derive this list, we carefully read through customer reviews and are only bringing up to your attention small dining sets that have been highly rated by lots of clients. Hope you find inspiration in these photos and find this information useful, enjoy!

What are the types of small dining sets that made the "Best Of" list?
Style: traditional, classic, rustic, industrial, modern farmhouse, coastal, French country, cottage, Old World, modern, contemporary, mid-century
Design Features: table top shape (round, oval, square, rectangular), table legs/base (pedestal, turned, splayed, squared, tapered, crossed), chair styles (Eames, Windsor, Queen Anne, saddle-seat), chair back (lattice, slatted, ladder back, openwork, X-back, wheat/sheaf back), chair legs (carved, tapered, flared, splayed, crossed, scrolled), seats (upholstered, padded, contoured, woven), added features (extendable table, seat with storage)
Price Range: $156.85 to $1,499.00

How are clients using their small dining sets in their home décor:
Where: dining room, eat-in kitchen, breakfast nook, sunroom, banquette, parlor, sitting room
Things to consider: seating capacity needed, look and style, purpose, craftsmanship and quality, price, comfort, material, set inclusion
Favorite Features: versatile, clean and simple design, works well with dining room decor, well made and sturdy, high end look at a reasonable price, convenient storage space, compact and great for small spaces, nice wood-like texture, enhances the look of the room, has a warm and charming appeal, attractive, beautiful finish, comfortable seats, no assembly needed, practical extendable table

Hope you enjoy the showroom visit!

1. Brook 5 Piece Dining Set by Langley Street
Points of Interest:
● Clients Rating: 4.5 Stars
● Style Inspiration: mid-century modern, contemporary
● Material: manufactured wood, beech wood, plastic/acrylic
● Color Options: table – natural, walnut; chairs – green, orange, taupe, black, blue, brown, gray, red, white, pink
● Design Features: powder-coated round top table with splayed legs with black steel braces; Eames style chairs with rounded back, integrated arms, and splayed legs with braces
● Set Inclusions: 1 table, 4 chairs
● What Clients Love about this Small Dining Set: clean and simple design, works well with dining room decor, great for small spaces, fashionable and well-made

2. Bennox 5 Piece Counter Height Dining Table Set by Signature Design by Ashley
Points of Interest:
● Clients Rating: 4.8 Stars
● Style Inspiration: transitional
● Material: hardwood, birch veneers, PVC, faux leather
● Color Options: brown
● Design Features: counter-height table with square top, square table legs with grooved details; lattice back chairs with upholstered inlay, seats with espresso brown upholstery
● Set Inclusions: 1 table, 4 counter stools
● What Clients Love about this Small Dining Set: gorgeous finish, beautiful and rich wood color, comfortable height, no assembly needed, great quality

3. Vegas 5 Piece Round to Oval Extension Dining Table Set by Everhome Designs
Points of Interest:
● Clients Rating: 4.9 Stars
● Style Inspiration: classic, French country
● Material: beech wood, walnut veneers, polyester
● Color Options: off-white/weathered oak
● Design Features: extendable round table with 18" self-storing leaf, oval when extended; chairs with upholstered seat and oval shaped accent on backrest
● Set Inclusions: 1 table, 4 chairs
● What Clients Love about this Small Dining Set: elegant looking set, practical extendable table, great craftsmanship, high-end look at a reasonable price

4. Tiara 4 Piece Dining Set by TMS
Points of Interest:
● Clients Rating: 4.5 Stars
● Style Inspiration: contemporary, mid-century
● Material: solid rubberwood, MDF, fabric
● Color Options: brown/blue, brown/gray
● Design Features: rectangular table top with slightly splayed and tapered legs; bench and chairs with H-stretcher, linen-look fabric upholstery
● Set Inclusions: 1 table, 2 chairs, 1 bench
● What Clients Love about this Small Dining Set: rich wood color, slim and sleek design, lovely addition to the dining room, easy to assemble, great craftsmanship

5. Froshburg Square Counter Table Set by Signature Design by Ashley
Points of Interest:
● Clients Rating: 4.9 Stars
● Style Inspiration: traditional, classic
● Material: veneers, wood and engineered wood
● Color Options: soft black/grayish brown
● Design Features: 2-toned square top counter-height table; 2-toned ladder back bar stools
● Set Inclusions: 1 table, 4 bar stools
● What Clients Love about this Small Dining Set: lovely addition to dining room, complements existing decor, great for small spaces, sturdy and solid, great value

6. Aguiar 5 Piece Dining Set by Trent Austin Design
Points of Interest:
● Clients Rating: 4.5 Stars
● Style Inspiration: rustic, French country
● Material: acacia veneers, hardwood solids, metal
● Color Options: oak/black
● Design Features: rectangular table top with wood grain details and curved X-shaped trestle base; stools with contoured seats
● Set Inclusions: 1 table, 4 small benches
● What Clients Love about this Small Dining Set: beautiful rugged details, complements rustic theme decor, very sturdy and stable, great price for the set

7. Coviar 5 Piece Counter Height Dining Table Set by Signature Design by Ashley
Points of Interest:
● Clients Rating: 4.5 Stars
● Style Inspiration: traditional, contemporary
● Material: birch veneer, hardwood solids, faux leather
● Color Options: brown
● Design Features: square top counter-height table with square legs; ladderback counter chairs with brown faux leather upholstery
● Set Inclusions: 1 table, 4 counter stools
● What Clients Love about this Small Dining Set: gorgeous dark wood color, comfortable counter chairs, good classic design, quality craftsmanship

8. Cienna 5 Piece Dining Set by Beachcrest Home
Points of Interest:
● Clients Rating: 4.5 Stars
● Style Inspiration: contemporary, cottage
● Material: solid and manufactured wood
● Color Options: table – white; chairs – powder blue, green, gray
● Design Features: rectangular top table with straight legs; slat back chairs with side stretchers
● Set Inclusions: 1 table, 4 chairs
● What Clients Love about this Small Dining Set: as beautiful as the photos show, complements room decor, lovely colors, nice looking set

9. Gaskell 5 Piece Dining Set by Beachcrest Home
Points of Interest:
● Clients Rating: 4.6 Stars
● Style Inspiration: traditional, classic
● Material: rubberwood, MDF
● Color Options: black, white
● Design Features: round top table with pedestal base; chairs with openwork backs and slightly contoured seats
● Set Inclusions: 1 table, 4 chairs
● What Clients Love about this Small Dining Set: great on breakfast nook, high end look at a reasonable price, beautiful finish, elegant set that can be dressed up or down

10. Bennox 6 Piece Dining Table Set by Signature Design by Ashley
Points of Interest:
● Clients Rating: 4.6 Stars
● Style Inspiration: traditional, contemporary, modern
● Material: engineered hardwood, birch veneers, faux leather
● Color Options: brown
● Design Features: rectangular top table with thick square legs; chairs with latticed backrest, faux leather upholstered seats on chairs and bench
● Set Inclusions: 1 table,1 bench, 4 chairs
● What Clients Love about this Small Dining Set: beautiful and elegant set, comfy chairs with good back support, stable and sturdy, great value

11. Badillo 5 Piece Dining Set by Ivy Bronx
Points of Interest:
● Clients Rating: 4.5 Stars
● Style Inspiration: modern
● Material: manufactured wood – laminate, particle board
● Color Options: brown, dark gray
● Design Features: square top table with crossed base; storage benches with removable padded seat
● Set Inclusions: 1 table, 4 storage ottoman inspired stools
● What Clients Love about this Small Dining Set: clever space saving set, lots of storage space, compact and great for small spaces, nice wood-like texture, comfy seat cushions

12. 5 Pieces Dining Table Set by Giantex
Points of Interest:
● Clients Rating: 4.5 Stars
● Style Inspiration: modern, mid-century, contemporary
● Material: wood, MDF, steel tube, PP
● Color Options: white
● Design Features: rectangular table top with solid wood legs; ergonomically shaped chairs with padded seats and solid splayed wooden legs
● Set Inclusions: 1 table, 4 chairs
● What Clients Love about this Small Dining Set: lovely mid-century design, sleek and clean look, easy to clean, comfortable seats

13. Carrol 5 Piece Dining Set by Winston Porter
Points of Interest:
● Clients Rating: 4.6 Stars
● Style Inspiration: traditional, rustic
● Material: solid and manufactured wood
● Color Options: dark walnut/espresso
● Design Features: 2-toned rectangular top table; 2-toned chairs with slatted backrest and contoured seats
● Set Inclusions: 1 table, 4 chairs
● What Clients Love about this Small Dining Set: looks more expensive than its price, easy to assemble, looks beautifully rustic, good quality

14. Dining Table Set – 5 Piece Set – White by EveryRoom
Points of Interest:
● Clients Rating: 5.0 Stars
● Style Inspiration: traditional, contemporary
● Material: wood, fabric
● Color Options: white
● Design Features: rectangular table with tapered square legs; ladder back chairs and rectangular bench with padded seats
● Set Inclusions: 1 table, 1 bench, 3 chairs
● What Clients Love about this Small Dining Set: lovely modern look, clean simple lines, easy to assemble, great quality, great for a small space

15. Tilley Rustic 5 Piece Dining Set by Andover Mills
Points of Interest:
● Clients Rating: 4.6 Stars
● Style Inspiration: classic, modern farmhouse, traditional
● Material: MDF, textured papered veneer
● Color Options: beige/espresso
● Design Features: 2-toned table with weathered finished, rectangular top, and tapered legs; 2-toned chairs with X-back and tapered legs
● Set Inclusions: 1 table, 4 chairs
● What Clients Love about this Small Dining Set: chic and attractive set, great design, nice weathered finish, sturdy and solid, great price

16. Adda 5 Piece Dining Set by Charlton Home
Points of Interest:
● Clients Rating: 4.7 Stars
● Style Inspiration: country, cottage
● Material: rubberwood, MDF, faux leather
● Color Options: off-white, black
● Design Features: round table top with pedestal base, Queen Anne chair back style, padded seat
● Set Inclusions: 1 table, 4 chairs
● What Clients Love about this Small Dining Set: lovely and chic set, beautifully brightens up the room, comfy chairs, very well made

17. Lexington 5 Piece Round Dining Table Set by Weston Home
Points of Interest:
● Clients Rating: 4.5 Stars
● Style Inspiration: traditional, classic, vintage
● Material: rubberwood
● Color Options: berry red, dark sea green, antique dark denim, oak
● Design Features: round top table, turned pedestal with X-shaped base; ladderback chairs, distressed finish
● Set Inclusions: 1 table, 4 chairs
● What Clients Love about this Small Dining Set: attractive finish and design, has a warm and charming appeal, sturdy and well made, well constructed and reasonably priced

18. Standridge 5 Piece Dining Set by August Grove
Points of Interest:
● Clients Rating: 4.6 Stars
● Style Inspiration: traditional
● Material: Asian hardwood
● Color Options: black,cottage oak, white
● Design Features: round table with turned pedestal base; chairs with X-back and slightly contoured seats
● Set Inclusions: 1 table, 4 chairs
● What Clients Love about this Small Dining Set: classic style complements most decor schemes, solid and sturdy, perfect breakfast nook table

19. Brovada Rectangular Dining Table Set by Signature Design by Ashley
Points of Interest:
● Clients Rating: 4.6 Stars
● Style Inspiration: modern farmhouse, contemporary
● Material: solid wood, engineered wood
● Color Options: brown/white
● Design Features: 2-toned rectangular table with weathered finish top; 2-toned lattice back chairs with contoured seats
● Set Inclusions: 1 table, 4 chairs
● What Clients Love about this Small Dining Set: brightens up the room, classy looking set, well made, gorgeous details, eye-catching back

20. Tenney 3 Piece Counter Height Dining Set by August Grove
Points of Interest:
● Clients Rating: 4.5 Stars
● Style Inspiration: traditional, rustic, French country
● Material: solid and manufactured wood
● Color Options: espresso
● Design Features: rectangular top counter-height table; stools with woven rush seat and foot rails
● Set Inclusions: 1 table, 2 stools
● What Clients Love about this Small Dining Set: easily matches other furniture, compact space saving design, sturdy and well made, looks homey and warm

21. Aman 5 Piece Wood Dining Set by Christopher Knight Home
Points of Interest:
● Clients Rating: 4.6 Stars
● Style Inspiration: modern, contemporary, mid-century
● Material: rubberwood
● Color Options: natural walnut/light beige
● Design Features: rectangular table top with rounded corners; chairs with upholstered seat and curved back, splayed legs
● Set Inclusions: 1 table, 4 chairs
● What Clients Love about this Small Dining Set: elegant and lovely looking set, great wood finish, comfortable chairs, works well with most decor themes

22. Wyatt 5 Piece Dining Set by Darby Home Co
Points of Interest:
● Clients Rating: 4.6 Stars
● Style Inspiration: classic, traditional, cottage
● Material: solid Asian wood, rubberwood, microfiber upholstery
● Color Options: buttermilk/cherry
● Design Features: 2-toned round table with turned pedestal base; chairs with wheatsheaf-style back and carved legs, seat could be padded or wood
● Set Inclusions: 1 table, 4 chairs
● What Clients Love about this Small Dining Set: lovely and eye-catching set, has a charming cottage appeal, comfy seats, excellent craftsmanship and quality

23. Acme Rolle 5-Piece Counter-Height Dining Set by ACME Furniture
Points of Interest:
● Clients Rating: 4.5 Stars
● Style Inspiration: traditional
● Material: wood, faux leather, faux marble, PU cushion
● Color Options: brown
● Design Features: square counter-height table with faux marble top and tapered legs; saddle seat stools with faux leather upholstery and tapered legs with footrest
● Set Inclusions: 1 table, 4 stools
● What Clients Love about this Small Dining Set: lovely addition to kitchen, size great for small spaces, great quality, expensive look at an affordable price

24. Carrick 5 Piece Dining Set by Winston Porter
Points of Interest:
● Clients Rating: 4.6 Stars
● Style Inspiration: Old World
● Material: glass, wood, metal
● Color Options: cherry, mahogany
● Design Features: cherry finished wood top round table with glass inlay, twisted rope edge, scrolled metal apron, and base with round wooden shelf; chairs with padded seats and scrolling metal back with wooden top rail
● Set Inclusions: 1 table, 4 chairs
● What Clients Love about this Small Dining Set: gorgeous scrollwork, durable and high quality set, beautiful addition to dining room, timeless look

25. The French Countryside Oak and Rubbed White 5 Piece Dining Set by Home Styles
Points of Interest:
● Clients Rating: 4.8 Stars
● Style Inspiration: French country, modern farmhouse, cottage
● Material: hardwood solids, engineered wood
● Color Options: oak/white
● Design Features: distressed finish round table top with hand-rubbed turned pedestal base; waved ladderback chairs with flared legs, contoured seats, turned H stretchers, and cabriole front legs
● Set Inclusions: 1 table, 4 chairs
● What Clients Love about this Small Dining Set: beautiful weathered finish, has a lovely French country charm, gorgeous design, solid and sturdy

26. Darryl 5 Piece Dining Set by Latitude Run
Points of Interest:
● Clients Rating: 4.5 Stars
● Style Inspiration: modern, contemporary
● Material: manufactured wood, linen
● Color Options: espresso/khaki
● Design Features: rectangular table in espresso finish, Parsons side chairs upholstered in khaki linen fabric
● Set Inclusions: 1 table, 4 chairs
● What Clients Love about this Small Dining Set: beautiful dark finish, high end look at an affordable price, comfortable seats, sturdy and well crafted

27. Llanas 3 Piece Dining Set by August Grove
Points of Interest:
● Clients Rating: 4.7 Stars
● Style Inspiration: traditional, farmhouse, cottage
● Material: wood, tile
● Color Options: white, natural
● Design Features: 2 toned square table with tile top and turned legs, slatted back Windsor chairs with H stretcher
● Set Inclusions: 1 table, 2 chairs
● What Clients Love about this Small Dining Set: looks adorable, gives a nice intimate feel, great for small spaces, lovely 2 tone color, easy to clean tile top, great value