Hello and welcome to our carefully curated selection of shoe storage ideas. We handpicked for you a variety of beautiful high quality shoe storages that can fit beautifully in many places on your home, and suitable for all budgets. To derive this list, we carefully reviewed customer reviews and are only bringing up to your attention practical shoe storage ideass that clients have used to cleverly store their shoes in style. Hope you find inspiration in these photos and find this information useful, enjoy!

What are the types of shoe storages voted "the best"?
Style: classic, traditional, modern farmhouse, rustic, modern, contemporary, tropical, country, Asian
Types: freestanding, hanging (over the door, with hooks/hangers), wall-leaning, stackable, foldable, with benchtop
Design Features: material (wood, manufactured/composite wood, resin, plastic, metal, fabric), shelves/racks (slatted, mesh, solid, adjustable, tiered, grid style, openwork tiers, non-slip bars), base (rolling/with wheels, stationary, with kickplate, with rubber caps on feet), other storage (clear plastic pockets, mesh pockets, flip top hidden storage, cubbies, drawers, cabinets), shoe capacity (9 to 50 pairs)
Price Range: $7.97 to $187.99

How are clients using their shoe storages in their home décor:
Where: entryway, mudroom, garage, hallway, walk-in closet, bedroom, guest room, bathroom, foyer, covered porch, by the front door, by the back door
Things to consider: air flow (dries shoes, prevents smells), quality and durability (weight it can hold), versatility (stackable), function, style and design, capacity (pair of shoes it can hold), material, size and space it will take up
Favorite Features: slatted racks for good airflow, versatile (holds different items, works as TV stand, side table, plant shelves, entertainment center), holds different kinds and sizes of shoes, well-made and durable, wonderfully stackable to accommodate lots of shoes, space-saving narrow design, an attractive piece with doors that hide unsightly shoes, perfectly fits closet, easy to assemble, rolling, great for heels, keeps entryway clutter-free, shelf design allows air to circulate and helps with shoe smell, wonderfully keeps the shape of boots

Hope you enjoy the showroom visit!

1. 25 Pair Stackable Shoe Rack by ClosetMaid
Points of Interest:
● Clients Rating: 4.6 Stars
● Style Inspiration: contemporary
● Material: laminated wood
● Color Options: white
● Design Features: 25 cubbies, stackable, freestanding, closed back
● What Clients Love about this Shoe Storage: easy to assemble, also works well when turned sideways, great yarn storage too, sturdy at an affordable price, great help in keeping room organized

2. 3-Tier Utility Shoe Rack by Seville Classics
Points of Interest:
● Clients Rating: 4.7 Stars
● Style Inspiration: traditional
● Material: resin slat, iron frame
● Color Options: espresso
● Design Features: 3-tier, wood grain-look resin slats, stackable, pairs of shoes capacity: 9, leveling feet, interlocking system
● What Clients Love about this Shoe Storage: conveniently stacks to hold lots of shoes, wonderfully holds other stuff, holds big sized shoes, racks are slatted for good airflow, good quality and very sturdy

3. 25-Pair Shoe Storage Cabinet by Rebrilliant
Points of Interest:
● Clients Rating: 4.5 Stars
● Style Inspiration: traditional, contemporary
● Material: manufactured wood
● Color Options: espresso
● Design Features: slanted feet, espresso finish, 3 louvered cabinet doors, freestanding, pairs of shoes capacity: 25, interior shelves
● What Clients Love about this Shoe Storage: stylish way to organize shoes, sleek size perfect for small spaces, works great as a TV stand, stores many shoes, top can hold different decors and stuff

4. 4 Tier Shoe Rack with Partial Board Top by Threshold
Points of Interest:
● Clients Rating: 4.8 Stars
● Style Inspiration: modern, contemporary
● Material: metal frame, board top
● Color Options: gray
● Design Features: walnut finished board top, metal slats, freestanding, pairs of shoes capacity: 9
● What Clients Love about this Shoe Storage: works great as side table and shoe rack, conveniently stacks to make a taller rack for bigger shoe storage, attractive looking sleek rack, nice wood grain texture

5. 50 Pair Shoe Rack by Wayfair Basics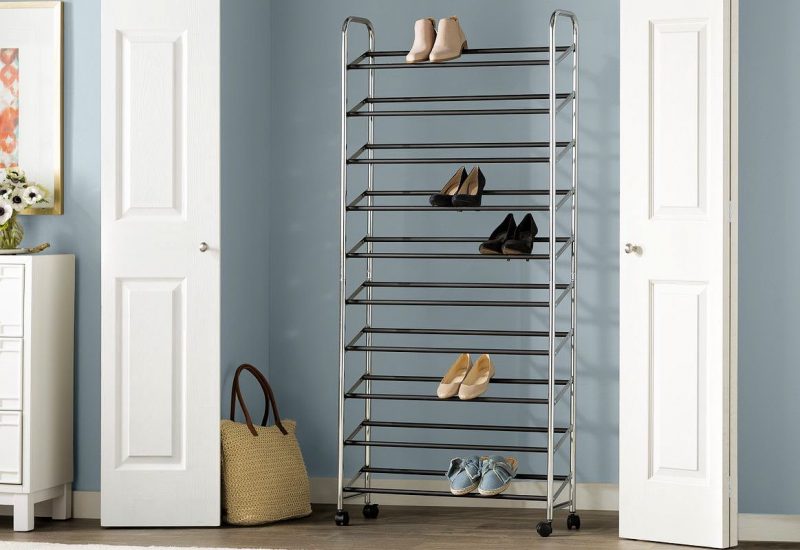 Points of Interest:
● Clients Rating: 4.5 Stars
● Style Inspiration: modern, contemporary
● Material: metal
● Color Options: black/shiny chrome
● Design Features: 10 open shelves, chrome-plated finish, rolling base, pairs of shoes capacity: 50
● What Clients Love about this Shoe Storage: very convenient rolling shoe tower rack, very sturdy for the height, holds a great number of shoes, shoes are easy to see when stored at this rack, has a gorgeous finish

6. Crystal Clear Over The Door Hanging Shoe Organizer by Simple Houseware
Points of Interest:
● Clients Rating: 4.7 Stars
● Style Inspiration: contemporary
● Material: fabric, plastic
● Color Options: clear/gray
● Design Features: 24 clear pockets, hangs on standard door or closet rod, pairs of shoes capacity: 12
● What Clients Love about this Shoe Storage: clever way to store and organize shoes, a very practical organizer that holds different items to suit your needs, impressively well made, very functional and great way to maximize space

7. 18 Pair Stackable Shoe Rack by Rebrilliant
Points of Interest:
● Clients Rating: 4.6 Stars
● Style Inspiration: modern, contemporary
● Material: manufactured wood, PVC tubes
● Color Options: espresso/black, dark cherry/black, dark brown/black, steam beech
● Design Features: 3 open shelves, freestanding, pairs of shoes capacity: 18, stackable
● What Clients Love about this Shoe Storage: works great as an entertainment center, big sized shoes fit well on open shelves, big help in keeping shoes inside the closet organized, gorgeous dark wood finish, simple beautiful design and good quality at a great price

8. 4-Tier Shoe Rack by SONGMICS
Points of Interest:
● Clients Rating: 4.7 Stars
● Style Inspiration: classic, tropical, country
● Material: bamboo
● Color Options: natural, gray, brown
● Design Features: 4 tiers, slatted shelves, hollowed out handles, rounded corners, pairs of shoes capacity: 12 to 16
● What Clients Love about this Shoe Storage: lightweight yet very sturdy, its cute and sleek style keeps it out of the way, stylish and has an attractive finish, handles makes it easy to move, open racks for good ventilation, easy to assemble

9. Kahl Space Saving 36 Pair Shoe Rack by Three Posts
Points of Interest:
● Clients Rating: 4.5 Stars
● Style Inspiration: traditional, contemporary
● Material: composite wood
● Color Options: rich espresso, black, drifted gray, white
● Design Features: tall rectangular shape, 12 rows with 3 cubbies each (36 cubbies), particle board backing, with kickplate, laminated veneer finish
● What Clients Love about this Shoe Storage: great shoe closet that maximizes the space very well, an attractive way to organize shoes, simple clean design that does its purpose, can hold a whole family's shoes, great quality and sturdy

10. 3 Tier Stackable Mesh Shoe Rack by Neu Home
Points of Interest:
● Clients Rating: 4.5 Stars
● Style Inspiration: modern, contemporary
● Material: metal, wood, chrome
● Color Options: espresso/chrome
● Design Features: chromed metal mesh, 3-tier angled shelves with guard rail, wood frame, pairs of shoes capacity: 9
● What Clients Love about this Shoe Storage: looks great and has a clean minimalist design, it's stackable and a great space saver, a stylish way to store shoes and keep room clutter-free, very durable and sturdy even when stacked

11. 4-Tier 12 Pair Stackable Shoe Rack by Rebrilliant
Points of Interest:
● Clients Rating: 4.6 Stars
● Style Inspiration: traditional
● Material: manufactured wood, PVC
● Color Options: dark cherry, espresso, light cherry
● Design Features: 4 tier open shelves, stackable, freestanding, pairs of shoes capacity: 12
● What Clients Love about this Shoe Storage: stylish and sturdy shoe rack, sleek size perfect behind the door on entryway, great design and very durable, perfect for shoe organization inside the closet, lovely look and finish

12. Heavy Duty Over Door Hanging Shoe Storage by MISSLO
Points of Interest:
● Clients Rating: 4.8 Stars
● Style Inspiration: contemporary
● Material: Oxford fabric, mesh fabric
● Color Options: white, coffee
● Design Features: 12 roomy mesh pockets, 2 over the door hooks, designed for narrow doors
● What Clients Love about this Shoe Storage: mesh pockets provide good ventilation, keeps floor clutter-free, perfect storage solution for limited closet space, a shoe organizer that conveniently holds much more than shoes

13. Ermont Storage Bench by Laurel Foundry Modern Farmhouse
Points of Interest:
● Clients Rating: 4.7 Stars
● Style Inspiration: modern farmhouse, rustic
● Material: metal frame, manufactured wood storage
● Color Options: charter oak, smoked oak
● Design Features: exposed metal frame, oak finish bench seat with flip top, slatted bottom shelf, hidden storage compartment
● What Clients Love about this Shoe Storage: ample storage on hidden compartment, space is maximized with this compact bench, unique style with a beautiful industrial farmhouse look, stylish and sturdy, convenient spring hinges keep top open as needed, perfect shoe rack that holds a lot of other stuff too

14. 50-Pair Shoe Tower with Wheels by Whitmor
Points of Interest:
● Clients Rating: 4.5 Stars
● Style Inspiration: modern, contemporary
● Material: metal
● Color Options: chrome
● Design Features: shiny chrome finish, 10 tiers of non-slip bars, with rolling wheels, pairs of shoes capacity: 50
● What Clients Love about this Shoe Storage: holds different kinds and sizes of shoes, well-made and durable all metal shoe rack, rolling shoe tower that is a convenient and efficient way to store shoes, very sturdy storage at a great price

15. Utility 3 Tier 9 Pair Stackable Shoe Rack by Rebrilliant
Points of Interest:
● Clients Rating: 4.7 Stars
● Style Inspiration: classic, contemporary
● Material: resin
● Color Options: dark espresso
● Design Features: 3-tier slatted shelves, dark espresso finish, stackable, pairs of shoes capacity: 9, foldable, adjustable shelves, with leveling feet
● What Clients Love about this Shoe Storage: perfect for rooms with limited space, works great as plant shelves, wonderfully stackable to accommodate a lot of shoes, lovely clean modern look, shelves can be adjusted to desired height

16. Shoe Bench by SONGMICS
Points of Interest:
● Clients Rating: 4.6 Stars
● Style Inspiration: traditional, contemporary
● Material: faux leather, metal frame
● Color Options: black, brown
● Design Features: 2 slatted shelves, foam padded seat, powder-coated iron frame, pairs of shoes capacity: 8
● What Clients Love about this Shoe Storage: perfect bench for putting on and removing shoes, lovely modern design, beautiful and functional addition to foyer, an attractive shoe rack and bench at a great price, perfect size for entryway

17. 3-Tier 9 Pair Shoe Rack by Rebrilliant
Points of Interest:
● Clients Rating: 4.7 Stars
● Style Inspiration: modern, contemporary
● Material: metal
● Color Options: satin pewter
● Design Features: freestanding, 3-tier grid style shelves, can be bridged horizontally or stacked vertically, adjustable, pairs of shoes capacity: 9
● What Clients Love about this Shoe Storage: wonderful space-saver, can be connected vertically or horizontally depending on your preference, grid style shelves for air circulation, perfect shoe rack for closet, great for heels, adjustable shelves to suit your needs

18. 2 Tier 8 Pair Shoe Rack by Rebrilliant
Points of Interest:
● Clients Rating: 4.5 Stars
● Style Inspiration: tropical, country
● Material: bamboo
● Color Options: natural
● Design Features: freestanding, 2 tier slatted shelves, natural finish, pairs of shoes capacity: 8
● What Clients Love about this Shoe Storage: stylish rack that keeps entryway clutter-free, sturdy shoe rack at a great price, minimalist shoe rack that efficiently does its job, gorgeous finish works well with decor

19. 10-Tier Narrow Shoe Rack by Mainstays
Points of Interest:
● Clients Rating: 4.5 Stars
● Style Inspiration: modern, contemporary
● Material: metal, PVC
● Color Options: silver/black
● Design Features: tall and narrow, 10 open tiers, feet with rubber caps, freestanding or can lean against walls, pairs of shoes capacity: 30
● What Clients Love about this Shoe Storage: perfect for those with lots of shoes but with small spaces, space-saving narrow design, shelf design allows air to circulate and helps with shoe smell, sturdy and holds up very well

20. 6 Pair Boot Rack by Rebrilliant
Points of Interest:
● Clients Rating: 4.5 Stars
● Style Inspiration: modern, contemporary
● Material: metal (steel)
● Color Options: silver, brown
● Design Features: silver finish, freestanding, openwork racks, pairs of shoes capacity: 6 boots
● What Clients Love about this Shoe Storage: the smart answer to boot storage problems, great space saver that quickly dries wet boots, awesome boot rack that does its job, wonderfully keeps the shape of boots, lightweight yet sturdy

21. Stoneford Storage Bench by Beachcrest Home
Points of Interest:
● Clients Rating: 4.5 Stars
● Style Inspiration: contemporary, country
● Material: solid wood veneers
● Color Options: black, blue, cherry, espresso, gray, red, white, sea foam
● Design Features: planked bench top, 2 lower shelves
● What Clients Love about this Shoe Storage: cute storage bench perfect for a small space, color brightens up mudroom, adorable and functional addition to garage entrance, sturdy and durable

22. 10 Pocket Double Shoe Organizer by Household Essentials
Points of Interest:
● Clients Rating: 4.6 Stars
● Style Inspiration: contemporary
● Material: 80% polyester and 20% cotton
● Color Options: natural
● Design Features: 5 rows with 2 cubbies each, vertically aligned, 2 built-in hangers, pairs of shoes capacity: 10
● What Clients Love about this Shoe Storage: perfect for the space in the walk-in closet, shoes are neatly organized and easy to find, also works great for other items, awesome space-saver

23. Redland Redline 20-Pair Shoe Storage Cabinet by Wade Logan
Points of Interest:
● Clients Rating: 4.5 Stars
● Style Inspiration: contemporary
● Material: solid and manufactured wood
● Color Options: espresso
● Design Features: cabinet doors with geometric cutout, 5 interior shelves, 1 slim top drawer flanked by open compartments, pairs of shoes capacity: 20
● What Clients Love about this Shoe Storage: gorgeous addition to hallway that does a great job of keeping the shoes off the floor, lovely open design that allows air to circulate, an attractive piece with doors that hide unsightly shoes, holds shoes of different styles and sizes

24. 9 Pair Shoe Rack by Rebrilliant
Points of Interest:
● Clients Rating: 4.5 Stars
● Style Inspiration: modern, contemporary
● Material: steel
● Color Options: white
● Design Features: freestanding, 4 slatted shelves, pairs of shoes capacity: 9
● What Clients Love about this Shoe Storage: simple shoe rack that efficiently stores shoes without taking too much space, very durable and can hold 12 shoes, well made and great value for the price, perfectly fits closet

25. 12 Pair Shoe Rack by ClosetMaid
Points of Interest:
● Clients Rating: 4.8 Stars
● Style Inspiration: modern, contemporary
● Material: aluminum, laminated wood
● Color Options: dark cherry, white
● Design Features: 3 open tier rounded wood shelves, metal accents, pairs of shoes capacity: 9
● What Clients Love about this Shoe Storage: a well-constructed good looking piece that gets its job done, a gorgeous space-saver shoe stand, size and shape perfectly fits closet, very sturdy at a great price, very easy to assemble

26. 6 Pair Stackable Shoe Rack by ClosetMaid
Points of Interest:
● Clients Rating: 4.6 Stars
● Style Inspiration: modern, contemporary
● Material: laminated wood
● Color Options: white, espresso
● Design Features: freestanding, 2-tier organizer, stackable, pairs of shoes capacity: 6
● What Clients Love about this Shoe Storage: cool shoe rack that is fun to combine together, wonderfully organize shoes at bottom of closet, a very practical shoe storage with a sleek style, great design and craftsmanship

27. 3-Tier Shoe Rack by Ebern Designs
Points of Interest:
● Clients Rating: 4.6 Stars
● Style Inspiration: modern, contemporary
● Material: composite wood
● Color Options: espresso, dark cherry, light cherry
● Design Features: 3-tier open shelves, stackable, pairs of shoes capacity: 9
● What Clients Love about this Shoe Storage: great in holding shoes and a lot more stuff, an attractive sleek rack perfect for narrow spaces, a simple yet great tool in keeping shoes organized, impressively improves the look of the house