Hello and welcome to our carefully curated selection of leather recliners. You often ask us "where can I get this?", "how do I get that look?, so here it is! We handpicked for you a variety of super beautiful high-quality leather recliners that can fit many styles, color schemes, and budgets. To derive this list, we carefully reviewed customer reviews and are only bringing up to your attention leather recliners that clients have comfortably enjoyed. Hope you find inspiration in these photos and find this information useful, enjoy!

What is a recliner?
Definition: an upholstered chair that can recline or tilt back at an angle, usually an armchair or lounge chair with a headrest and a footrest that extends when the seat is reclined.
Style: classic, vintage, traditional, transitional, modern, contemporary, rustic
Design Features: motions (reclines, glides, rocks, swivels), manual recline (push back, handle/lever) or power recline (remote, push button), adjustable headrest/footrest, arms (rolled, track, padded, pillow top, bentwood), back (high, padded, cushioned, tufted), seat (padded, cushioned), legs (tapered, turned, cylindrical, pedestal base), accents (nailhead trim, tufting, accent stitching), with or without side pocket, with ottoman
Price Range: $99.99 to $669.99

How are clients using their leather recliner in their home décor:
Where: living room, den, family room, bedroom, guestroom, nursery, media room, game room, library, study
Things to consider: comfort (fit, ease of operation, height, adjustable features), quality (material, color, craftsmanship, performance), purpose and room it is going to occupy, size and space it will take up, style and design, added features and inclusions, price, ease of assembly, cleaning & care
Favorite Features: soft leather material, quiet and smooth lift and recline mechanism, very relaxing and comfortable chair, easy assembly, amply padded, comfortable enough to sleep in, well made with neat stitching, looks expensive, lovely rich color, smoothly swivels and glides, adjustable headrest, small size perfect for small spaces, gorgeous design, ideal for people with mobility issues, back with just the right height, looks and feels like real leather

Hope you enjoy the showroom visit!

1. Chatham Manual Recliner by Three Posts
Points of Interest:
● Clients Rating: 4.5 Stars
● Style Inspiration: classic, traditional
● ● Material: faux leather, foam
● Color Options: black, dark brown, brown
● Design Features: rolled arms, accent stitching, nailhead accents, manual push button recline, 125-degree maximum recline, 2 recline positions, coil spring suspension, 15" back clearance,
● What Clients Love about this Leather Recliner: soft leather material, perfect for lounging, handsome design, color makes the room look cozy, rocks and glides gently, almost flat recline
2. Denaraw Leather Rocker Recliner by Signature Design by Ashley
Points of Interest:
● Clients Rating: 4.6 Stars
● Style Inspiration: classic, traditional
● Material: leather, wood
● Color Options: burgundy, canyon
● Design Features: 2 motions (reclines, rocks), padded arms, square tufted back and footrest, manual recline with handle/lever control
● What Clients Love about this Leather Recliner: size is perfect for a small space, blends well with the room decor and colors, very comfortable, high-quality construction
3. Renu Leather Wall Hugger Power Lift Chair Recliner by Domesis
Points of Interest:
● Clients Rating: 4.6 Stars
● Style Inspiration: classic, traditional, contemporary
● Material: Renu leather/leather blend, foam
● Color Options: black, brown, cream
● Design Features: side pocket, wall hugger (4" wall clearance), power recline with 2-button control, lift function, pillow top arms, cushioned back with channel tufting
● What Clients Love about this Leather Recliner: convenient lift function for the elderly or with mobility issues, looks and feels like real leather, simple to use power control, quiet and smooth lift and recline mechanism
4. Faux Leather Electric Massage Recliner Couch Chair by Best Choice Products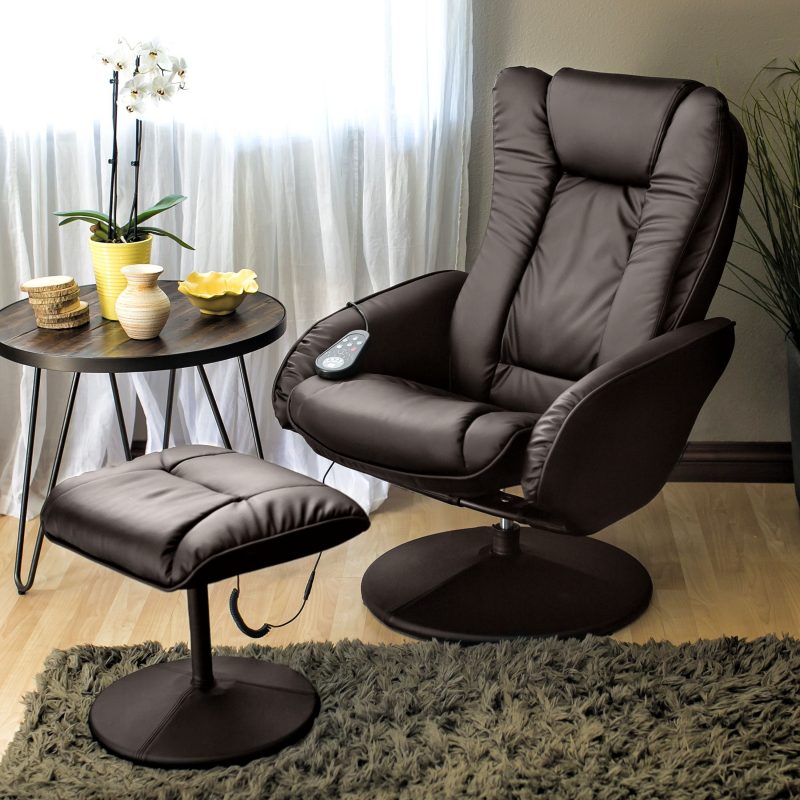 Points of Interest:
● Clients Rating: 4.7 Stars
● Style Inspiration: classic, modern
● Material: faux leather, metal
● Color Options: brown
● Design Features: padded back and seat, gently curved padded arms, with side pocket, power recline with remote control, with heat and massage features, with matching ottoman
● What Clients Love about this Leather Recliner: heater and massage functions are great body pain relief, very relaxing and comfortable chair, doesn't occupy too much space, simple assembly
5. Bolton Pushback Recliner by Threshold
Points of Interest:
● Clients Rating: 4.7 Stars
● Style Inspiration: classic, contemporary
● Material: faux leather, wood
● Color Options: brown, camel brown
● Design Features: cushioned back and seat, track arms, nailhead trim, tapered feet, manual pushback recline
● What Clients Love about this Leather Recliner: color and size easily ties up with everything, looks high-end, classy modern style, excellent material quality
6. Bonded Leather Glider Recliner by NH Designs
Points of Interest:
● Clients Rating: 4.5 Stars
● Style Inspiration: classic, traditional
● Material: bonded leather, wood, foam
● Color Options: black, brown
● Design Features: 2 motions (reclines, glides), pillow top arms, padded back with horizontal tufting, manual push back recline, pull-tab control on the side
● What Clients Love about this Leather Recliner: large size, amply padded for comfort, very plush, easy assembly
7. Enedina Power Wall Hugger & Lift Assist Recliner by Red Barrel Studio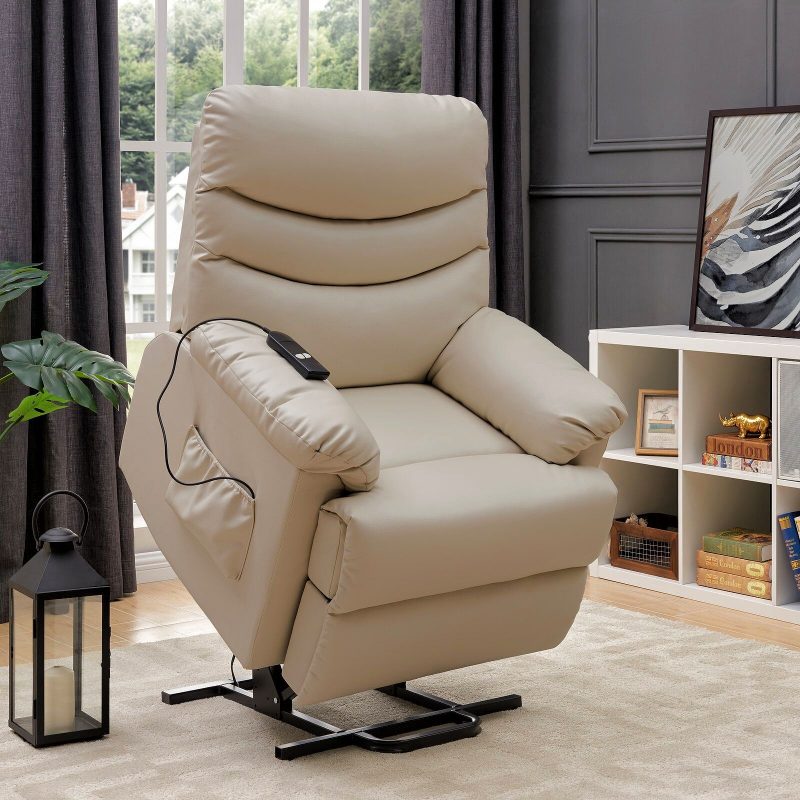 Points of Interest:
● Clients Rating: 4.5 Stars
● Style Inspiration: modern, contemporary
● Material: faux leather/bonded leather, metal; manufactured wood; solid wood, foam; synthetic fiber
● Color Options: black, brown, cream
● Design Features: power lift recliner, 4" back clearance, power recline with remote control, infinite recline positions, 130-degree maximum recline, with lift assist, wall hugger, sinuous springs and web suspension, padded back with horizontal tufting, pillow top arms, side pocket
● What Clients Love about this Leather Recliner: perfect recliner for the elderly, comfortable enough to sleep in, easy assembly, sturdy, good price
8. Neston Manual Rocker Recliner by Fleur De Lis Living
Points of Interest:
● Clients Rating: 4.5 Stars
● Style Inspiration: rustic, Southwestern
● Material: polyester 95%, polyurethane 5%, metal, solid wood, foam, synthetic fiber
● Color Options: earth
● Design Features: 2 motions (reclines, rocks), overstuffed pillow back, window-pane stitching, rolled arms, 12" back clearance, manual recline with handle/lever, infinite recline positions, coil spring suspension, distressed leather upholstery, nailhead trim
● What Clients Love about this Leather Recliner: really comfy and soft, attractive distressed leather look, lightweight for its size, easy assembly
9. Hogan Italian Leather Reclining Chair with Nailheads by Abbyson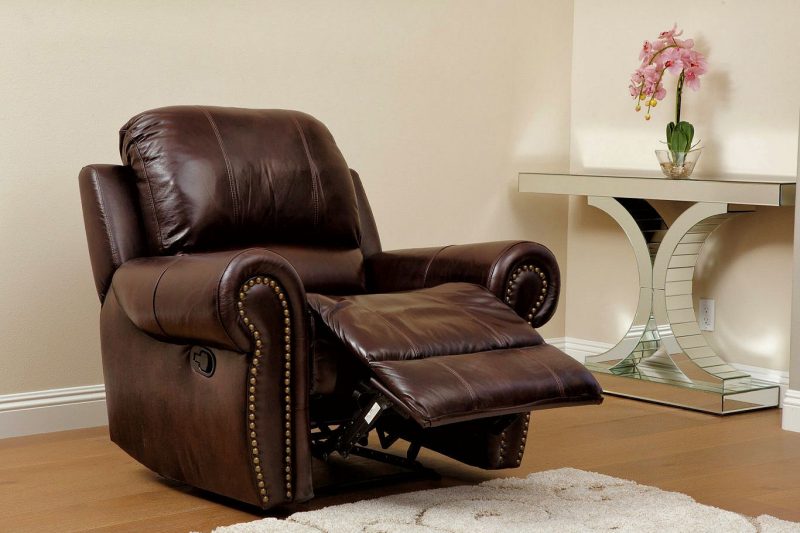 Points of Interest:
● Clients Rating: 4.7 Stars
● Style Inspiration: classic, traditional
● Material: premium Italian leather, hardwood
● Color Options: dark brown
● Design Features: rolled arms, channel tufted back cushion, manual pushback recline, nailhead trim
● What Clients Love about this Leather Recliner: well made with neat stitching, luxe leather feel, looks expensive and fabulous, great design
10. Lorraine Leather Recliner by Darby Home Co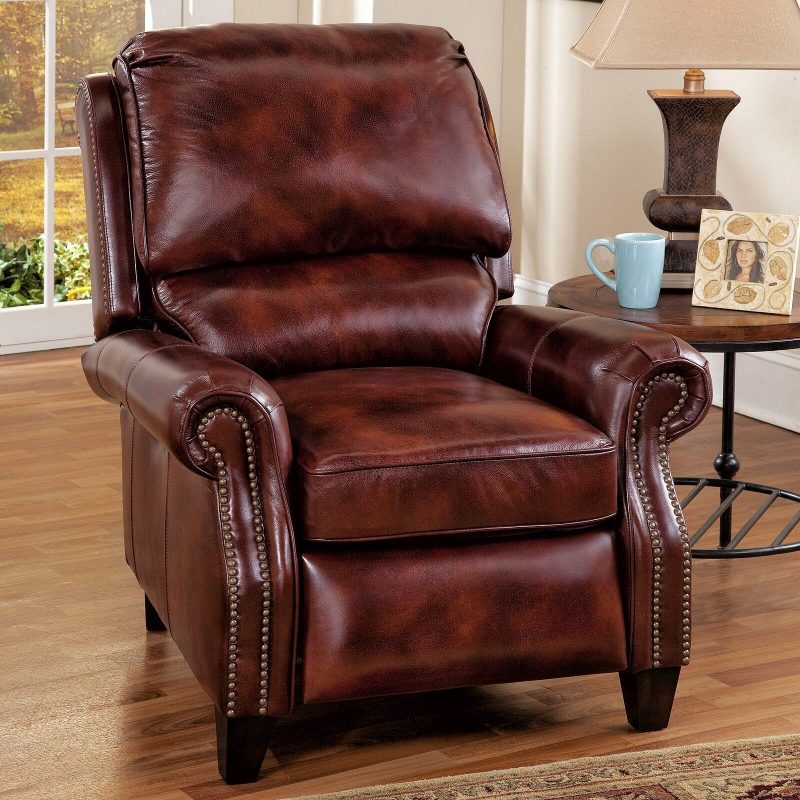 Points of Interest:
● Clients Rating: 4.7 Stars
● Style Inspiration: classic, traditional, vintage
● Material: genuine leather, solid wood, manufactured wood, down
● Color Options: double fudge, art burl
● Design Features: manual recline, nailhead trim, coil spring suspension, removable cushions, 45-degree maximum recline, 2 recline positions, high back with adjustable pillows, cushioned seat, 19" back clearance, rolled arms, tapered legs
● What Clients Love about this Leather Recliner: fair price for top quality, soft and cushy, high-end, stylish design, just the right size, lovely rich color
11. Winslow Leather Manual Recliner by Hooker Furniture
Points of Interest:
● Clients Rating: 4.5 Stars
● Style Inspiration: classic, traditional, vintage chic
● Material: genuine leather, foam; polyester; synthetic fiber
● Color Options: old saddle cocoa, old saddle black
● Design Features: manual push back recline, 160-degree maximum recline, removable seat cushion, club chair design, pewter nailhead trim, 18" back clearance, button tufted footrest, rolled arms, turned bun feet, cushioned back
● What Clients Love about this Leather Recliner: very comfy, good quality leather, stylish and slim look, well made
12. Cohoba Manual Glider Swivel Recliner by Loon Peak
Points of Interest:
● Clients Rating: 4.5 Stars
● Style Inspiration: contemporary, traditional
● Material: 88% polyester, 12% polyurethane, foam, metal
● Color Options: truffle, linen, flint
● Design Features: 3 motions (reclines, glides, swivels), manual recline with handle/lever, 3 recline positions, 25-degree maximum recline, coil spring suspension, 16.5" back clearance, water resistant, adjustable headrest, accent stitching
● What Clients Love about this Leather Recliner: soft leather feel, comfy cushioned frame, easy assembly, smoothly swivels and glides, fabulous adjustable headrest, beautiful chair, looks high-end
13. Suai Manual Recliner by Latitude Run
Points of Interest:
● Clients Rating: 4.5 Stars
● Style Inspiration: modern, contemporary
● Material: PU leather, metal, foam
● Color Options: black, white, oxblood red
● Design Features: manual recline with handle/lever control, 2 position, 140-degree maximum recline, 10" back clearance, gently curved track arms, padded back and seat
● What Clients Love about this Leather Recliner: slim but comfy fit, easy assembly, feels great to lounge in it, great selection of colors, well made
14. Felton Pushback Recliner by Treshold
Points of Interest:
● Clients Rating: 4.9 Stars
● Style Inspiration: vintage, contemporary
● Material: 87% polyurethane foam, 13% polyester fiber, wood
● Color Options: espresso, taupe, gray
● Design Features: manual pushback recline, tapered legs, back with diamond tufting, angular design, track arms, removable cushions, spring core
● What Clients Love about this Leather Recliner: slim size perfect for small spaces, beautiful recliner, neat design, lovely color
15. Daisy Manual Glider Recliner by Red Barrel Studio
Points of Interest:
● Clients Rating: 4.6 Stars
● Style Inspiration: contemporary, traditional
● Material: PU leather, polyester, wood
● Color Options: ivory, burnished brown, navy blue
● Design Features: 2 motions (reclines, glides), manual recliner, accent stitching, cushioned back, pillow top arms, detachable back, footrest with button control
● What Clients Love about this Leather Recliner: soft leather, great value, solid and sturdy, comfortable and cozy feel, great support, smooth glide and recline
16. Swivel Reclining Glider by Darby Home Co
Points of Interest:
● Clients Rating: 4.5 Stars
● Style Inspiration: classic, traditional
● Material: hardwood, metal, foam, bonded leather
● Color Options: dark brown
● Design Features: 3 motions (reclines, glides, swivels), padded headrest, hand- stitched details, rolled arms, position lock, tip resistant , 6" back clearance
● What Clients Love about this Leather Recliner: small size, compact design, smooth leather, soft upholstery, great quality at a good price, smooth movements, easy to operate
17. Balmoral Albert Leather Recliner by Hooker Furniture
Points of Interest:
● Clients Rating: 4.6 Stars
● Style Inspiration: classic, contemporary
● Material: genuine leather, manufactured wood, solid wood, foam
● Color Options: golden brown
● Design Features: manual push back recline, 20" back clearance, flared arms, tapered legs, cushioned back and seat, welt trim
● What Clients Love about this Leather Recliner: rich color, good size, classy simple design, comfortable with good support
18. Flathead Lake Leather Manual Swivel Recliner with Ottoman by Red Barrel Studio
Points of Interest:
● Clients Rating: 4.7 Stars
● Style Inspiration: modern, contemporary
● Material: top grain leather, foam; synthetic fiber
● Color Options: cobblestone, merlot
● Design Features: 2 motions (reclines, swivels), manual recline with handle/lever control, removable back cushion, ergonomic design, 12" back clearance, padded seat and back with headrest, padded bentwood arms, with matching ottoman
● What Clients Love about this Leather Recliner: comfortable design, small size perfect for small spaces, sleek and stylish
19. Kegler Leather Recliner by Astoria Grand
Points of Interest:
● Clients Rating: 4.5 Stars
● Style Inspiration: traditional, vintage club chair
● Material: genuine leather, solid wood, manufactured wood, foam
● Color Options: stetson coffee
● Design Features: rolled back with deep button tufting, rolled arms, turned front legs, tapered back legs, nailhead trim, thick seat cushion, pocket coil springs suspension, removable cushion, 16" back clearance
● What Clients Love about this Leather Recliner: great quality, thick and amply cushioned, comfortable design, gorgeous design, bold and rich color
20. Anneri Manual Recliner by Latitude Run
Points of Interest:
● Clients Rating: 4.6 Stars
● Style Inspiration: contemporary, modern
● Material: bonded leather, solid wood, foam
● Color Options: black, brown, white
● Design Features: full back with single tufting, curved track arms, cylindrical feet, with accent stitching, cushioned back and seat, manual push back recline, 160-degree maximum recline
● What Clients Love about this Leather Recliner: comfortable recline position, easy assembly, lightweight, solid and well crafted, slim and ideal for small spaces
21. Lynden Recliner with Ottoman by Coaster Furniture
Points of Interest:
● Clients Rating: 4.8 Stars
● Style Inspiration: contemporary, modern
● Material: metal, leatherette
● Color Options: bone, brown
● Design Features: 3 motions (reclined, glides, swivels), ergonomic design, with matching ottoman, padded back with thick headrest, curved arms, round base
● What Clients Love about this Leather Recliner: sleek and modern look, comfortable chair and ottoman, a great 3-in-1 chair, smooth movements
22. Midbury Leather Manual Recliner by Darby Home Co
Points of Interest:
● Clients Rating: 4.7 Stars
● Style Inspiration: classic, traditional, rustic
● Material: genuine leather, solid wood, manufactured wood, down, foam
● Color Options: shoreham blue, shoreham wine, wenlock taupe, wenlock tawny, brown
● Design Features: welt trim, cushioned back and seat, footrest with extension, nailhead trim, tapered turned front legs, rolled arms, manual push back recline, 3 positions, 140-degree maximum recline, removable cushions, coil spring suspension, 17.7" back clearance
● What Clients Love about this Leather Recliner: beautiful details, well made, beautiful color and design, firm and comfortable, leather feels good, good price
23. Kevan Leather Recliner by Canora Grey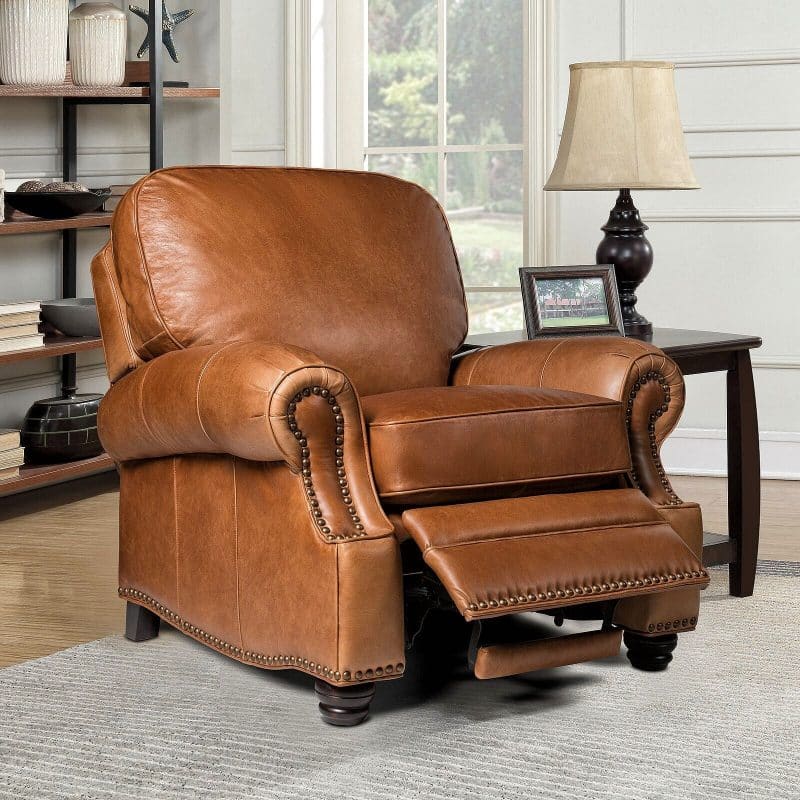 Points of Interest:
● Clients Rating: 4.5 Stars
● Style Inspiration: classic, traditional, rustic
● Material: genuine leather, foam, wood
● Color Options: brown
● Design Features: manual recliner, 45-degree maximum recline, removable cushions, pocket spring suspension, nailhead trim, pillow back, rolled arms, 28" back clearance, turned bun front legs, tapered back legs
● What Clients Love about this Leather Recliner: handsome piece, nailhead trim makes it more gorgeous, comfy cushions and leather upholstery, rich color
24. Flathead Lake Leather Manual Swivel Recliner With Ottoman by Red Barrel Studio
Points of Interest:
● Clients Rating: 4.6 Stars
● Style Inspiration: modern, contemporary
● Material: genuine leather, foam; dacron wrap; memory foam
● Color Options: brown
● Design Features: 3 motions (reclines, glides, swivels), adjustable manual recline with handle/lever control, 70-degree maximum recline, ergonomic design with slightly reclined back, 12" back clearance, memory foam seat, pillow top back and sides, angled headrest, with matching ottoman
● What Clients Love about this Leather Recliner: cool looking chair, bonus ottoman, good and comfy fit, smooth movements, stylishly modern
25. Colby Power Reclining Lift Chair by Christies Home Living
Points of Interest:
● Clients Rating: 5.0 Stars
● Style Inspiration: modern, contemporary, traditional
● Material: faux leather, steel, hardwood
● Color Options: charcoal, gray
● Design Features: power recliner with remote control, high padded back with horizontal tufting, with lift and tilt function, side pocket, padded frame, curved arms
● What Clients Love about this Leather Recliner: perfect for people with mobility issues, convenient lift function, slim but still comfortable, good back support
26. Krebs Wide Seat Recliner by Red Barrel Studio
Points of Interest:
● Clients Rating: 4.6 Stars
● Style Inspiration: traditional, rustic
● Material: genuine leather, metal, foam; synthetic fiber
● Color Options: brown
● Design Features: oversized, accent stitching, back with horizontal tufting, power headrest, pillow top arms, choice between manual or power recliner, infinite recline positions, 180-degree maximum recline, coil spring suspension, 3" back clearance
● What Clients Love about this Leather Recliner: very roomy, comfortable and cushy, doesn't need too much space to recline, gorgeous leather upholstery
27. Bradly Leather Manual Recliner by Canora Grey
Points of Interest:
● Clients Rating: 4.8 Stars
● Style Inspiration: traditional, contemporary
● Material: top grain leather; split grain leather, solid wood; manufactured wood, foam; down
● Color Options: shoreman blue, ponytail, wine, wenlock double chocolate
● Design Features: manual push back recline, 3 recline position, 45-degree maximum recline, removable cushions, pocket spring suspension, distressed brass nailhead trim, 17.3" back clearance, cushioned back and seat, pop-up footrest, tapered legs
● What Clients Love about this Leather Recliner: lovely colors, luxurious leather feel, stylish design, comfortable back with just the right height