Hello and welcome to our carefully curated selection of kitchen carts. We handpicked for you a variety of beautiful high quality kitchen cart designs that can fit many styles, color schemes, and budgets. To derive this list, we carefully reviewed customer reviews and are only bringing up to your attention kitchen carts that clients have bought for their own kitchen and that have been super satisfied with. Hope you find inspiration in these photos and find this information useful, enjoy!

What is a kitchen cart?
Definition: a kitchen cart originally used to transport meals and snacks from the kitchen to the living room or dining room. Kitchen carts have shelves, racks, drawers, and caddies, that can help you organize and store kitchen items. These carts usually have casters and are typically smaller than kitchen islands, and are mobile so they can be moved around depending on where and how you need them.
Style: traditional, French country, cottage, Americana, utilitarian, modern farmhouse, minimalist, transitional, vintage, rustic, modern, contemporary
Design Features: casters, utility drawers, cabinets, bottle storage, slatted shelves, towel racks, spice racks, hooks, removable wire baskets, handles, knife holders, foldable frame, extendable tops
Price Range: $56.99 to $917.99

How are clients using their kitchen carts in their home décor:
Where: kitchen, dining room, living room, basement, den, family room, butler's pantry, laundry room, utility room, garage
Things to consider: size of the cart and the room, style and color to go with the room, material (wood, metal, granite), purpose (food preparation, additional storage, entertainment), mobility (portable with casters or stationary with locking and removable casters), decorative features
Favorite Features: makes cooking easier, reasonably priced but with excellent quality, adjustable shelves and racks for easy organization, heavy-duty casters that can be locked or removed, sturdy and solid design, ample storage and extra countertops, very easy to assemble, works nicely in small spaces, easy to move around and clean, works well as a small kitchen island or coffee bar, can hold lots of items and small appliances, great as a mobile prep station and service cart, can work as dining room buffet or side table, looks good and goes with existing style, great for parties, can also double as a kitchen island, lots of extra counter space

Hope you enjoy the showroom visit!

1. Taunton Kitchen Cart with Wood Top by Andover Mills
Points of Interest:
● Clients Rating: 4.8 Stars
● Style Inspiration: transitional, traditional, contemporary
● Material: stainless steel, bamboo (top)
● Color Options: chrome (base), natural bamboo (top)
● Design Features: bamboo cutting board with grooved border, handle/towel bar, sidebar with fixed hooks, adjustable slatted shelves, casters, wire basket
● What Clients Love about this kitchen cart: good quality and really sturdy, fully functional, works great as additional counter space, good fit for small kitchen, great storage for assorted kitchen items, easy to assemble, makes cooking easier

2. Zona Kitchen Cart by Mercury Row
Points of Interest:
● Clients Rating: 4.8 Stars
● Style Inspiration: modern farmhouse, industrial
● Material: poplar wood, metal
● Color Options: black sand (base)
● Design Features: wheeled feet, top handles, top tray with wooden guard rails, removable glass holder, bottom wine storage
● What Clients Love about this kitchen cart: very easy to assemble, looks nice, can hold non-perishable kitchen items, stemware rack is a great touch, great design and quality, great for parties

3. The Orleans Kitchen Cart by Home Styles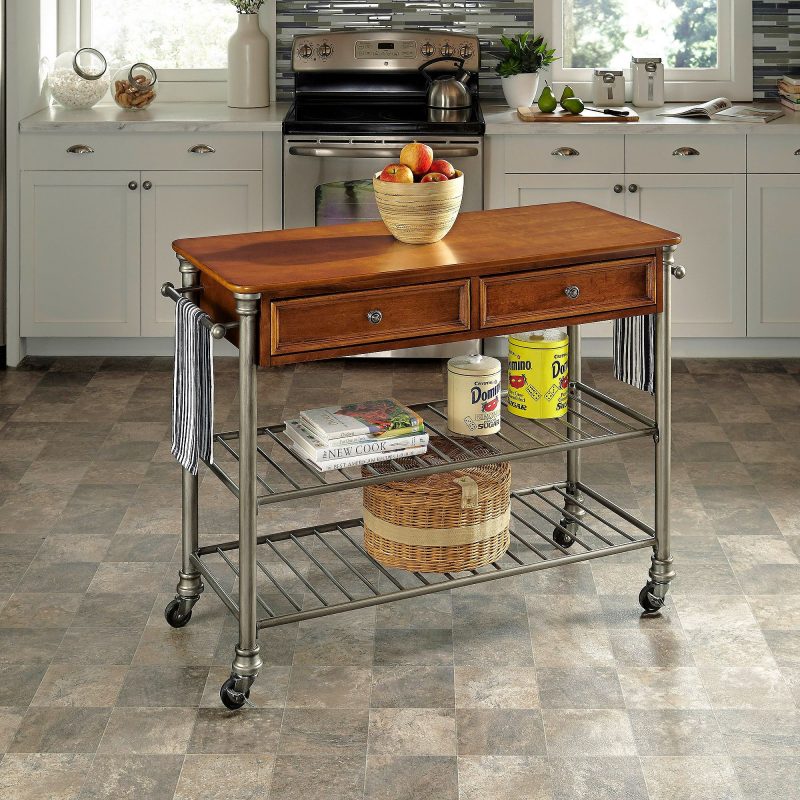 Points of Interest:
● Clients Rating: 4.9 Stars
● Style Inspiration: French country, cottage, traditional
● Material: wood composite, metal
● Color Options: brown, vintage caramel
● Design Features: 2 storage drawers, 2 slotted shelves, 2 towel bars, powder-coated gun metal gray steel base, casters with brakes
● What Clients Love about this kitchen cart: small and sturdy, mobile and can be used anywhere, offers convenience in moving things around, can double as a dining room buffet, easy to assemble

4. Chamberlin Kitchen Cart by Trent Austin Design
Points of Interest:
● Clients Rating: 4.8 Stars
● Style Inspiration: industrial, modern farmhouse
● Material: pine wood, metal, cast iron
● Color Options: weathered honey (counter finish), black finish (metal)
● Design Features: heavy-duty metal casters, fixed steel shelves, drawers, slotted shelves, reclaimed wood finish
● What Clients Love about this kitchen cart: looks good, gets lots of compliments, can function as a side table, easy instructions on how to put together, very good quality, great buy, absolutely lovely

5. Home Styles Benton Kitchen Cart by Generic
Points of Interest:
● Clients Rating: 4.6 Stars
● Style Inspiration: transitional, contemporary
● Material: wood, steel
● Color Options: natural/unfinished wood
● Design Features: drop down breakfast bar, drawers, adjustable shelves, kitchen tool holder, towel bar, raised panel cabinets
● What Clients Love about this kitchen cart: great for small kitchens, offers lots of storage, can be additional eating area with stools, very mobile, beautiful wood finish, drawers slide with ease

6. Macy Kitchen Cart with Granite Top by Winston Porter
Points of Interest:
● Clients Rating: 4.7 Stars
● Style Inspiration: transitional, contemporary
● Material: pine and MDF, granite
● Color Options: gray, green, white
● Design Features: single drawer, slatted shelf, locking/removable wheels, wine rack, wire basket, granite top
● What Clients Love about this kitchen cart: looks as great as the online pictures, just the right size for small spaces, mobile, stylish, can be used as a beverage bar, can hold small appliances well, gorgeous

7. Whitmor Supreme Kitchen and Microwave Cart by Whitmore
Points of Interest:
● Clients Rating: 4.5 Stars
● Style Inspiration: contemporary, modern
● Material: chrome, wood
● Color Options: chrome
● Design Features: food safe cutting board/butcher block, heavy-duty locking wheels, adjustable shelves, side hooks, pull-out middle shelf
● What Clients Love about this kitchen cart: very sturdy, convenient adjustable shelves, movable trays, easy to assemble, very versatile, can hold a lot of items even small appliances, casters move well, fits in nicely in the kitchen

8. Raabe Kitchen Cart with Wood Top by Andover Mills
Points of Interest:
● Clients Rating: 4.7 Stars
● Style Inspiration: traditional
● Material: rubberwood, solid wood
● Color Options: white (base), brown (counter), stainless steel (handle)
● Design Features: casters, shelves, push handle that doubles as towel rack,
● What Clients Love about this kitchen cart: very well made, sturdy, lovely butcher block top, can hold small kitchen appliances, just the right size, looks adorable, will look great anywhere

9. 4-Tier Adjustable Kitchen Cart by Finnhomy
Points of Interest:
● Clients Rating: 4.5 Stars
● Style Inspiration: industrial, contemporary
● Material: metal (chrome), bamboo (countertop)
● Color Options: chrome
● Design Features: adjustable shelves, removable bamboo top, chrome hooks, anti-rust chrome shelves
● What Clients Love about this kitchen cart: racks can be adjusted to suit use, works well as additional food preparation area, well made with strong materials, can hold lots of items, convenient racks to store cups and mugs

10. Fresnay Kitchen Island with Wooden Top by Laurel Foundry Modern Farmhouse
Points of Interest:
● Clients Rating: 4.6 Stars
● Style Inspiration: rustic, industrial, modern farmhouse, vintage
● Material: MDF, ash veneer, iron (frame)
● Color Options: brown (counter), antique bronze (hardware)
● Design Features: 3 removable wire baskets, welded handles/towel bars, casters
● What Clients Love about this kitchen cart: easy to put together, can hold small appliances, baskets can store dry kitchen goods, can be easily moved out of the way, perfect size for small or narrow kitchen, charmingly rustic, very presentable

11. Ronay Bar Cart by Inspire Q
Points of Interest:
● Clients Rating: 4.5 Stars
● Style Inspiration: vintage, French country, modern farmhouse
● Material: metal (frame), hardwood
● Color Options: dark brown, gray, rust
● Design Features: bottom shelf with lattice guard rail, stemware rack, locking casters, removable top tray with handles, casters
● What Clients Love about this kitchen cart: easy to assemble, looks awesome, very well-made, great value, stylish wine bottle storage, very industrial chic

12. Ewart Kitchen Island with Wood Top by Alcott Hill
Points of Interest:
● Clients Rating: 4.6 Stars
● Style Inspiration: traditional, Americana
● Material: wood, manufactured wood, steel
● Color Options: natural
● Design Features: metal towel rack, butcher block top, 2 drawers, casters, slatted middle shelf, lipped lower tier
● What Clients Love about this kitchen cart: drawers fit perfectly, lovely wood base and top, perfect for storing bulky cooking items, can be moved around with ease, works great as dining room buffet

13. Fulton Kitchen Cart with Stainless Steel Top by Red Barrel Studio
Points of Interest:
● Clients Rating: 4.6 Stars
● Style Inspiration: contemporary, cottage
● Material: stainless steel (top), pine wood (base), steel (hardware)
● Color Options: gray/black (counter), white (base)
● Design Features: locking/removable casters, wine storage, 2 drawers with brushed nickel pulls, slatted storage bins, slatted bottom shelf, stainless steel top
● What Clients Love about this kitchen cart: looks lovely, lots of storage space, nice fit in small kitchen, sturdy and can hold up weight, easy to clean countertop, has a coastal vibe, partners well with stainless steel kitchen appliances

14. Drumtullagh Kitchen Island with Stainless Steel Top by Alcott Hill
Points of Interest:
● Clients Rating: 4.6 Stars
● Style Inspiration: Americana, comtenporary
● Material: pine wood, stainless steel
● Color Options: natural (base), brushed steel (top)
● Design Features: stainless steel top, 2 drawers, slatted middle shelf, casters, side handle/towel bar, lipped bottom shelf
● What Clients Love about this kitchen cart: can function as a utility table, can be stationary or mobile, looks really nice in the kitchen, easy to wipe and clean, lots of storage space, as good as it looks online, lovely wood finish

15. Harris Kitchen Island with Granite Top by Birch Lane Heritage
Points of Interest:
● Clients Rating: 4.6 Stars
● Style Inspiration: traditional, French country
● Material: pine wood, granite (top)
● Color Options: ivory, black, honey, sienna
● Design Features: 3 drawers, double-door cabinet, 4 interior shelves, granite countertop, casters, distressed finish, 2 towel racks, removable wheels
● What Clients Love about this kitchen cart: ample storage, looks perfect in the kitchen, lots of extra counter space, gorgeous, solid and well made, easy to assemble, lovely rustic finish, can also double as a kitchen island

16. Adjustable Kitchen Cart by Wayfair Basics
Points of Interest:
● Clients Rating: 4.6 Stars
● Style Inspiration: industrial, contemporary
● Material: stainless steel, wood (top)
● Color Options: chrome
● Design Features: 2 grate shelves, casters, rust resistant, adjustable/removable shelves, wooden top
● What Clients Love about this kitchen cart: can be put together with ease, sturdy material, can hold small kitchen appliances, perfect as a service cart, a perfect fit in small spaces, gives lots of extra storage

17. Thielsen Kitchen Cart with Wood Top by Loon Peak
Points of Interest:
● Clients Rating: 4.6 Stars
● Style Inspiration: industrial, contemporary
● Material: rubberwood, plastic, powder coated steel
● Color Options: metallic powder coat (base), natural engrain oil (top finish)
● Design Features: chopping station, wire basket shelves, trash ring, bottle rack, removable spice rack, towel rack, Chop and Drop technology with chef pan
● What Clients Love about this kitchen cart: solid butcher block top, works well as mobile prep station, locking wheels makes it steady, just the right height and size, easy to assemble, lots of under storage, offers convenience, great board design to easily dispose of waste

18. Kitchen Cart by Wayfair Symple Stuff
Points of Interest:
● Clients Rating: 4.5 Stars
● Style Inspiration: utilitarian, minimalist
● Material: bamboo
● Color Options: natural
● Design Features: casters, slatted shelves, bottle rack
● What Clients Love about this kitchen cart: really cute, simple design, easy to move around, can be used in many ways (coffee cart, wine rack, dinnerware storage), good quality with decent price, can hold lots of stuff, perfect for small spaces

19. Hedon Kitchen Cart by Three Posts
Points of Interest:
● Clients Rating: 4.5 Stars
● Style Inspiration: traditional
● Material: solid wood, wood veneer, steel
● Color Options: white, black,classic cherry, vintage mahogany
● Design Features: single drawer, cabinet, adjustable interior shelves, caster, side handles/towel racks, butcher block top, adjustable interior shelves
● What Clients Love about this kitchen cart: locking wheels make it steady, really well-made, lovely wooden base, extra counter space, spacious cabinet storage, blends in with most kitchen cabinets, lovely butcher block top

20. Hauge Kitchen Cart with Granite Top by Wrought Studio
Points of Interest:
● Clients Rating: 4.5 Stars
● Style Inspiration: contemporary
● Material: wood, MDF, granite (top), steel
● Color Options: natural, wenge, gray/white (granite)
● Design Features: single utensil drawer, wine rack, wire basket, slatted open shelf, removable wheels
● What Clients Love about this kitchen cart: can hold small kitchen appliances, gorgeous granite top, good quality, excellent as small kitchen island, small but sturdy, easy to assemble, very functional

21. Saterfiel Kitchen Island with Granite Top by Brayden Studio
Points of Interest:
● Clients Rating: 4.5 Stars
● Style Inspiration: contemporary
● Material: solid and manufactured wood, granite (top), steel (hardware)
● Color Options: white, black, cherry
● Design Features: 2 drawers, adjustable and removable shelf, towel rack, casters, granite top
● What Clients Love about this kitchen cart: excellent quality, looks pricey, works well in narrow spaces, beautiful granite top, extra counter space, awesome design, can be rolled around with ease

22. Kuhnhenn Kitchen Island by Andover Mills
Points of Interest:
● Clients Rating: 4.5 Stars
● Style Inspiration: transitional, traditional
● Material: solid and manufactured wood, nickel (hardware)
● Color Options: black, white
● Design Features: drop-leaf top, towel rack, casters, cabinet, spice rack on the side
● What Clients Love about this kitchen cart: spacious storage, completely mobile, works well as a small kitchen island, multi-functional top that folds, neatly constructed, solid butcher block top

23. Quiroga Kitchen Island with Wood Top by Andover Mills
Points of Interest:
● Clients Rating: 4.5 Stars
● Style Inspiration: traditional, transitional
● Material: oak wood, stainless steel
● Color Options: natural oak finish
● Design Features: foldable, extendable cutting board, locking casters, towel rack, knife rack, slatted storage shelves
● What Clients Love about this kitchen cart: really well-made, beautiful solid wood material, awesome as additional counter space, flexible folding design, sturdy, just the perfect size, portable and mobile

24. Ferraro Kitchen Cart with Wooden Top by Alcott Hill
Points of Interest:
● Clients Rating: 4.5 Stars
● Style Inspiration: Americana
● Material: manufactured wood, wood
● Color Options: black, red, white
● Design Features: 2 drawers, cabinet, towel rack, tiered spice rack with metal guard rails, casters, wooden top
● What Clients Love about this kitchen cart: convenient adjustable shelves, lots of extra storage, very mobile, nice solid colors, can function as kitchen island, looks cute, works great for food preps, spice rack is a nice bonus

25. Hedon Kitchen Cart with Stainless Steel Top by Three Posts
Points of Interest:
● Clients Rating: 4.5 Stars
● Style Inspiration: traditional, transitional
● Material: solid and manufactured wood, stainless steel
● Color Options: black, white, classic cherry, vintage mahogany
● Design Features: 2 towel racks, locking wheels, single drawer, cabinet, stainless steel top
● What Clients Love about this kitchen cart: easy to clean stainless steel top, versatile, can be used anywhere, spacious storage, just the right size, great color finish, fits most small spaces, pretty and functional

26. Home Styles Solid Wood Kitchen Cart by Home Styles
Points of Interest:
● Clients Rating: 4.5 Stars
● Style Inspiration: traditional
● Material: wood, chrome
● Color Options: natural
● Design Features: towel bar, utility drawer, 2-door cabinet with removable/adjustable shelf, locking casters
● What Clients Love about this kitchen cart: just the right size for small spaces, easy to assemble, functional, pretty, nice natural wood finish, small and cute

27. Hedon Kitchen Cart with Granite Top by Three Posts
Points of Interest:
● Clients Rating: 4.5 Stars
● Style Inspiration: traditional
● Material: manufactured wood, granite, steel (hardware)
● Color Options: black, white, classic cherry, vintage mahogany
● Design Features: single drawer, 2-door cabinet, casters, 2 handles/towel rack, 1 interior shelf, granite top
● What Clients Love about this kitchen cart: works nicely as a small kitchen island, looks gorgeous, easy to move around, beautiful granite top, well-made, easy to clean, could easily fit in most kitchens