Hello and welcome to our carefully curated selection of bookcases. You often ask us "where can I get this?", "how do I get that look?, so here it is! We handpicked for you a variety of beautiful high quality bookcases that can fit many styles, color schemes, and budgets. To derive this list, we carefully read thru customer reviews and are only bringing up to your attention bookcases that have been highly rated by lots of clients Hope you find inspiration in these photos and find this information useful, enjoy!

What are the types of highly rate bookcases clients are loving?
Style: traditional, vintage, industrial, rustic, farmhouse, modern, coastal/beach, contemporary, classic, cottage, transitional
Design Features: beadboard back, turned feet, rustic finish, decorative molding, adjustable shelves, can be horizontal or vertical, geometric style, cubbyholes, with ID label tags, stackable, foldable, open back, slatted sides, ladder type, adjustable shelves, X-shaped bracket, weathered finish, trestle style
Price Range: $29.99 to $268.14

How are clients using their bookcases in their home décor:
Where: family room, dining room, den, home office, living room, craft room, bedroom, kitchen, condo, foyer, basement, salon, sunroom, entryway, laundry room, playroom, study, bar room, game room, nursery
Things to consider: color, style, decor, purpose, durability, size, storage space
Favorite Features: beautifully complements decor, thick and durable shelves, functional, nice minimalist look, great storage, works great as side table, fun storage, supports weight, space saver, sleek look, both functional and stylish, impressive display shelves, lovely timeless look, rich color, easy to assemble

Hope you enjoy the showroom visit!

1. Pinellas Standard Bookcase by Beachcrest Home
Points of Interest:
● Clients Rating: 4.5 Stars
● Style Inspiration: traditional
● Material: manufactured wood
● Color Options: antiqued paint, antiqued white, oak, cherry
● Design Features: 2 turned feet, beadboard back, 5 shelves (4 adjustable)
● What Clients Love about this Bookcase: beautifully complements decor, thick and durable shelves, functional, can hold heavy books, sturdy, easy to assemble, well made, good quality, deep shelves, great display cabinet
2. 2-Shelf Bookcase, Industrial Wood Display and Storage Bookshelf by HSH Furniture
Points of Interest:
● Clients Rating: 4.6 Stars
● Style Inspiration: vintage industrial, rustic
● Material: wood grain, MDF, square steel tube frame
● Color Options: dark oak
● Design Features: 2 open shelves, rustic finish
● What Clients Love about this Bookcase: beautiful color, nice minimalist look, great design, perfectly fits decor, can support heavy books, stylish, stable, sturdy, good quality, thick shelves, easy to assemble
3. Crossmill Bookcase by Better Homes & Gardens
Points of Interest:
● Clients Rating: 4.5 Stars
● Style Inspiration: farmhouse, rustic
● Material: wood composite
● Color Options: heritage walnut, weathered
● Design Features: decorative molding, open storage, adjustable shelves, with bottom doors
● What Clients Love about this Bookcase: great storage, looks amazing, lovely color, complements decor, easy to assemble, great quality, sturdy, looks like real reclaimed barnwood, gets lots of compliments
4. 2-Cube Organizer Shelf by Threshold
Points of Interest:
● Clients Rating: 4.7 Stars
● Style Inspiration: modern, coastal/beach
● Material: wood composite
● Color Options: avington, weathered gray, white, natural, mint
● Design Features: can be horizontal or vertical, thick frame, all sides finished
● What Clients Love about this Bookcase: looks wonderful, works great as side table, fun storage, sturdy enough to be a kid's bench, cute vinyl record storage, matches barnwood motif, good quality, easy to assemble, great value
5. Chrysanthos Geometric Bookcase by Mercury Row
Points of Interest:
● Clients Rating: 4.7 Stars
● Style Inspiration: contemporary
● Material: solid and manufactured wood
● Color Options: white, black
● Design Features: 8 shelves, geometric style, can be horizontal or vertical
● What Clients Love about this Bookcase: unique case, works great as room divider, interesting design, makes decorative items much more attractive, very solid, can hold so many books, perfectly fits modern office, very functional
6. Barrister Lane Bookcase by Sauder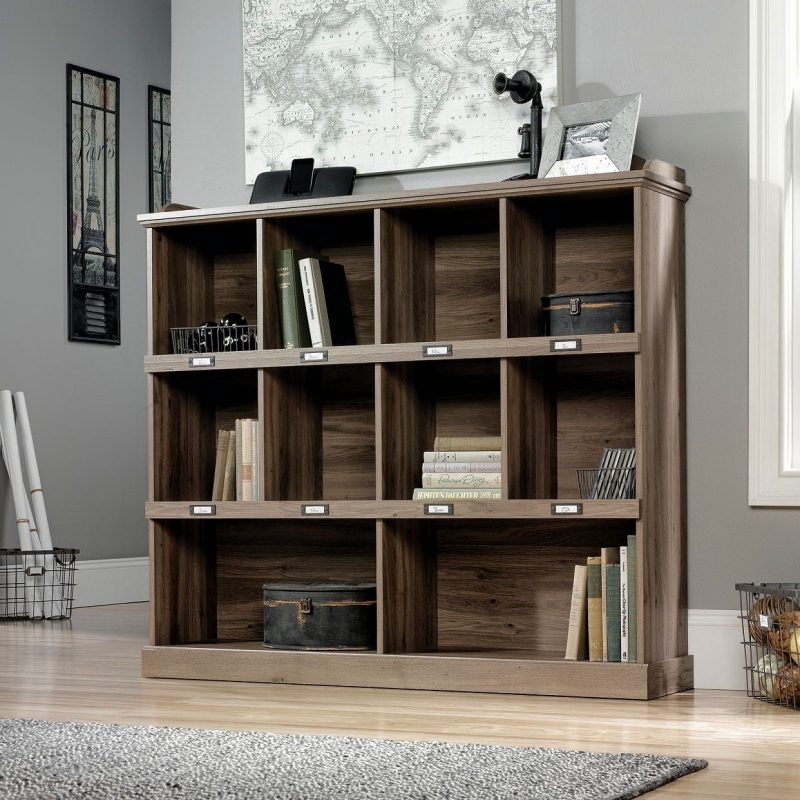 Points of Interest:
● Clients Rating: 4.5 Stars
● Style Inspiration: classic, contemporary, industrial
● Material: engineered wood
● Color Options: salt oak finish
● Design Features: 10 cubbyholes, with ID label tags, enclosed back
● What Clients Love about this Bookcase: great size, very attractive, hold lots of books, great toy storage, works well in home office, stylish, functional, supports weight, well made, sturdy, good quality, good value, unique
7. Gilliard Ladder Bookcase by Three Posts
Points of Interest:
● Clients Rating: 4.5 Stars
● Style Inspiration: classic, contemporary
● Material: solid poplar wood, birch veneers
● Color Options: white, gray, seafoam, blue, dark walnut/black, driftwood, green, black wood grain, espresso, cherry
● Design Features: ladder style, 5 tier, open back panels
● What Clients Love about this Bookcase: sleek look, space saver, can hold lots of books, sturdy, both decorative and functional, clean minimalist design, looks more expensive than what you pay for, high quality, perfect for a small space
8. Bowerbank Standard Bookcase by Beachcrest Home
Points of Interest:
● Clients Rating: 4.6 Stars
● Style Inspiration: beach/coastal, industrial, classic
● Material: manufactured wood
● Color Options: salt oak, scribed oak, white plank, iron oak
● Design Features: 10 cubby holes, ID labels, enclosed back
● What Clients Love about this Bookcase: looks great, beautiful finish, wonderful apothecary look, complements furniture, great book storage, nice color, holds up well, great value, unique, very sturdy, easy to assemble
9. 3-Tier Stackable Folding Bookcase by Yu Shan Co USA Ltd
Points of Interest:
● Clients Rating: 4.6 Stars
● Style Inspiration: modern, contemporary
● Material: solid rubberwood, veneers
● Color Options: espresso, natural, oak, mahogany, white
● Design Features: stackable, foldable, open back, slatted sides
● What Clients Love about this Bookcase: holds much more than books, looks beautiful, sturdy, nicely showcases items, practical, functional, excellent quality, easy to assemble, ideal for use on trade shows, saves space as it is stackable
10. Almanzar Ladder Bookcase by Mercury Row
Points of Interest:
● Clients Rating: 4.7 Stars
● Style Inspiration: industrial
● Material: laminated wood, powder-coated steel
● Color Options: gray/black, natural/black
● Design Features: ladder type, open back panel, 4 tier
● What Clients Love about this Bookcase: perfect accent piece, sleek look, lovely colors, nice height, easy to assemble, nice product display shelf, high quality, great for books and other decorative pieces, looks very high end
11. Harbor View Library by Sauder
Points of Interest:
● Clients Rating: 4.6 Stars
● Style Inspiration: cottage, classic
● Material: wood composite
● Color Options: antiqued paint, antiqued white, salt oak, curado cherry
● Design Features: adjustable shelves, louver doors, wood knobs, turned feet
● What Clients Love about this Bookcase: holds lots of books, works well in the bathroom for towels and bath supplies storage, gorgeous finish, lovely addition to family room high end look, shelves adjustable to your preference, elegant design
12. 5-Shelf Modern Style Bookshelf by Homissue
Points of Interest:
● Clients Rating: 4.5 Stars
● Style Inspiration: modern industrial
● Material: wood grain, MDF, steel tube frame
● Color Options: retro brown, white, espresso brown
● Design Features: X-shaped bracket, open design, metal frame
● What Clients Love about this Bookcase: great design, looks beautiful, holds lots of stuff, stable, well-crafted, sturdy, pretty little bookshelf, nice rustic touch, gets lots of compliments, easy to assemble, both functional and stylish
13. Decorative Storage Cube Unit Bookcase by ClosetMaid
Points of Interest:
● Clients Rating: 4.5 Stars
● Style Inspiration: modern
● Material: manufactured wood with laminate
● Color Options: white, weathered gray, dark chestnut, black walnut
● Design Features: 6 cubes, full back panels
● What Clients Love about this Bookcase: compatible with storage cubes/bins, nice toy storage, sturdy, good quality, attractive, versatile, works as a tv stand, great additional storage space, perfect for vinyl records, impressive space saver
14. Remmington Heavy Duty Bookcase by Finley Home
Points of Interest:
● Clients Rating: 4.6 Stars
● Style Inspiration: traditional, transitional
● Material: wood, wood veneers
● Color Options: cherry
● Design Features: adjustable shelves, 6 sizes to choose from, rich cherry finish
● What Clients Love about this Bookcase: suits most decors, lovely color, great finish, impressive piece of furniture, easy to assemble, holds lots of books, well made, very sturdy, great value, beautiful addition to living room, looks high end
15. Macon Etagere Bookcase by Greyleigh
Points of Interest:
● Clients Rating: 4.8 Stars
● Style Inspiration: industrial
● Material: wood, metal
● Color Options: barnwood, driftwood, dark walnut, rustic oak, gray wash
● Design Features: open shelves, X-shaped bracket
● What Clients Love about this Bookcase: looks great, complements modern farmhouse decor, very sturdy, easy to assemble, perfect for boy's room, trendy, functional, wonderful addition to living room, great for displaying family photos
16. Crossmill 5 Shelf Standard Bookcase by Better Homes & Gardens
Points of Interest:
● Clients Rating: 4.6 Stars
● Style Inspiration: beach/coastal, modern farmhouse, rustic
● Material: engineered wood
● Color Options: weathered finish
● Design Features: enclosed back, 5 shelves (3 are adjustable)
● What Clients Love about this Bookcase: looks lovely, beautiful finish, perfectly fits decor, wonderful addition to bedroom, stylish, goes well with beach theme or farmhouse style, great workmanship, very stable, easy assembly, perfect depth
17. Sandara Corner Bookcase by Latitude Run
Points of Interest:
● Clients Rating: 4.5 Stars
● Style Inspiration: contemporary
● Material: solid and manufactured wood
● Color Options: white, cappuccino, taupe
● Design Features: triangular shape, angled for corners, 5 shelves
● What Clients Love about this Bookcase: perfectly fits bathroom corner, sturdy, impressive display shelves, great living room accent, perfect shelves for plants in sunroom, adds character to room, well made, easy to assemble, great value
18. Adair Etagere Bookcase by Laurel Foundry Modern Farmhouse
Points of Interest:
● Clients Rating: 4.7 Stars
● Style Inspiration: industrial, modern farmhouse
● Material: wood, powder-coated metal
● Color Options: barnwood, driftwood, dark walnut, rustic oak, gray wash
● Design Features: X-shaped sides, 3 tier, removable middle shelf
● What Clients Love about this Bookcase: quality piece, lovely timeless look, sturdy, easy to assemble, great storage for board games, perfect by the window, barnwood color adds warmth, nicely holds ceramic dinnerware, very durable
19. Ansley Geometric Bookcase by Brayden Studio
Points of Interest:
● Clients Rating: 4.7 Stars
● Style Inspiration: contemporary
● Material: wood
● Color Options: cappuccino
● Design Features: 8 shelves, geometric style, can be vertical or horizontal
● What Clients Love about this Bookcase: unique style, lovely design, works well as room divider, sophisticated piece, perfect size, looks high end, great price, easy to assemble, very sturdy, holds lots of books
20. Square 4 Cube Storage Organizer by Better Homes and Gardens
Points of Interest:
● Clients Rating: 4.5 Stars
● Style Inspiration: classic, modern
● Material: wood, wood composite
● Color Options: espresso, gray, high gloss black lacquer, pink, rustic gray, solid black, vintage walnut, weathered, white
● Design Features: 4 cubes, open back, horizontal or vertical display
● What Clients Love about this Bookcase: works wonderfully as a dollhouse, various storage options, fun pieces you'll buy more, perfect by the wall of windows, very good quality, easy to assemble, more than just a bookcase
21. Orville Cube Unit Bookcase by Andover Mills
Points of Interest:
● Clients Rating: 4.6 Stars
● Style Inspiration: modern farmhouse, rustic
● Material: solid and manufactured wood
● Color Options: cobblestone, craftsman oak, fossil oak, soft white with lintel oak accent
● Design Features: 9 cubby holes, enclosed back, rustic finish
● What Clients Love about this Bookcase: heavy, sturdy, impressive quality, good looking piece of furniture, classy, display much more than books, solid wood top, helps keep you organized, great neutral color, works well as tv stand
22. Warrington Etagere Bookcase by Charlton Home
Points of Interest:
● Clients Rating: 4.5 Stars
● Style Inspiration: traditional with contemporary flair
● Material: pine wood
● Color Options: white, black, espresso, walnut
● Design Features: 2 shelves, x-side braces, open back
● What Clients Love about this Bookcase: elegant, very stylish, beautiful wood color, impressive material, easy to assemble, sturdy, wonderful kitchen accent, perfect size, great craftsmanship, nice towel storage in guest bathroom
23. Loring Trestle Bookcase by Project 62
Points of Interest:
● Clients Rating: 4.7 Stars
● Style Inspiration: modern, industrial
● Material: wood, metal
● Color Options: walnut, vintage oak
● Design Features: 4 open shelves, trestle style
● What Clients Love about this Bookcase: holds a lot, looks great, impressive design, perfect size, sturdy, stylish, gorgeous addition to any room, sleek yet very functional, works great as stereo rack, works wonders on a small kitchen
24. Massena Ladder Bookcase by Three Posts
Points of Interest:
● Clients Rating: 4.6 Stars
● Style Inspiration: modern
● Material: wood, manufactured wood
● Color Options: jamocha wood, chalked chestnut, vintage oak
● Design Features: 5 shelves, ladder type, leaning bookcase
● What Clients Love about this Bookcase: looks great, impressive design, wonderful display shelves, perfectly fits a narrow space, holds lots of items, well constructed, heavy duty, easy to assemble, sturdy, sleek, rich color
25. Factory Bookcase by Weston Home
Points of Interest:
● Clients Rating: 4.8 Stars
● Style Inspiration: industrial
● Material: solid wood, metal
● Color Options: brown/black
● Design Features: warm rustic wood finish, X-metal support, 4 open shelves
● What Clients Love about this Bookcase: impressive quality, great distressed finish, stylish and functional, easy to assemble, gets many compliments, great workmanship, excellent price, very sturdy, awesome piece
26. Imogen Ladder Bookcase by Langley Street
Points of Interest:
● Clients Rating: 4.5 Stars
● Style Inspiration: contemporary
● Material: manufactured wood
● Color Options: black, gray, white
● Design Features: ladder type, 4 shelf tiers, slanted silhouette
● What Clients Love about this Bookcase: lovely accent piece, beautiful design, very sturdy, perfect size, easy to assemble, timeless piece, very versatile, looks great in the nursery, decorative and functional
27. Augustus Media Etagere Bookcase by Trent Austin Design
Points of Interest:
● Clients Rating: 4.8 Stars
● Style Inspiration: industrial
● Material: wood, metal
● Color Options: barnwood, driftwood, dark walnut, rustic oak, gray wash
● Design Features: powder coated metal, X-shaped open frame, 3 shelves
● What Clients Love about this Bookcase: very sturdy, looks classy, great price, looks high end, easy to assemble, looks great in the office, perfect size, works well as tv stand, fun and functional, holds a lot of books, great quality