Hello and welcome to our carefully curated selection of bed in a bag sets. You often ask us, "Where can I get this?", "How do I get that look?", so here it is! We spent hours reviewing what people who actually bought a bed in a bag had to say about their purchase, and after reviewing hundreds of them, we are only listing bed in a bag sets that have "wowed" these clients and have the highest ratings. After our careful research, the following sets of bed in a bag raised to the top of the list. Hope you find inspiration in these photos and find this information useful, enjoy!

What are the types of bed in a bag that made the "Best Of" list?
Style: shabby chic, tropical, farmhouse, cottage chic, whimsical, army theme/camo, sports, kids, boho, classic, traditional, modern, contemporary, transitional, French country, vintage, zen
What May be Included in the Bag: comforter, pillow shams, accent pillows, pillowcases, flat sheet, fitted sheet, bed skirt, curtains, tiebacks, window valances
Design Features: print/pattern (botanical/floral, geometric, striped, woodland motif, damask, soccer ball, medallion, paisley, camouflage, emojis, tropical motif), fabric accents (embroidered, piped edges, pintuck design, lace taping, ruched flange, double-needle stitching, textured, baffle box), added features (hypoallergenic, machine-washable, reversible, wrinkle-resistant), sizes (twin, twin XL, full, full XL, queen, king, California king, split king)
Price Range: $36.39 to $177.99

How are clients using their bed in a bag sets in their home décor:
Where: bedroom, master suite, college dorm, teen's room, child's room, guest room, nursery
Things to consider: style and design, feel and texture, package inclusions, material, price, quality, craftsmanship, size, age and gender, existing decor
Favorite Features: lovely embossed patterns, warm and cozy, fluffy fabric, soft and satin-like, lovely colors, complements bedroom decor, conveniently reversible, brightens up room, holds up great and washes up well, adds a warm and inviting appeal, high end look for a very reasonable price, elegant set with lovely pillows, great craftsmanship, gorgeous set, enhances the look of the room

Hope you enjoy the showroom visit!

1. Woodford 24 Piece Comforter Set by Astoria Grand
Points of Interest:
● Clients Rating: 4.6 Stars
● Style Inspiration: classic, traditional
● Material: 100% polyester, microfiber
● Color Options: seafoam, red, natural
● Design Features: embroidered and striped, hypoallergenic, sizes: king, queen, California king
● Package Inclusions: 24 pc. set: 1 comforter, 2 shams, 2 euro shams, 4 decorative pillows, 2 pillowcases, 1 bed skirt, 1 flat sheet, 1 fitted sheet, 4 window curtains, 4 tiebacks, and 2 window valances
● What Clients Love about this Bed in a Bag: gorgeous and rich colors, elegant design, beautiful matching bedroom set, enhances the look of the room, great value
2. Bed-in-A-Bag 7 Piece Comforter & Sheet Set by Bare Home
Points of Interest:
● Clients Rating: 4.6 Stars
● Style Inspiration: classic, contemporary
● Material: 100% microfiber
● Color Options: various color choices
● Design Features: box stitch, piped edges, hypo-allergenic, wrinkle and shrink resistant, sizes: twin, twin XL, full, full XL, queen, king, California king
● Package Inclusions: 5 or 7 pc. set – 1 comforter, 1 fitted sheet, 1 flat sheet, 1 or 2 pillow shams, and 1 or 2 pillowcases
● What Clients Love about this Bed in a Bag: so soft and comfy, warm and cozy, vibrant color, nice deep pockets, excellent craftsmanship, washes up nicely
3. Loraine Comforter Set by Viv + Rae
Points of Interest:
● Clients Rating: 4.6 Stars
● Style Inspiration: kids, whimsical, woodland
● Material: polyester, brushed microfiber, cotton
● Color Options: pink, beige/pink, white/pink
● Design Features: owl and floral motif, machine-washable, sizes: twin, full
● Package Inclusions: comforter, shams, accent pillow, pillow cases, fitted sheet, flat sheet
● What Clients Love about this Bed in a Bag: looks lovely in a girl's room, soft and dainty, brightens up room, adds a fun and friendly vibe, great quality
4. Boho Elephant Comforter Set by Loft Style
Points of Interest:
● Clients Rating: 4.6 Stars
● Style Inspiration: contemporary, boho
● Material: polyester, linen
● Color Options: multicolored/light blue/mint green
● Design Features: damask and elephant print motif, reversible, 2 sizes (twin, full)
● Package Inclusions: 1 comforter, 1 or 2 shams, 1 or 2 pillowcases, sheets
● What Clients Love about this Bed in a Bag: very nice patterns, soft and cushy, great quality, comfortable lightweight material
5. Haverford Luxury Comforter Set by Red Barrel Studio
Points of Interest:
● Clients Rating: 4.5 Stars
● Style Inspiration: classic
● Material: polyester/polyester blend
● Color Options: gray, aqua, black, brown, burgundy, navy blue, turquoise, white
● Design Features: pintuck design, solid color, reversible, hypoallergenic, sizes: twin/twin xl, family/queen, king/California king
● Package Inclusions: comforter, shams, accent pillow, pillowcases, sheets, dust ruffle/bedskirt
● What Clients Love about this Bed in a Bag: lovely design, great for all seasons, wonderful texture, very soft and comfy, great value
6. Yellow Damask Coordinated Bedding Bed in a Bag by Mainstays
Points of Interest:
● Clients Rating: 4.5 Stars
● Style Inspiration: classic, , cottage chic
● Material: polyester
● Color Options: yellow/gray
● Design Features: damask and honeycomb pattern, sizes: twin, full, queen, king
● Package Inclusions: comforter, sham(s), sheets, pillowcase(s) and pillow
● What Clients Love about this Bed in a Bag: lovely color combination, cheery addition to room, adds pop of color, great for summer nights, great quality at a great price
7. Chenard 10 Piece Comforter Set by Charlton Home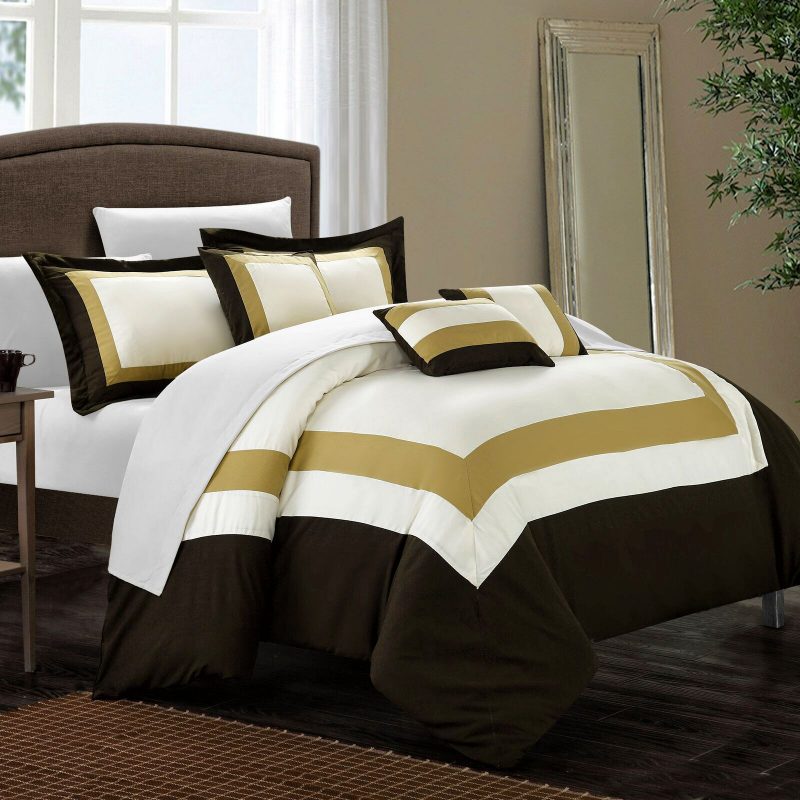 Points of Interest:
● Clients Rating: 4.5 Stars
● Style Inspiration: traditional
● Material: polyester – microfiber
● Color Options: brown/gold, black, red
● Design Features: geometric color block style, hypo-allergenic, machine-washable, sizes: queen, king
● Package Inclusions: 10 pc. set – 1 comforter, 2 shams, 3 accent pillows, 2 pillow cases, 1 flat sheet, 1 fitted sheet
● What Clients Love about this Bed in a Bag: feel great fabric, soft and fluffy, beautifully transforms the room, washes up well, fits bed perfectly
8. Soccer Mini Bed-in-a-Bag by Dream Factory
Points of Interest:
● Clients Rating: 4.9 Stars
● Style Inspiration: kids, sports
● Material: polyester, microfiber
● Color Options: gray/multicolor
● Design Features: soccer ball motif on comforter, bright green on reverse side, hexagon tile print on sheets and pillowcase, size: twin, full
● Package Inclusions: 5-pc set: 1 fitted sheet, 1 flat sheet, 1 pillowcase, 1 sham, 1 twin comforter
● What Clients Love about this Bed in a Bag: looks great in boy's room, perfect for soccer lovers, soft and comfy, great price, good quality
9. Daisetta Complete Comforter and Cotton Sheet Set by Bungalow Rose
Points of Interest:
● Clients Rating: 4.5 Stars
● Style Inspiration: traditional, contemporary
● Material: polyester, microfiber
● Color Options: blue, aqua, coral, taupe, yellow
● Design Features: large floral medallion print on comforter and sham(s), small medallion print on sheets, sizes: twin, twin xl, full, queen, king, California king
● Package Inclusions: comforter, sham(s), accent pillow, pillowcase(s), flat sheet, fitted sheet, dust ruffle/bedskirt
● What Clients Love about this Bed in a Bag: beautifully matches room decor, lovely pattern, vibrant colors, brightens up room, washes up well
10. Dawn 9 Piece Cotton Percale Comforter Set by Madison Park
Points of Interest:
● Clients Rating: 4.5 Stars
● Style Inspiration: shabby chic, French country
● Material: polyester, cotton
● Color Options: blue/periwinkle/green
● Design Features: paisley pattern, pintuck fabric, lace trim, ruched white flange on edges, sizes: queen, king, California king
● Package Inclusions: 1 bed skirt, 2 standard shams, 2 Euro shams, 1 comforter, 3 pillows
● What Clients Love about this Bed in a Bag: pretty and dainty set, charming pattern, soft and lovely colors, perfectly fits the bed, great on winter nights
11. Shonta 210 Thread Count Comforter Set by Darby Home Co
Points of Interest:
● Clients Rating: 4.6 Stars
● Style Inspiration: classic, traditional, contemporary
● Material: polyester
● Color Options: blue, gray
● Design Features: damask pattern, jacquard woven, deep pocket, sizes: queen, king, California king
● Package Inclusions: comforter, shams, accent pillows, pillowcases, flat sheet, fitted sheet, dust ruffle/bedskirt
● What Clients Love about this Bed in a Bag: adds a touch of elegance, very comfy and feels great, beautifully matches bedroom color, high end look at an affordable price
12. Branches Comforter Set by City Scene
Points of Interest:
● Clients Rating: 4.6 Stars
● Style Inspiration: contemporary
● Material: 100% cotton, polyester fill
● Color Options: French blue, gray
● Design Features: leaf and branch pattern, machine-washable sizes: twin, full/queen, king
● Package Inclusions: comforter, sham(s)
● What Clients Love about this Bed in a Bag: lovely design, wonderful texture, cozy and warm, soft and feel great fabric, great value
13. MacLaine 24 Piece Comforter Set by House of Hampton
Points of Interest:
● Clients Rating: 4.5 Stars
● Style Inspiration: traditional
● Material: polyester – 100% microfiber
● Color Options: gray
● Design Features: pintuck design, solid color, hypo-allergenic, sizes: queen, king
● Package Inclusions: 24-pc set: 1 comforter, 2 shams, 2 Euro shams, 2 pillows, 2 accent pillows, 2 pillowcases, 1 fitted sheet, 1 flat sheet, 1 dust ruffle/bedskirt, 4 curtain panels, 4 tie backs, 2 valances
● What Clients Love about this Bed in a Bag: looks rich and luxurious, very soft and fluffy, wonderfully enhances the look of the room, worth every penny
14. Grace Medallion Purple Bed in a Bag Complete Bedding Set by Mainstays
Points of Interest:
● Clients Rating: 4.5 Stars
● Style Inspiration: contemporary, boho
● Material: polyester
● Color Options: purple
● Design Features: medallion pattern, quatrefoil motif on sheets and pillows, machine-washable, sizes: twin/twin XL, full, queen, king
● Package Inclusions: comforter, sham(s), sheets, pillowcase(s), decorative pillow
● What Clients Love about this Bed in a Bag: gorgeous vibrant colors, wonderfully dresses up the room, comes with a lovely accent pillow, brightens up room, gets lots of compliments
15. Climer 24 Piece Comforter Set by Astoria Grand
Points of Interest:
● Clients Rating: 4.5 Stars
● Style Inspiration: classic, traditional
● Material: 100% polyester
● Color Options: blue/taupe/chocolate
● Design Features: paisley pattern, machine-washable, sizes: king, queen, California king
● Package Inclusions: 1 comforter, 4 shams, 4 accent pillows, 2 pillowcases, 1 dust ruffle/bed skirt, 2 sheets, window curtains, tiebacks, window valances
● What Clients Love about this Bed in a Bag: completely transforms the look of the bedroom, lovely color combination, soft and comfy fabric, elegant bedroom set
16. Dream Geo Camo Mini Bed in a Bag by Dream Factory
Points of Interest:
● Clients Rating: 4.7 Stars
● Style Inspiration: military theme, camo
● Material: 60% cotton, 40% polyester
● Color Options: green
● Design Features: camouflage pattern, sizes: twin, full
● Package Inclusions: 5 pc. set – fitted sheet, flat sheet, pillowcase, sham, comforter
● What Clients Love about this Bed in a Bag: great for a boy's room, eye-catching and unique design, fits bed perfectly, great quality at a good price
17. Putman Bamboo Design 8 Piece Comforter Set by Winston Porter
Points of Interest:
● Clients Rating: 4.5 Stars
● Style Inspiration: traditional, classic
● Material: polyester
● Color Options: black, burgundy, chocolate, gray, navy blue, turquoise, white
● Design Features: baffle box design, solid color, double-needle stitching, reversible, hypo-allergenic, machine-washable, sizes: twin, full, queen, king
● Package Inclusions: 8 pc. set: 1 comforter, 1 bed skirt, 2 shams, 1 fitted sheet, 1 flat sheet, 2 pillow cases
● What Clients Love about this Bed in a Bag: beautiful pattern, gorgeous color, soft and cozy, warms up nicely, washes up well, great value, great quality
18. Herrmann Complete Comforter and Cotton Sheet Set by Three Posts
Points of Interest:
● Clients Rating: 4.5 Stars
● Style Inspiration: zen, contemporary
● Material: polyester, cotton
● Color Options: taupe, gray
● Design Features: floral pattern, machine-washable, reversible, sizes: twin, full, queen, king, California king
● Package Inclusions: comforter, sham(s), accent pillow, pillow case(s), flat sheet, fitted sheet, dust ruffle/bed skirt
● What Clients Love about this Bed in a Bag: gorgeous set with a very pretty accent pillow, delightfully soft, classy and elegant, worth every penny, excellent quality
19. Reyna 3 Piece Comforter Set by Lush Decor
Points of Interest:
● Clients Rating: 4.9 Stars
● Style Inspiration: traditional, vintage
● Material: 100% polyester
● Color Options: gray, ivory, white
● Design Features: solid color, ruffled edges, machine-washable, sizes: full/queen, king
● Package Inclusions: quilt, pillow sham(s), 2 decorative pillows
● What Clients Love about this Bed in a Bag: beautifully drapes on the bed, very soft and cozy, lovely ruffle details, all-year round comforter
20. Effie Complete Comforter and Cotton Sheet Set by August Grove
Points of Interest:
● Clients Rating: 4.5 Stars
● Style Inspiration: contemporary
● Material: polyester microfiber
● Color Options: blue, gray
● Design Features: large floral printed comforter, geometric patterned pillows and sheets, machine-washable, sizes: twin, full, queen, king, California king
● Package Inclusions: 1 comforter, sham(s), 1 accent pillow, pillow case(s), 2 sheets, 1 dust ruffle/bed skirt
● What Clients Love about this Bed in a Bag: adds a warm appeal on the room, peaceful and relaxing, elegant and lovely pattern, washes up nicely, great quality
21. Emoji Pals Bed in a Bag by Emoji Pals
Points of Interest:
● Clients Rating: 4.5 Stars
● Style Inspiration: whimsical
● Material: 100% polyester
● Color Options: multi
● Design Features: assorted emojis on a white background, solid light blue on reverse side, heart print on sheets and pillows, machine-washable, sizes: twin XL, full, queen
● Package Inclusions: comforter, sham(s), pillow case(s), flat sheet, fitted sheet
● What Clients Love about this Bed in a Bag: very cute and fun set, brightens up room, comfy and soft, great for a girl or boy's room, holds up very well
22. Glenwood Comforter Set by Three Posts
Points of Interest:
● Clients Rating: 4.5 Stars
● Style Inspiration: cottage, French country
● Material: polyester
● Color Options: ivory, taupe, blue, gray
● Design Features: textured design, embossed geometric pattern, solid color, hypo-allergenic, machine-washable, wrinkle-resistant, sizes: twin, full, queen, king
● Package Inclusions: comforter, sham(s), pillowcase(s), sheets
● What Clients Love about this Bed in a Bag: impressive details, lovely embossed pattern, wonderful texture, warm and cozy, fluffy fabric, great quality
23. Cheila Embroidered Comforter Set by Chic Home
Points of Interest:
● Clients Rating: 4.5 Stars
● Style Inspiration: Zen, contemporary
● Material: 100% polyester, microfiber fill
● Color Options: plum
● Design Features: solid background, embroidered botanical motif, size: queen
● Package Inclusions: 8-12 pc set: comforter, bed skirt, 2 pillow shams, pillows, optional sheet set
● What Clients Love about this Bed in a Bag: gorgeous rich color, classy and chic, elegant set with lovely pillows, great craftsmanship, great quality at a great price
24. Botsford 12 Piece Reversible Comforter Set by Willa Arlo Interiors
Points of Interest:
● Clients Rating: 4.5 Stars
● Style Inspiration: classic, cottage chic, French country
● Material: cotton
● Color Options: ivory/sand/tan
● Design Features: medallion motif, reversible, machine-washable, sizes: queen, king, California king
● Package Inclusions: 12 pc. set – 1 comforter, 2 shams, 1 bed skirt, 2 Euro shams, 1 fitted sheet, 1 flat sheet, 2 pillowcases, 2 decorative pillows
● What Clients Love about this Bed in a Bag: has a nice sheen, very classy and elegant, beautifully matches bedroom decor, high end look for a very reasonable price
25. Cuba Cabana Comforter Set by Tommy Bahama
Points of Interest:
● Clients Rating: 4.5 Stars
● Style Inspiration: tropical
● Material: 100% cotton
● Color Options: green/yellow/white
● Design Features: tropical flowers and palm trees design, solid tan woven design on the reverse side, sizes: queen, king, California king
● Package Inclusions: comforter, bed skirt, 2 pillow shams
● What Clients Love about this Bed in a Bag: lovely colors, adds a warm and inviting appeal, brightens up room, perfect for a tropical-themed room
26. Verlin Complete Comforter Set by Zipcode Design
Points of Interest:
● Clients Rating: 4.5 Stars
● Style Inspiration: modern
● Material: cotton, microfiber, polyester
● Color Options: gray/black, aqua gray
● Design Features: circle prints, geometric pattern, machine-washable, sizes: twin, full, queen, king, California king
● Package Inclusions: comforter, dust ruffle/bed skirt, sham(s), accent pillow, pillow case(s), sheets
● What Clients Love about this Bed in a Bag: has an attractive modern appeal, as beautiful as the photos show, very soft and fluffy, holds up great and washes up well
27. Abela 8 Piece Comforter Set by Ellison First Asia
Points of Interest:
● Clients Rating: 4.5 Stars
● Style Inspiration: contemporary
● Material: polyester
● Color Options: purple/blue/green/white
● Design Features: foliage pattern, solid blue color on the reverse side and on bed skirt, lattice print on sheets and pillows, sizes: twin, full, queen, king
● Package Inclusions: comforter, dust ruffle/bed skirt, sham(s), pillow case(s), sheets
● What Clients Love about this Bed in a Bag: soft and satin-like fabric, lovely colors, complements bedroom decor, conveniently reversible, brightens up room, great value