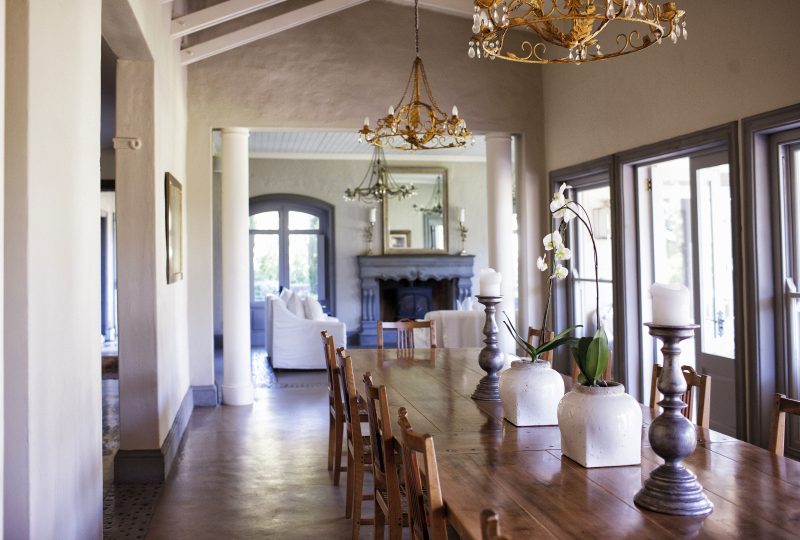 Hello and welcome to the Décor Outline photo gallery of beautiful dining room ideas. Below you will find a summary of the benefits, main options, and some design ideas we handpicked for you along with beautiful photos. Enjoy!

What are the benefits of having a beautiful dining room?
Promotes conviviality when sharing a good meal with loved ones
Can be styled in many ways to suit your existing floor plan
Multi-functional – can serve as your main entertaining area

What are the main options for a beautiful dining room?
Layout: formal, open (joined with kitchen or living room), in sunroom
Table: round pedestal, long rectangular, square, oval, farm table, extendable, glass top
Seating: wingback, settee, bench, armchair, ottoman/stools
Walls/Windows: picture window, accent wall, wall panel, chair rail
Flooring: ceramic, porcelain, slate, terracotta, marble, hardwood, natural stone, luxury vinyl
Accent: large mirror, wood sculptures, pedestal hurricane candle holders, chandelier, fireplace, buffet table, area rug

What follows are beautiful photos of dining rooms along with design ideas we thought may be of interest to you. Enjoy and happy home decorating!

1. Rustic Elegance
Points of Interest ● cloud gray camelback dining chairs ● distressed wooden display cabinet ● metal French doors with fanlight ● large ornate antique copper chandelier with crystal glass ● vintage brick flooring

2. Walnut Furniture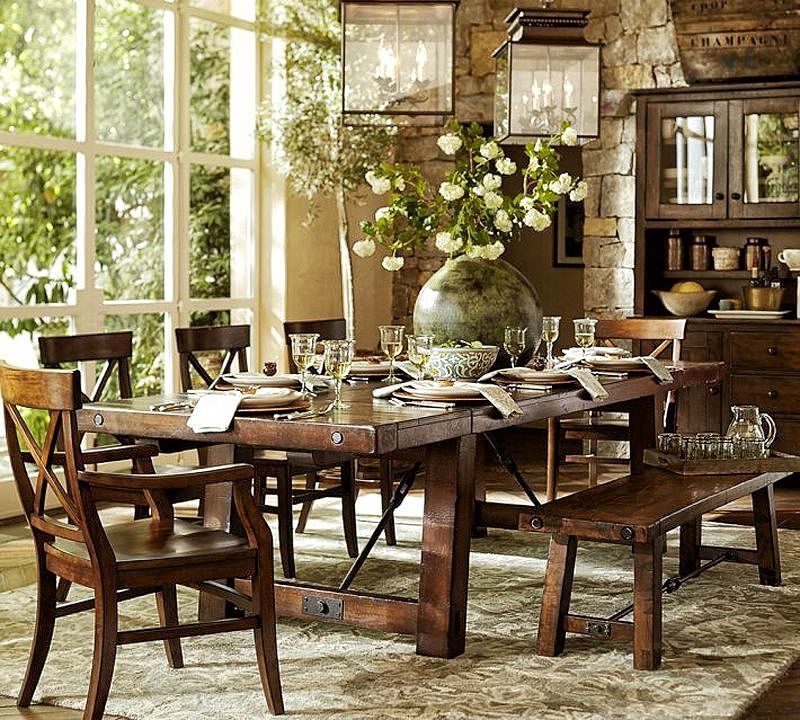 Points of Interest ● dark walnut dining table with wrought iron brackets ● oversized round table vase with white carnations ● square glass pendant lantern with weathered brass frame ● walnut cupboard against stacked stone wall

3. Copper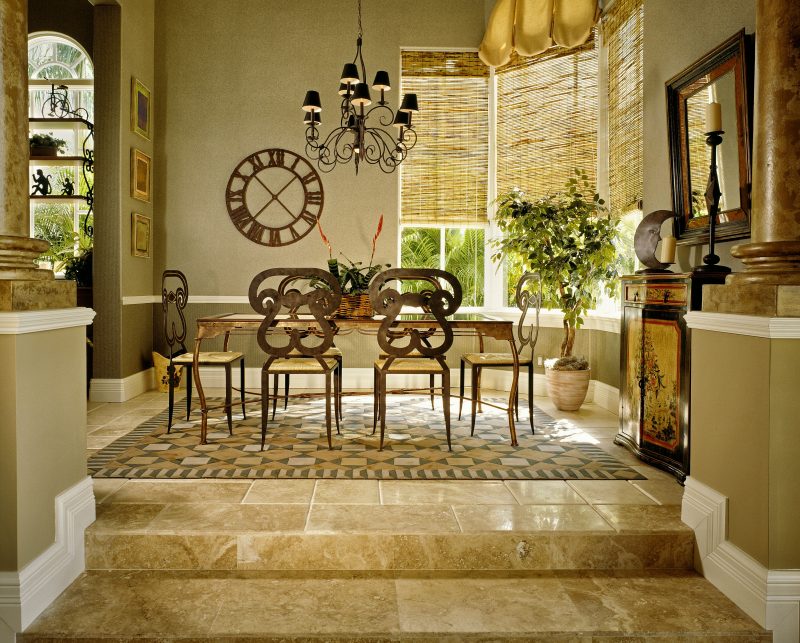 Points of Interest ● copper dining table with glass top ● metal skeletal Roman numeral wall clock ● hand painted wooden cabinet ● bamboo blinds three-panel window ● copper dining chairs with antique brass curved backrest

4. Wingback Chairs
Points of Interest ● tufted wingback dining chairs with nailhead trim ● antique gold-framed painting above mirrored sideboard ● lavender roses in glass pedestal vases ● crystal chandelier above oval wooden dining table

5. Metallic Wallpaper
Points of Interest ● beige suede swoop armchair with ring pull ● dentil crown molding above metallic floral wallpaper ● tall mirrored wooden cabinet ● sheer drapes on casement windows

6. Antique Mirror
Points of Interest ● large round wooden table with waterfall edge ● oversized antique square mirror on dark hardwood floor ● white wooden bench above radiators ● light sage green walls with two-piece crown molding

7. Country Dining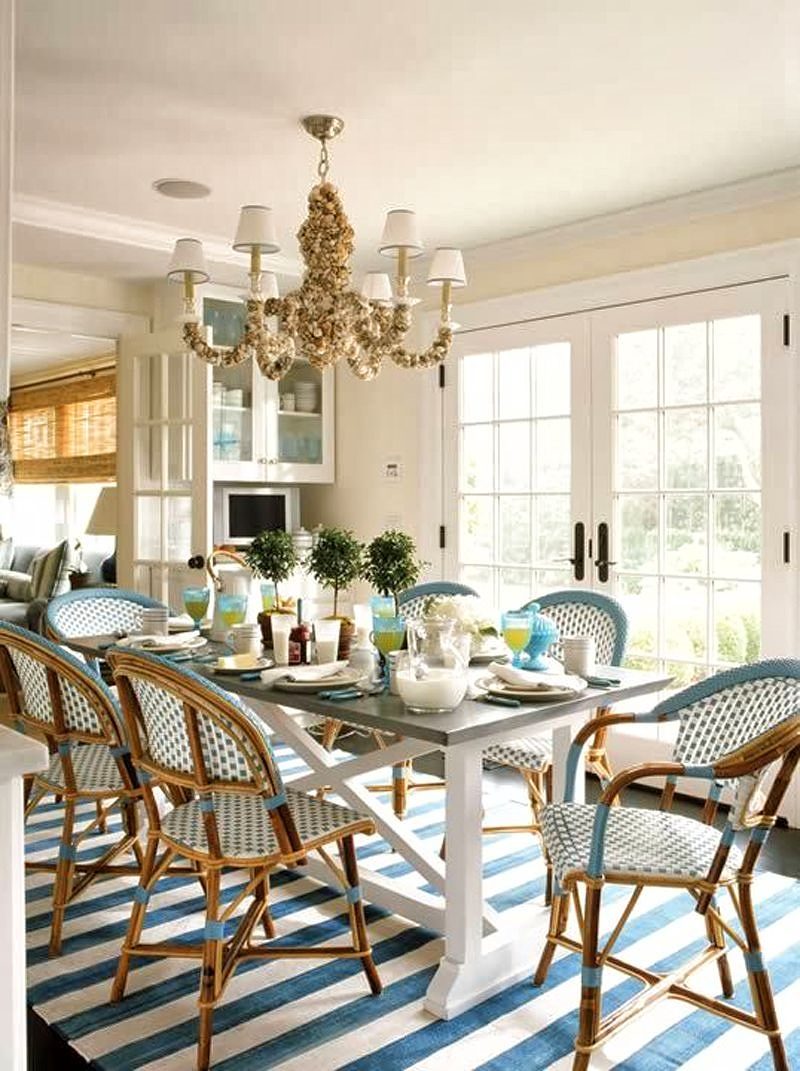 Points of Interest ● Parisian cafe-inspired bistro chairs ● gray wooden tabletop with white cross stretcher ● stripe flat-weave rug ● oyster shell shade chandelier ● in-swing French door to living room

8. Stone Pedestal Table
Points of Interest ● round glass tabletop with stone pedestal base ● bamboo dining chairs with cross backrest ● large round mirror with hand finished leather frame ● curved hand painted sideboard ● hand-woven natural area rug

9. Brick Walls
Points of Interest ● two curved armless loveseats with floral front upholstery ● multi-toned brick veneer walls with segmental arch windows ● tiered hurricane candle holder wall sconces ● round and sunburst-style tray ceiling

10. Yellows
Points of Interest ● solid wood dining table with round fluted base ● ocher yellow drapery with rope tie-back ● two framed royal symbol art ● antique bronze candle chandelier

11. Orb Chandelier
Points of Interest ● stained zebra wooden dining chairs with curved backrest ● flower-shaped mirror ● wrought iron orb chandelier ● diamond pattern cornice board ● wrought iron divider with hexagon mirror inserts

12. Arched Doorway
Points of Interest ● four wingback chairs with black and white floral upholstery ● arched doorways to living room ● 6 sepia photographs in matching wood frames ● brown shade chandelier in antique bronze finish ● black slate flooring

13. Skylight
Points of Interest ● wrought iron dining chairs with heart-shaped backrest ● large skylight over dining table ● matching beige dressers ● gray wooden dining table matching the decorative window shutters

14. Fanlights
Points of Interest ● oval wooden dining table with reeded legs ● muntin-style casement windows with fanlight ● flat-woven cotton area rug ● frosted glass shade pendant lights ● terracotta tile flooring

15. Wine Display
Points of Interest ● wooden oval dining table with cabriole legs ● bare wood wine display cabinet ● black steel French doors with sidelights ● large wrought iron orb chandelier ● two tufted wingback swoop armchair

16. Accent Mirror
Points of Interest ● upholstered dining chairs with ornate embroidery ● two urns with oil-rubbed bronze handles ● large accent mirror in antique gold finish ● combination lantern and lamp shade chandelier

17. Double Pedestal
Points of Interest ● bare wood long dining table with double pedestal base ● nine-panel wooden framed mirror with segmental arch ● white border seagrass area rug ● two large wire vases on sideboard

18. Octagonal Plates
Points of Interest ● light brown camelback dining chairs with nailhead trim ● solid wood dining table with light carving on table skirt ● antique giltwood candle chandelier ● two ornate pillar candle holders ● hand-painted octagonal plates

19. Storage Ottomans
Points of Interest ● two storage ottomans with tufted square padding ● porcelain pedestal fruit plate ● sisal rug complementing ottomans ● black steel square lantern pendant light ● connecting black metal curtain rods

20. Caramel Brown
Points of Interest ● high gloss wooden dining table with curved corners ● white wainscoting on caramel brown walls ● wooden dining chairs with pierced splat backrest ● two decorative gray wreaths ● hand-painted olive green mirror

21. Caned Backrest
Points of Interest ● carved dining chairs with caned backrest ● pedestal faux stone dining table ● antique bronze candle holder chandelier ● two French doors to patio ● dark hardwood floors

22. Black & White
Points of Interest ● black and white dining chairs with back crossed legs ● vintage wrought iron clock ● five-bulb wrought iron pendant light over white wooden dining table ● porcelain terracotta flooring

23. Light Vieux Rose
Points of Interest ● white wooden dining chairs with fiddle backrest ● light vieux rose lampshade chandelier with trims matching the curtain trims ● settee with floral and bird upholstery ● garden view muntin-style casement windows

24. Rattan
Points of Interest ● rush seat dining chairs with pierced splat backrest ● hand-painted mirror on white wall ● beige velvet carpet ● six-bulb candle chandelier ● rattan placemats

25. Dining Bench
Points of Interest ● X-leg solid wood dining table ● industrial four-bulb pendant light ● olive green glass and ceramic dinnerware ● rolled back dining chairs ● L-shaped combo stone and wood plank backrest

26. Wingback Settee
Points of Interest ● two light beige wingback settees ● large pedestal hurricane candle holder ● coordinated area rug and dining chair upholstery ● coffered light gray ceiling ● pecan and cedar brown drum chandelier

27. Hurricane Vase
Points of Interest ● solid wood dining table with metal brackets ● brown fabric covered cornice board over curved window wall ● polished black deer sculpture ● two glass hurricane vases with silver metal base