Hello and welcome to the Décor Outline photo gallery of bathrooms with claw-foot tubs. Below you will find a summary of the benefits, main options, and some design ideas we handpicked for you along with beautiful photos. Enjoy!

What are the benefits of having a claw-foot tub in the bathroom?
Timeless design – exudes elegance that works well with both modern and traditional bathroom
Saves bathroom space – naturally freestanding and slightly elevated, claw-foot tubs make the bathroom look and feel more spacious
Quicker remodel – with its own feet, simply place the tub where you want it and install plumbing, no need to overall the entire bathroom

What are the main options for claw-foot tubs?
Tub/Claw-Foot Material: porcelain, acrylic, cast stone, stainless steel, copper, brass, nickel, chrome, wood
Style: double ended, slipper/double slipper
Colors: white, black (glossy, matte), gray, silver, red, sage green, gold, copper, antique brass
Tub/Claw-Foot Finish: distressed, glazed, airbrushed
Features: acanthus leaf, tub caddy, metal fretwork, decorative rings, towel bar

What follows are beautiful photos of bathrooms with claw-foot tubs, along with design ideas we thought may be of interest to you. Enjoy and happy home decorating!

1. Bathroom Armoire
Points of Interest ● white classic claw-foot tub with bath caddy ● distressed white metal folding chair with stacked white towels ● white bouquet-style crystal chandelier over bathtub ● leaded octagon seed glass window ● reclaimed French oak hardwood floor

2. Arched Windows
Points of Interest ● large copper claw-foot tub with rings and towel bar ● 3 tall arched windows with sheer embroidered drapery ● wooden candle stand with tripod base ● multi-toned polished travertine tiled floor ● upholstered antique Victorian side chair

3. Leaf Press Gallery
Points of Interest ● matte black bathtub with glossy black claw feet ● 9-piece framed herbarium art gallery on wallpapered wall ● 2-tiered round lipped table ● cheval mirror with bottom drawer ● gray domed ceiling with white floral stenciling

4. Custom Privacy Curtain
Points of Interest ● antique slipper bathtub with brass claw feet ● sheer white drapery with tassel hooked on sloped ceiling ● half log wall siding ● 3-tiered white open shelves

5. Arched Fireplace
Points of Interest ● grayish claw-foot bathtub with chrome tub filler ● black arched fireplace ● palladian blue cabinet with underneath drawers ● vintage framed colored lithograph art above fireplace mantel ● 2 rush seat chairs beside fireplace

6. Plantation Shutters
Points of Interest ● white claw-foot tub with nickel floor-mounted double faucet tub filler ● brown plantation shutter windows ● white paneled walls and ceiling ● 2 wall-mounted shelves with towel hooks ● console sink with gooseneck spout and cross handles

7. French Doors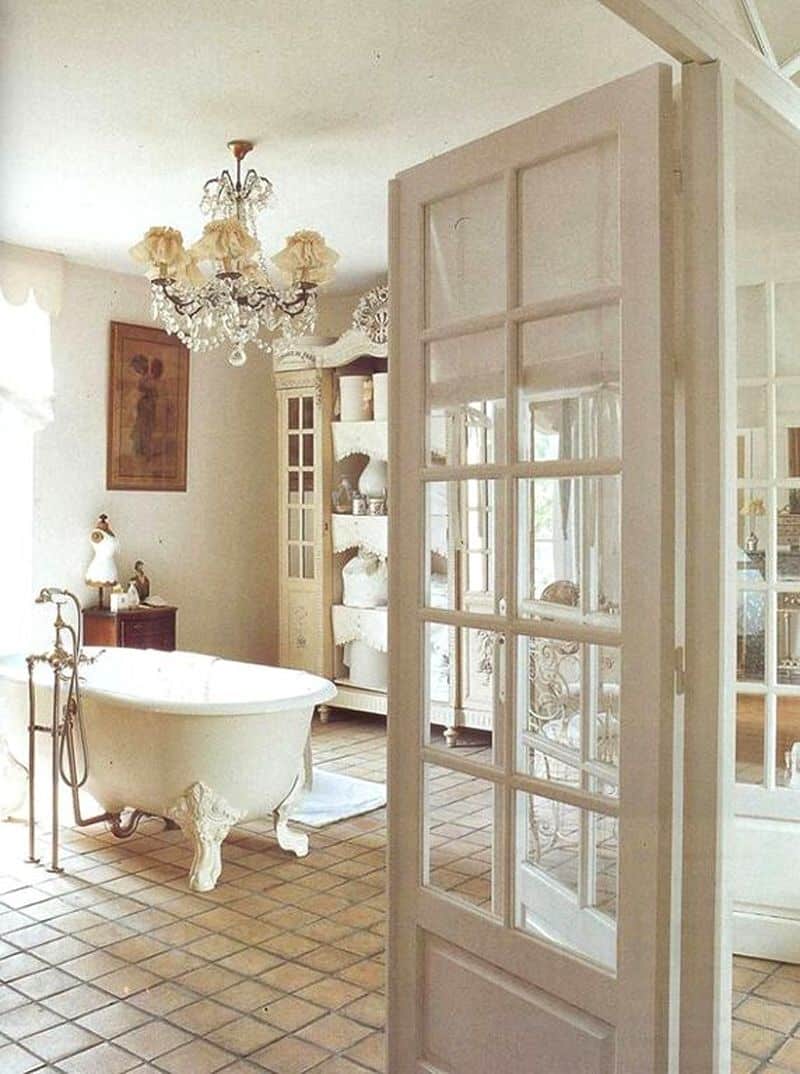 Points of Interest ● white cast iron double ended claw-foot tub ● antique cream armoire ● crystal chandelier with cream ruffled skirt shades ● sepia framed art on wall ● off-white glass French doors with bottom panel ● antique light tone French terracotta tiles
8. Trefoil Arched Mirror
Points of Interest ● slipper claw-foot bathtub with white imperial feet ● glossy gray subway tile walls ● white pedestal sink with nickel double cross handle faucet ● 2 antique bronze wall sconces ● drop ceiling with recessed lights

9. Framed Shelves
Points of Interest ● freestanding double ended bathtub with polished chrome feet ● white fabric Roman shades on 2 casement windows ● framed slim open shelves ● glass door to walk-in shower with marble tiled wall ● herringbone porcelain tiled floor

10. Slim Double Door
Points of Interest ● double ended tub with cast iron claw feet ● slim French doors with sheer privacy curtain ● antique brass floor-mounted tub filler ● step up elevated porcelain tiled bathroom floor ● distressed white window valance

11. Prairie Windows
Points of Interest ● double ended bathtub with nickel claw feet ● white subway tile wainscoting ● frameless glass walk-in shower enclosure with 2 wall-mounted shower heads ● 3 prairie windows ● marble basketweave tiled floor matching walk-in shower floor design
12. Rolling Cabinet
Points of Interest ● cast iron double ended claw-foot tub with rim drillings and white acanthus leaf feet ● vintage spray painted steel medical display cabinet with lockable casters ● ivory dresser with crystal glass knobs ● distressed white wicker storage basket ● white beadboard wainscoting

13. Stone Bench
Points of Interest ● double ended bathtub with distressed claw feet ● white wire basket on planked floor ● brass tub caddy ● cast stone bench ● white painted wrought iron floor candle holder

14. Window Mirror
Points of Interest ● freestanding acrylic double ended white tub with white lion paw claw feet ● 2 pedestal vanities with double cross handle faucets ● arched windowpane wall mirror ● crystal glass chandelier over bathtub ● graphite porcelain tile flooring

15. Toiletry
Points of Interest ● antique mint green double ended claw-foot bathtub ● recessed toiletries wall niche with glass shelving ● rectangular vessel sink with wall-mounted faucet ● round nickel shower curtain rod ● mint green and white striped fabric Roman shades● black slate tiled floor
16. Camelback Settee
Points of Interest ● cast iron French bateau bathtub with an aged chrome exterior ● patterned camelback settee ● 3 casement windows with satin nickel birdcage handle ● built-in small white door storage ● hand woven beige area rug on hardwood floor

17. Pebbled Floor
Points of Interest ● red slipper tub with gold claw feet and tub filler ● white square ottoman on casters ● white beadboard walls in diagonal pattern ● sliding glass doors with gold handle ● wood parquet on pebbled floor ● skylight over tub

18. Library Light
Points of Interest ● moss green cast iron porcelain clawfoot bathtub ● two-legged ceramic console sink ● polished vintage barn gooseneck sconce with filament bulb over sink ● 3 chrome wall hooks on wainscoting ● multicolored hexagonal mosaic tiled floor

19. Marble Tiles
Points of Interest ● acrylic single slipper bathtub with white clawfoot on matching coasters round muntin style window in marble tiled walk-in shower ● chrome double towel bar ● clear acrylic round pedestal table ● carrara marble subway tile flooring
20. Checkerboard
Points of Interest ● long bathtub with antique copper claw feet ● double vanity with two stainless steel legs ● recessed oversized rectangular wood frame ledge wall mirror ● espresso armoire with glass doors ● black and white honed marble checkerboard floor

21. Fluted Sinks
Points of Interest ● polished chrome claw feet on bathtub ● 2 oval fluted sinks on double vanity ● brown base cabinets with oil-rubbed bronze knobs ● 2 skylights ● calacatta gold marble flooring in basketweave pattern

22. Towel Cubbies
Points of Interest ● copper claw feet on double ended bathtub ● cream cabinetry with recessed panels ● cabinet trim molding matching the cream beadboard wainscoting trim ● small wooden stool on area rug ● Brazilian cherry luxury vinyl plank flooring

23. Towel Warmer
Points of Interest ● white claw-foot bathtub with nickel tub filler ● stainless steel towel warmer ● 2 single-hung windows with white roller shades ● cream and multi-toned green hexagonal tiled flooring ● white subway tile wainscoting with decorative inlays
24. Al Fresco Bathing
Points of Interest ● white double slipper bathtub with black claw feet ● medium-stained wooden French doors to outdoor bathroom ● 2 arched open windows ● antique wall cone sconce planter ● reclaimed mixed color terracotta tiled floor

25. Baby Blues
Points of Interest ● freestanding claw-foot tub in bathing nook with half wall room divider ● baby blue walls with framed pressed leaves art collection ● wooden barley twist towel warmer ● wicker storage basket with brown leather trims ● marble tiled flooring

26. Bathing with a View
Points of Interest ● airbrushed bathtub with antique brass claw feet ● antique brass tub caddy ● solid wood pedestal table with cream basin ● scenic bi-fold doors ● exposed wooden ceiling beams

27. White & Copper
Points of Interest ● double slipper tub with polished copper claw feet and metal fretwork ● copper framed mirror design calling back the bathroom fixtures and wall tile pattern ● white porcelain tiled wall with circular geometric design ● towel bar on vanity ● quartz wainscoting matching marble-look quartz tiled floor