Hello and welcome to the Décor Outline photo gallery of bathroom color ideas. Below you will find a summary of the benefits, main options, and some design ideas we handpicked for you along with beautiful photos. Enjoy!

What are the benefits of having colors in the bathroom?
Sets the mood – color plays a key role in a room's ambiance, can make your bathroom feel like a relaxing retreat or a morning pick-me-upper
Easy way to update the bathroom – a touch of color can automatically change the look of your bathroom without going over-budget
Allows for creativity – you can play with color schemes to achieve a bathroom design that caters to your personal style

What are the main options for bathroom colors?
Paint Colors: blue (baby, sky, aqua, palladian, lapis, denim), white (off-white, eggshell, cream), gray, green (sage, mint, turquoise, blue green, pear, lime), pink (salmon, light), brown (tan, baked clay, cedar, dark espresso, beige/light beige), yellow (copper, light), peach
Painting Techniques: distressed, glazed, mottled, stenciled
Finish: matte, unfinished, satin, mill

What follows are beautiful photos of bathrooms along with color design ideas we thought may be of interest to you. Enjoy and happy home decorating!
1. Chevron Tiled Floor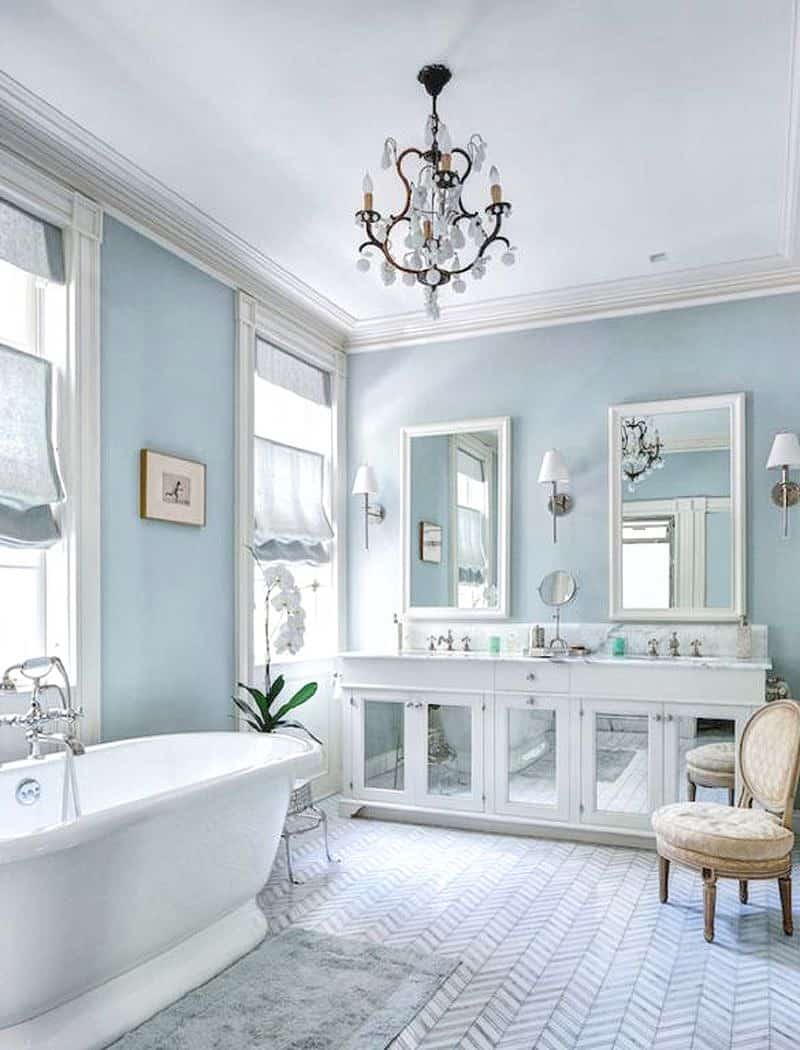 Points of Interest ● baby blue walls ● white marble countertop with sidesplash ● sheer baby blue fabric Roman shades ● mirrored white base cabinets ● cream round armless chair with reeded legs ● gray and white chevron tiled floor

2. Color Coordinated Towels
Points of Interest ● sage green windsor chair ● towel colors matching the shag rug ● white subway tile wainscoting ● crystal glass door knob ● salmon pink toile de Jouy wallpapered upper walls ● basketweave tiled flooring

3. Tans
Points of Interest ● matching opal countertop and drapery ● satin nickel pendant light calling back the bathtub faucet ● marble floor with porcelain tile inlay ● framed real butterflies on opal storage door panel ● round urn niche above door

4. Mint Green Walls
Points of Interest ● pale mint green beadboard walls ● gray granite countertop with gray ceramic tile backsplash ● brown wooden cabinet with open shelves ● off-white built-in vanity mirror cabinet ● chrome swivel mirror

5. Fringed Ottoman
Points of Interest ● turquoise round tufted ottoman with fringe ● white slipper bathtub ● Carrara marble countertop with white modern shaker base cabinets ● 4 amber glass pendant lights over countertop ● turquoise barrel vaulted ceiling

6. Mirror Gallery
Points of Interest ● blue green wainscoting matching the slim doors and crown molding ● brown matte finish cabinet and drawers with square cabinet pulls ● multi-sized mirrors in blue green frame ● brown beaded chandelier

7. Accent Mirrors
Points of Interest ● multi-toned yellow and white mosaic tiled wall ● brass freestanding vanity with white marble countertop ● 2 flower shaped mirrors in antique brass frame ● copper yellow mosaic tiled floor

8. Light Yellow Walls
Points of Interest ● beige marble countertop with sidesplash ● 2 white slim double door cabinets with built-in open shelf in between ● celadon green walls ● green rush seat stool under towel storage shelf ● wide planked hardwood floors

9. Green Wall Sticker
Points of Interest ● green raindrop design wall decal ● white artichoke pendant light ● pear green cabinet ● matching green striped towel and bathroom slippers ● off-white arched non-working fireplace

10. Mosaic Art
Points of Interest ● colorful under the sea themed mosaic tiled bathroom walls and ceiling ● hand painted yellow bathtub exterior ● ceiling-mounted copper ball fireplace ● green abstract rug ● pink concrete floor with exposed aggregate

11. Peach & Pink
Points of Interest ● peach walls with wall panel by the bathtub area ● white clawfoot bathtub ● pink vanity base with white knobs and drop-in sink ● green cushion on light pink wooden stool ● off-white chandelier

12. Baked Clay Walls
Points of Interest ● baked clay colored walls ● gold and frosted glass Victorian chandelier ● white double slipper clawfoot bathtub ● large antique wooden vanity with metal fretwork ● white window sill panel extending to sloped wall

13. Center Walk-In Shower
Points of Interest ● baby blue walls with white-framed large windows ● large brown tufted leather bench ● gray granite countertop calling back the walk-in shower accent interior wall ● wall-to-wall floating wooden cabinets

14. Sky Blue
Points of Interest ● sky blue walls ● white beadboard bathtub surround panels ● red square mirror above white ceramic pedestal sink ● wicker storage basket on hardwood floor ● chrome with frosted glass twin spotlight over sink

15. Vanity Alcove
Points of Interest ● forest green porcelain tiled vanity alcove ● arched beveled mirror with patterned tile border ● bamboo stick panels on unfinished wood base cabinet ● 2 antique copper wall sconces ● small royal blue planter

16. Sage Green
Points of Interest ● sage green walls with natural wood framed windows ● round unfinished side table with driftwood legs ● tall wicker planter on slate tiled floor ● satin finish wooden vanity with raised panels

17. Carved Wooden Vanity
Points of Interest ● pink carved wooden vanity base with brown quartz countertop ● dark salmon pink decorative ceiling tiles ● small multi-toned brown square tile wainscoting ● multicolored porcelain mosaic tiled wall

18. Stenciled Walls
Points of Interest ● turquoise stenciled walls ● round textured glass vanity with matching vessel sink ● stainless steel freestanding towel bar ● crystal glass door knob ● sheer white curtains on single-hung window

19. Blue & White Mosaic Tiles
Points of Interest ● monochromatic blue mosaic tiled walls ● matching dark gray chrome towel bar, shower, and corner shelves ● yellow and blue stained glass windows ● white mosaic tiled floors

20. Blues & Browns
Points of Interest ● blue porcelain floor and walls with patterned tile inlay ● dark brown antique dresser with antique bronze ring pulls ● 2 carved wood framed mirrors above double vanity ● satin nickel faucets and cross handles

21. Turquoise & Yellow
Points of Interest ● matching turquoise bathtub and trough sink exterior ● white distressed bench ● yellow pail on white tiled floor ● tall white beadboard wainscoting ● turquoise upper walls

22. Cedar Brown
Points of Interest ● cedar brown walls with dark espresso framed mirrors ● matching oil-rubbed bronze faucet and countertop towel holder ● dark espresso floating shelf above towel bar ● off-white drapery on large muntin window

23. Lime Green & Aqua
Points of Interest ● lime green cabinet door panels ● white shaker base cabinets and drawers ● multicolored mosaic tile backsplash calling back the light blue shag rugs ● 2 wall-mounted faucets

24. Yellows
Points of Interest ● yellow box shelves with square pull-out drawers ● white rectangular vessel sink with chrome faucet ● light yellow wooden vanity ● yellow framed vertical mirror on countertop ● eggshell white wall

25. Palladian Blue
Points of Interest ● glossy light gray porcelain subway tiled walls ● palladian blue wood planked wainscoting ● white laminate countertop with oval undermount sink ● rose gold framed art on wainscoting ● white wood planked ceiling

26. Lapis Blue
Points of Interest ● blue lapis beadboard walls ● white Calacatta marble double vanity countertop ● small denim blue bathroom stool ● white flat panel drawers with oil-rubbed bronze handles ● white penny tiled bathroom floor

27. Whites & Metals
Points of Interest ● soft glazed off-white double vanity with 3 wall shade sconces ● white tufted leather stool with chrome X legs ● white and light beige marble tile wainscoting ● palladian blue walls ● mill finish stainless steel table